Scallion pancake or 葱油饼 is a savoury pancake commonly sold in Taiwan and China. It's crispy on the outside, while flaky and slightly chewy on the inside. It's oily but very tasty at the same time. Making scallion pancake is actually pretty straightforward, but ensuring it turns out well requires some work. Some things to take note of are:
1. If possible, use a flavoured oil like pork lard, shallot oil, or peanut oil. These oils will give a lot more flavour to the interior of your pancake. If you don't have any of the above oils, you can use vegetable oil, but the taste will be slightly compromised.
2. Make sure to roll the pancake as thinly as possible. If it's too thick, the interior will not cook very well and will taste like raw dough.
3. Fry the pancakes in a good amount of oil. If you fry in too little oil, the pancakes may not turn out crispy enough, and the interior may not cook through. I actually didn't use that much oil, so if you use more oil, the browning should look better than mine.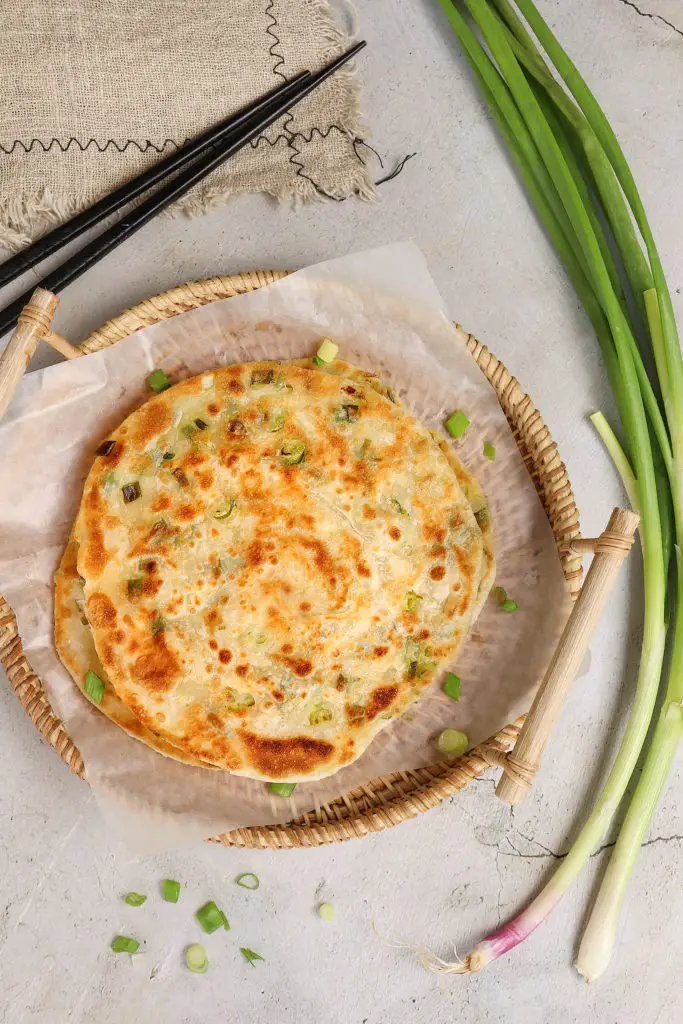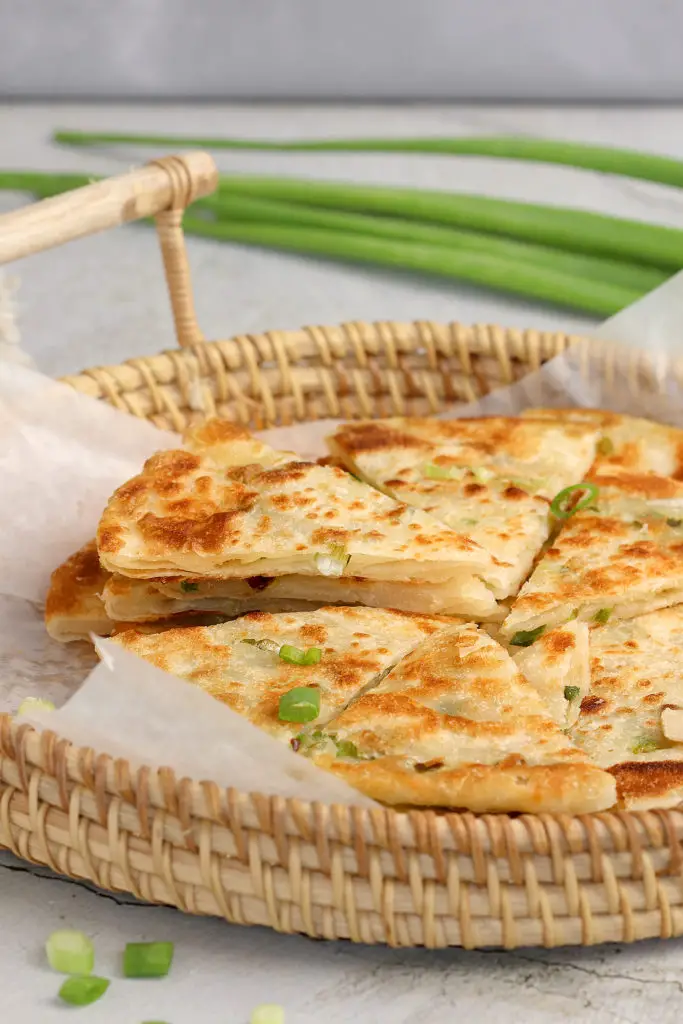 While frying the pancakes, the spring onions will release a wonderful aroma upon interacting with hot oil. I never thought spring onions could be so fragrant! I'm sure you'll be drooling by then.
Below is my recipe, but if you find the written instructions too confusing and want to watch the video recipe, head over to my instagram (@_kitchenmisadventures) to view my insta story!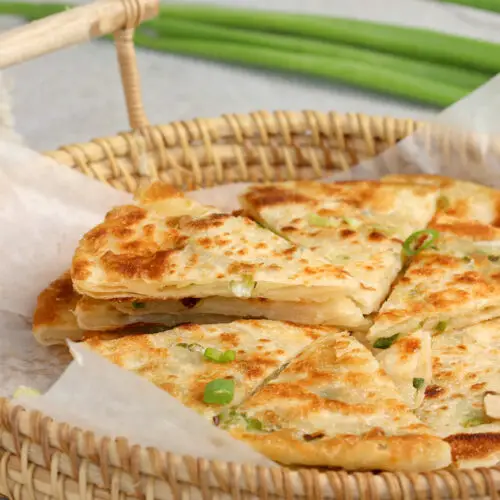 Scallion Pancake
Ingredients
1

cup

spring onion

green part only (chopped)
DOUGH
240

g

flour

160

ml

boiling water

½

tsp

salt
OIL PASTE
45

ml

flavoured oil

pork lard/shallot oil/peanut oil

30

g

flour

½

tsp

salt

add more if you prefer
Instructions
In a mixing bowl, add flour. Dig a well in the middle, then add boiling water and mix well using chopsticks. When the dough mixture is not too hot to handle, use your hands to knead the dough into a ball. If the dough is too sticky, add some flour. If the dough is too dry, add some water. Cover the dough with cling wrap and let it rest for 30-60 minutes. At this point the dough ball may not look very smooth, but it will become smoother after resting.

Meanwhile, mix flavoured oil (or vegetable oil, but it won't taste as good), flour and salt to form an oil paste.

After resting the dough, remove cling wrap and cut dough into 4 equal portions. Using a rolling pin, roll a piece of dough into a thin, flat circle. You may want to flour the surface you're working on to prevent the dough from sticking. Brush the dough with a good amount of oil paste (this will give the interior of the pancake flavour), then add spring onions, leaving a small gap around the edges of the dough. Repeat for the remaining dough.

Roll the dough into a long cylinder, then coil the cylinder to form a snail-like shape. Using your palms or a rolling pin, flatten the dough into a thin, flat circle.

Heat a frying pan over medium-high heat then add a layer of oil. (The more oil you add, the better the browning and the crispier the pancake. So add oil according to your preference.) Add scallion pancake to the pan and fry until underside turns brown and crispy. You can use a spatula to press down on the pancake to ensure even cooking. Flip pancake over and cook underside until brown and crispy as well. You can flip a few times to ensure even cooking.
Nutrition
Calories:
348
kcal
Carbohydrates:
53
g
Protein:
7
g
Fat:
11
g
Saturated Fat:
1
g
Polyunsaturated Fat:
3
g
Monounsaturated Fat:
7
g
Trans Fat:
0.04
g
Sodium:
587
mg
Potassium:
141
mg
Fiber:
2
g
Sugar:
1
g
Vitamin A:
249
IU
Vitamin C:
5
mg
Calcium:
28
mg
Iron:
4
mg