Note: This is not an advertorial or anything of the sort. I just wanted to share my experience because I thought it might help some of you decide whether you want to take up this culinary course!
Ever since I heard of the government giving us $500 worth of SkillsFuture credit, I've been wanting to use it on a culinary course. I looked through tons of culinary courses offered under the SkillsFuture credit programme, and found that the ones offered by At-Sunrice GlobalChef Academy are one of the most value-for-money! Some places charge over $100 for a mere 3-hour course, but At-Sunrice only charges $133 for 30-hour course! I was particularly keen on their Basic Dry Heat Cooking Methods and Basic Moist Heat Cooking Methods courses, but these courses are always held on Saturdays (8am-2pm) which isn't very ideal for me as I have to work on Saturdays. Because of that, I put the thought of enrolling in the At-Sunrice culinary course on hold for over 1 year until a month ago when I decided I should just go for it! If we don't seize the opportunity to do the things we want to do when we're young, when else will we be able to do these things? My boss kindly agreed to let me go for the course and thankfully, my working hours are from 11am-7pm, which meant that I could still go in to work for half a day.
I managed to persuade my boyfriend to accompany me for the culinary course in exchange for a birthday present, yay! Saturday mornings are very precious to office workers because after a 5-day work week, they just want to sleep in on Saturdays. In fact, 8am sounded way too early for me as well, so I was thankful he agreed to go with me. We signed up for the Basic Dry Heat Cooking Methods course, which takes place on 5 consecutive Saturdays, from 8am to 2pm. They have a dress code of white collared top, black pants and black non-slip shoes, and seemed to be strict about it, so we went to Uniqlo just to buy a white polo tee. But it turns out that they aren't so strict with students who enroll for their short-term courses after all.
7th October was the first day of our culinary course. I was reeling with excitement at the thought of going to learn some cooking skills. I wasn't sure what to expect, but was hoping that the chefs would teach us some knife skills as well. The school also mentioned reaching 15 minutes before the starting time, and so we did. But, almost everyone else were late, and the chef did not display any signs of unhappiness. So I would say, there's no actual need to reach 15 minutes early, being punctual is good enough.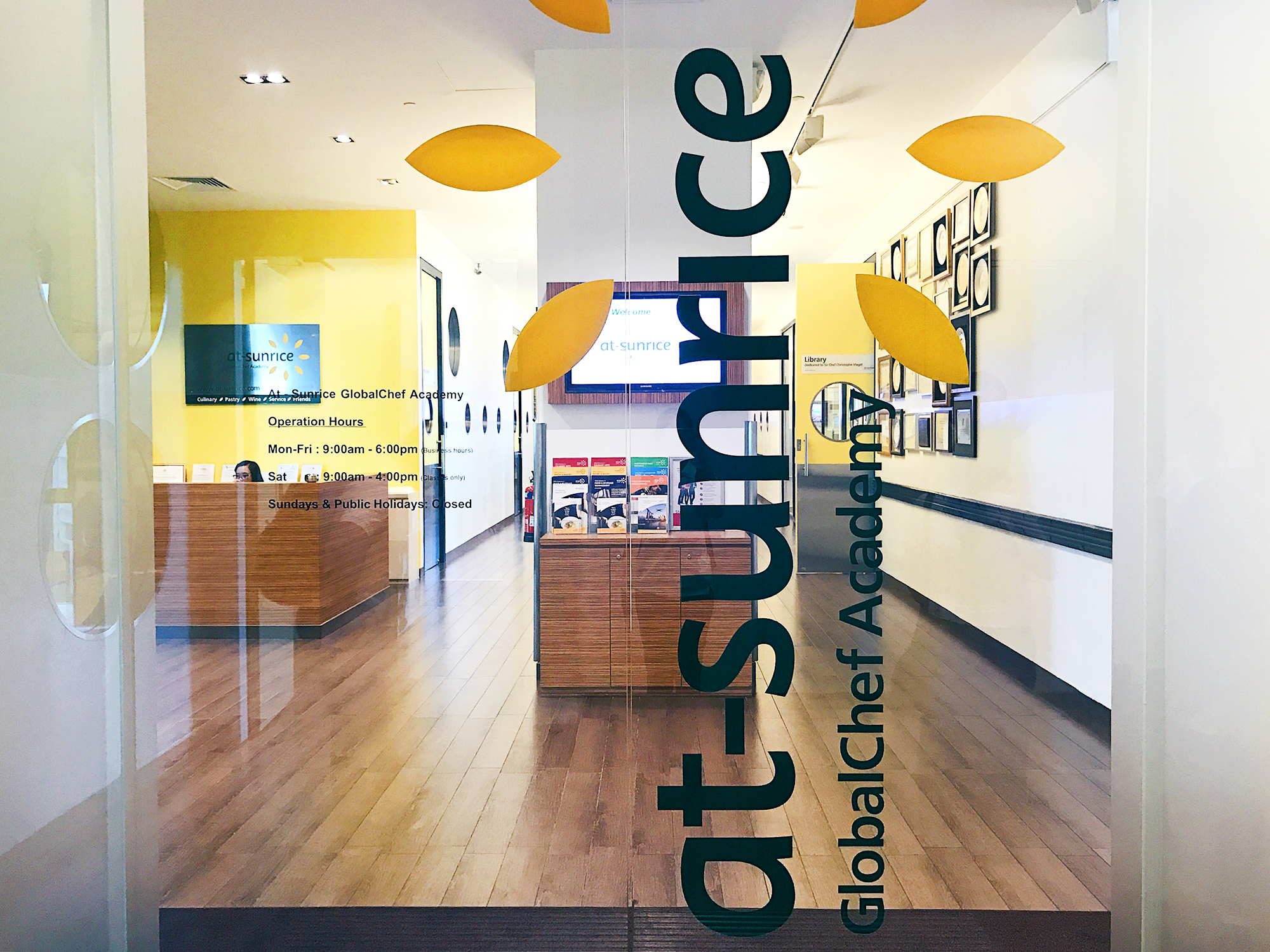 At-Sunrice Global Chef Academy, located on the 5th floor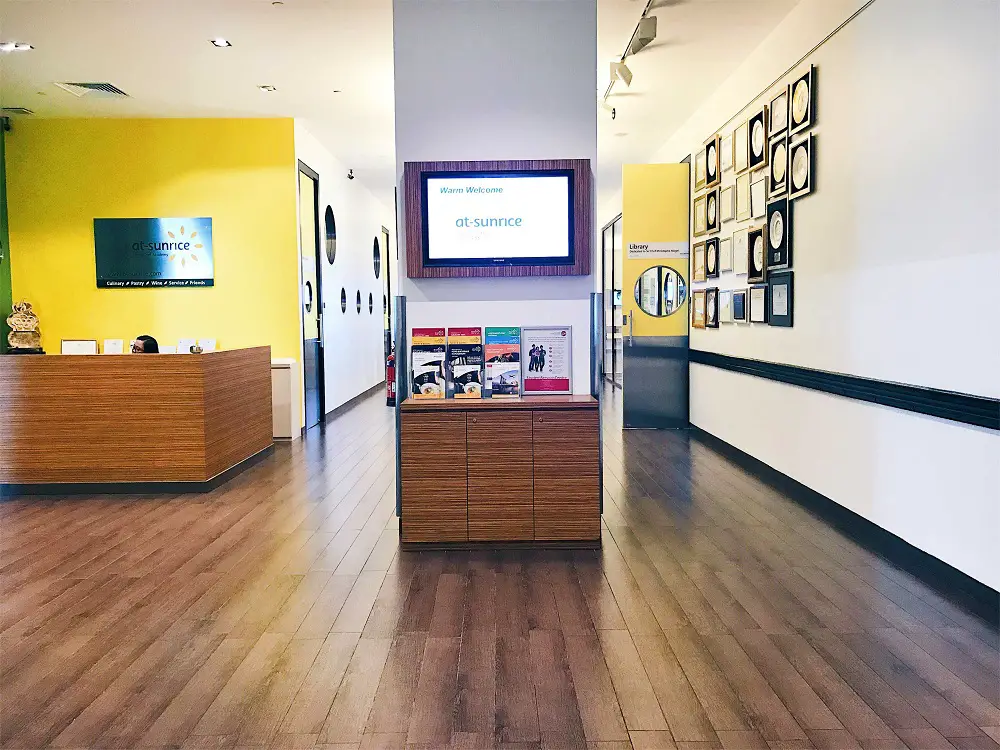 Interior of At-Sunrice GlobalChef Academy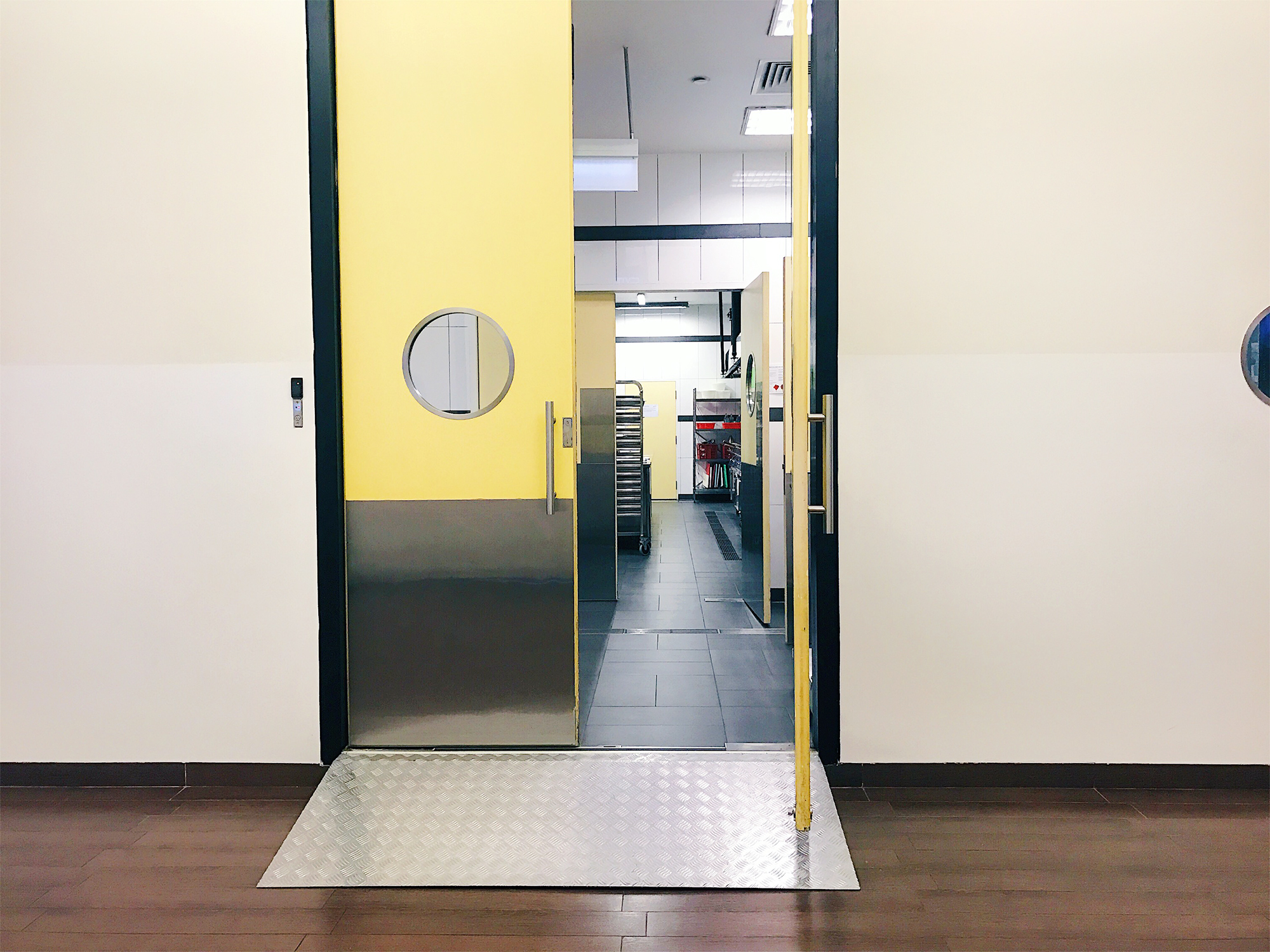 Distinct yellow doors that lead to the kitchens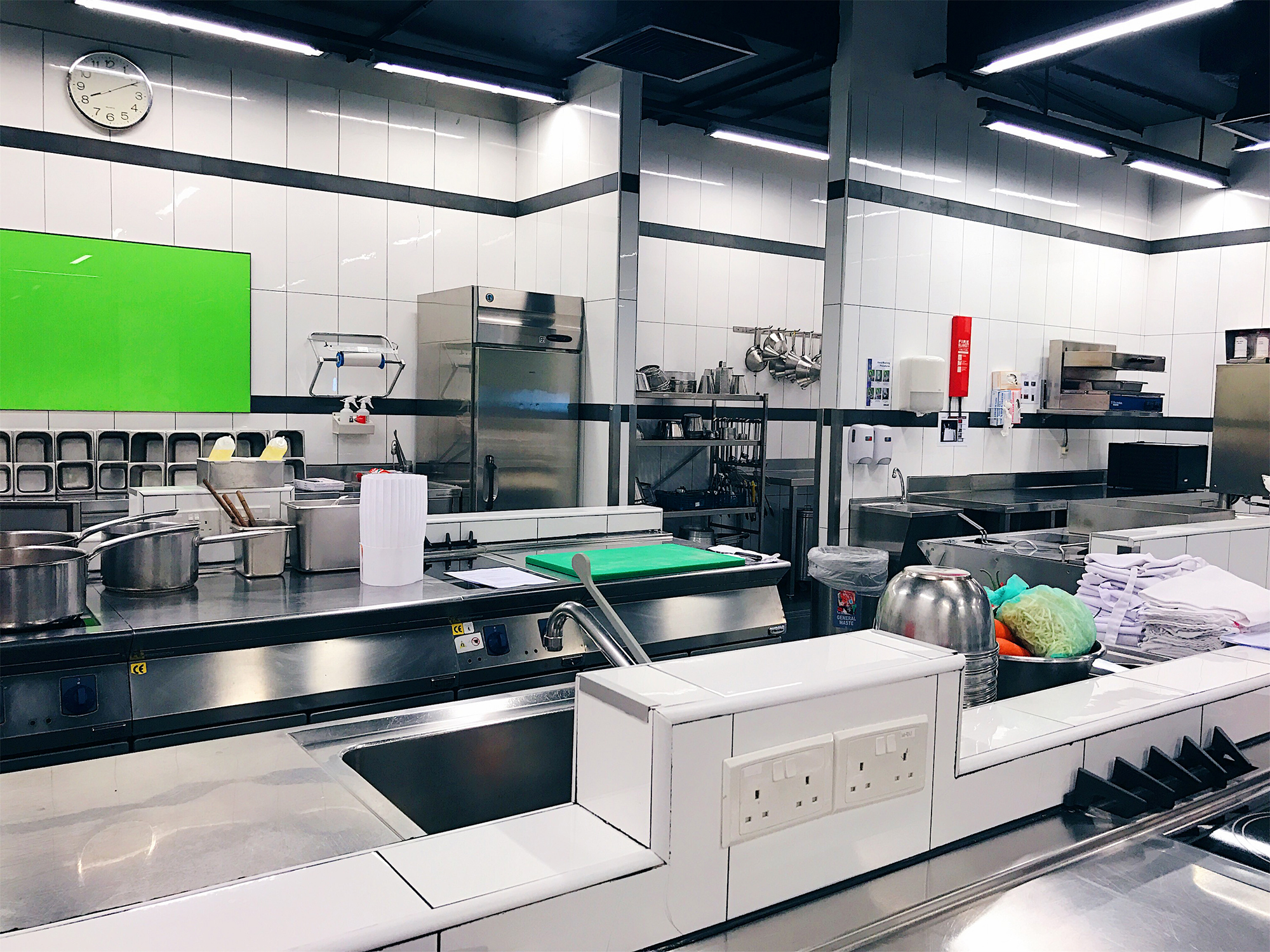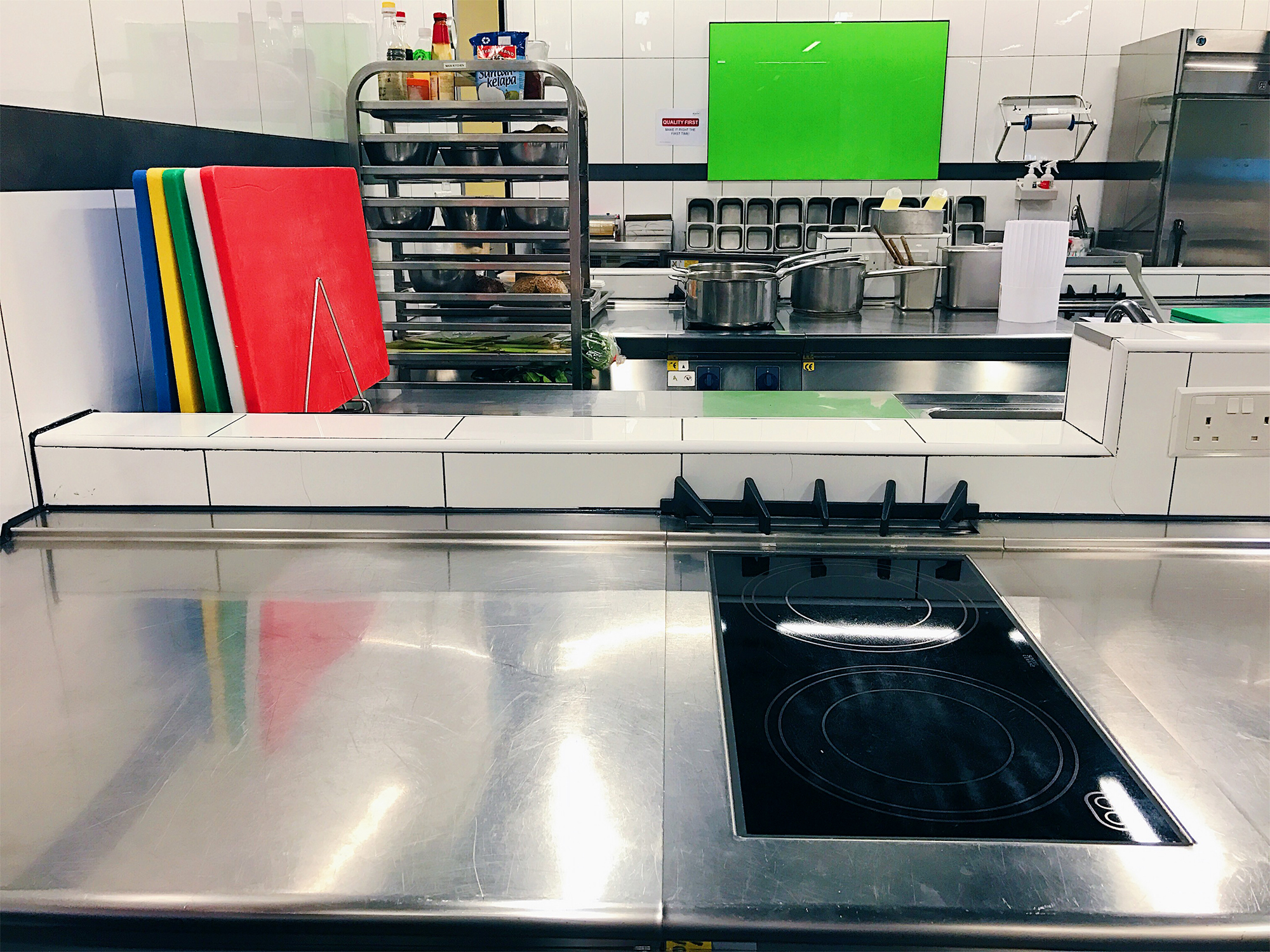 We were brought into a kitchen furnished with induction hobs and all sorts of stainless steel kitchen utensils. There were countless industrial-sized cookware and utensils, which was a refreshing sight to behold. The chef that was teaching us for the day was chef Macdonald Eng (not sure if I should be mentioning his name but I guess it should be fine) and he was a really humble, patient chef. Very different from what you would see in Masterchef or Hell's Kitchen, although I do love Gordon Ramsay. The theme for our first culinary lesson was Malay food, which excited me because I have never cooked up a Malay dish before. It was good to learn something new. We learnt three dishes for the day – Ayam Panggang Berempah (spicy roasted chicken), Sambal Goreng (sambal with prawns, tofu, long bean and tempeh) and Tahu Goreng (fried tofu with peanut sauce).
Many Malay as well as Indonesian dishes employ the use of rempah, a spice paste made from a blend of aromatic herbs and spices. While there are subtle differences between various types of rempah, certain key ingredients such as chilli, garlic and shallots are always a common denominator. There are also a whole host of other ingredients that are commonly used to make rempah, like galangal, turmeric, cumin, belachan, lemongrass, and the list goes on. After preparing the ingredients for the rempah, I finally understood why nasi padang stalls in food courts are always so pricey compared to the other stalls. There is really a lot of hard work going into making that one dish! Also, this was something I didn't know but, the chef mentioned that when rempah is cooked, it is referred to as sambal!
There are a total of 8 of us, and chef told us to work in groups of 4. It's so different when there are so many pairs of hands working together with yours! Usually when I cook, I spend some time washing up cutlery and utensils in between preparation and cooking since my kitchen is quite crowded. So I end up spending more time finishing my dish than I should /:
Ayam Panggang Berempah
This is basically a chicken dish simmered in a spice paste prior to grilling in the oven so as to infuse the flavours into the chicken. It is similar to the the ayam panggang you see at Indonesian food stalls, except that the recipe I learnt doesn't make use of sweet sauce (kecap manis) and so the resulting colour of the chicken is slightly on the lighter side. We used frozen chicken for this dish. First we blended all the ingredients for the rempah and then fried the rempah to blend the flavours nicely together. The chef also mentioned that infusing the oil with the leftover lemongrass, galangal skin and kaffir lime leaves would help to achieve a better taste. After cooking the rempah, we added seasonings like cumin, coriander, salt and gula melaka to further flavour the chilli paste. The cooking process was quite simple; the tedious part was the preparation of ingredients, especially if you are going to cook more servings. The resultant chicken was fragrant and flavourful! One thing I would change about this recipe is either to use only chicken thigh meat (because the breast meat gets overcooked and slightly dry) or remove the breast meat from the oven before removing the other parts.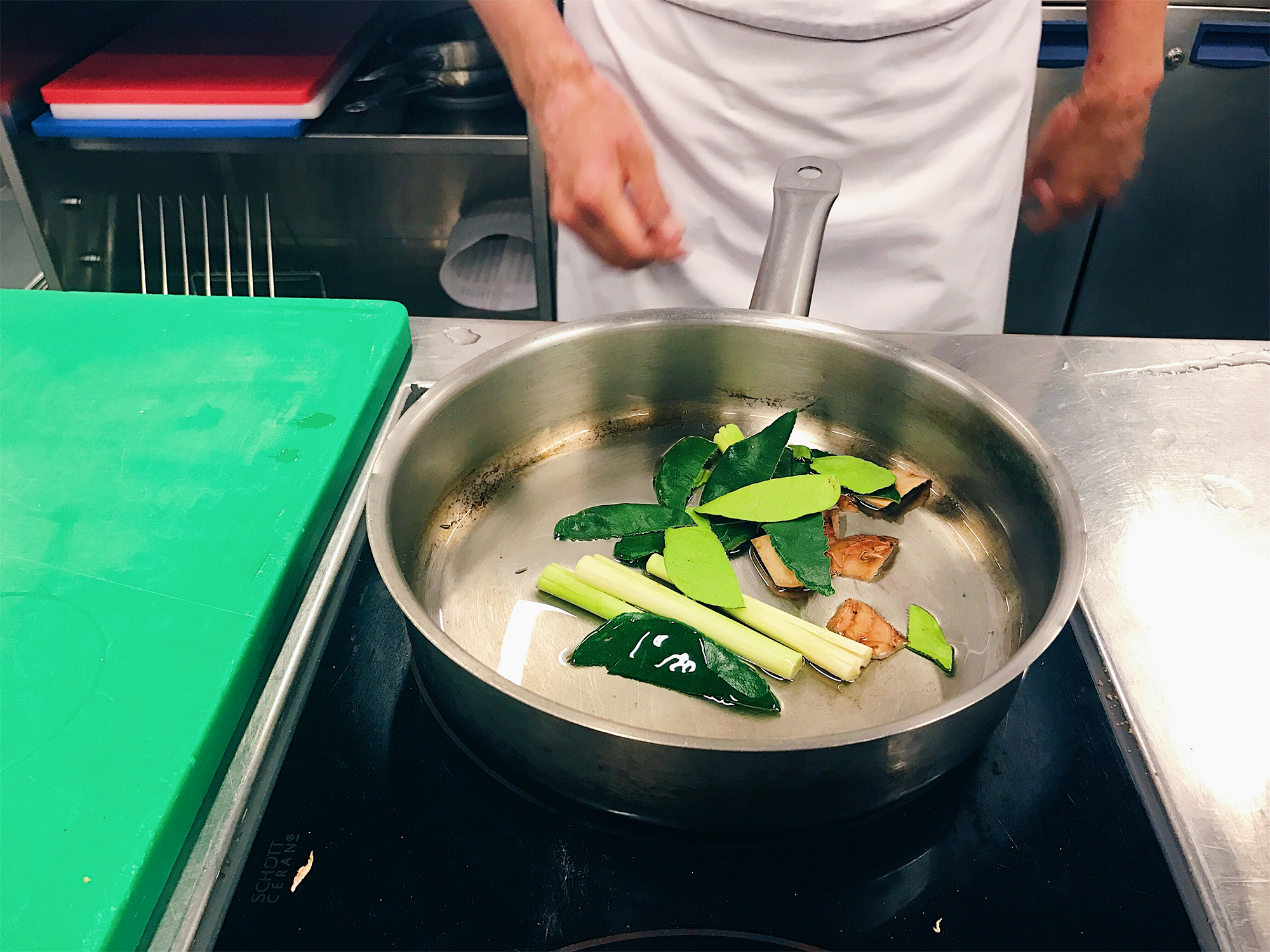 Lemongrass, Kaffir lime leaves & galangal – infuse them in oil and you will get a distinct tom yum smell!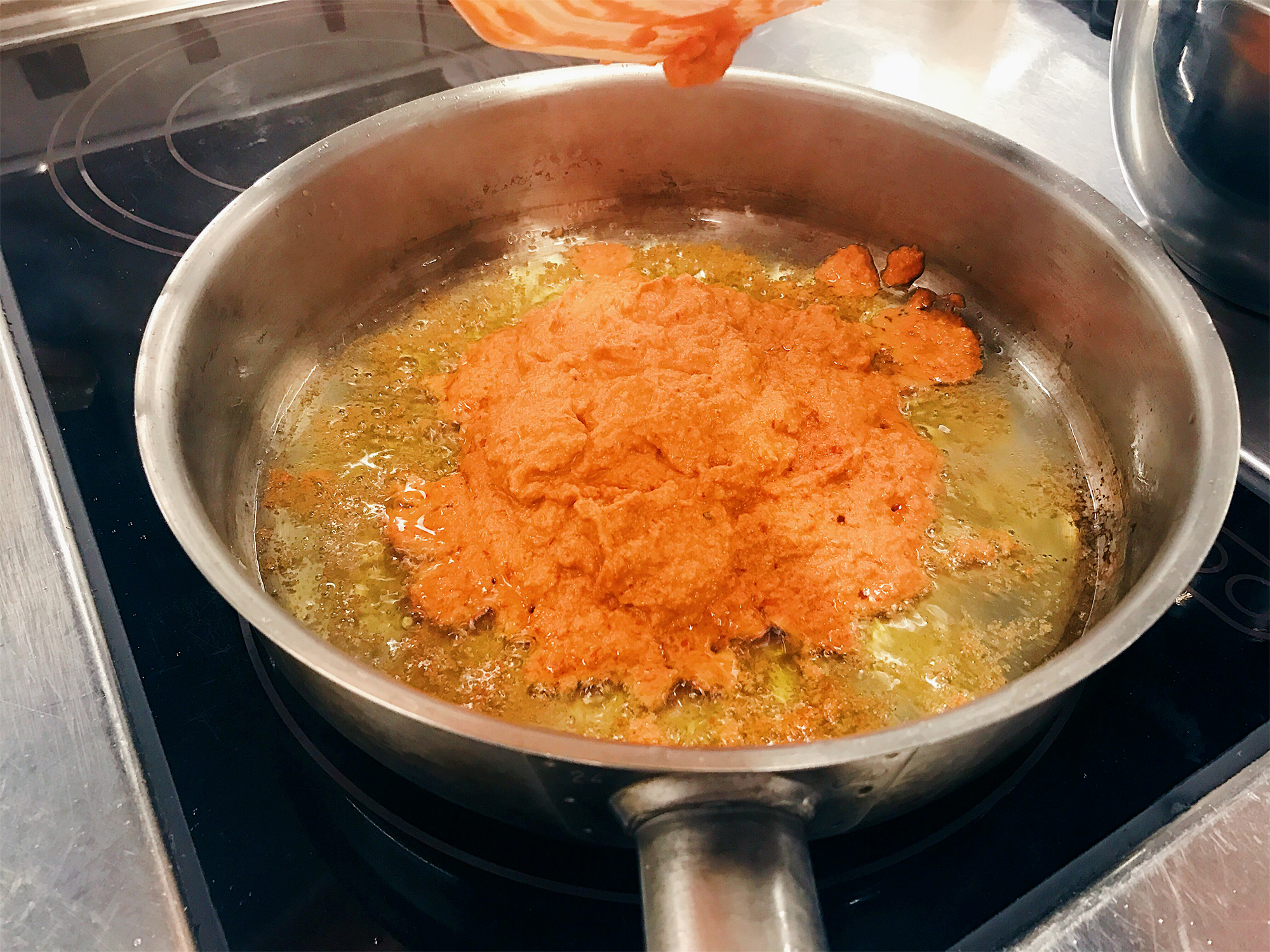 Frying the rempah in lots of oil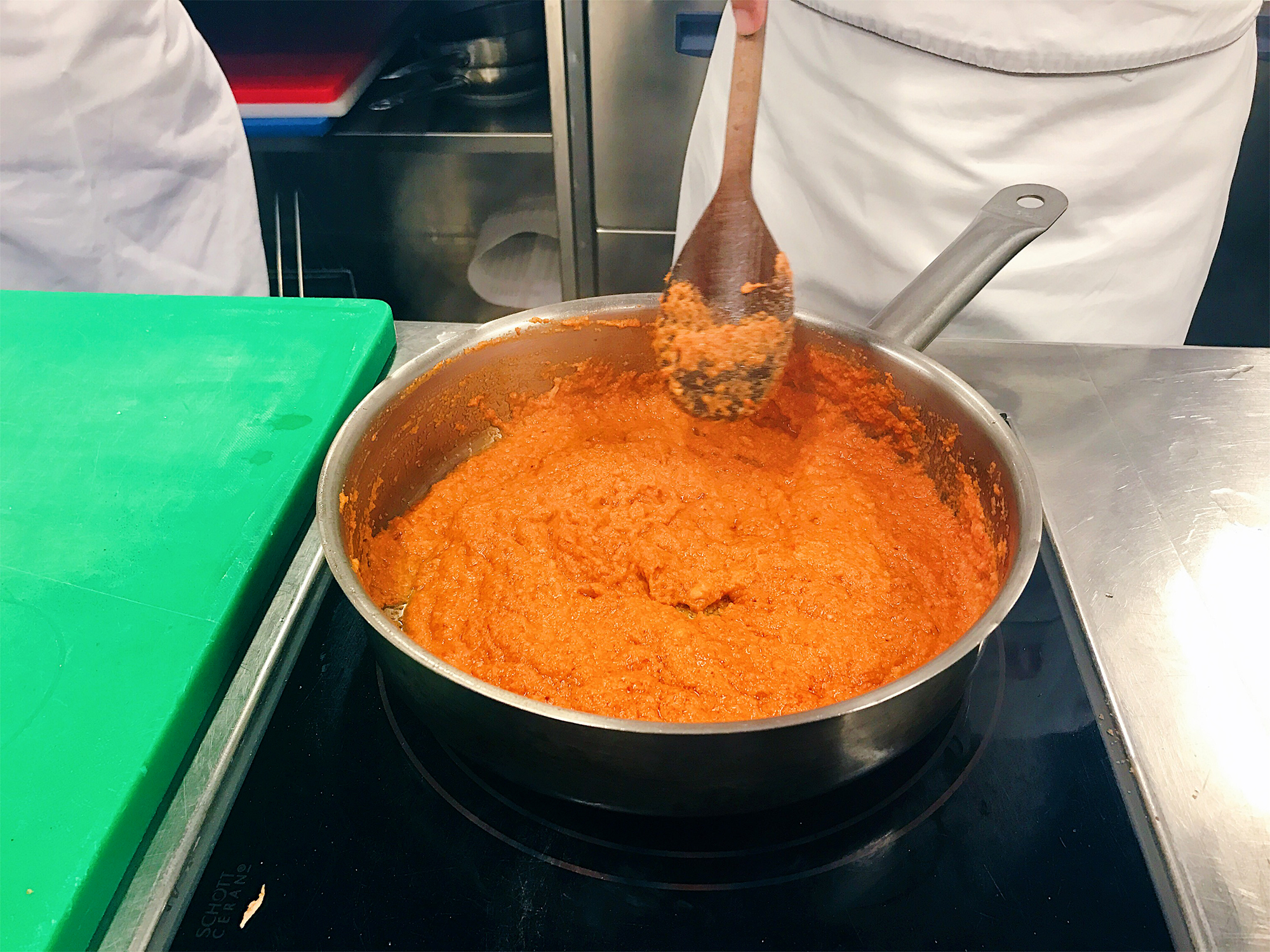 Fry the rempah until it releases oil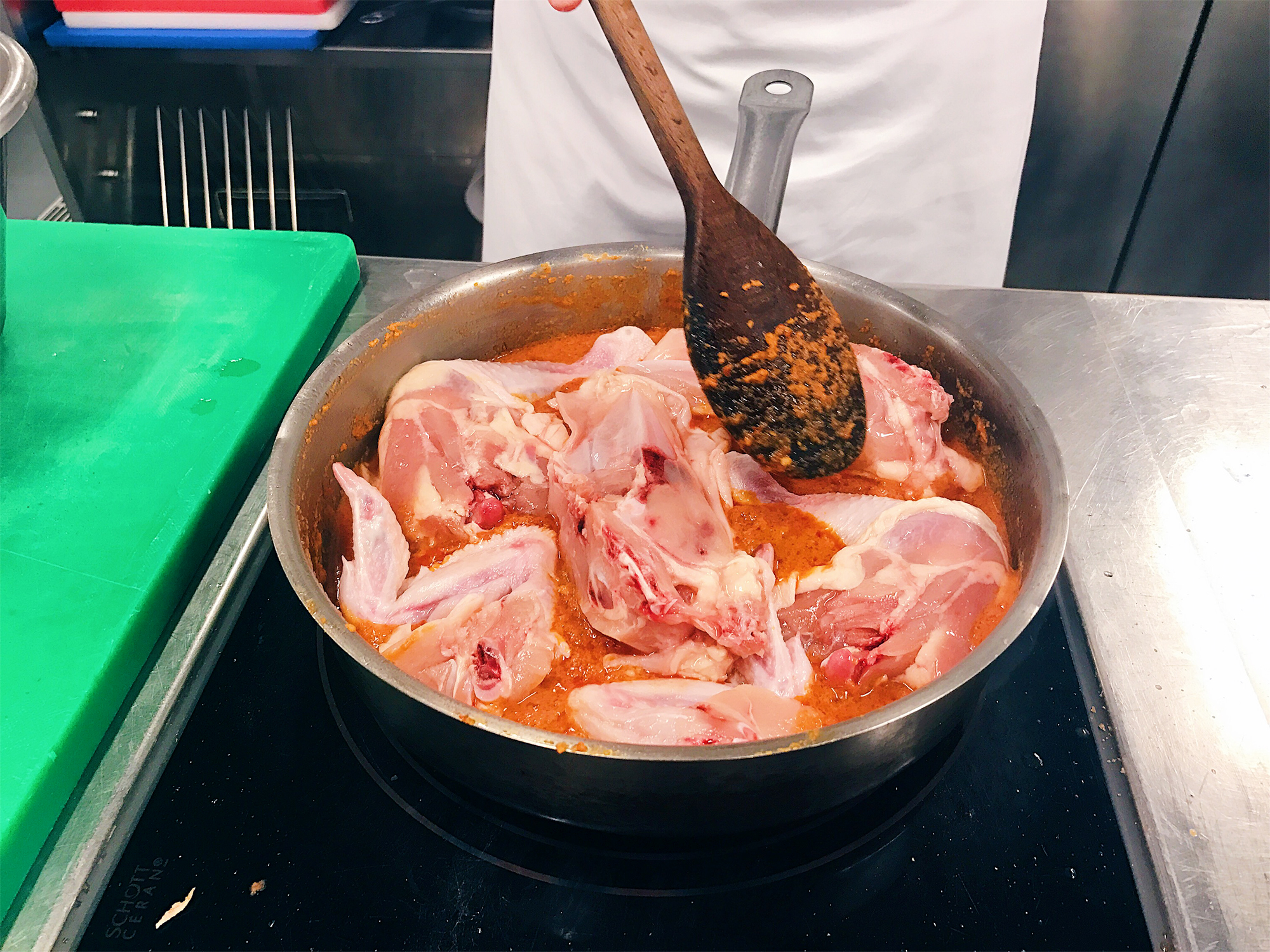 Add the chicken to simmer cook for a while, before transferring to the oven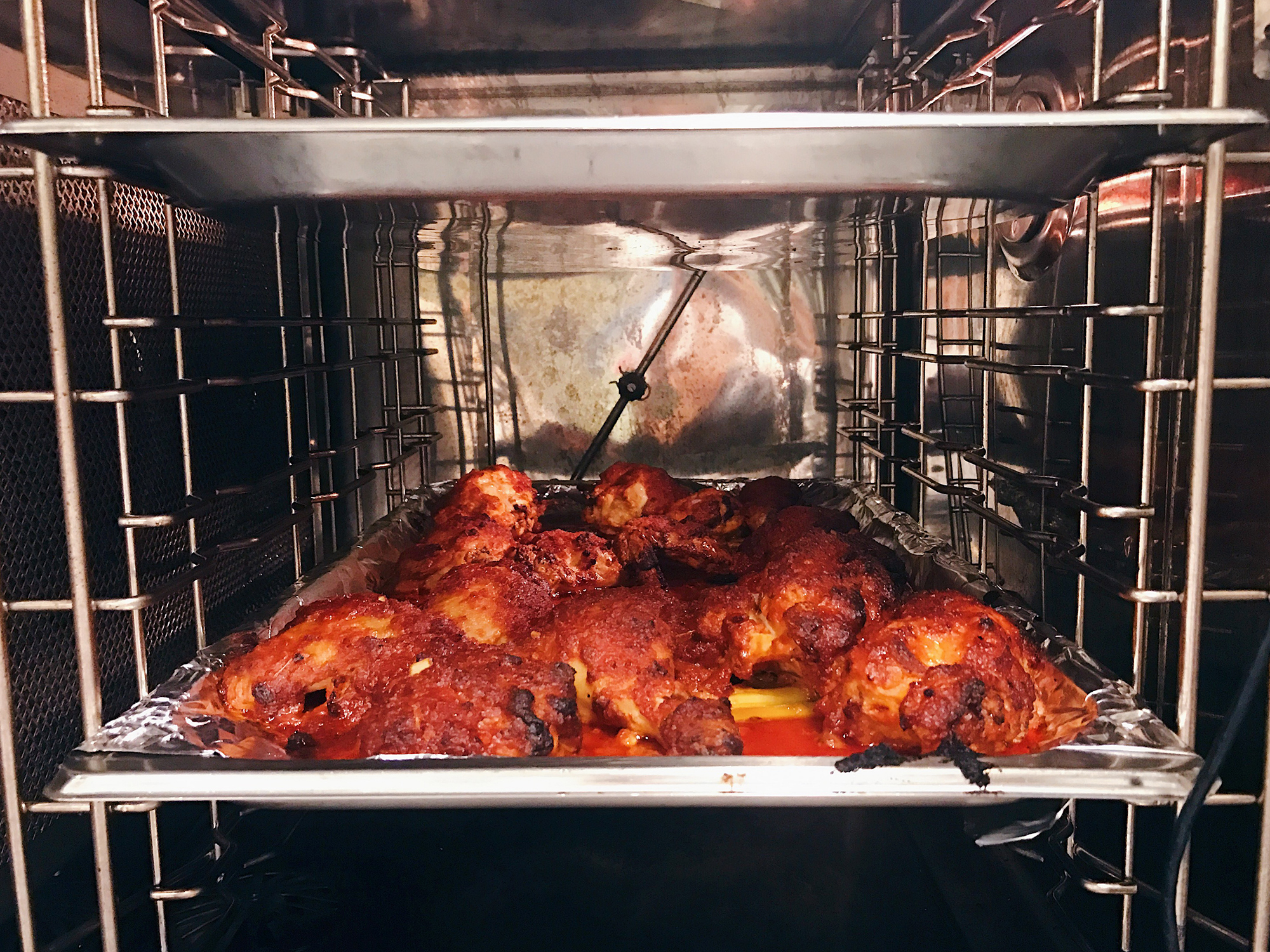 Yummy!
Sambal Goreng
This dish is kind of like a mixed vegetable dish with sambal, except that the only vegetable is long beans, and there's other ingredients like beancurd, prawns and tempeh. The chilli paste used in this dish is very similar to the previous once, but it incorporates the use of belachan. And all the ingredients in this dish are actually rather beneficial for health, but they are all deep-fried, so I guess it's not really the healthiest dish around. It was also my first time trying tempeh; I've never eaten it because the smell alone puts me off. But that day I decided to be adventurous and give tempeh a chance, and true enough, its taste is as pungent as its smell. Never will I be touching tempeh again.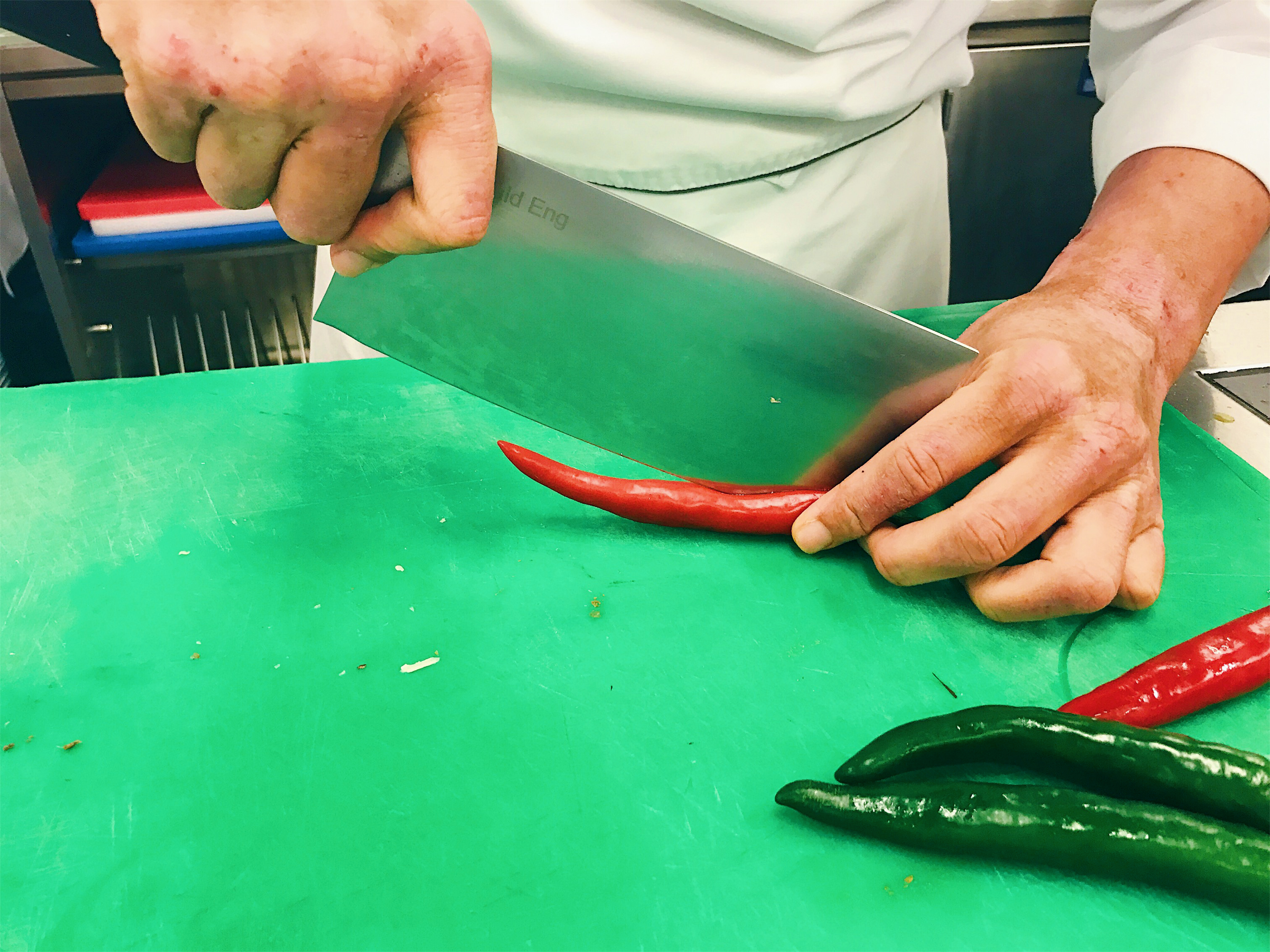 Using fresh red chillies instead of dried red chillies for this rempah, which also means the paste will be a lighter shade of red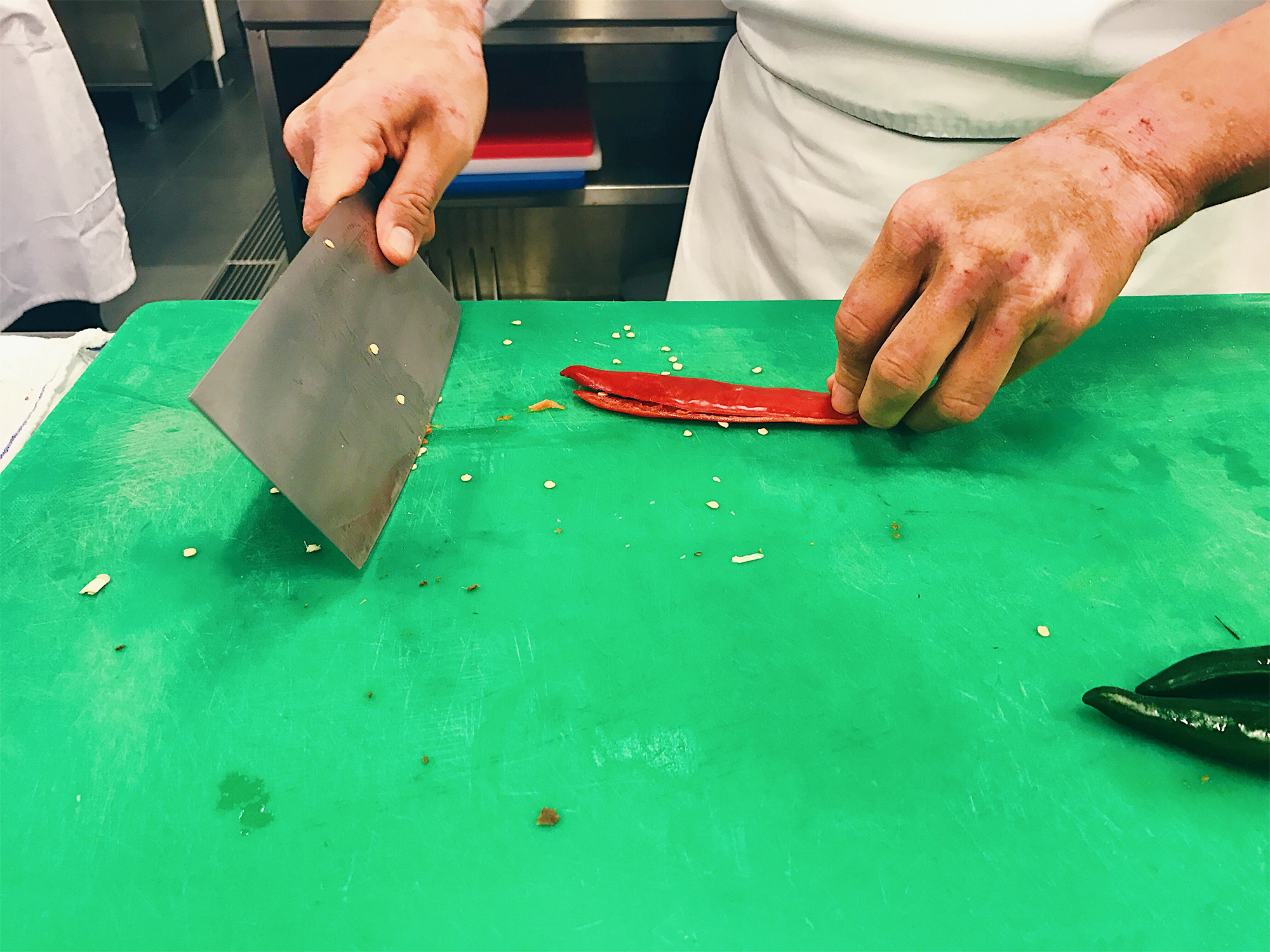 Chef Mac showing us how to remove chilli seeds in the most effective manner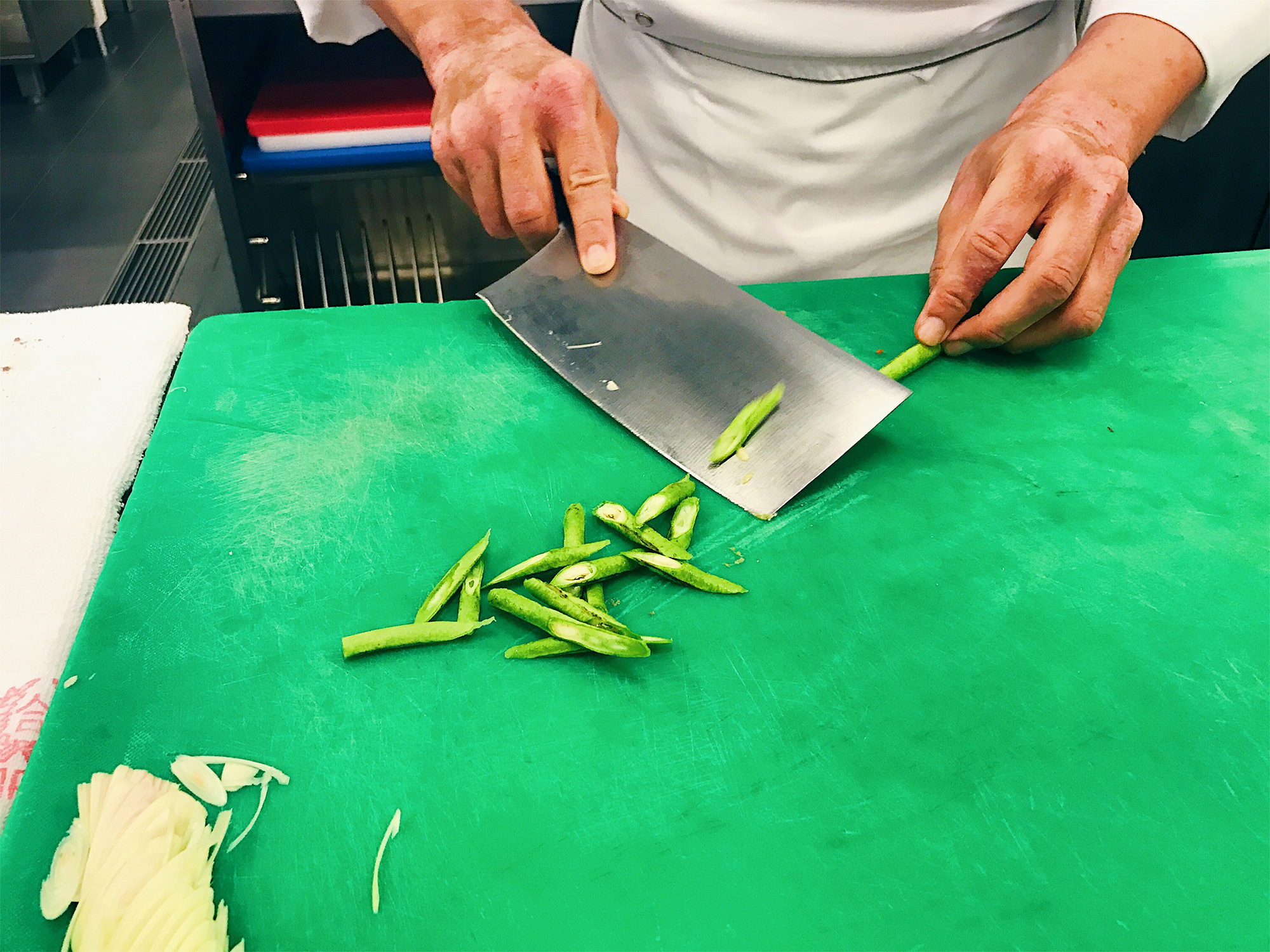 Slicing long beans for the sambal goreng dish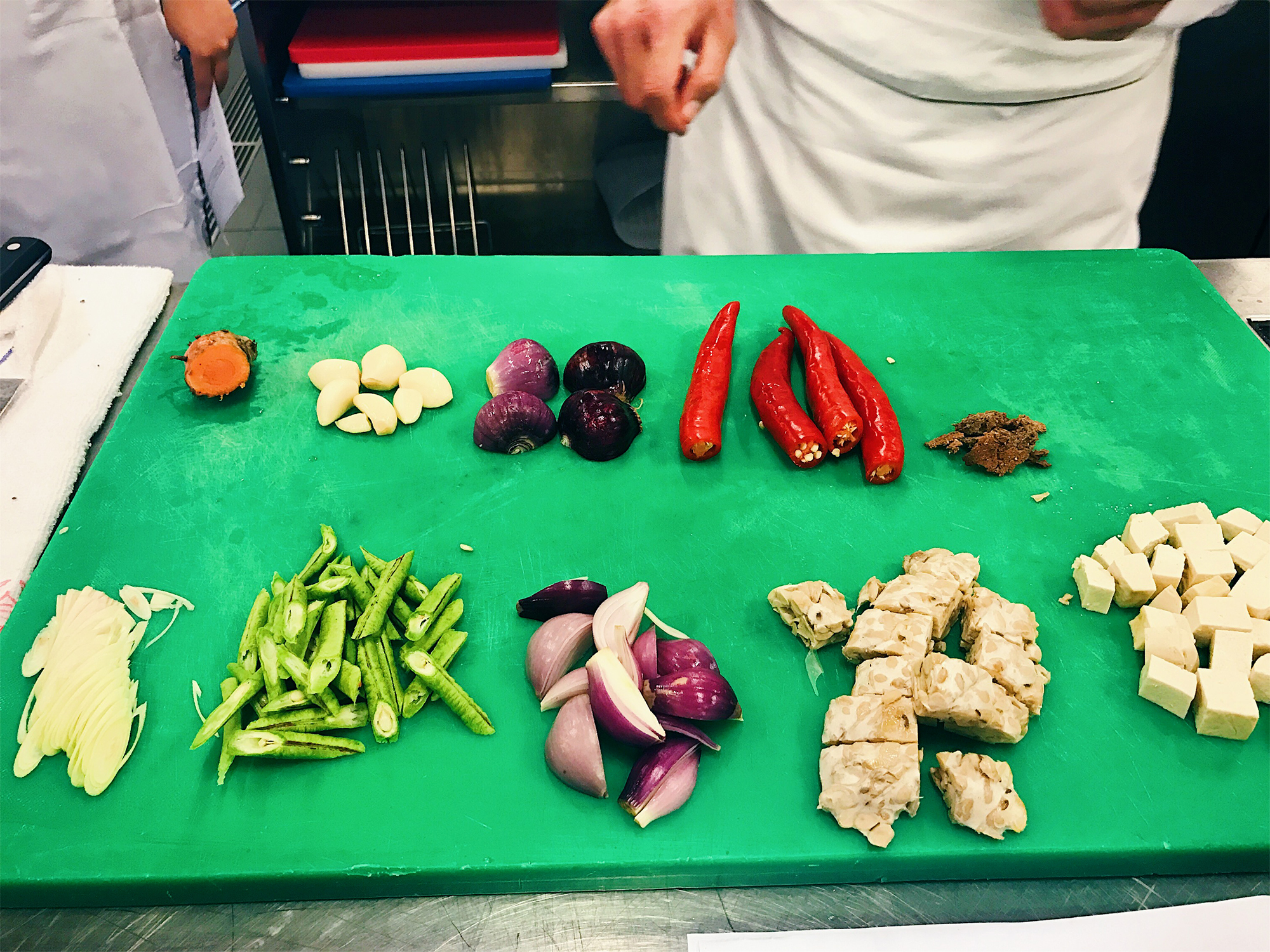 Ingredients for the sambal goreng dish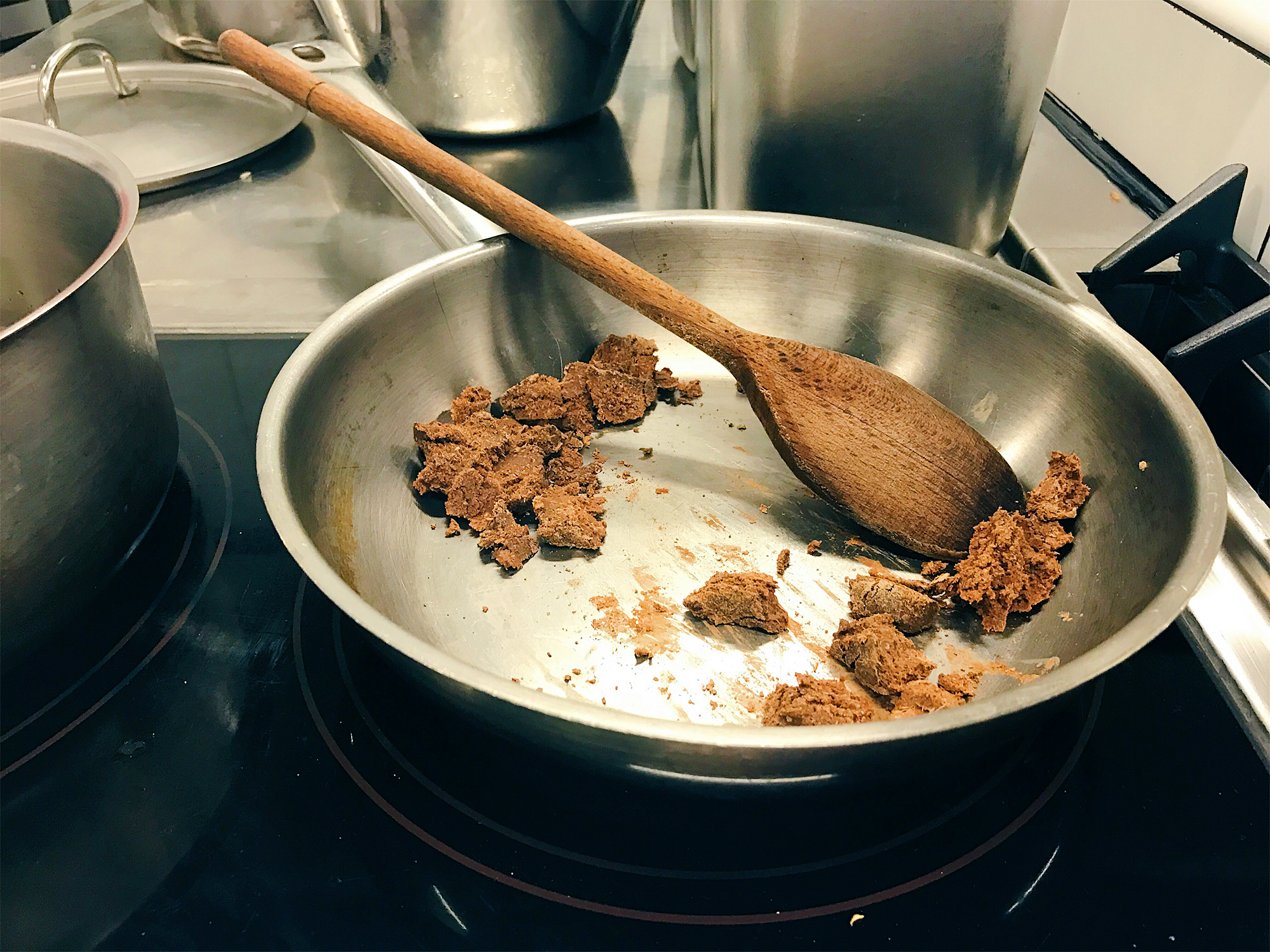 Dry toasting the belachan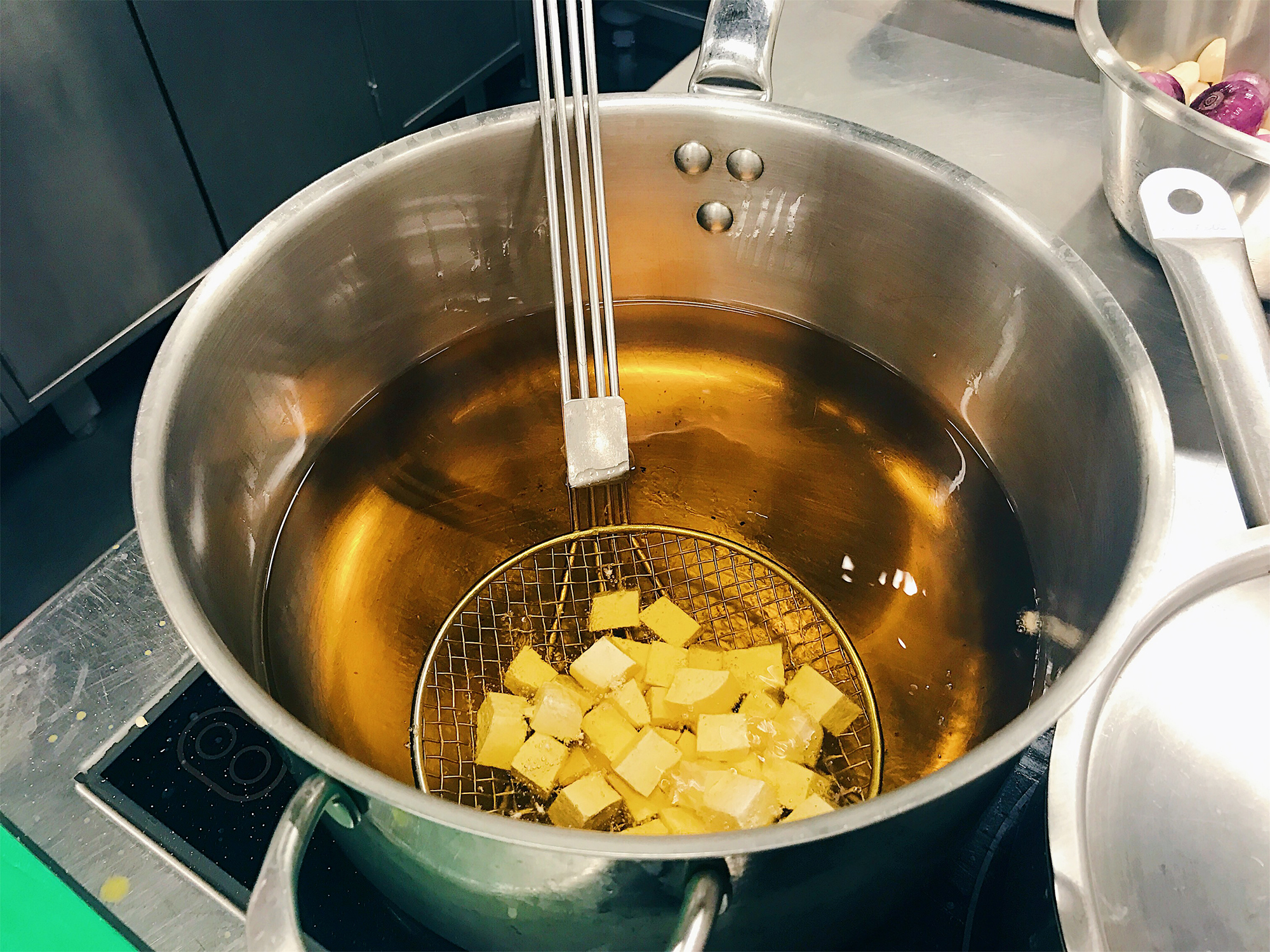 Deep-frying the beancurd cubes (*use firm beancurd)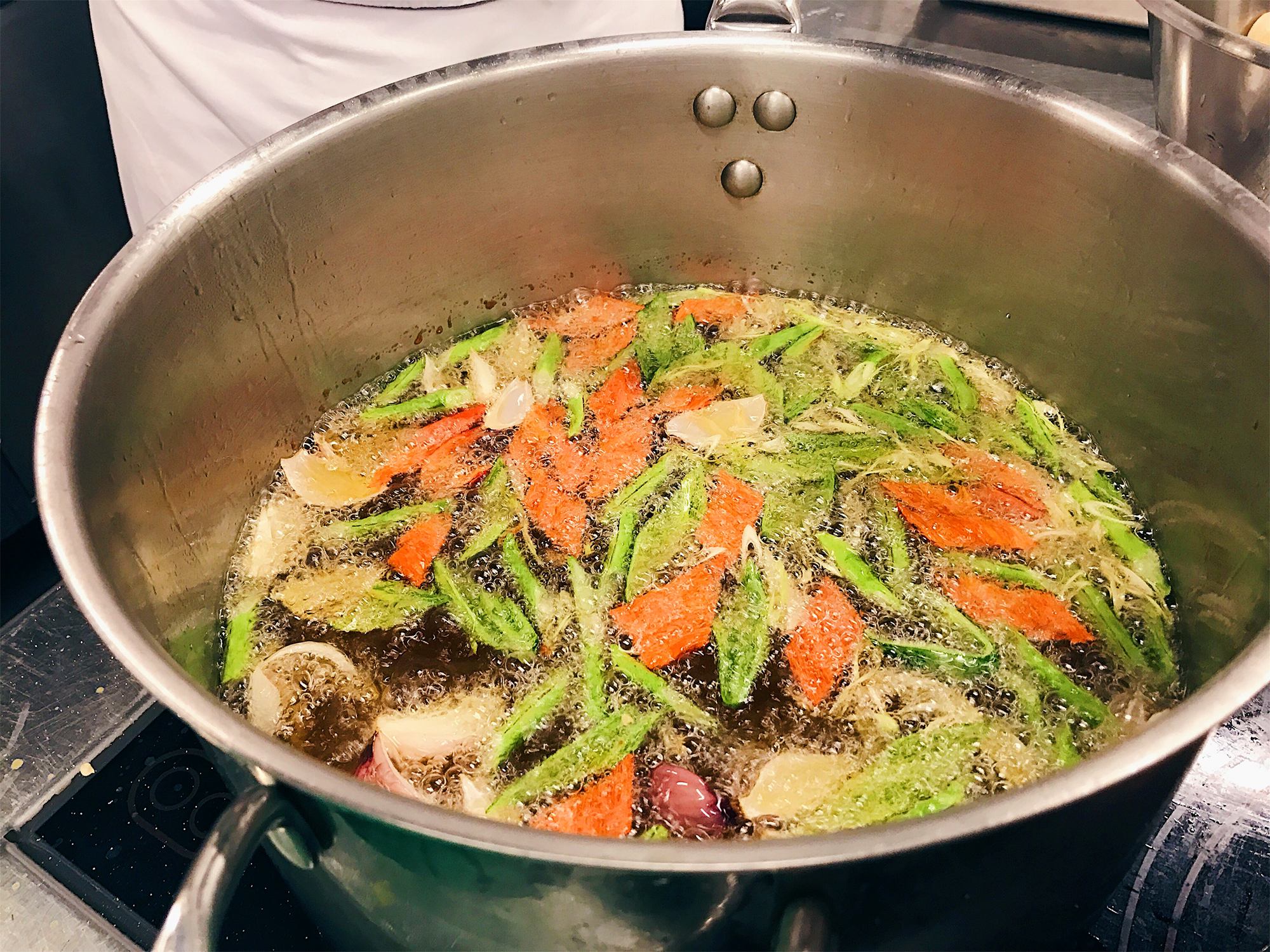 Deep-frying the rest of the ingredients – a really 'healthy' dish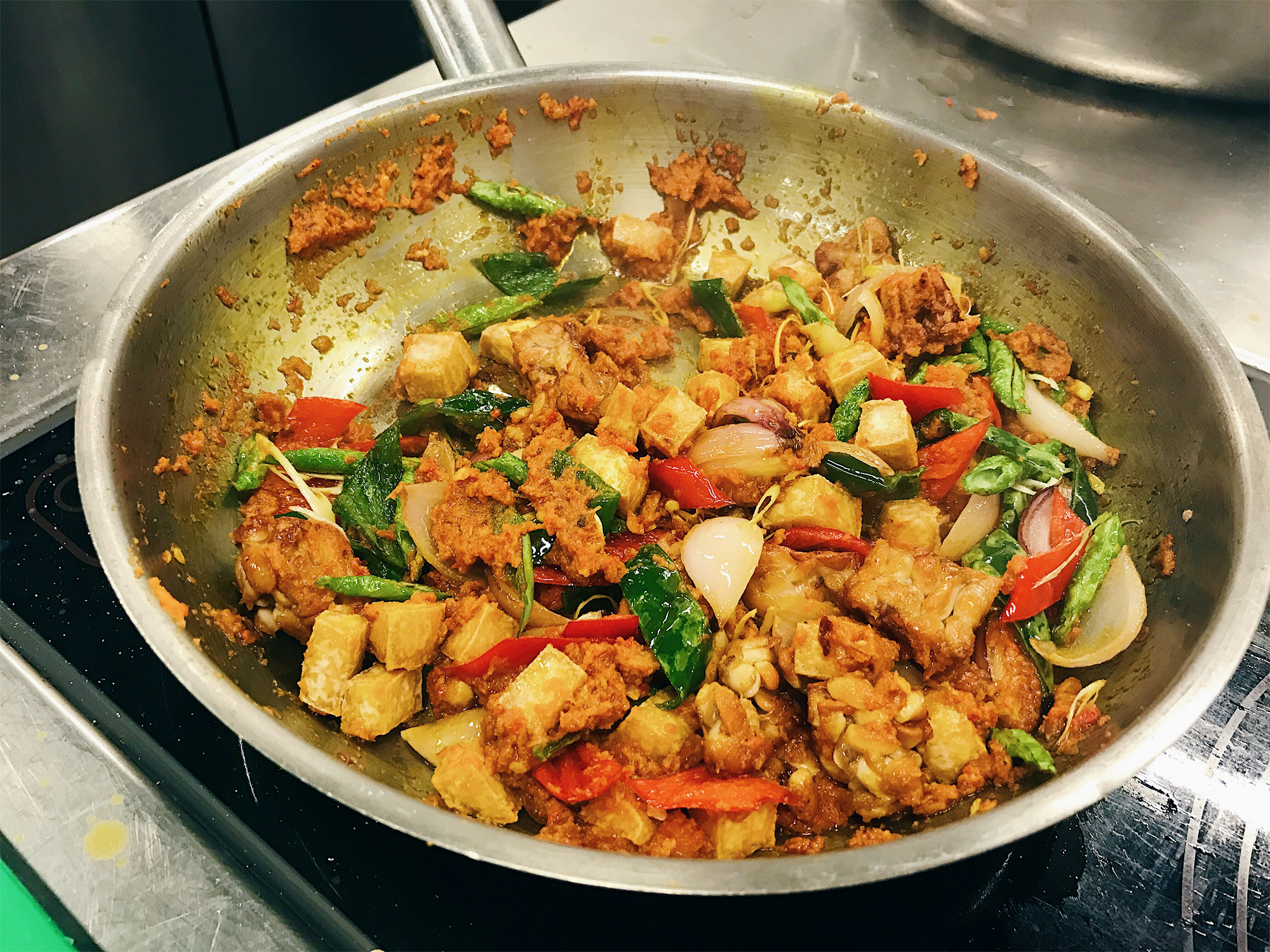 Ingredients and spice paste tossed together in a saute pan
Tahu Goreng
Tahu Goreng is simply fried beancurd with peanut sauce. Please use firm beancurd and not soft ones for this dish! For this recipe, we didn't get a chance to make the peanut sauce on our own. Chef Mac made the sauce for us while we deep fried our own beancurd to a golden brown colour.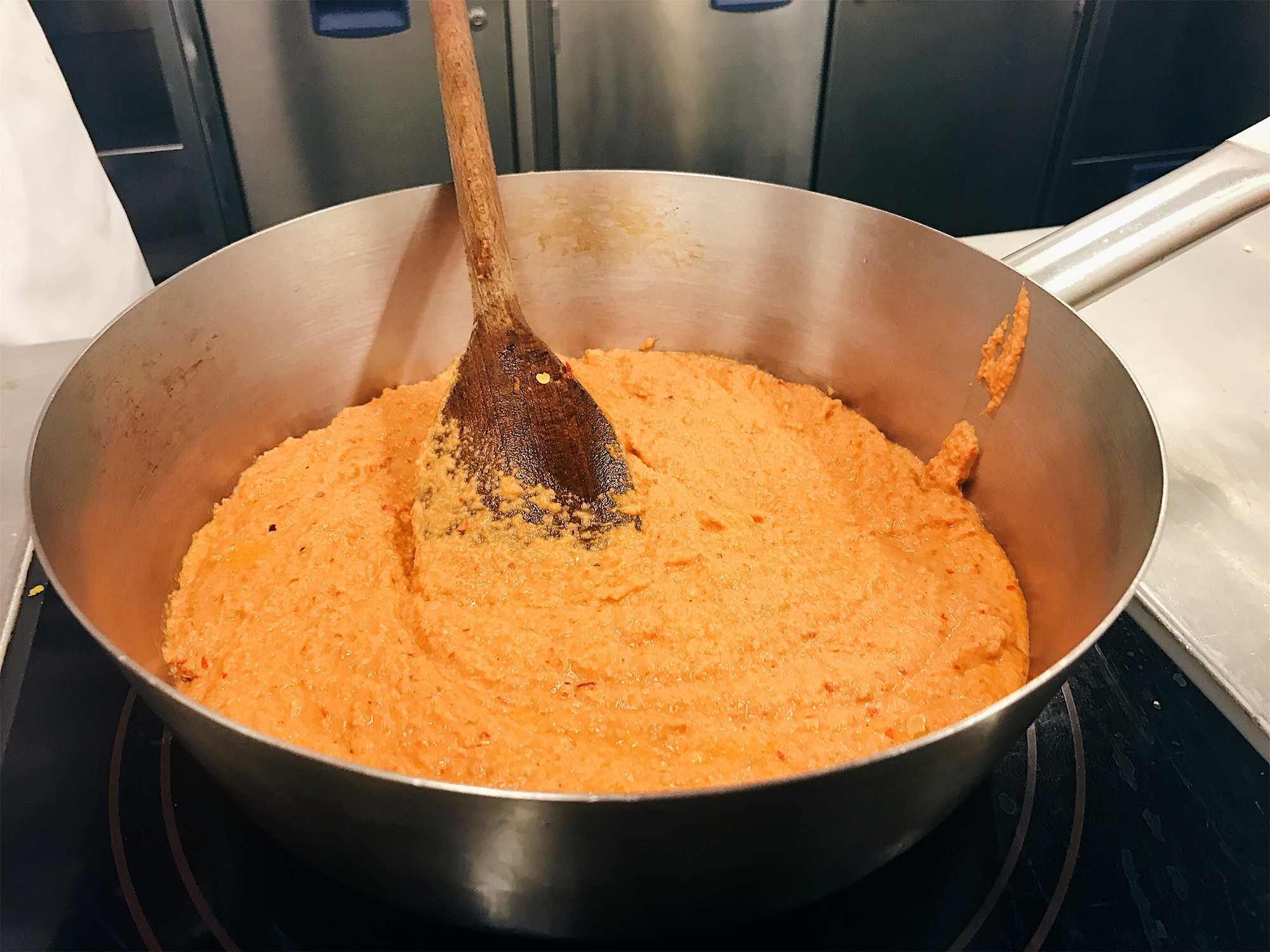 Cooking the peanut sauce 
Turmeric Rice
Chef taught us how to cook a simple yet hearty 'dish' – turmeric rice. It requires just a little more preparation but the cooking method is not at all difficult. Most importantly, the resultant flavoured rice tasted so good! I would definitely choose turmeric rice over plain rice anytime. Cooking rice in a pot over the stove does require just a little more attention than cooking rice in a rice cooker, but it's significantly faster so I always like to cook my rice in a pot when I'm in a rush. It takes only 15 minutes or less if you're cooking one cup of rice in a pot as compared to 25-30 minutes in the rice cooker!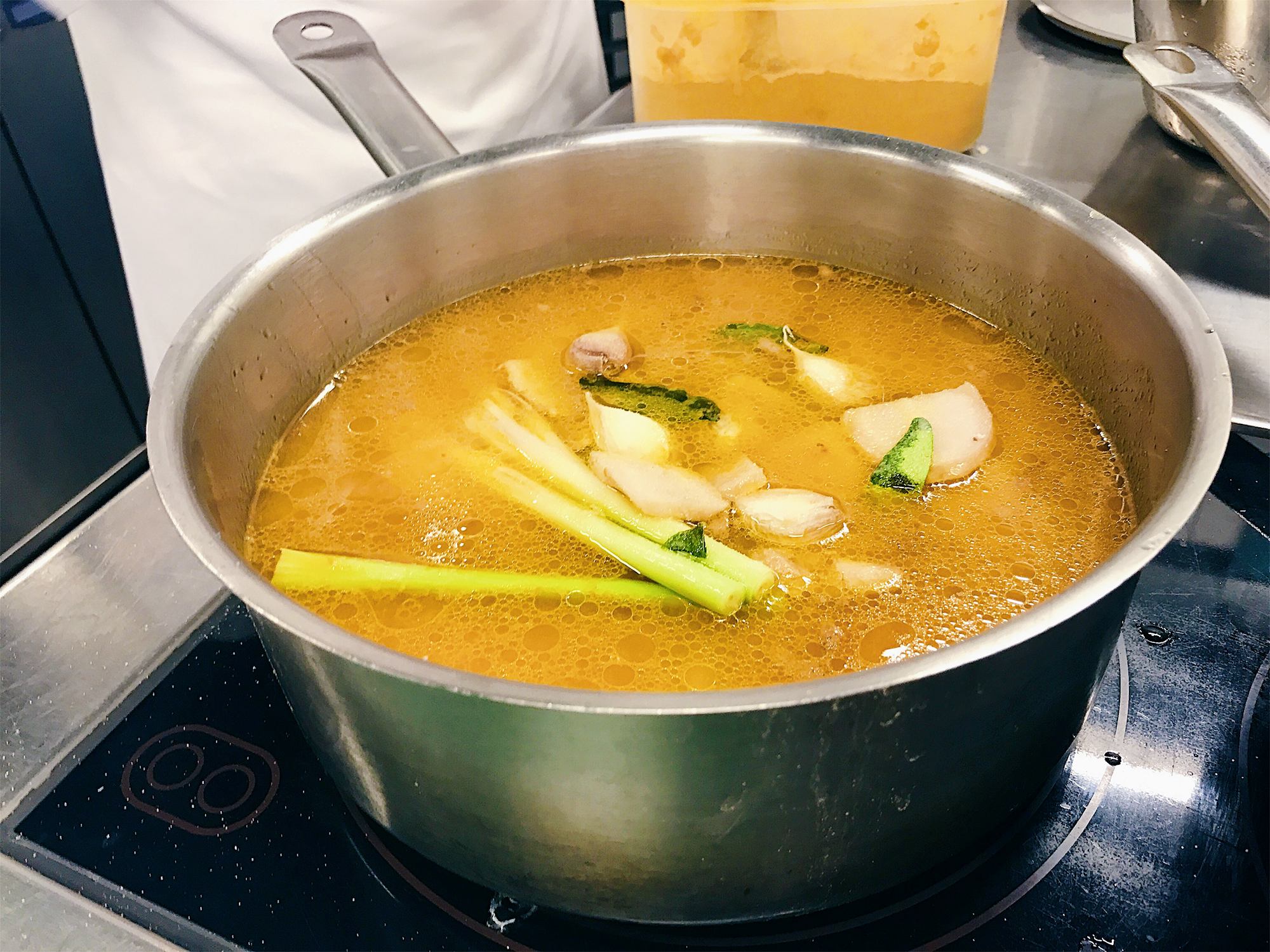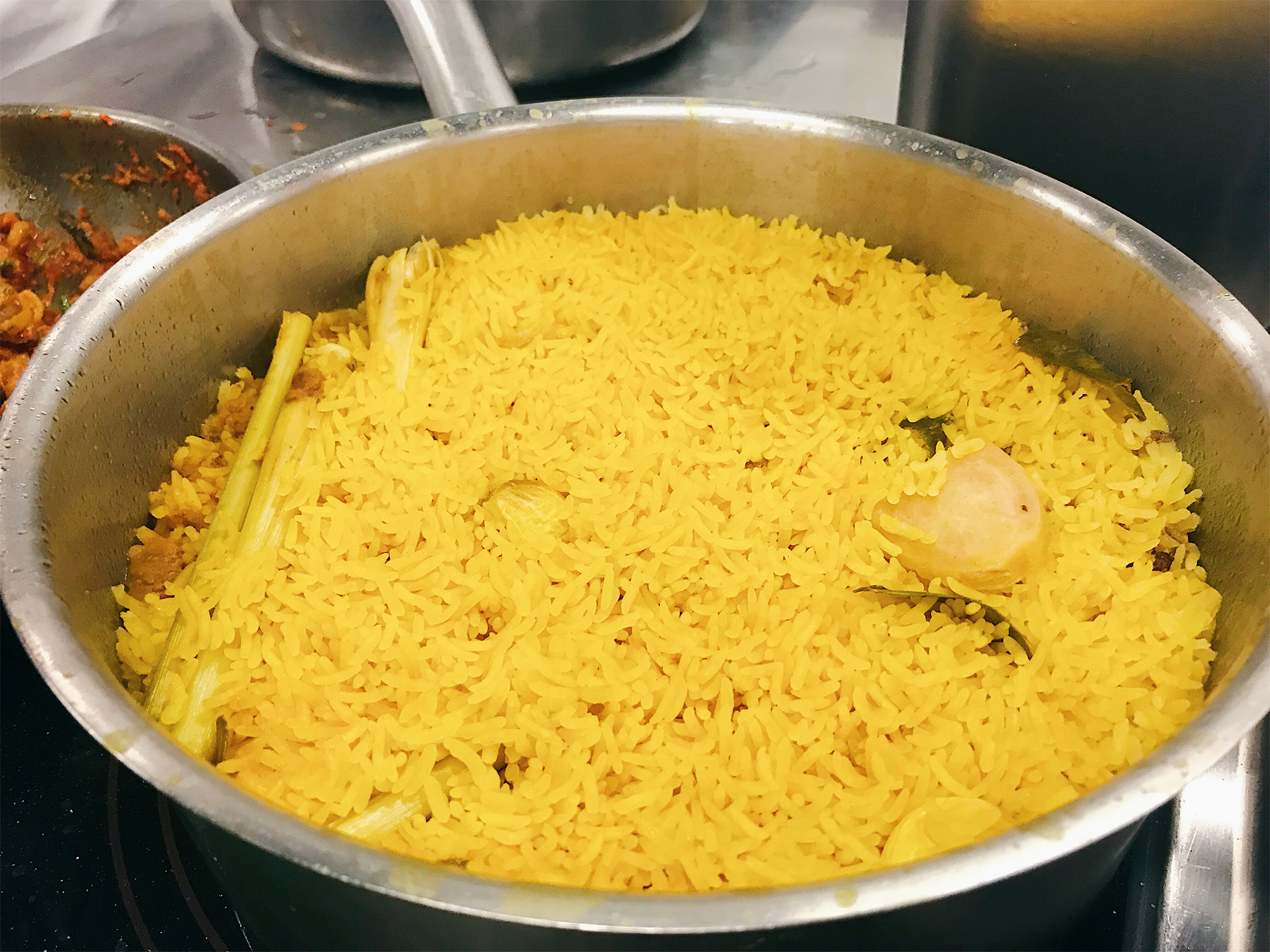 Aromatic and tasty turmeric rice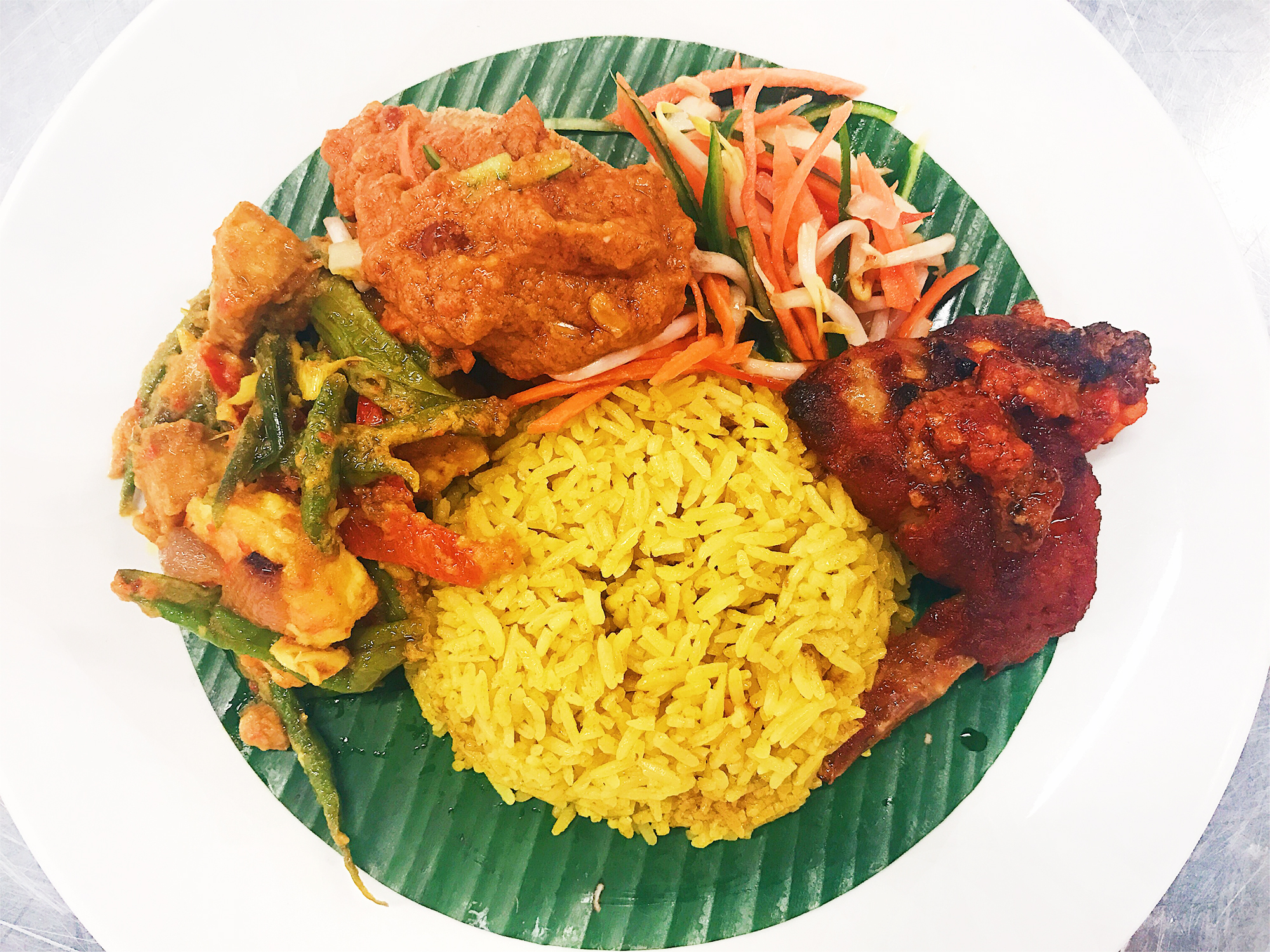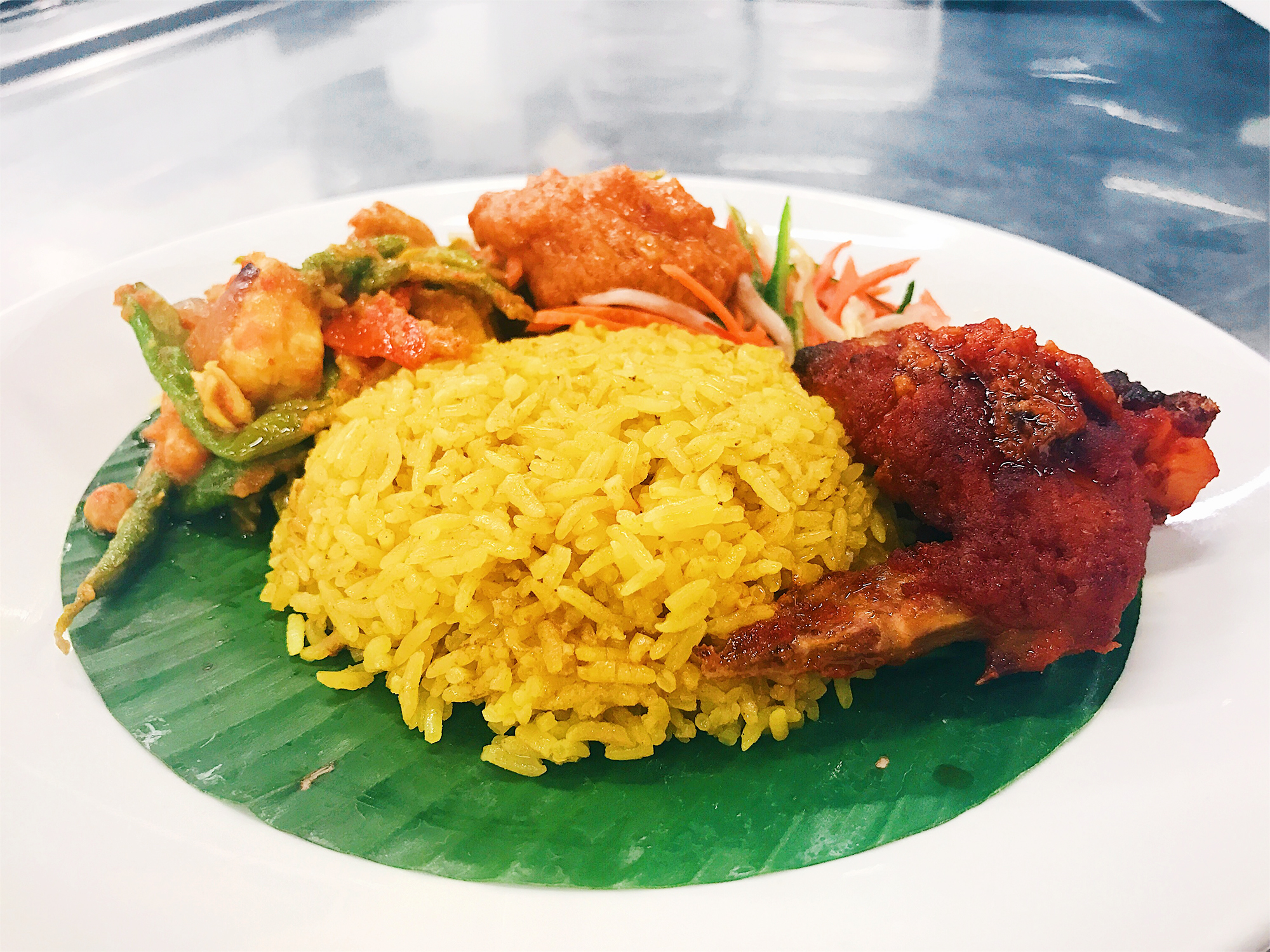 At around 12pm, our dishes were all completed and we could take as much as we wanted for our lunch. But the people in my group were all small eaters so we ended up having a lot of food left. We headed to the dining area with our plates filled with saliva-inducing food, and chef Mac joined us as well. Although it was a Saturday, there were many students from other culinary and pastry courses present as well. The best part was that we were allowed to eat the desserts students from the pastry courses whipped up! There is also a chef(s) on duty everyday to cook lunch for the entire cohort. I thought that was really cool – it's kind of like free lunch provided everyday! Even those who attended courses like 'wine appreciation course' were allowed to indulge in the free lunch.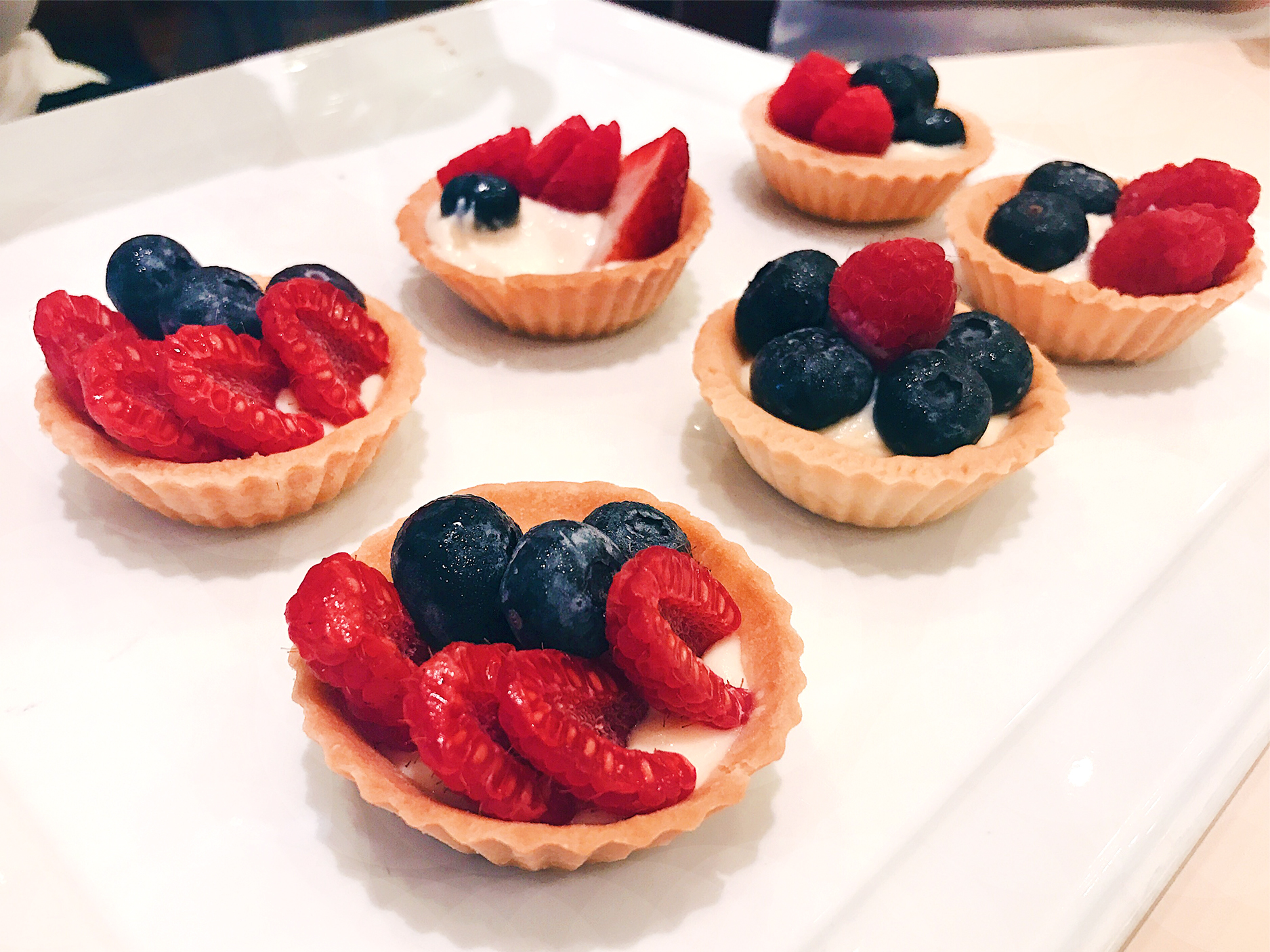 Free mixed berries fruit tarts – one of my favourites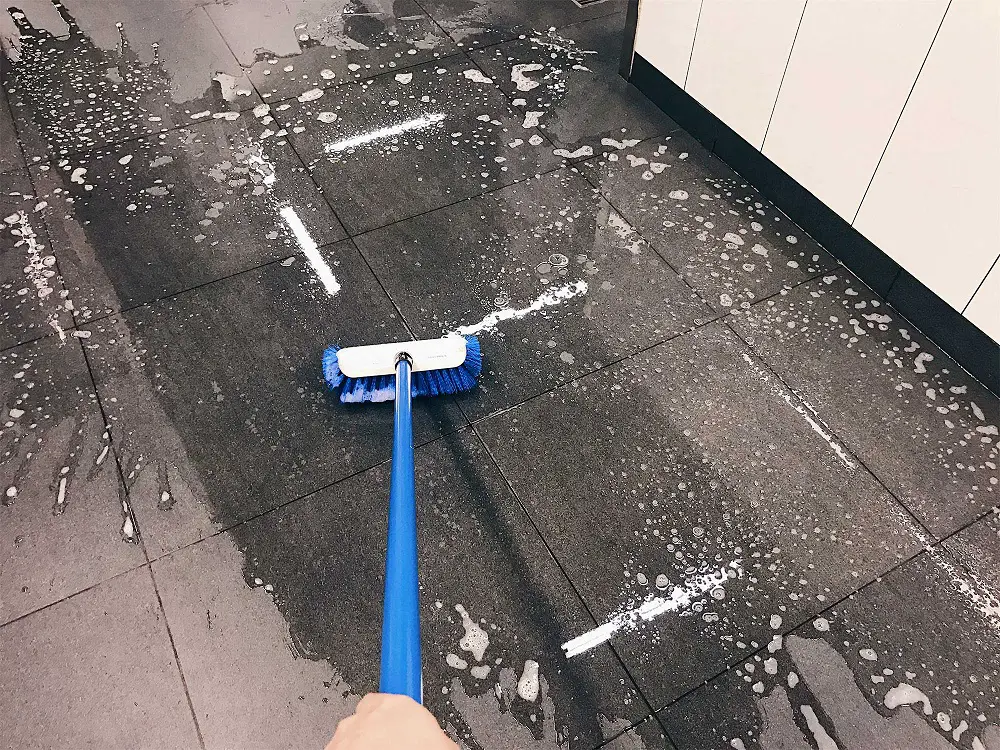 After lunch we had to go back to the kitchen to wash up all the pots and pans, and even the floor! I thought it was actually quite fun to wash the floor, although some probably thought otherwise. After washing up, the chef gave us a debrief and answered all sorts of burning questions that we had for him. We ended class rather early, at 1pm instead of the stipulated 2pm. I personally like the culture and atmosphere of At-Sunrice because while the chefs are like teachers to us, they didn't put on airs and seemed to treat us like equals (or at least from what I saw from the few chefs we met). I'm not sure how different it would be if we were students taking a diploma at At-Sunrice – perhaps the chefs will be stricter with us? Going for the first lesson really enticed me to enroll in a full culinary course at At-Sunrice! If you have some SkillsFuture credits left and you don't know what to do with them, I would without a doubt recommend you to use them on the At-Sunrice courses! I think they are a good experience to have even if you already know how to cook, and I promise you that you won't regret spending the governement's money on them!