It's been a while since I've posted recipes here. With the partial lockdown in effect in Singapore, it's the perfect time to start experimenting with cooking again. The other day I chanced upon Tastemade's Potato Gorgonzola Rosemary Puff Pastry recipe, and it looked so good that I knew I had to make it. Plus, the puff pastry in my freezer has been sitting in there for so long that the edges were cracking, so it was high time to use it up.
I made a few changes to the recipe, including reducing the amount of potatoes, using more mascarpone cheese and using cheddar cheese in place of gorgonzola cheese. Gorgonzola cheese isn't as widely available in Singapore, plus it's more of an acquired taste for many. I think the cheddar cheese tasted decent, but next time I would use a different cheese, perhaps feta cheese.
Here are some things to note:
Make sure to use starchy potatoes like Russets instead of waxy potatoes. Waxy potatoes hold their shape too well even when cooked until tender, so they aren't fluffy enough upon baking.
Make sure the potatoes are sliced thinly so that they will be cooked through.
Use fresh rosemary if possible. I used dried rosemary since I couldn't get my hands on fresh ones.
The original Tastemade recipe called for gorgonzola cheese to be used, but I used cheddar instead. You can substitute gorgonzola for any cheese of your choice! I think feta might be a better choice than cheddar actually.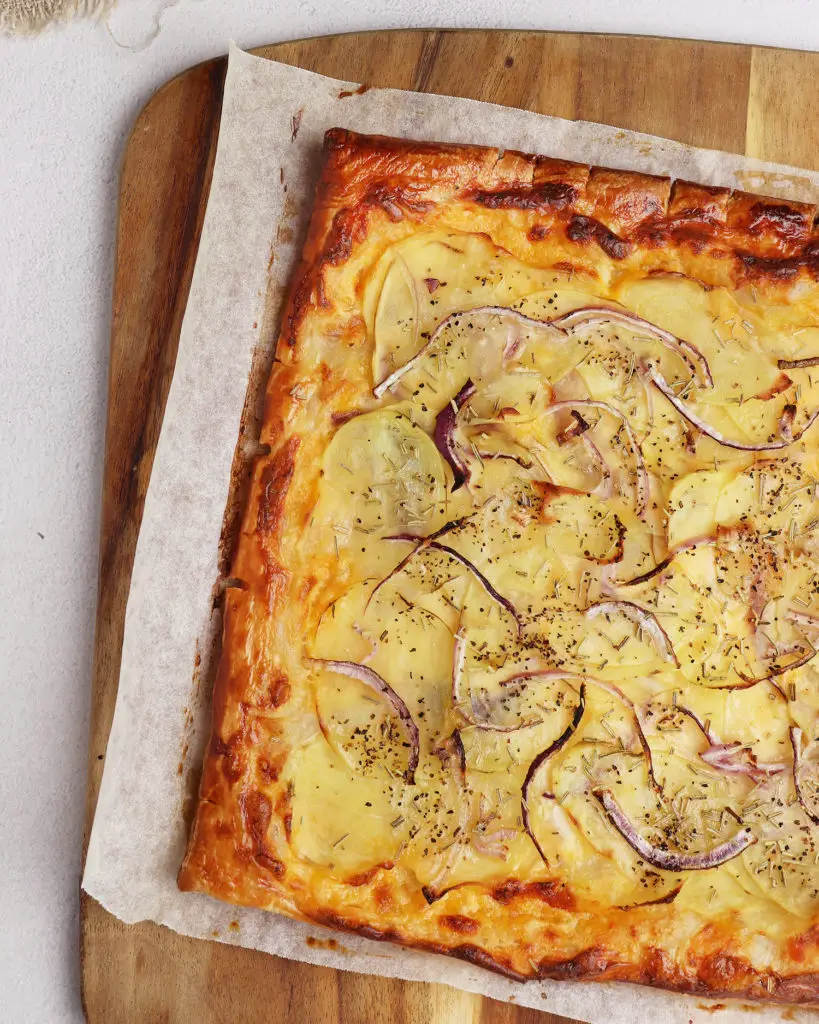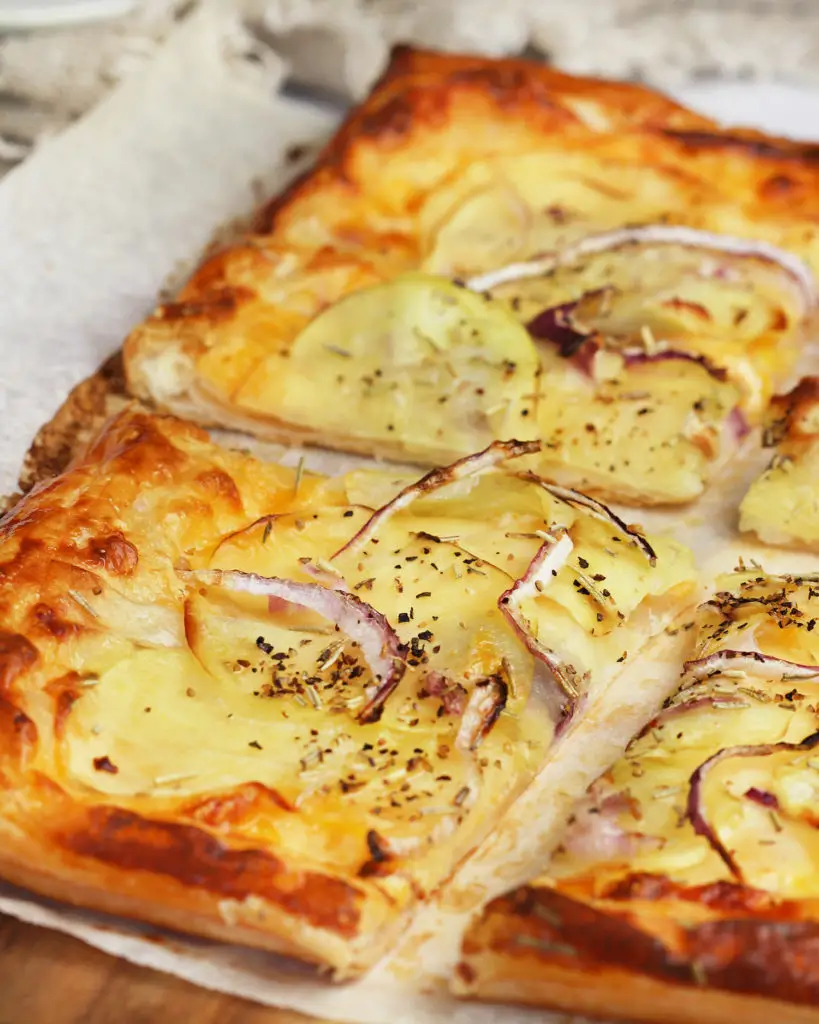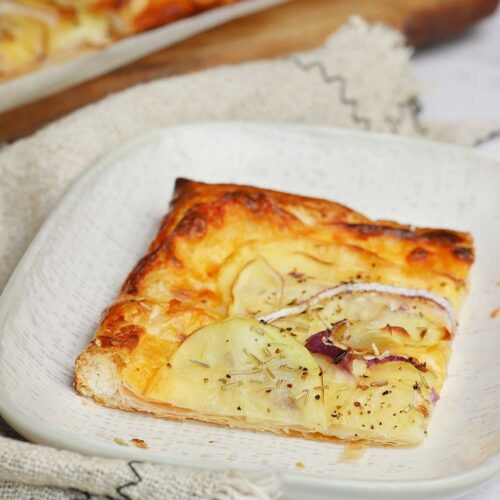 Potato Cheese Puff Pastry Tart
Ingredients
2

sheets puff pastry

approx. 350g

2

starchy potatoes

approx. 280g

½

red onion

2

tbsp

olive oil

90

g

mascarpone cheese

90

g

gorgonzola cheese

substitute with cheese of your choice

90

ml

heavy cream

sea salt flakes

to taste

black pepper

to taste

fresh rosemary

to taste

1

egg yolk

for egg wash
Instructions
(Adapted from Tastemade's Potato Gorgonzola Rosemary Puff Pastry Tart recipe)

Preheat oven to 220°C / 200°C fan.

Line a baking sheet with baking paper and lay puff pastry on top. Using a small sharp knife, score pastry along the edges - 2.5cm from the edge - to create a crust. Prick the base of pastry (inside the crust) with a fork then put it into the fridge while you prepare the toppings.

Slice onion finely and put it into a bowl. Peel the potatoes and slice them thinly using a mandolin. Put them into the bowl and season with sea salt flakes and olive oil. Mix well.

Using your hands, crumble the gorgonzola cheese (or a cheese of your choice) until fine. Place gorgonzola cheese, mascarpone cheese & heavy cream into a bowl and mix well.

Bring pastry out of the fridge and spread cheese filling evenly over the pastry (inside the crust). Place potato and onion slices over the cheese filling neatly so that they slightly overlap.

Grind black pepper and add fresh rosemary on top of the tart, then brush egg yolk over the crust. Place tart in oven and bake for 25-30 minutes, until the pastry has browned and potatoes are starting to curl up. Do keep an eye on the pastry to ensure it doesn't become too brown. Once cooked, remove from oven and serve.