Wow, I found a dish that requires minimum effort but gives you maximum satisfaction! It's called Campfire Chicken and it's apparently quite popular in the States. It's similar to Crab In Da Bag, except that we're using chicken instead of crabs. All you really have to do is season whatever ingredients you like with olive oil, butter and spices, wrap them up in foil or baking paper, then bake for 40-50 minutes. And it tastes yummy yet healthy!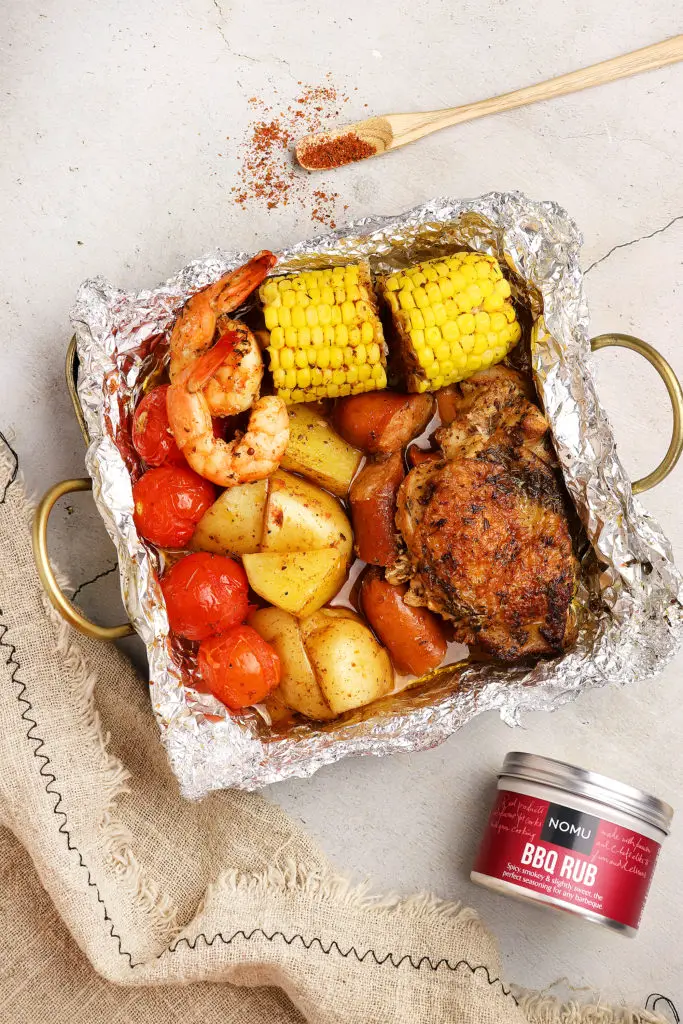 Here are some things to take note of:
I used NOMU's BBQ rub (it tastes good!) for this dish, but you can add your own spices if you prefer. If you don't have the said BBQ rub, I'd suggest using garlic powder, onion powder, thyme, paprika, pepper and salt.
Feel free to add or omit any ingredients you prefer. Other ingredients you can add are baby carrots, sweet potato, broccoli, bell peppers etc.
Do par cook your potatoes in the microwave to reduce cooking time! Otherwise, they might still be hard after baking.
I pan fried my chicken for about 1-2 minutes before baking it as I wanted a nice crust, but you can choose to do away with the extra step if you think it's too troublesome.
I used an oven toaster to bake my dish, which requires less time to bake since it's more compact. If you're using a proper oven, you will need to bake for an additional 10-20 minutes, depending on your oven.
You can even prepare extra portions, keep them in the refrigerator (up to 24 hours) and cook them whenever you want!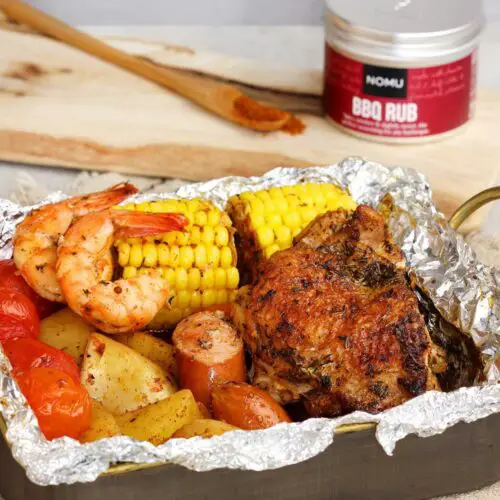 Campfire Chicken
Ingredients
2

chicken thighs

200g each

2

potatoes

cut into small pieces

1

ear corn

cut into 4

2

cheese sausages

cut into 4

8

prawns

shelled and deveined

200

g

cherry tomatoes

2

tbsp

NOMU BBQ rub

1

tsp

thyme

salt

to taste

50

g

butter
Instructions
Pre-heat oven to 200˚C. If using oven toaster, no pre-heating is required.

Par cook potatoes in the microwave oven for 4 minutes. Remove and allow potatoes to cool.

Combine BBQ rub, thyme and salt in a small bowl.

In a large bowl, add potatoes, prawns, corn, tomatoes and sausages. Drizzle olive oil over ingredients, then add BBQ spice mixture (leaving behind 1 tsp for the chicken) and mix well, ensuring all ingredients are coated with spice.

Season chicken thighs with remaining BBQ spice mixture. Heat a frypan over medium-high heat, add some olive oil and pan fry chicken thighs (skin side down) until skin is brown. This should take around 1-2 minutes. Skip this step if you prefer.

Place all ingredients on a sheet of foil/baking paper, top off with butter and sprinkle some more thyme (use fresh thyme if possible). Fold the foil/baking paper to ensure no juices escape while baking.

Bake chicken & ingredients for 40 minutes in oven toaster (50-60 minutes in oven) or until potatoes are soft and chicken is cooked through.