The only time I will eat carrots is when they are julienned and stir-fried with various vegetables to make japchae (Korean sweet potato noodles with stir-fried vegetables). In fact, I think japchae is a great dish to coax someone who's not a fan of vegetables into eating vegetables. I'm not a big fan of carrots, spinach or bell pepper, but when they are mixed with sweet potato noodles, umami-packed soya sauce and some fragrant sesame oil, I actually forget that I'm eating the very vegetables I don't fancy! Japchae is easily one of my favourite Korean dishes – it's light on the palate yet full of flavour at the same time. It's probably one of the lesser-known Korean dishes, but once you try it, you will love it! Unfortunately, in Singapore where Korean food tends to be quite pricey, a plate of japchae would probably set you back about $10-20. For something that's mostly starch and vegetables, I find myself unwilling to pay such prices. Besides, this is a dish that can't go wrong regardless of cooking skills, so you should try making it instead!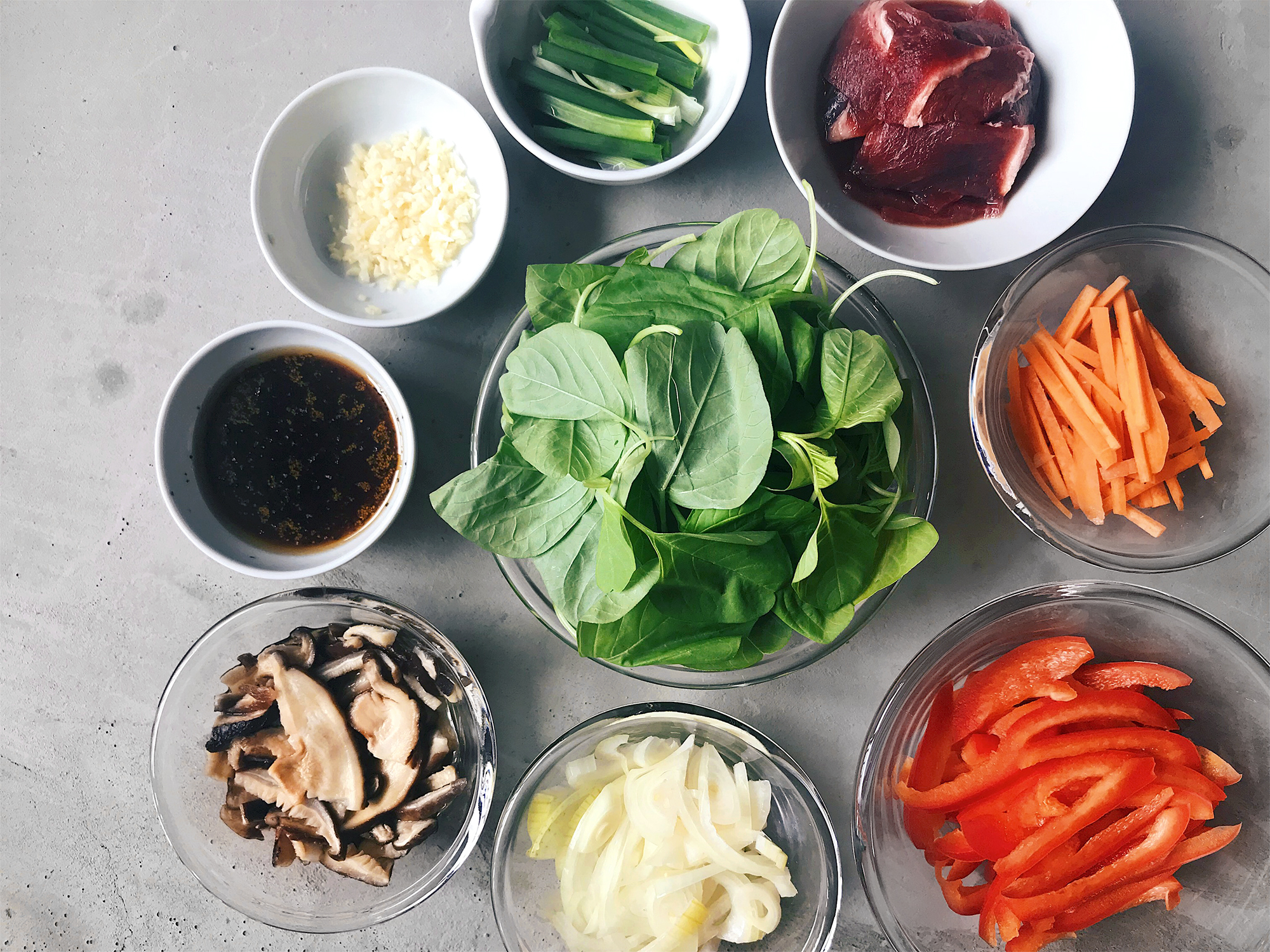 Wide variety of ingredients – spinach, mushrooms, yellow onion, red bell pepper, carrot, sliced beef (optional), spring onion, garlic, sauce (comprising soya sauce, sesame oil, sugar and pepper). I used frozen beef because it's much cheaper and easier to obtain but I didn't think the taste was great, so try to use fresh meat as much as possible. The shiitake mushrooms I used are dried shiitake mushrooms that were already pre-sliced, so I just had to rehydrate them in some hot water. I find the taste of dried shiitake mushrooms much better than fresh ones actually.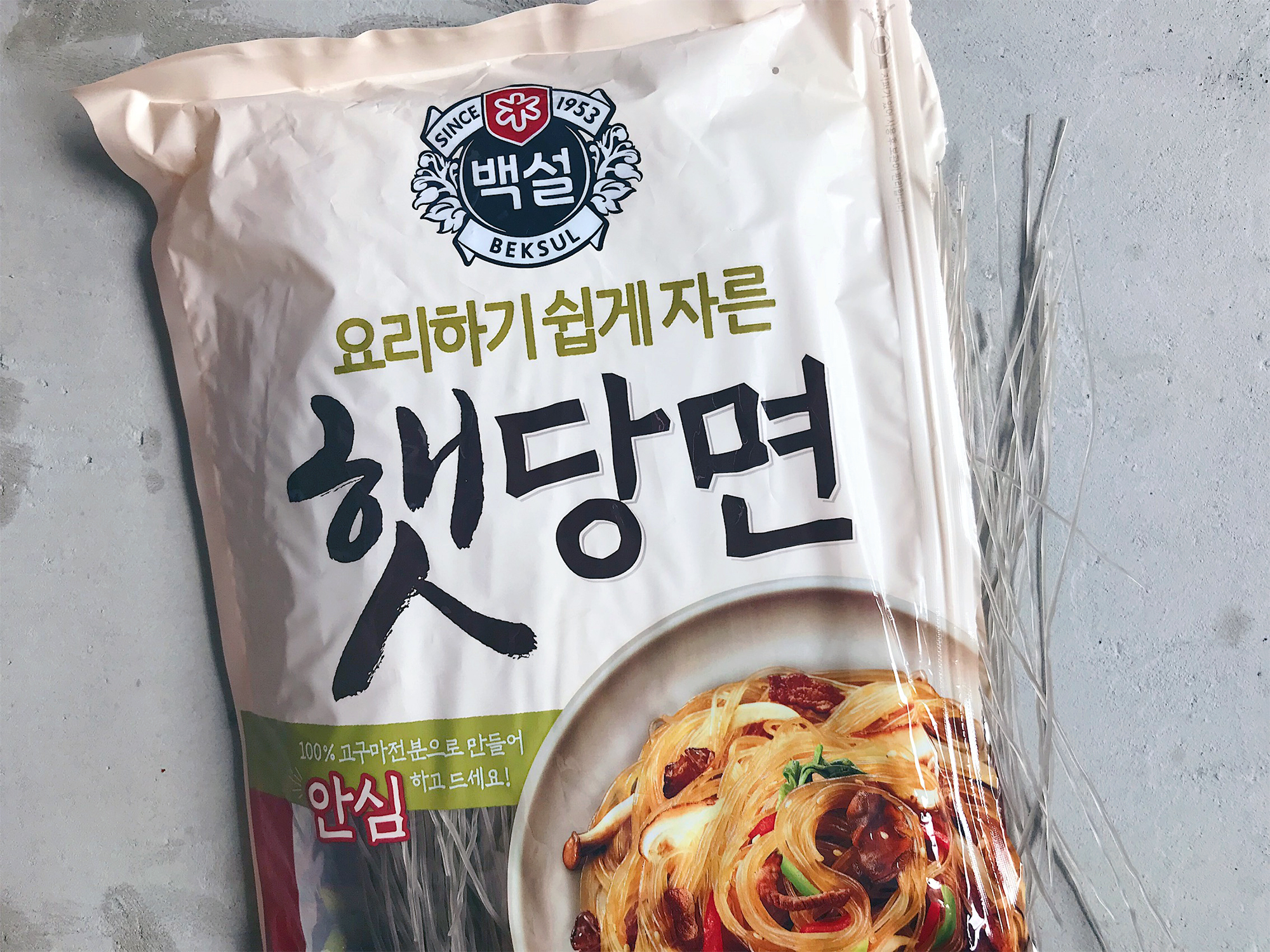 And the nucleus of the dish – Korean sweet potato noodles (dangmyeon). It is very similar to the Chinese glass noodles (made of mung bean) we usually eat, except that it's thicker and chewier when cooked. I'm not sure about other brands, but this brand of Korean glass noodles is great because the noodles are pre-cut for you! It reduces a lot of unnecessary mess when cooking. I bought another brand once where the noodles were all joined together and I had a really hard time cutting them. So if you can, get those that are pre-cut!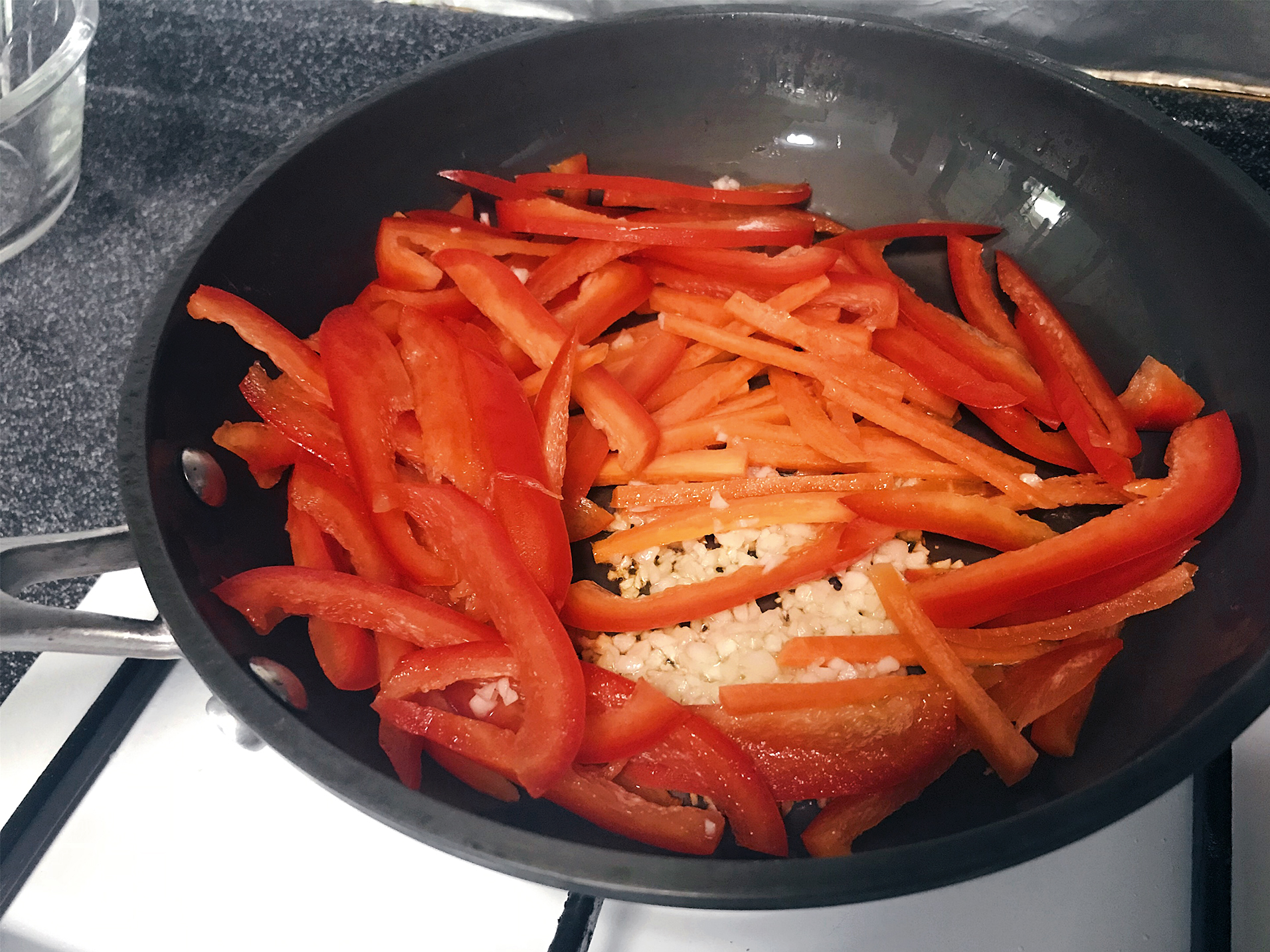 Some recipes will ask you to fry all the ingredients separately, and I've tried that before, but I feel that it's a little too time-consuming. For this recipe, I fried all the ingredients (except the meat) together, but added different ingredients at different intervals. Fry ingredients that require a longer time to cook first, like carrots and bell pepper.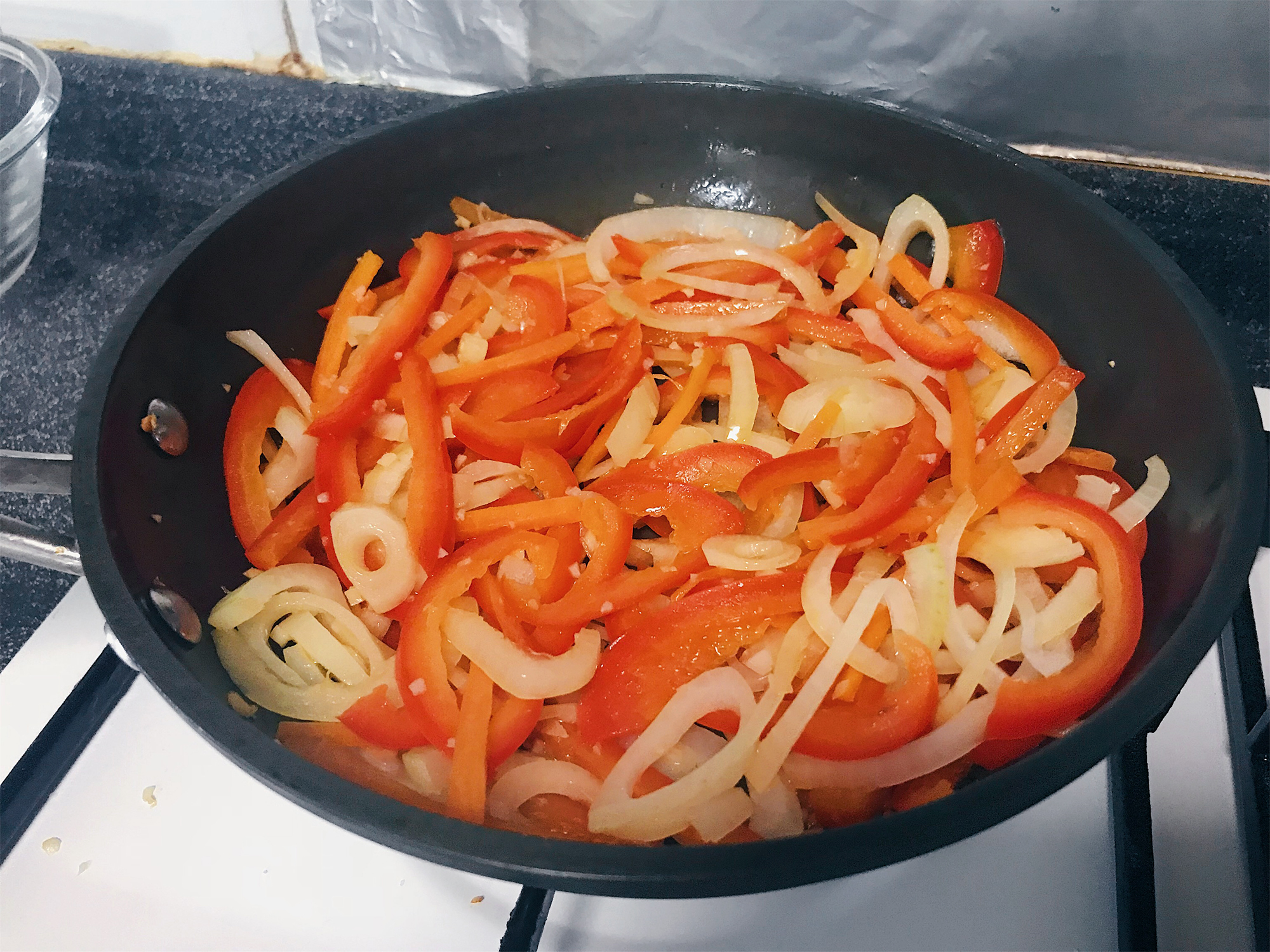 Then add the onions and fry till translucent.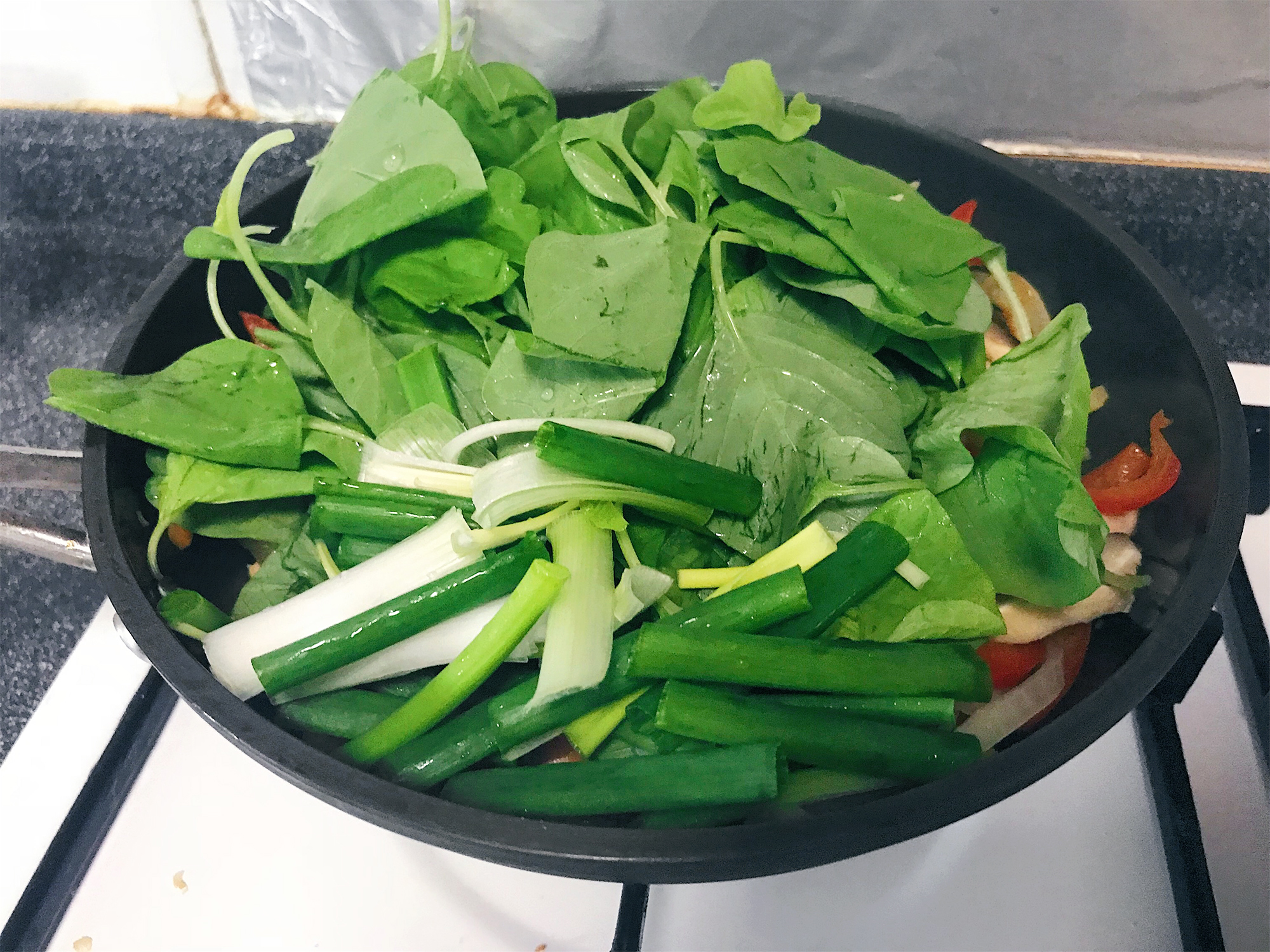 Add mushrooms, spinach and spring onions and continue to stir-fry till cooked. You can even add some of the liquid the mushrooms were soaked in to the pan to facilitate the cooking process.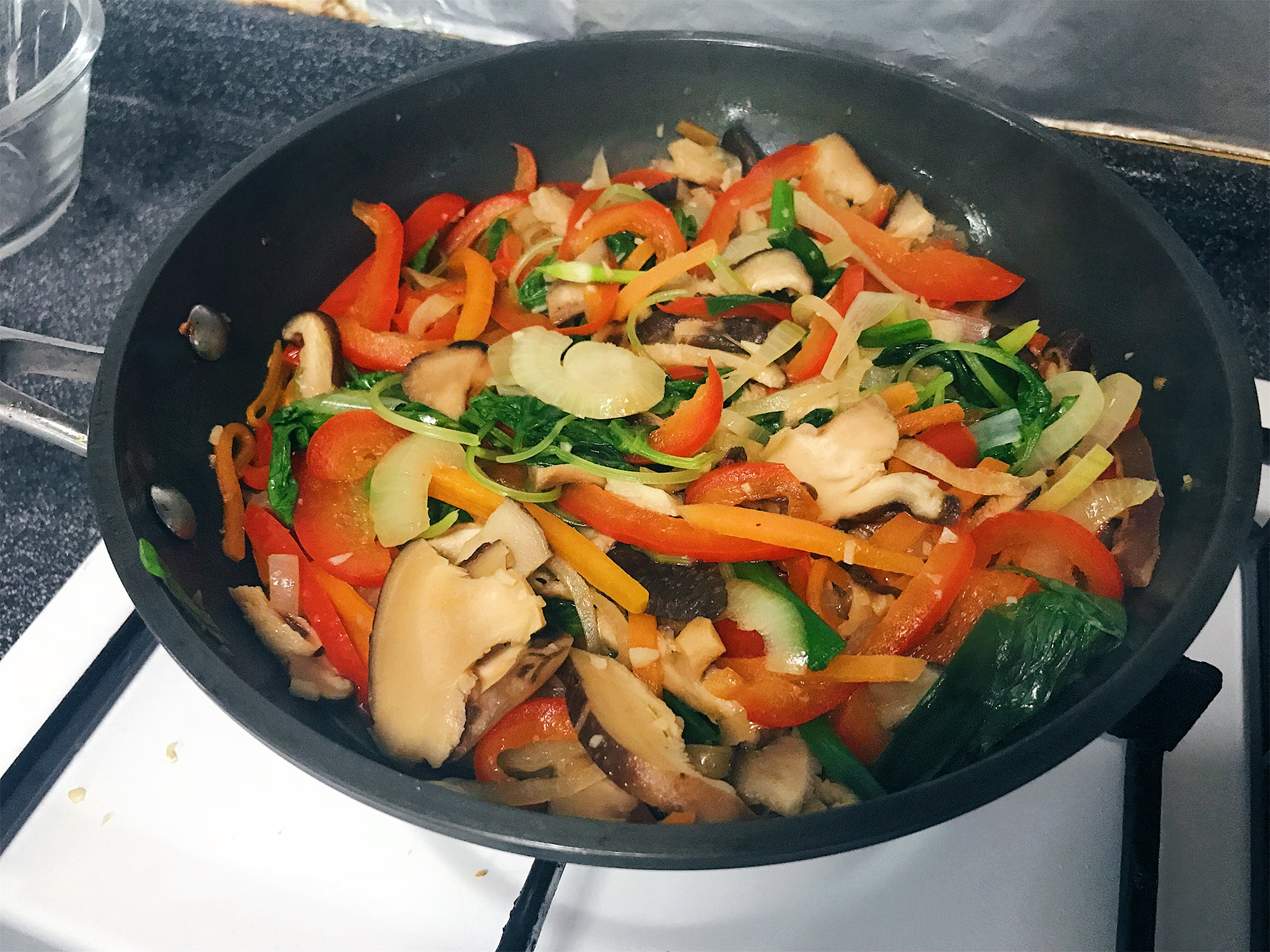 Once the mushrooms are cooked and spinach has wilted, turn off the heat and remove from the pan.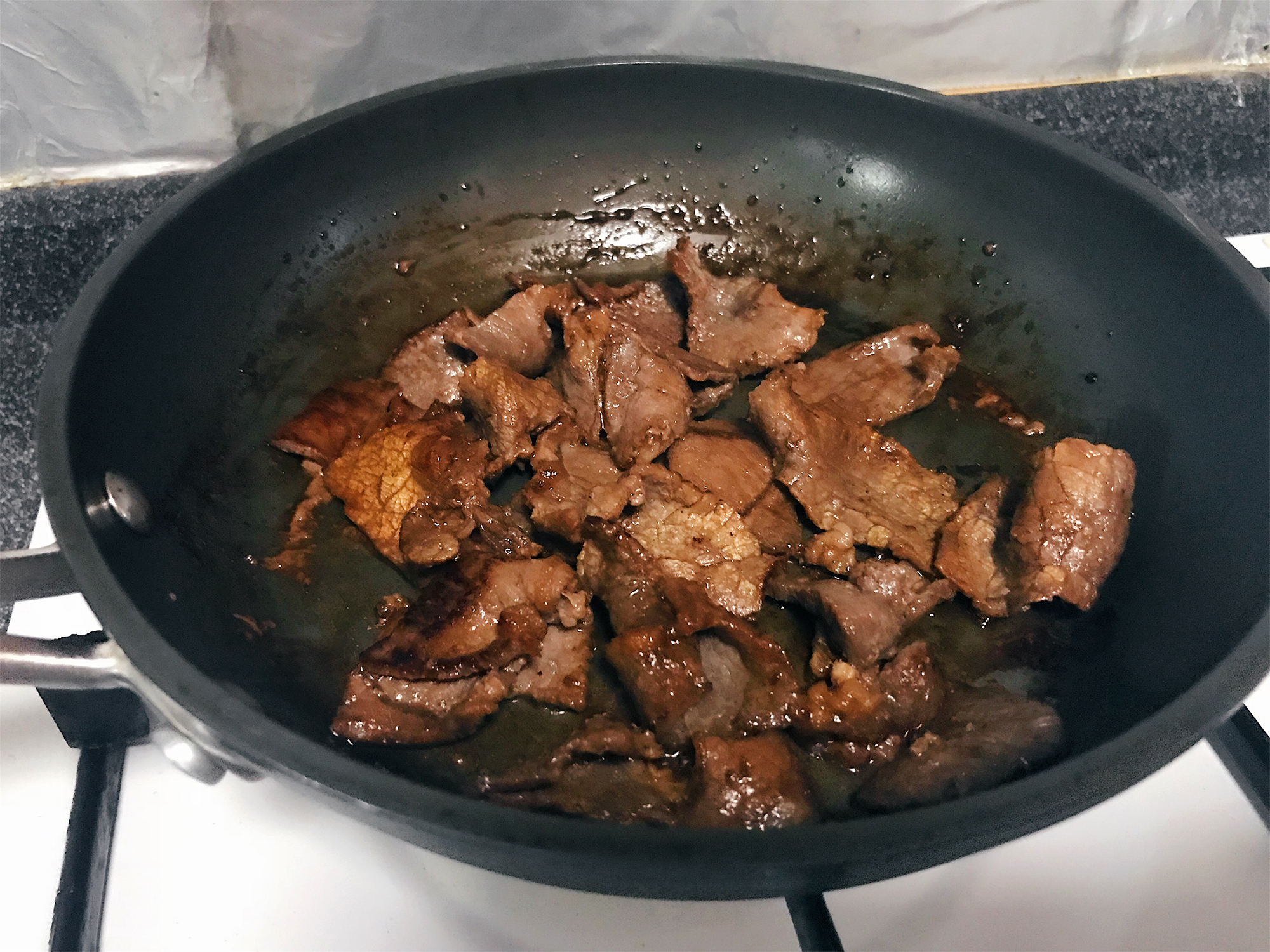 In a clean pan, fry the beef slices. I marinated the meat in some soya sauce and mirin (rice wine) prior to cooking.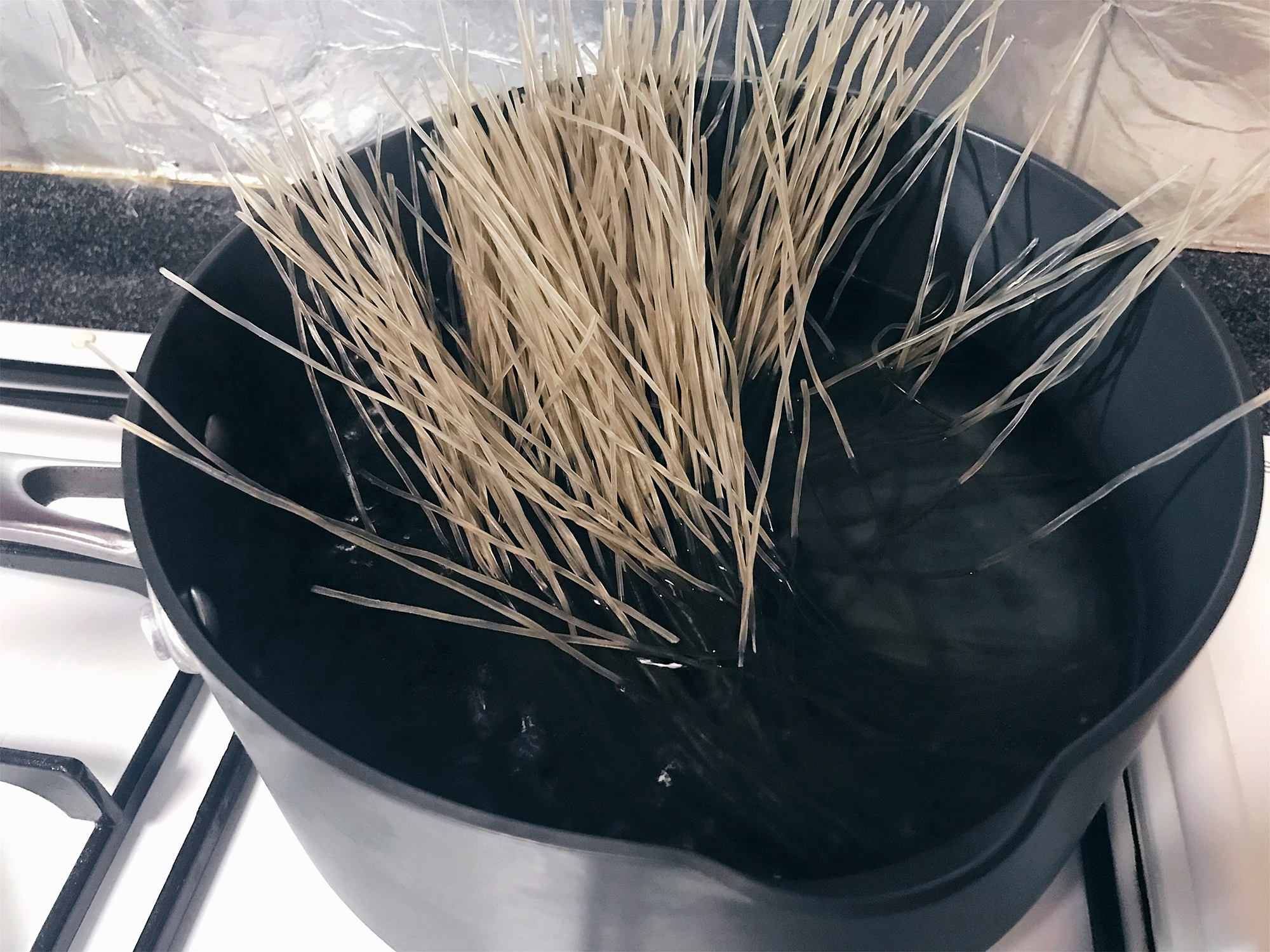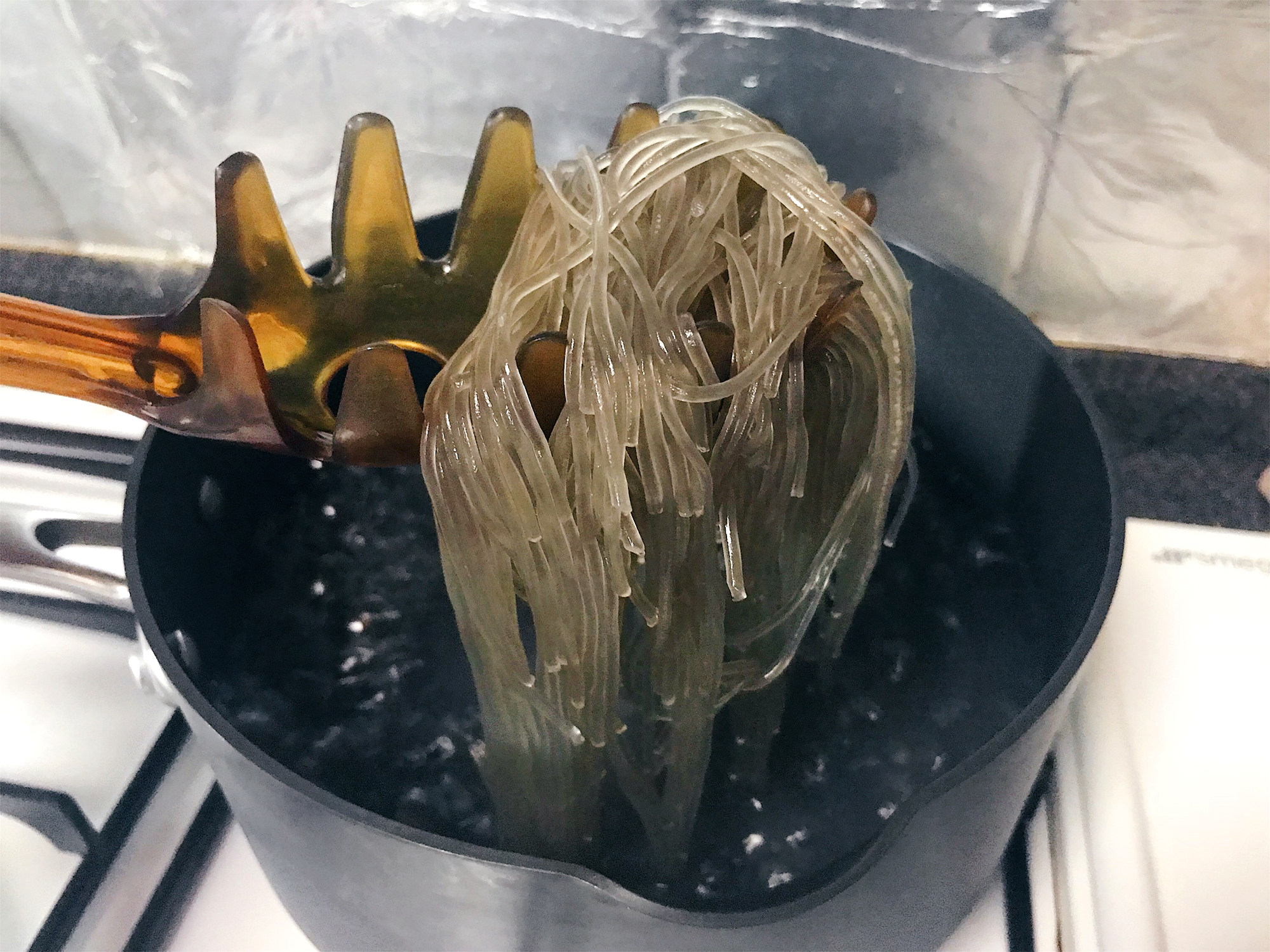 In another saucepan, cook the sweet potato noodles till soft and chewy. It should take around 6-7 minutes.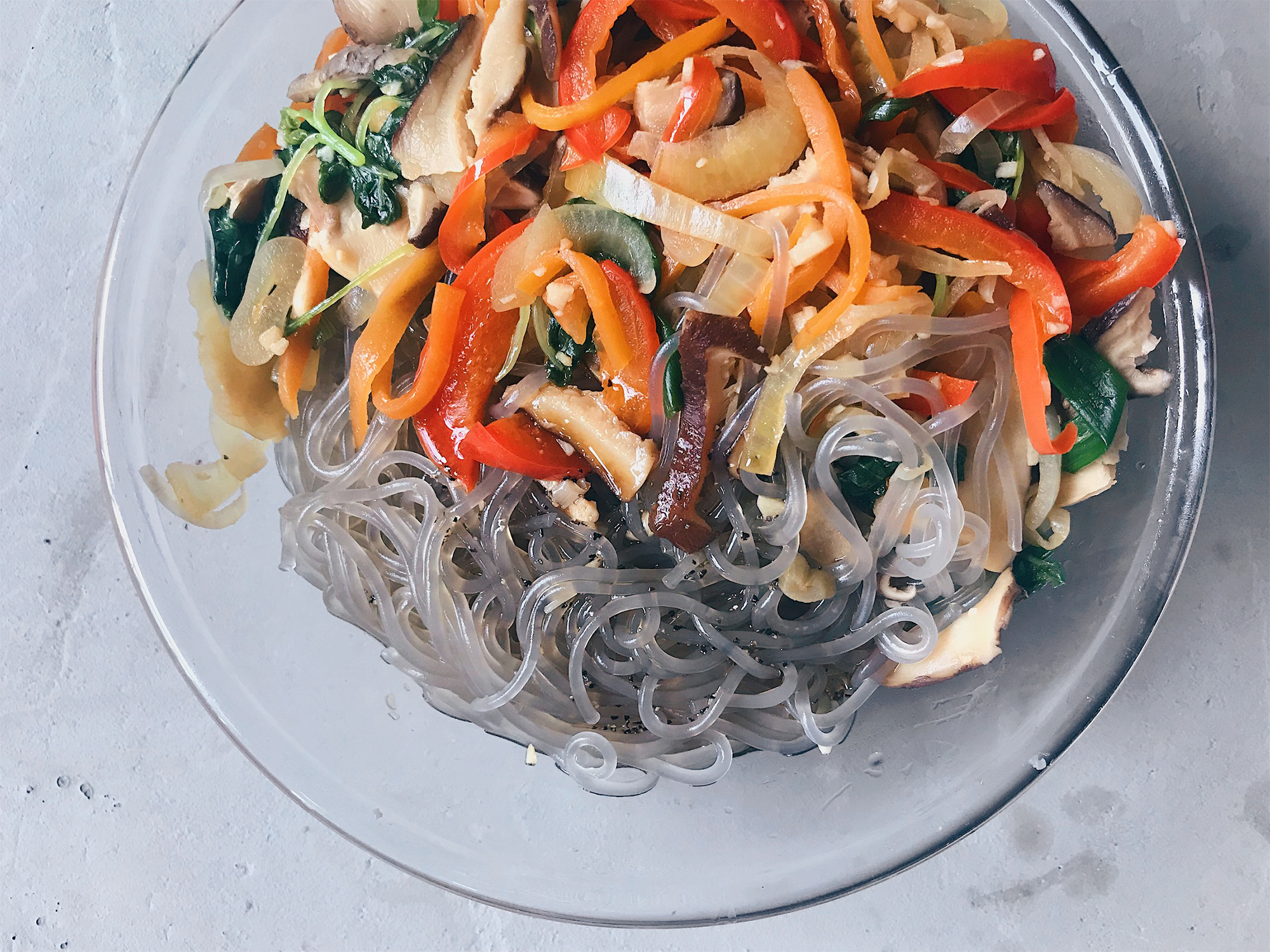 Add the sweet potato noodles and stir-fried vegetables to a big bowl, then add some soya sauce, sesame oil, sugar and pepper. Mix everything together and if needed, adjust the sweetness or saltiness to your liking.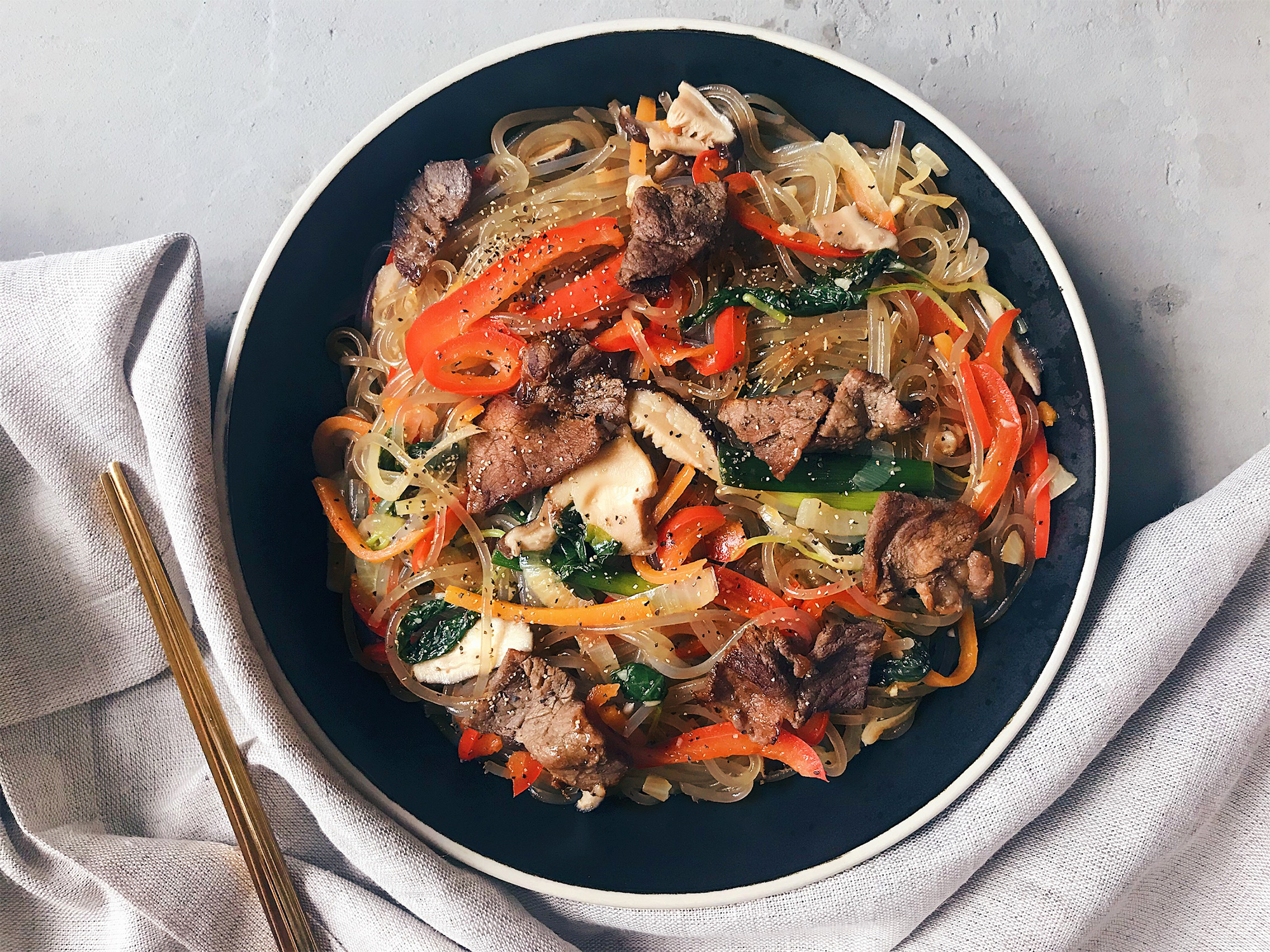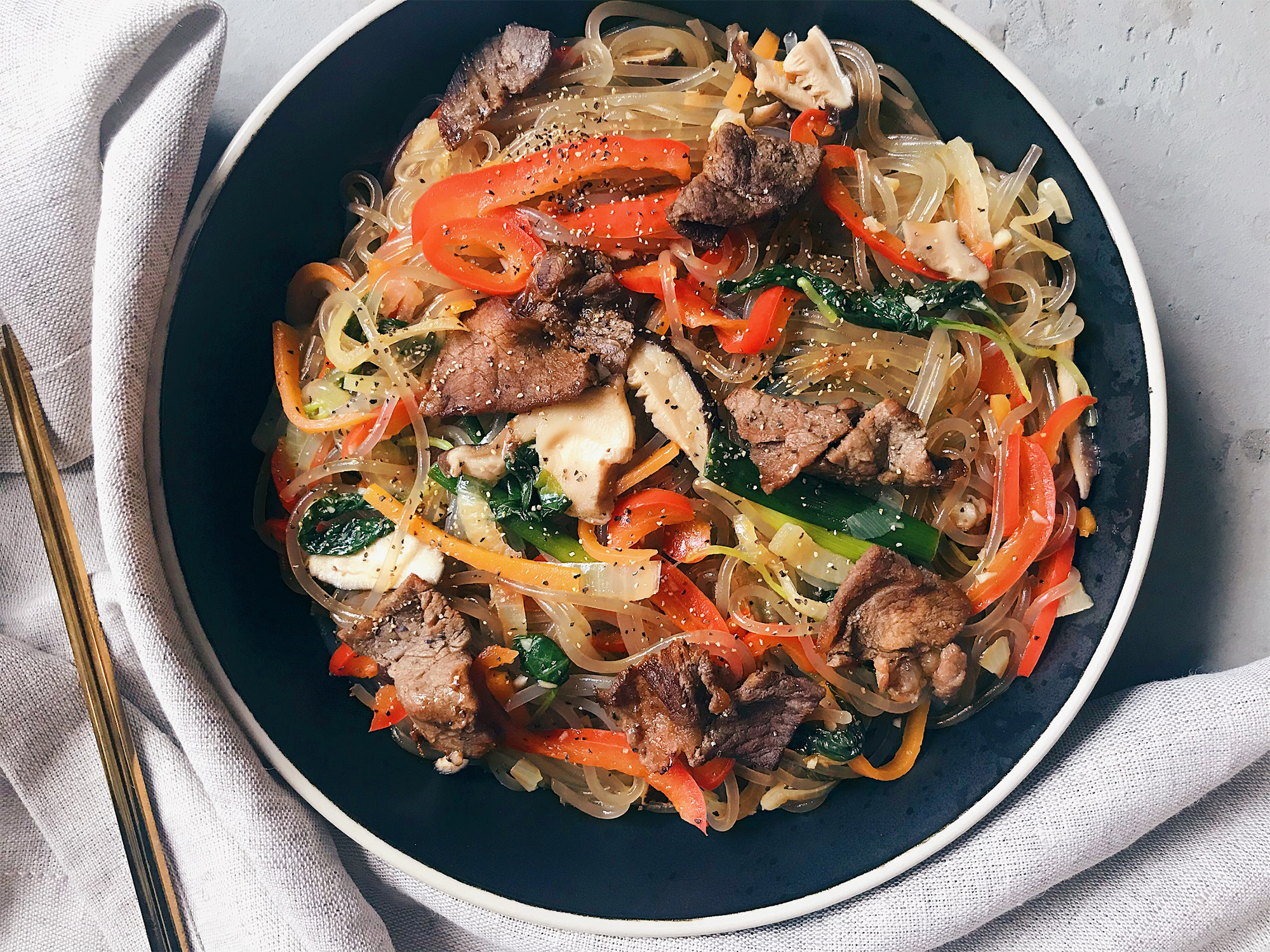 Tadahhh – a simple but delicious meal! You can also sprinkle some white sesame seeds for extra crunch and flavour. Japchae is one of the healthier dishes that taste so good! The sweet potato noodles are very low in fat, and the variety of vegetables provide the nutrients and fibre that our bodies need. This dish is sometimes served as a free side dish (banchan) in Korean restaurants (not in Singapore though) but can also be served with rice as a main. I personally prefer to eat it on its own, without the rice. If you're someone who doesn't fancy vegetables, try making this dish! You will be amazed at how good it tastes despite all the vegetables in it.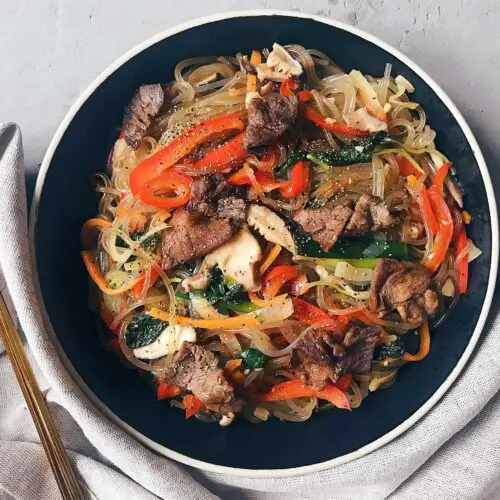 Japchae (Korean Glass Noodles)
Ingredients
250

g

sweet potato noodles ($2.25)

2

cloves

garlic (minced) ($0.056)

½

carrot (32g, julienned) ($0.0576)

1

red bell pepper (julienned) ($0.99)

½ 

yellow onion (sliced) ($0.114)

50

g

shiitake mushrooms (sliced) ($0.916)

20

g

baby spinach ($0.068)

2

stalks

spring onions (matchsticks) ($0.20)

5

tsp

oil ($0.195)
MEAT
100

g

beef slices ($1.50)

2

tsp

mirin ($0.109)

2

tsp

light soya sauce ($0.056)
SAUCE
3

tbsp

light soya sauce ($0.252)

2

tbsp

ugar ($0.019)

1

tbsp

1 tbsp sesame oil ($0.134)

½

tsp

pepper ($0.0455)
Instructions
Marinate the beef slices with mirin and light soya sauce. Set aside.

In a frypan, heat 1 tbsp (3 tsp) of oil. Add garlic, red bell pepper and carrots and stir fry for a while. Then add onions and stir fry till translucent. Lastly, add mushrooms, spinach and spring onions and stir fry until spinach is wilted. Remove from pan.

In a clean frypan, heat 2 tsp of oil. Add marinated beef slices and stir fry till cooked. Remove from pan.

In a saucepot, bring water to a boil and add 250g of sweet potato noodles. Cook for about 6-7 minutes until noodles are soft but slightly chewy. Remove from pot.

Add the noodles, stir-fried vegetables and meat into a big bowl. Add the sauce and mix everything together. Add more soya sauce and sugar if needed.