I think tofu (beancurd) is one of the few things that are good for health and taste really good. To me at least. One of my must-order dishes whenever I eat at zi char stalls (Chinese hawker stall) is deep fried tofu with minced pork. The tofu is always slightly crispy on the outside but still soft and juicy on the inside. And the minced pork and mushroom go really well with the tofu. Buying tofu can be really confusing though. At the tofu section of supermarkets, there's a myriad of types of tofu – silken, soft, pressed, firm, extra firm, Japanese and traditional Chinese tofu – which I believe can be categorized as such:
Silken and Japanese tofu
Soft and silky-smooth consistency
Very high water content
Not pressed (to remove water)
Not ideal for stir-frying as it cannot hold its shape
Usually used in smoothies, desserts, sauces, or eaten raw with sauce
Soft and traditional Chinese tofu
Slightly firmer than silken tofu, but still soft
High water content
Undergone some pressing, but not too much
Also not ideal for stir-frying as it cannot hold its shape
Ideal for soups, stews and deep-frying
Pressed, firm and extra firm tofu
Firmer than soft tofu, can hold its shape
Lower water content
Undergone pressing, which makes it firmer
Can be used for stir-frying as it can hold its shape
Ideal in all cooking applications – soups, stir-frying, deep-frying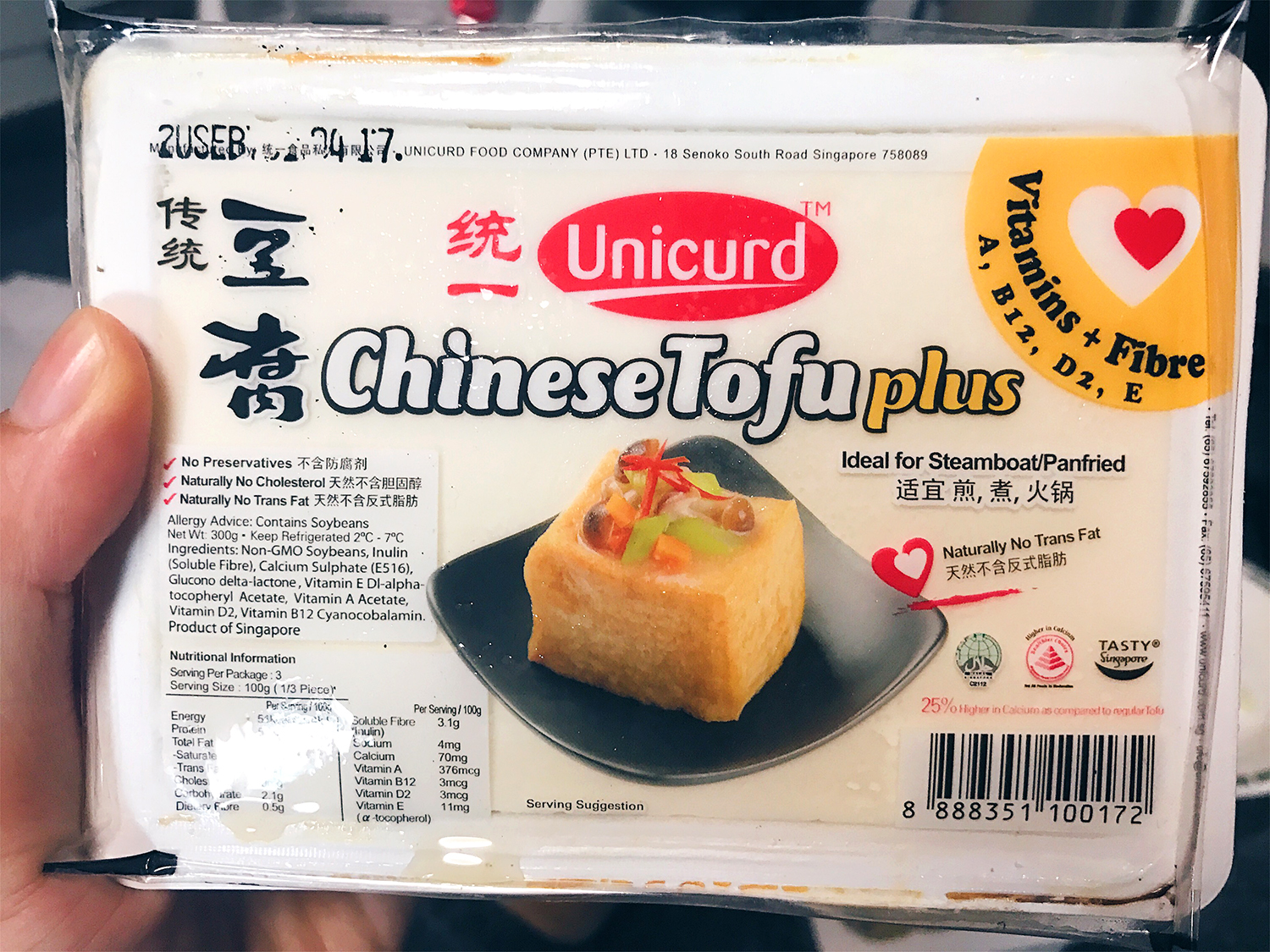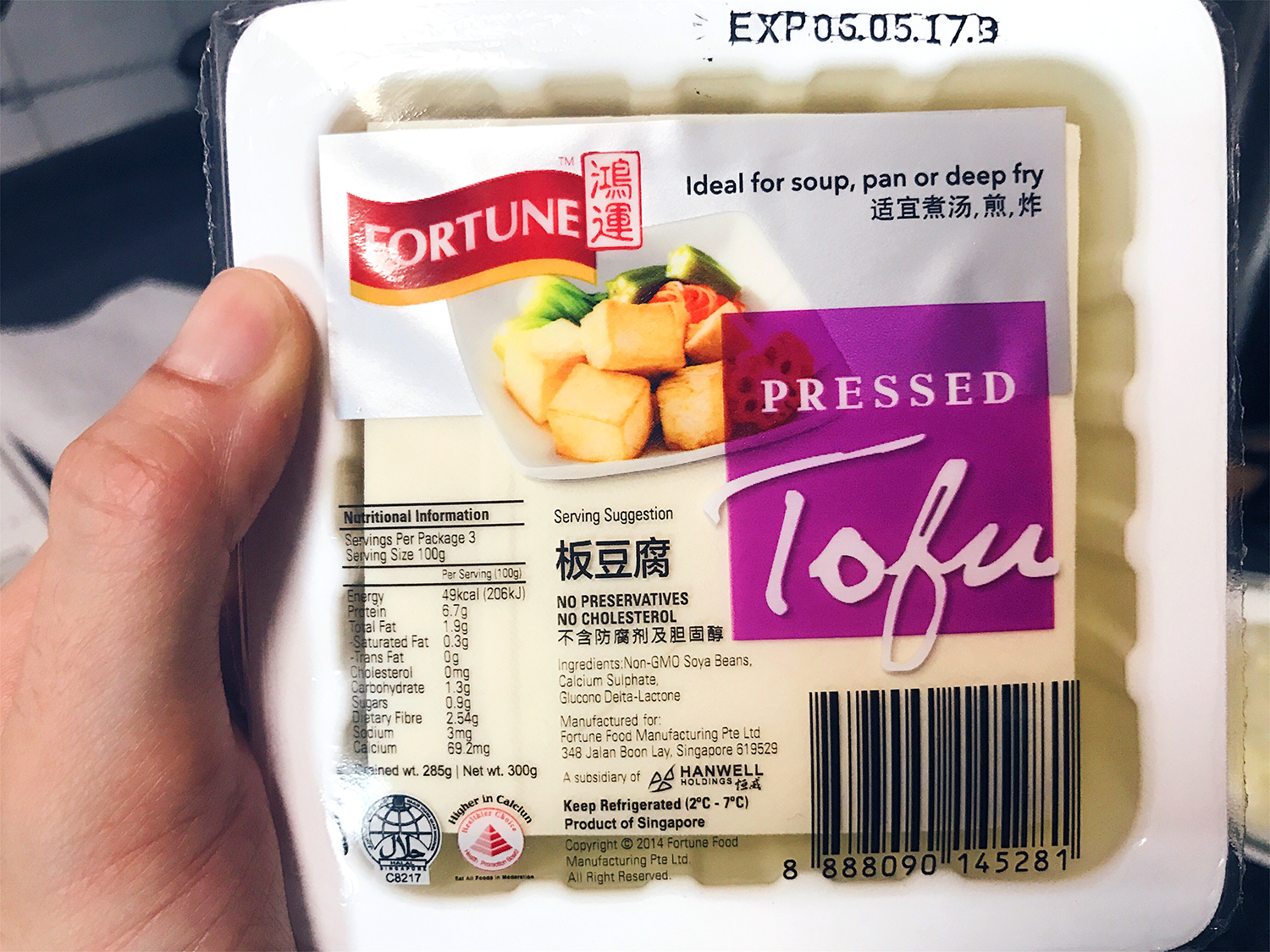 For this recipe, I decided to try two types of tofu – Chinese tofu and pressed tofu. Although the Chinese tofu packaging said 'ideal for pan-frying', I would strongly advise against it. It is super soft, and the moment I try to take it out of the packaging it is already on the verge of breaking into pieces. The pressed tofu was significantly firmer, and retained its shape despite all the manhandling. To make the Chinese tofu more suitable for deep frying, I placed kitchen towels above and below the tofu for at least 15 minutes to draw all the water out. It was slightly firmer after that, making it easier to retain its shape when deep frying.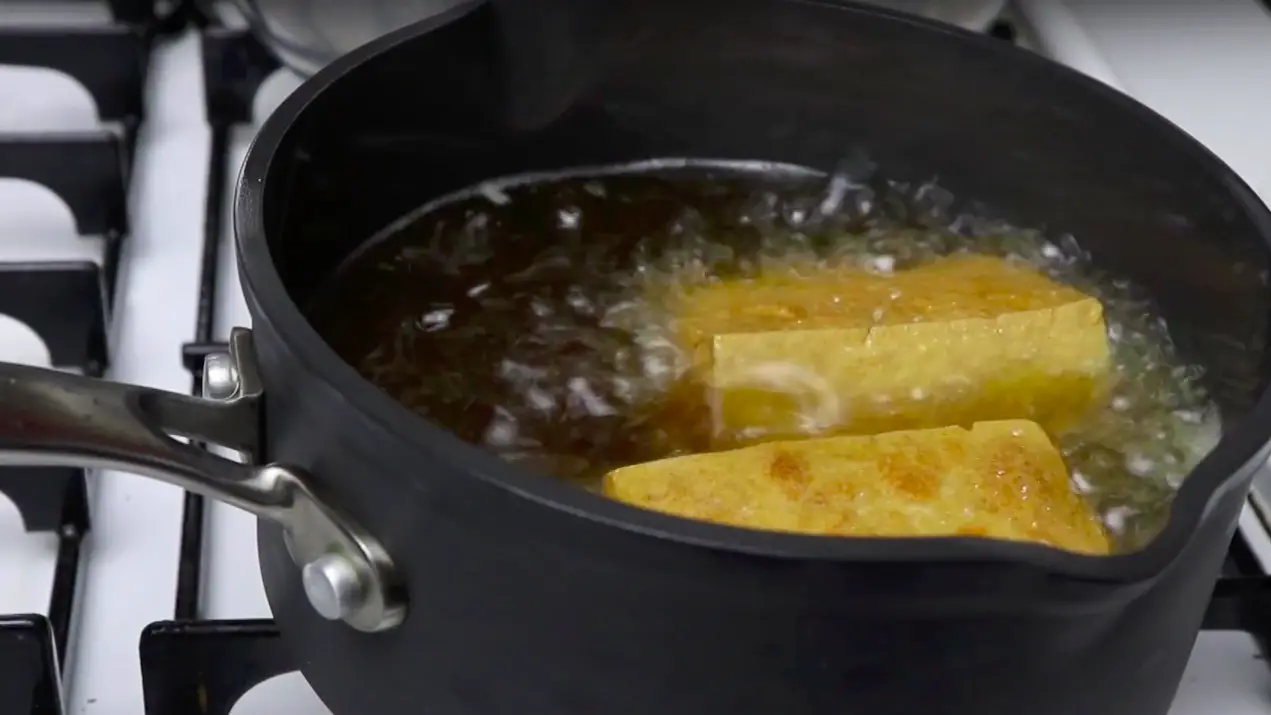 The verdict: The texture of the Chinese tofu is the one I'm looking for – exterior was slightly crispy and interior still tender and juicy. However, the pressed tofu fared better at browning due to its lower water content. Without pressing the Chinese tofu with the kitchen towels, they would probably not have browned properly at all. So pressing the tofu is highly crucial in this recipe.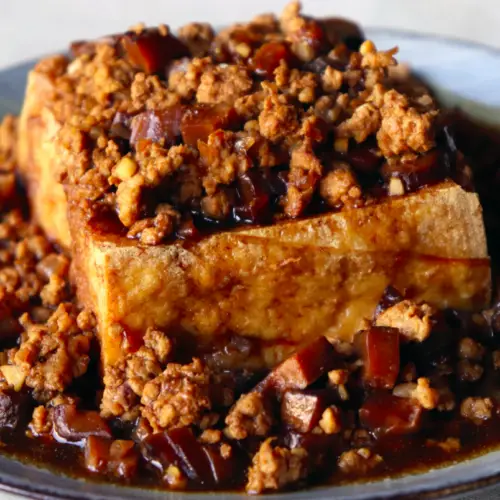 Tofu with Minced Pork & Mushrooms
DIY: $2.63 for 4 servings
Dine out: ~$10-15 for 4 servings
Ingredients
1

packet

Chinese tofu ($0.95)

3

cloves garlic (minced) ($0.084)

0.50

yellow onion (diced) ($0.114)

100

g

minced pork ($0.79)

1

tbsp

light soya sauce ($0.084)

1 

tbsp

dark soya sauce ($0.084)

1 

tbsp

Chinese cooking wine ($0.417)

1 

tsp

sesame oil ($0.0446)

0.50 

tsp

white pepper ($0.0455)

2

tsp

cornstarch ($0.014)

150

ml

water
Instructions
Carefully remove tofu from packaging and drain excess liquid. Cut tofu into 2 equal rectangular blocks. Place a few kitchen towels on top and below the tofu to draw out water for around 10-15 minutes. This is highly important as the tofu contains a lot of water which will inhibit browning when deep-frying.

Pour around 250ml of oil into a saucepan and heat over medium-high fire till hot. Slowly lower tofu into saucepan and deep fry until golden brown. Remove tofu from pan and drain excess oil with kitchen towel.

In a frypan, heat 1 tbsp of oil. Add onions & garlic and stir fry till fragrant. Add minced pork and fry till it's no longer red. Add about 150ml of water (or more depending on the amount of gravy you want), light soya sauce, dark soya sauce, Chinese cooking wine, sesame oil & pepper, and stir fry for 1-2 minutes.

Mix 2 tsp of cornstarch with 2 tsp of water to form a slurry. Add the cornstarch slurry to the pan and cook for 1-2 minutes to thicken the gravy.