Crab beehoon soup! Probably the one dish I would eat before I die. If you've never eaten crab beehoon soup before, you're missing out on life! I've only tried the one at Melben Seafood Restaurant (Ang Mo Kio), and the queue is always insanely long. But trust me, the wait is worth it.
Their crab beehoon broth is so rich and flavourful but still light on the stomach. I could drink the soup all day! It's been a really long time since I've been there to eat their crab beehoon soup, and was craving for some today so I decided to try to make it. Crab dishes are one of those dishes that I love to indulge in, but dislike paying for. Seafood restaurants usually charge around $60-78/kg for crabs, and the price is standard regardless of the preparation method. If you buy your own crabs, it's only around $28-33/kg! The price difference is vast.
Anyway, just wanted to share a little tip on how to choose meaty crabs (with thanks to ieatishootipost). Basically, you should look out for worn teeth rather than new, sharp teeth, weathered pincers instead of smooth ones, and also a somewhat blurry mottling rather than distinct ones. The underside of the crab should also be firm when pressed and bulging rather than flat.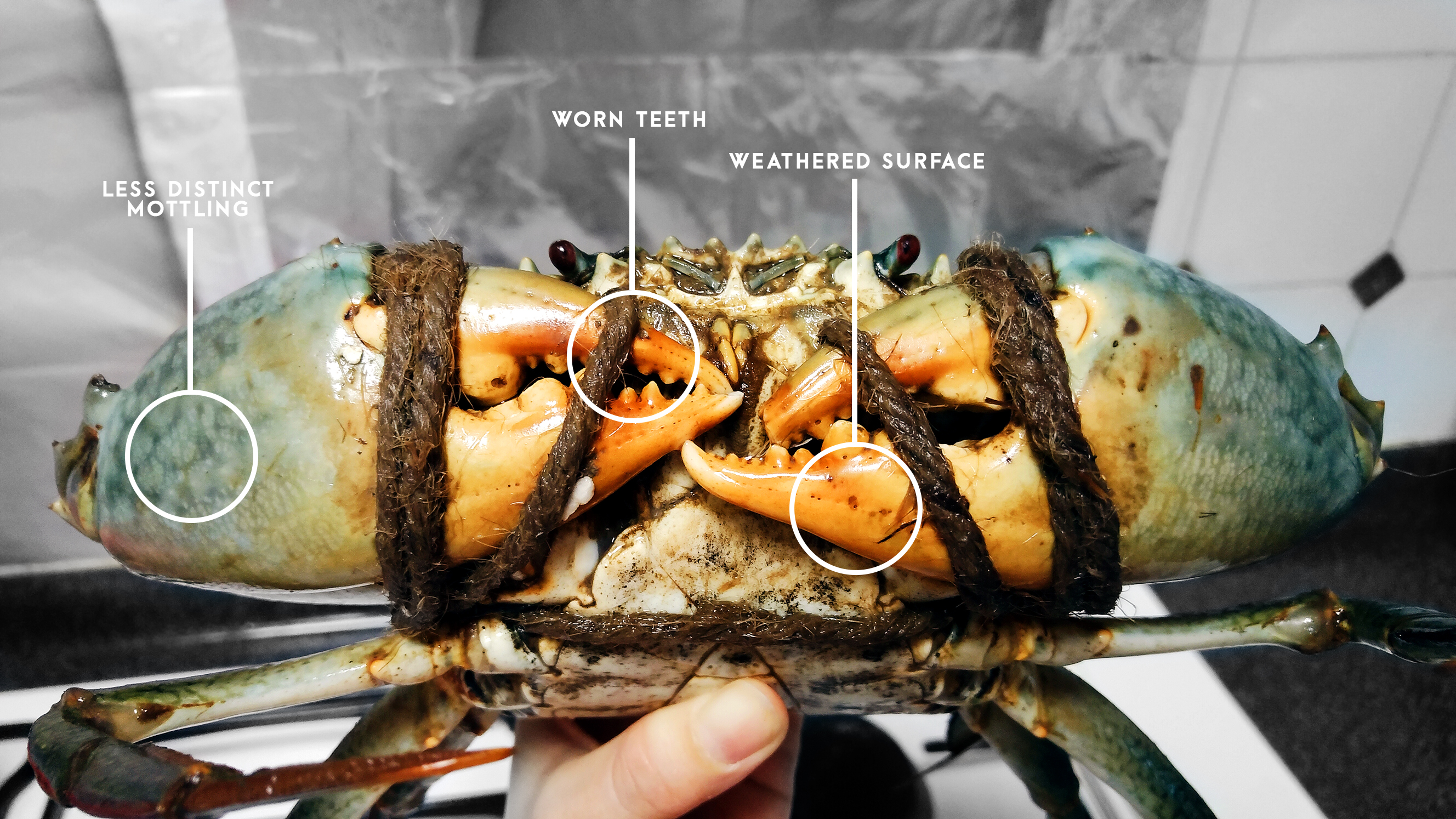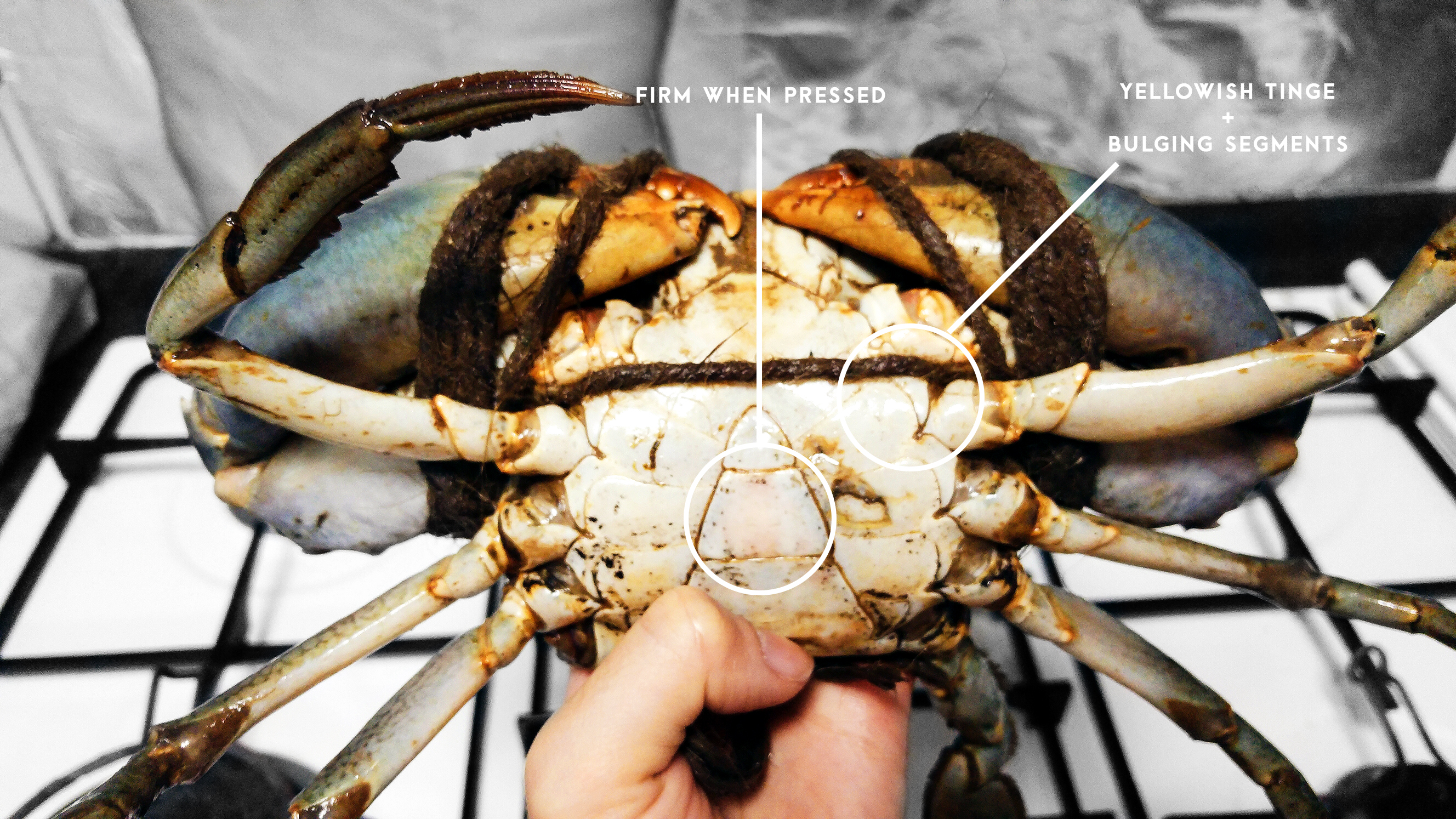 I bought 2 mud crabs which were around 625g each, at $28/kg. That cost me only $34.80 for 1.25kg worth of crabs! And the crabs were fresh and meaty. It was my first time handling live crabs and it was a distressing experience witnessing the crabs struggling as I attempted to kill them with my chopsticks. But I still can't give up meat, sorry.
The cooking process is relatively simple, but the key to good crab beehoon soup is lots of butter and good (chicken) stock. If you're trying to cut inches off your waist, then this recipe isn't for you. Butter is vital in creating that creamy, savoury soup, so don't go easy on it. There's probably a lot more butter and salt present in the soup stock outside than in this recipe. Also, if you can, use some homemade chicken stock. I made some out of roasted chicken bones, and kept them in the freezer in ice cube trays for easy access! If you're lazy, simply use chicken stock cubes like the Knorr brand ones. It does taste good, but cannot be compared to homemade chicken stock.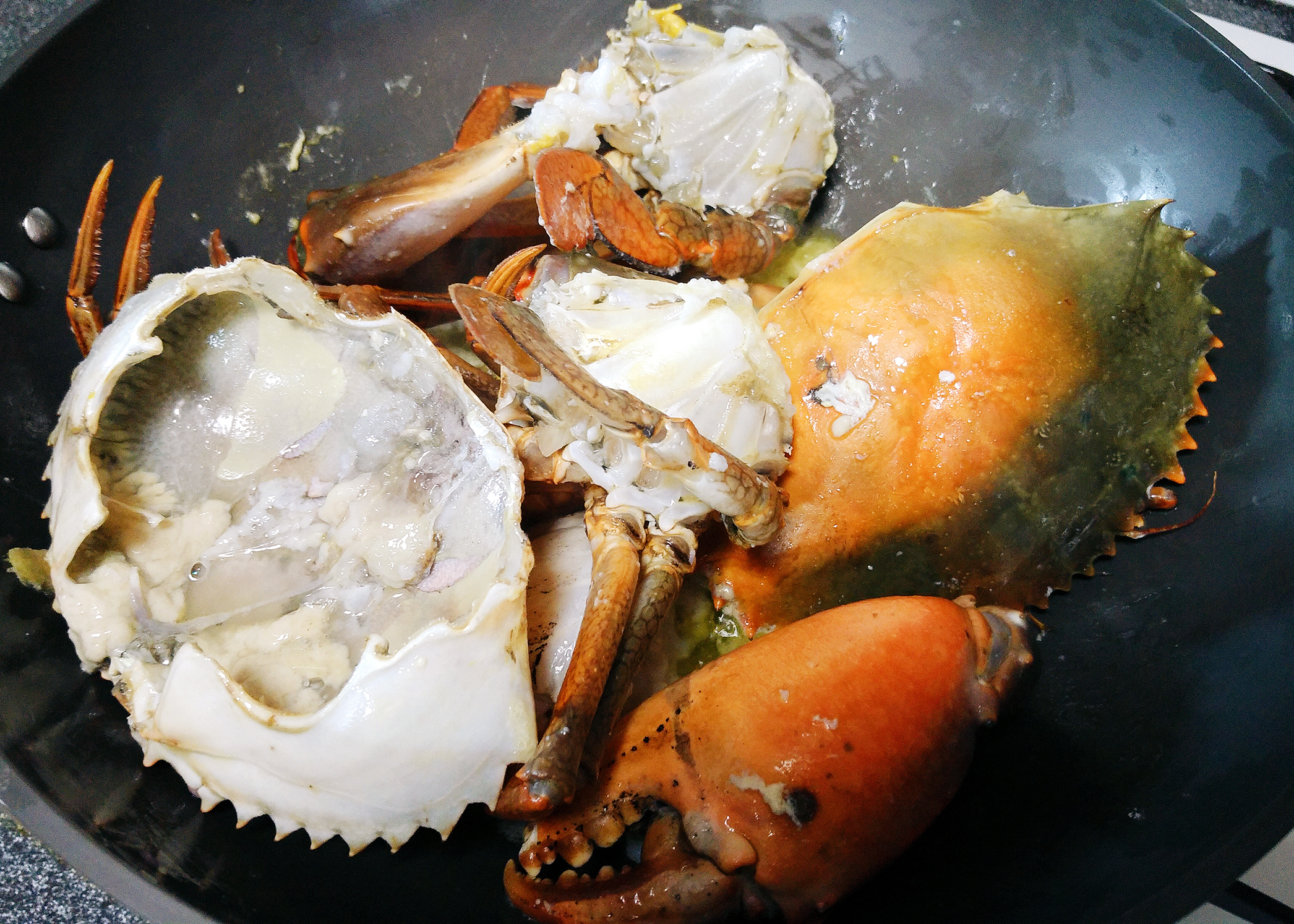 In my recipe, I pre-fried the crabs in butter and ginger as I wanted to remove any fishy odour present, before adding the stock. If you find it too troublesome, you can simply add the crabs into the soup stock to boil together.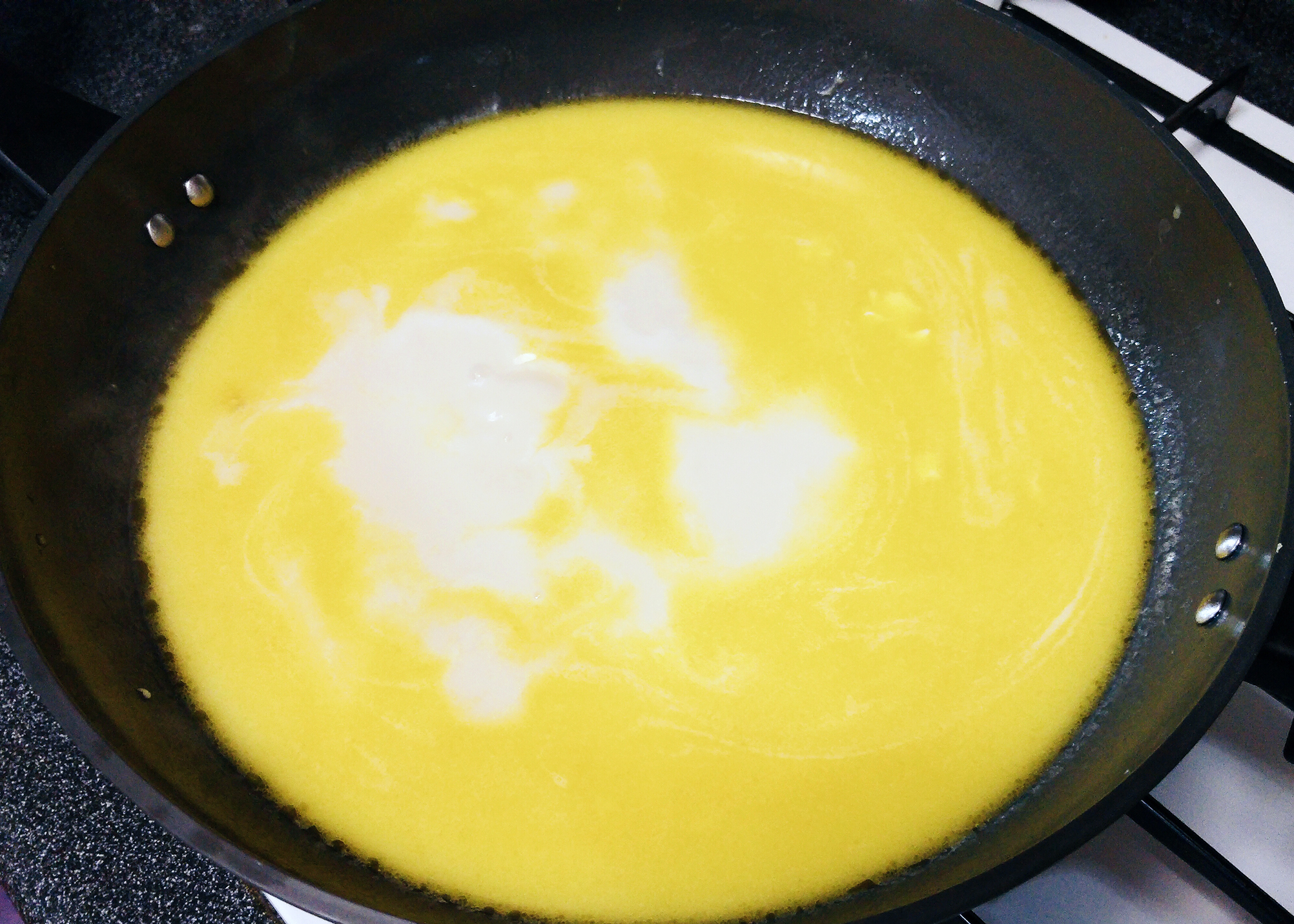 That yellow layer of butterfat is a really good sight! And the rule of the thumb is to cook crabs for 7-8 minutes per pound (0.45kg). If you have 2 crabs, take the average weight of the crabs rather than the total weight. So in this case, the average weight of the crabs is 0.625kg, which means I have to cook them for around 10 minutes. But because I already pre-fried them, I only needed to boil them for another 6-7 minutes.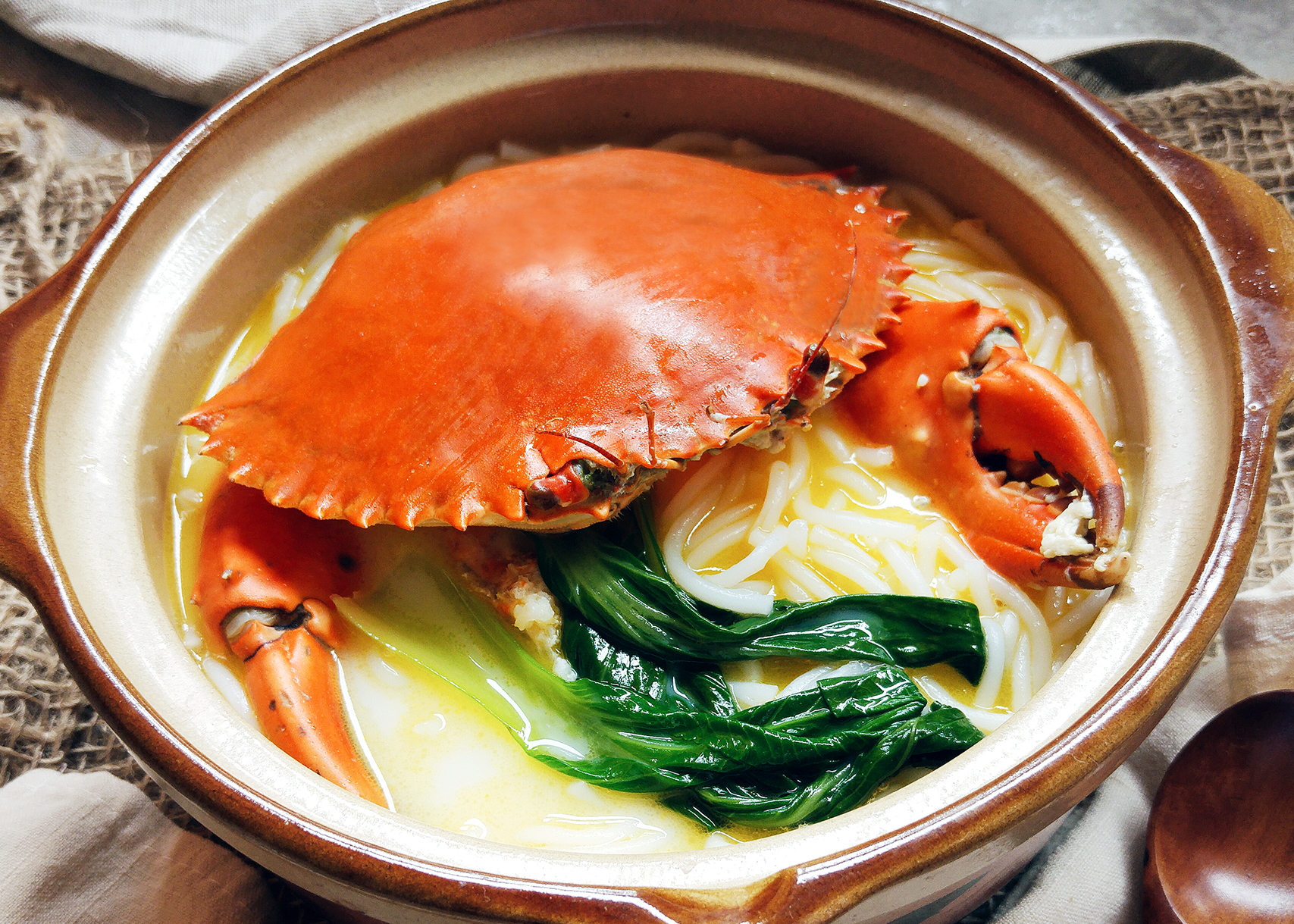 It was really good! Frankly, I think it could do with slightly more butter (yes, please don't look so shocked), but overall, it's definitely a dish I would make again! Plus, looking at the price comparison, I think we have a clear winner on whether to make it on your own or eating out. I would highly recommend this recipe if you already have some homemade chicken stock on hand.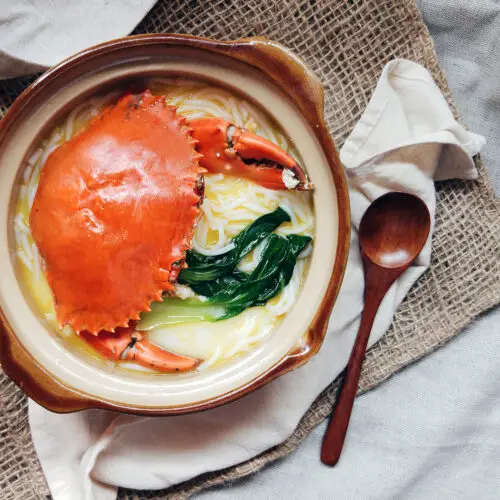 Crab Beehoon Soup
DIY: ~$38 for 1kg
Dine out: ~$70 for 1kg (Melben Seafood)
Ingredients
2 

mud crabs ($34.80)

800

g

thick beehoon ($2.20)

150

g

butter ($3.09)

6 

slices

ginger ($0.09)

6 

bunches

baby bok choy ($0.51)

6 

cups

chicken stock (~$5)

0.50 

cup

evaporated milk ($0.50)

2

tbsp

Chinese cooking wine ($0.834)

4 

tbsp

salt ($0.34)

1

tsp

white pepper ($0.091)
Instructions
Kill live crabs, wash thoroughly and cut into pieces. Drain dry.

Heat wok over medium fire, add butter and let it melt. Add ginger and saute till fragrant.

Add crabs to wok and stir fry for a while till partially cooked, for about 3-4 minutes. (or simply skip this step if desired)

Remove crabs from wok and set aside. Add chicken stock, evaporated milk, shaoxing wine, salt & pepper, and bring the liquid to a boil.

Add crabs back into wok and cover wok with lid to allow crabs to cook for about 6-7 minutes. (The rule of the thumb is to cook crabs for 7-8 minutes per pound (0.45kg). If you have 2 crabs, take the average weight of the crabs rather than the total weight.)

While crabs are boiling, cook white beehoon and drain dry. Set aside.

Once crabs are almost done, add baby bok choy into wok and boil till cooked. Add white beehoon into wok after.