Today I realised I've been missing out on life. I don't know why I haven't tried these amazing prawn toasts before! It's a Chinese appetizer commonly served in dim sum restaurants I believe, although I myself haven't had it before. But omg, it is downright delicious!!
There are a few things I would like to mention. For this recipe, I used frozen prawns and it turned out really well! So if you think you don't have time to shell prawns, you can simply get frozen ones. But please get the ones that are not pre-cooked! Also, I'm not a fan of ginger at all but surprisingly, the grated ginger really enhanced the flavour of this dish so much. I added only 1 tsp of grated ginger but you can add 2 tsp for better flavour. I initially deep-fried my prawn toasts but realised that it caused my bread to turn brown too quickly, so please shallow fry your prawn toasts instead! Add enough oil (around 1.5cm) just to cover half of the prawn toasts. One thing I would like to apologize for is that I don't put exact measurements for my salt and pepper, because I usually just guesstimate how much to put. And everyone has different salt tolerance so adjust to your own preference! I added about 4-5 pinches of salt for this recipe.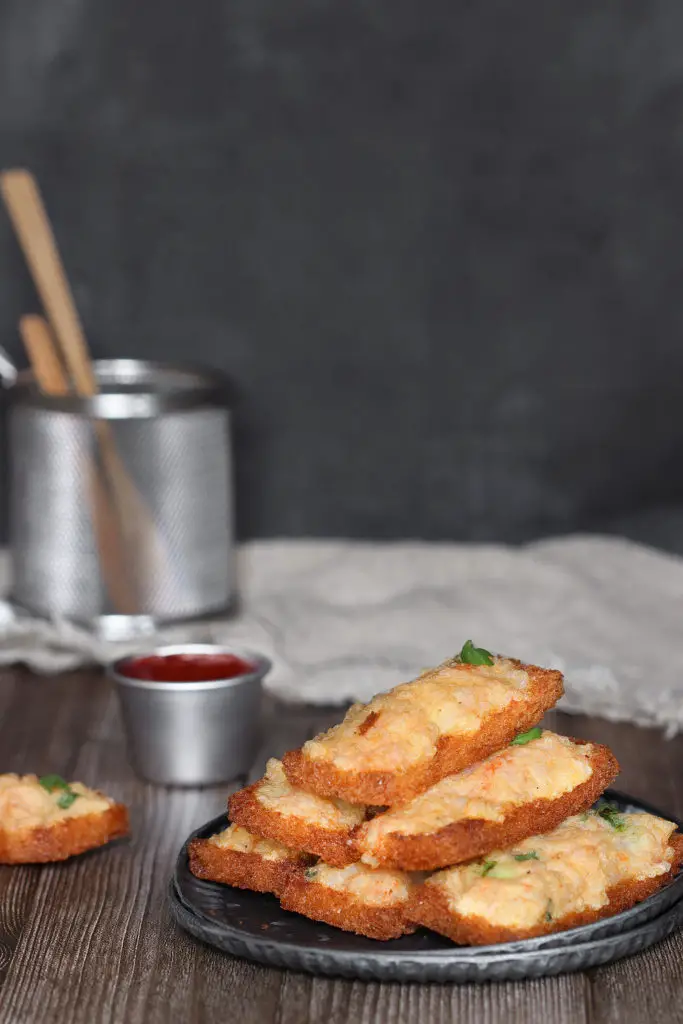 These prawn toasts may not look all that amazing but they definitely tasted seriously good. I'm usually not satisfied with the dishes I cook (I guess we are our own worst critics) but I was really happy with this one! If you want a step-by-step recipe, please follow me on instagram (@_kitchenmisadventures) and watch my insta story! Hope you guys try this recipe out because I can't emphasize how good it tastes!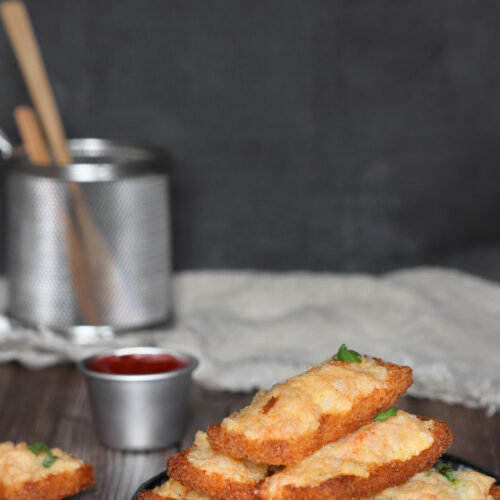 Prawn Toast
Ingredients
250

g

prawn meat

shelled & deveined

3

stalks scallions

chopped

1-2

tsp

grated ginger

1

egg

3

tbsp

cornstarch

salt

to taste

pepper

to taste

6

slices

bread
Instructions
In a food processor, add prawn meat (ensure dry), scallions, grated ginger, egg, cornstarch, salt and pepper and blend until well combined. If you dont have a food processor, you can use a knife to mince your prawns instead. Then mix prawn paste with the rest of the ingredients in a bowl by hand. Note: If your prawn paste seems too wet, add some cornstarch.

Cut off the crust of each bread slice using a bread knife. Then cut each slice into two sticks. Spread 1-2 spoonfuls of prawn paste onto each bread stick.

Fill a pan with about 1.5cm of oil and heat over medium-high heat. We want just enough oil to cover half of the prawn toast so that we will be shallow frying instead of deep frying the toasts.

Once oil is hot enough, add prawn toasts in, with the prawn paste side down. Once the prawn paste turns golden, flip the toast over to fry the bread side. Once the bread turns golden brown and crispy, remove and drain away excess oil on paper towels.

Serve prawn toasts with Thai sweet chilli sauce.