Edit: Oops, all my posts are filled with red recently. I think I love spicy food and chilli too much.
Recently there was a Thai food fair held at the Thai Embassy and I remember feeling the pinch as I paid $4 for about 4-5 Thai fish cakes, although it did taste really good. Little did I realise that it's actually very affordable compared to the prices in Thai restaurants. Restaurants usually charge from $4 to $6 for 2 pieces! I hardly order fish cakes in Thai restaurants so I didn't know they were that pricey. I had a lot of kaffir lime leaves sitting in my refrigerator because I only needed some for the Tom Yum Goong I made the other day, so I wanted to make good use of them. Thai fish cakes were the perfect recipe for me to use the kaffir lime leaves, although I really only needed 4 of the leaves. Some recipes call for basil leaves instead of kaffir lime leaves, so I wanted to try both and decide for myself which tasted better. The conclusion: Kaffir lime leaves impart a much stronger and more fragrant flavour to the final product, but because they are tough and hard to chew, you have to slice them really finely (mine is a bad example). Furthermore, basil leaves are quite expensive so I was actually glad that the one containing kaffir lime leaves tasted better. Also, instead of using fish paste, I decided to use prawns. Not sure why I was inspired to use prawns instead of fish but one thing for sure is, it is not cheap. But the final product was surprisingly springy, juicy and packed full of flavour!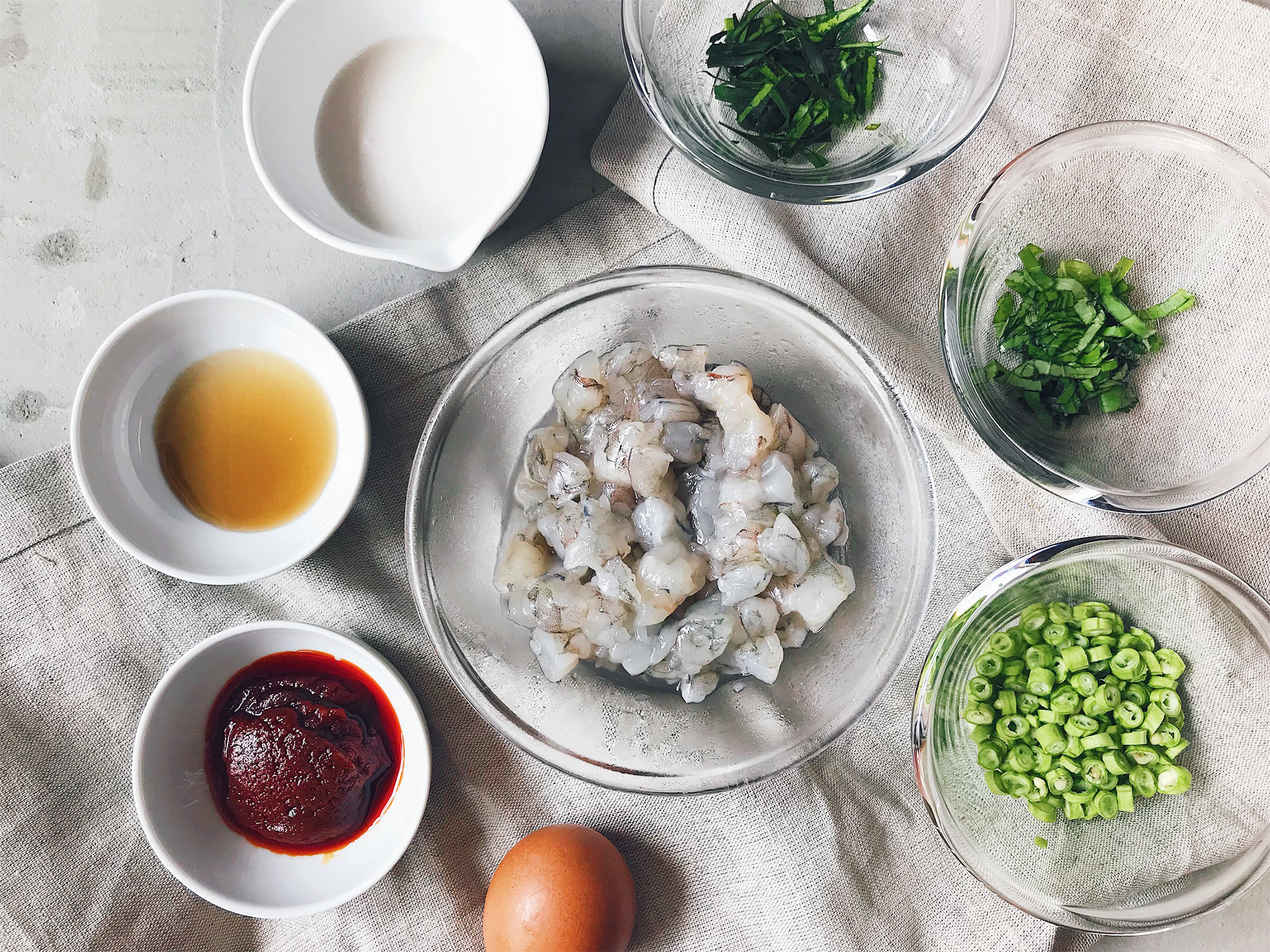 Ingredients needed are prawns, long beans, kaffir lime leaves, coconut milk, fish sauce, sugar, red curry paste and egg. Tip: If you want really juicy and springy prawn cakes, either soak the prawns in ice water for 15 minutes prior to blending or place them in the freezer. But make sure to drain dry the prawns after! The egg is also an indispensable ingredient here as it also adds on to the bouncy texture.
Blend all the ingredients, except the kaffir lime leaves and long beans, into a smooth paste. It will be slightly wet so don't worry about that.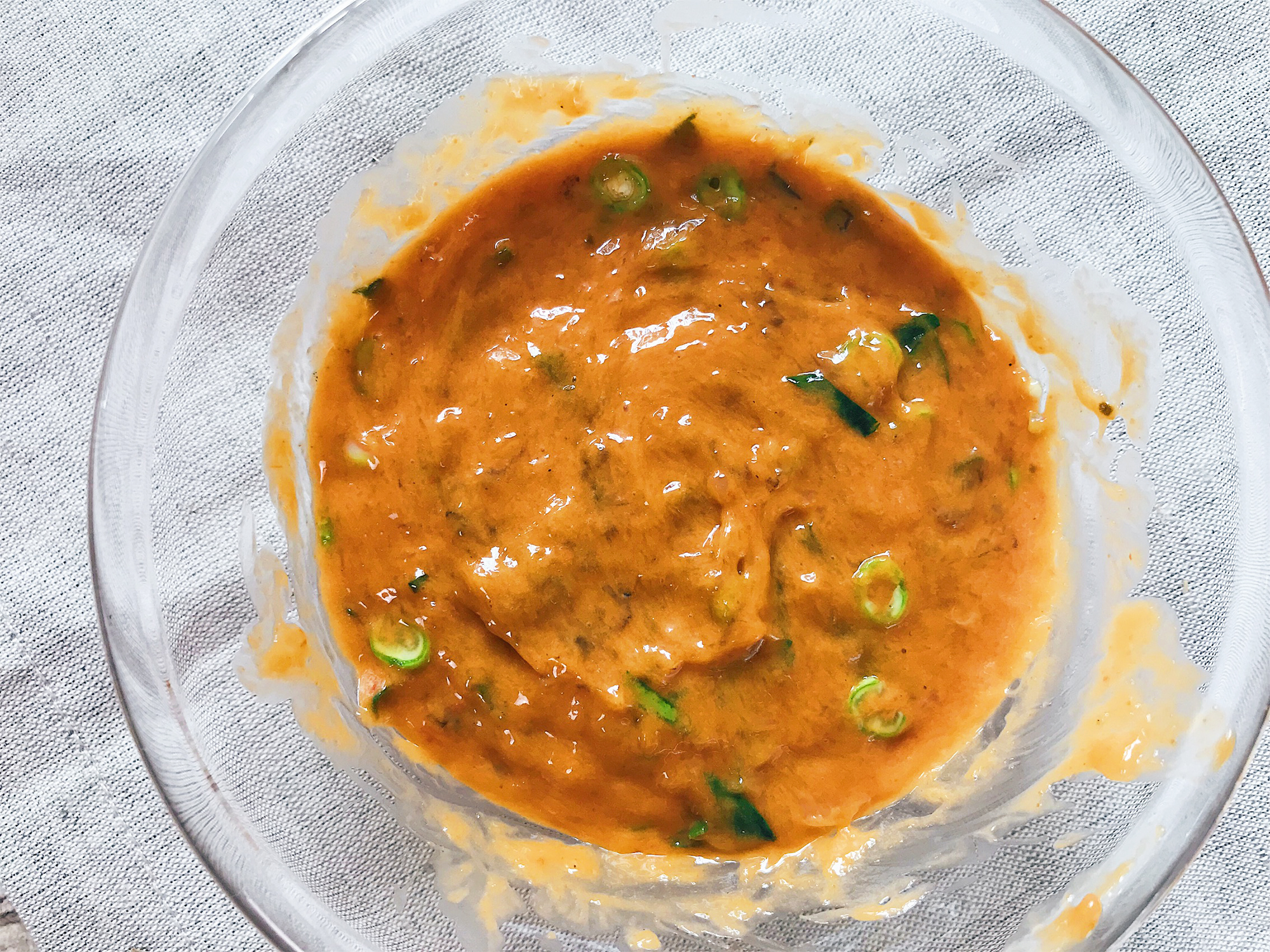 Mix in the long beans and kaffir lime leaves.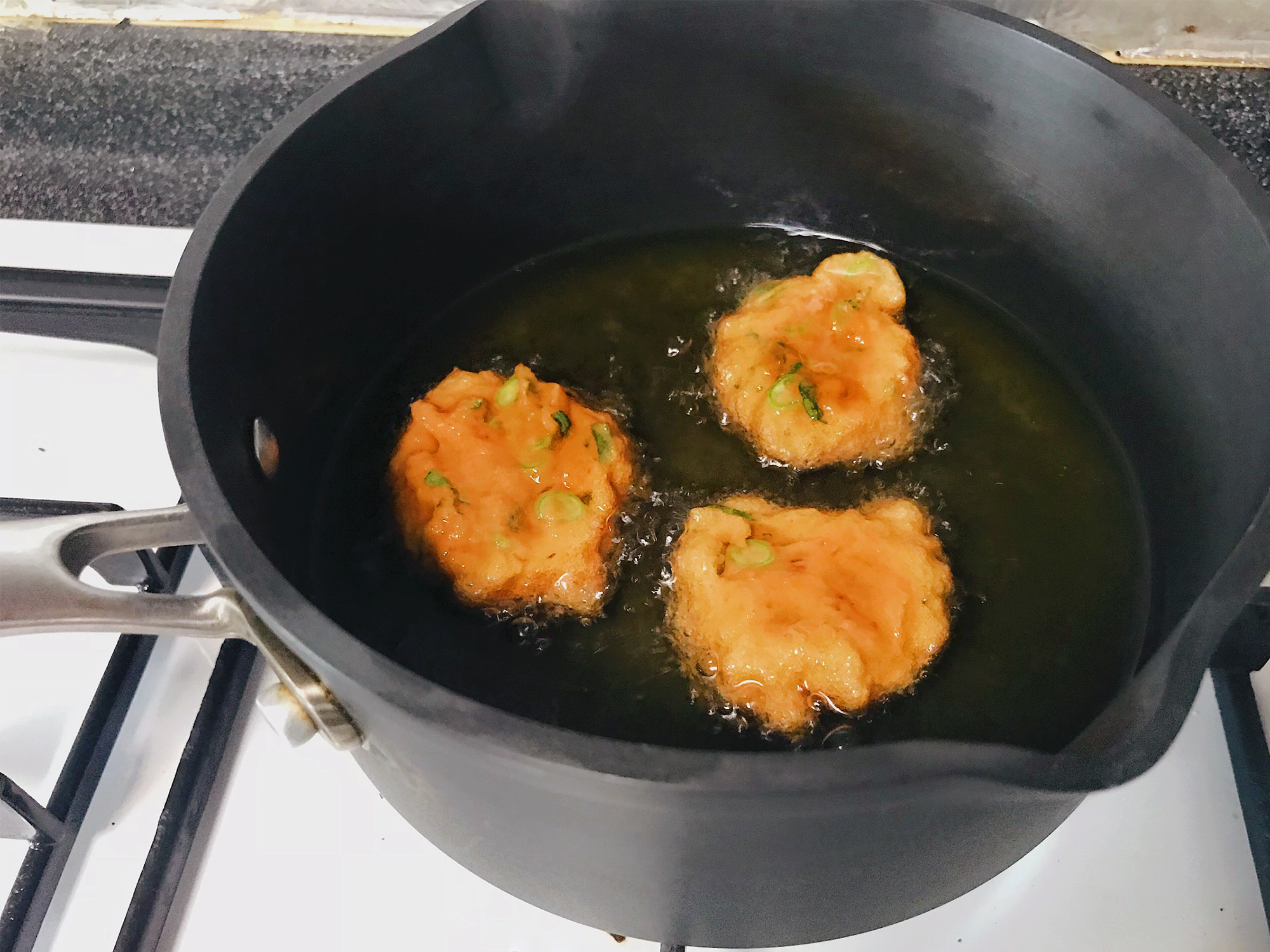 Shallow fry or deep fry the prawn cakes on both sides until golden brown. I use about 1 tbsp of prawn paste to form this nugget shape, but if you want each cake to be bigger, you can use about 2 tbsps.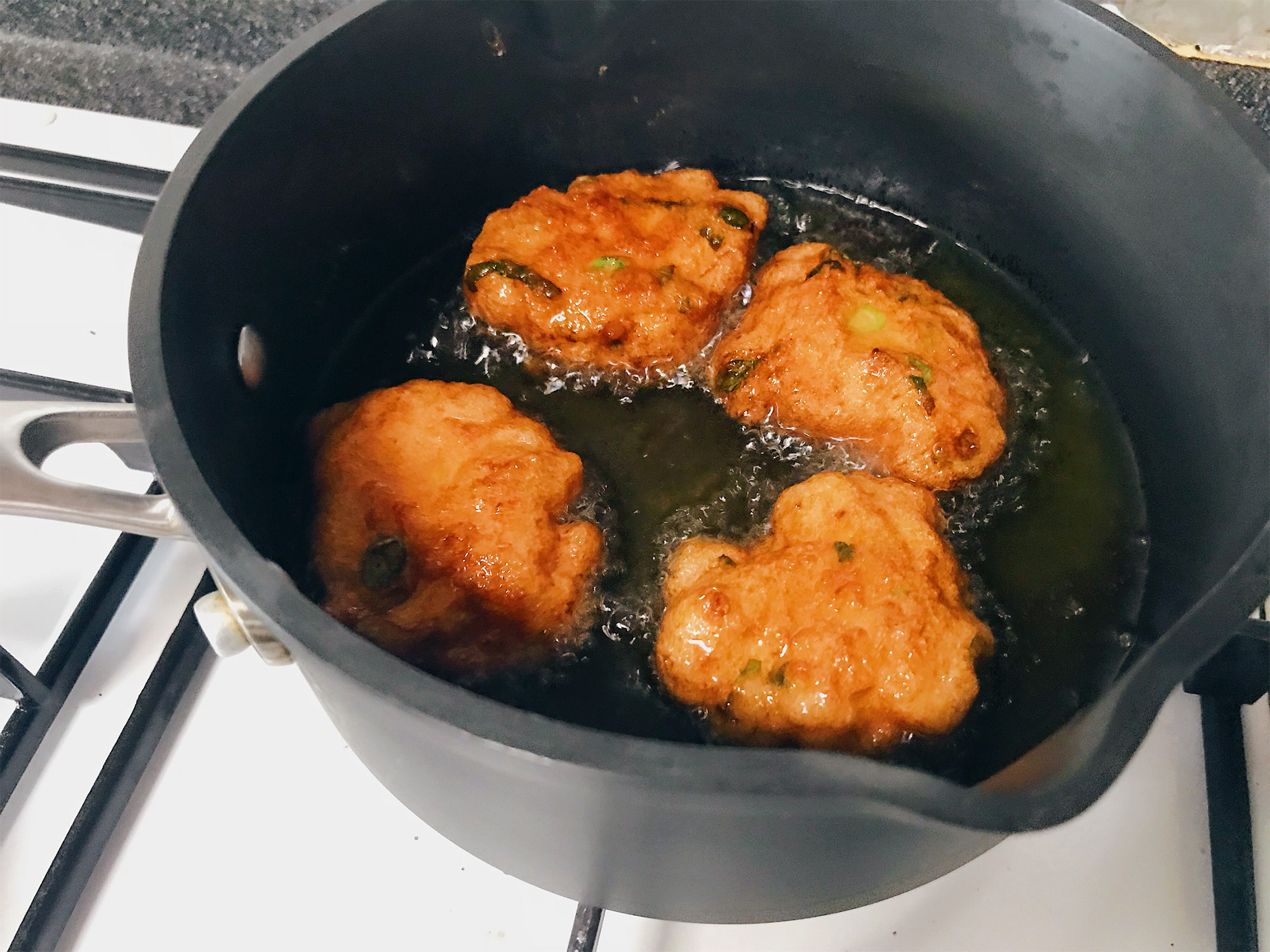 Remove from the pot and drain away the excess oil with some kitchen towel. Then serve with Thai sweet chilli!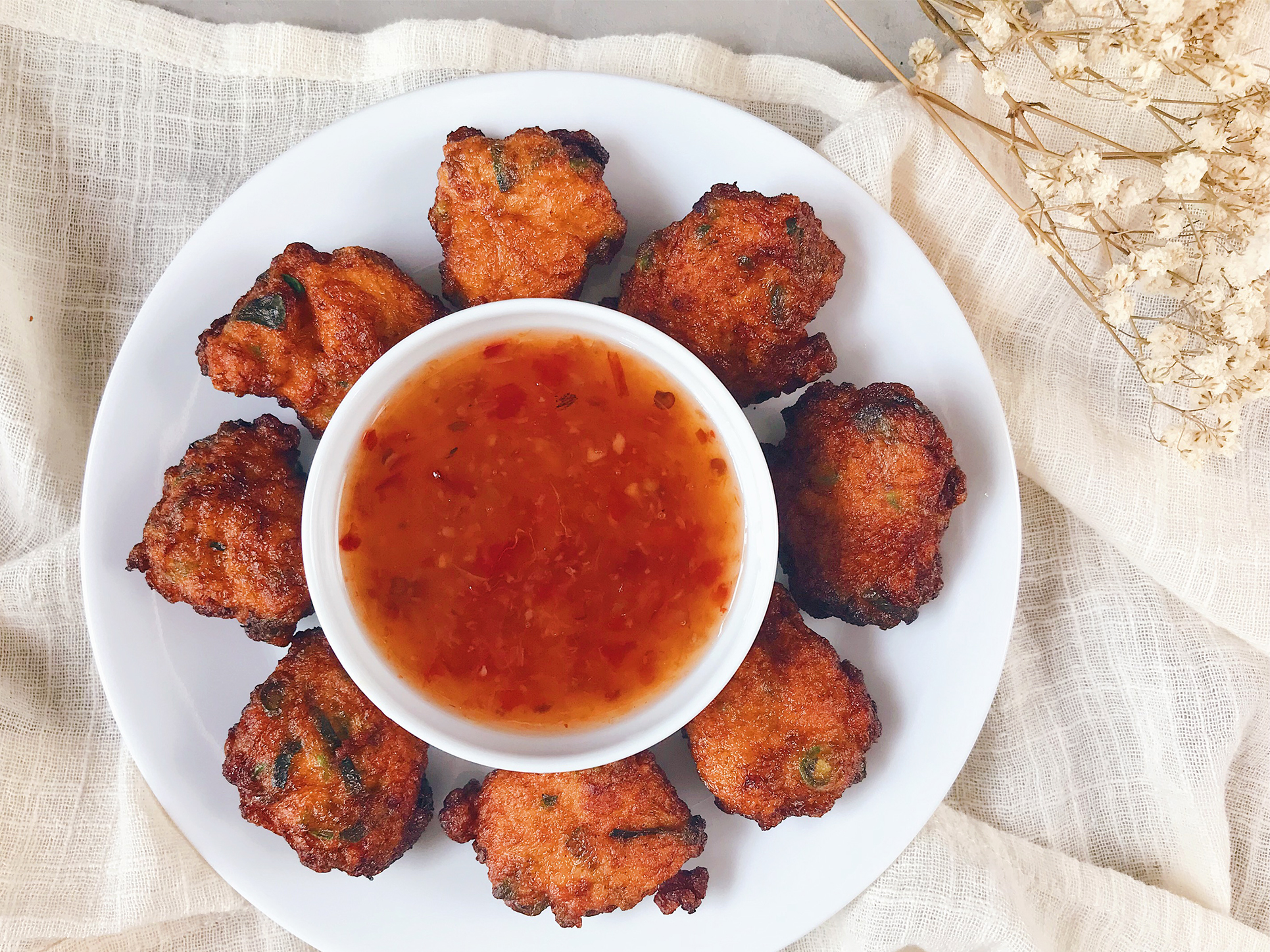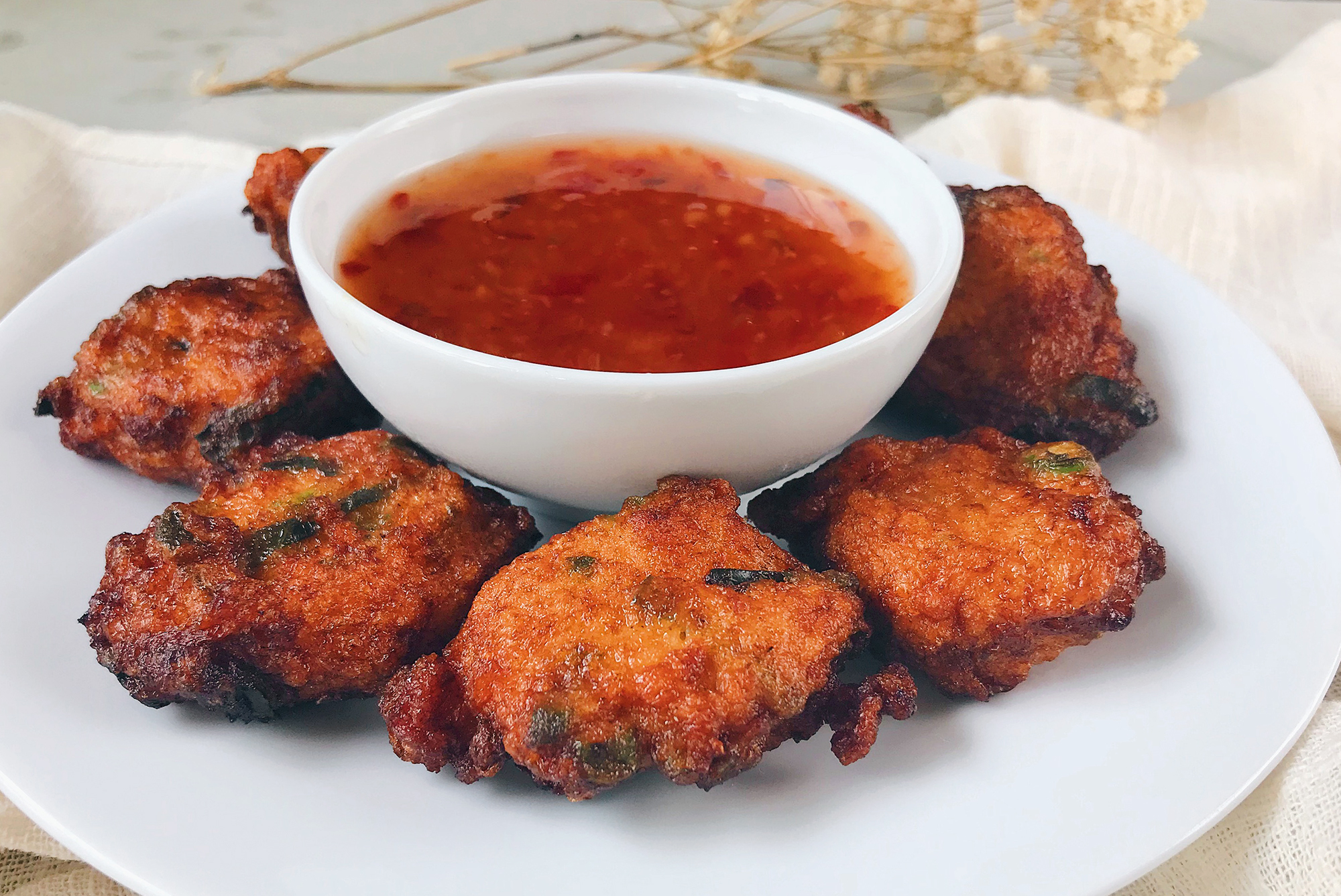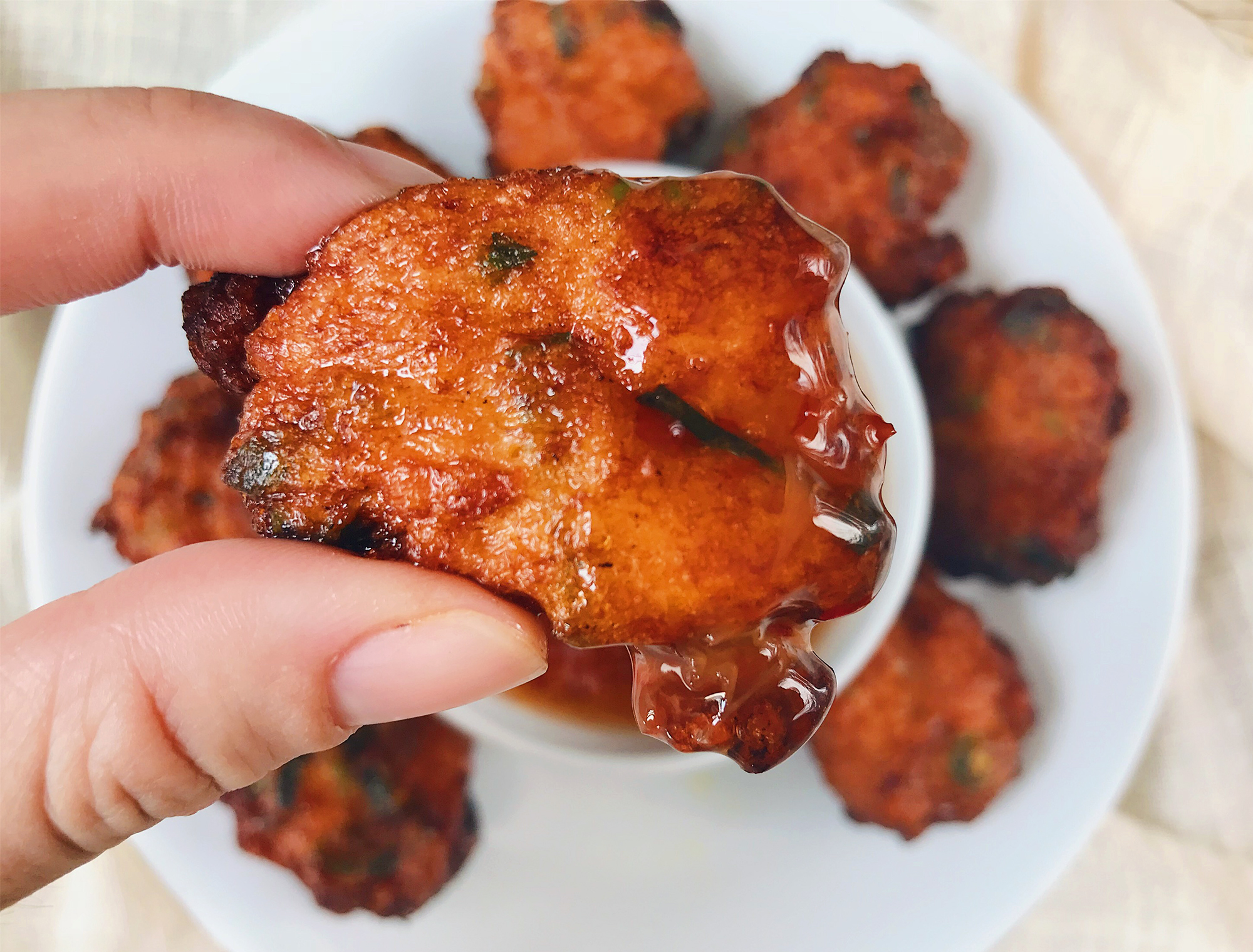 The prawn cakes were unbelievably springy and juicy, and the sweet, salty and spicy flavours melded well together. And it wasn't difficult to make! The only time-consuming part was peeling the prawn shells and deveining the prawns. I have to say that the final product tasted a lot better than I had expected it to, since it was my first time making it. This dish makes for a great afternoon snack! Unfortunately, this recipe only yielded about 25 nugget-sized prawn cakes, which was less than I thought I could make. With the total cost at $12.48,  it means that each prawn cake nugget is about $0.50! Definitely not cheap if making for a party. I'm sure it will be much more affordable to use fish paste instead of prawn paste, so maybe I'll try with fish paste the next time round.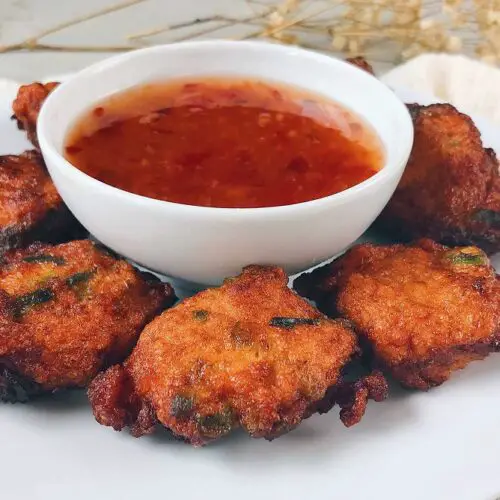 Thai Shrimp Cakes
Ingredients
300

g

 prawns (shelled, deveined & chopped) ($10.50)

2

tbsp

red curry paste ($0.90)

2

tbsp

coconut milk ($0.156)

1

tbsp 

sugar ($0.019)

1

tbsp 

fish sauce ($0.034)

1

egg ($0.20)

35

g

long beans (chopped) ($0.236)

2

tbsp

2 tbsp kaffir lime leaves (finely sliced) ($0.04)

½

cup

Thai sweet chilli ($0.40)
Instructions
Blend all ingredients, except the long beans and kaffir lime leaves, into a smooth paste.

Mix in the long beans and kaffir lime leaves.

Heat some oil in a frypan or saucepot over medium heat. Once the oil is hot, shape about 1 tbsp of the shrimp paste mixture into nuggets one at a time and add to the oil to fry.

(Deep) fry on both sides until golden brown, then remove and drain away excess oil with kitchen towel. Serve with Thai sweet chilli sauce.