What's your favourite from McDonald's? Mine has been McSpicy for years, and it's definitely the thing I order most from Macs. Whenever Macs launches a new burger, I will try it, only to be left disappointed. However, a while back they introduced their new Buttermilk Crispy Chicken burger and upon trying it, it's officially my second favourite thing from Macs. I believe people who hate pineapple on their pizzas don't fancy the burger much, but I'm one of those who think warm, grilled pineapples go well with savoury food!
Decided to make my own Buttermilk Crispy Chicken burger today and it was pretty successful, although it wasn't exactly the same as its Macs counterpart. If you want to make it more similar, you can swap the coral lettuce for romaine lettuce, add some shredded purple cabbage and use specifically Colby cheese instead of Monterey Jack cheese which I used. Macs uses black pepper mayo for their burger but I used a barbecue mayo sauce instead. Scroll down for the recipe!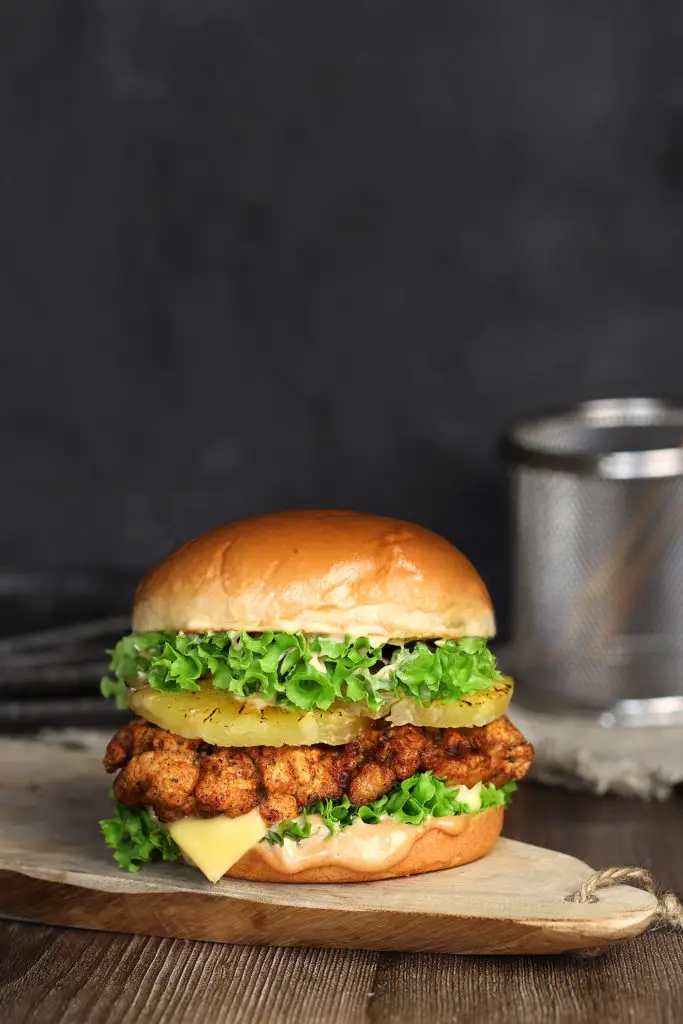 One thing I would like to highlight is, if you can, use chicken thigh instead of chicken breast meat for this recipe. Using chicken thigh will result in much juicier chicken patty, albeit less healthy. If your chicken thigh is way bigger than your burger, you may want to cut it (before frying) so that it is more or less similar to the size of the burger buns.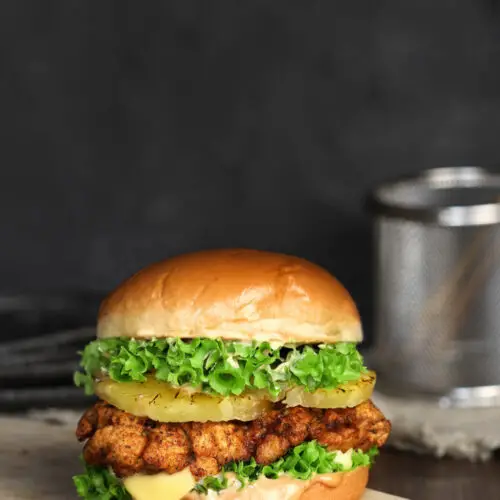 Buttermilk Chicken Burger
Ingredients
MARINADE
2

boneless chicken thighs

skin removed

½

cup

buttermilk

½

tsp

cayenne pepper

salt

to taste
COATING
½

cup

flour

½

tsp

dried thyme

½

tsp

garlic powder

½

tsp

onion powder

½

tsp

smoked paprika

½

tsp

cayenne pepper

½

tsp

salt

black pepper

to taste
BURGER
2

burger buns

butter

2

slices

cheese

4

canned pineapple rings

coral lettuce

1

tbsp

barbecue sauce

2

tbsp

mayonnaise
Instructions
In a big bowl, make buttermilk marinade by combining buttermilk, cayenne pepper and salt. Add boneless chicken thighs and marinate in the refrigerator for at least 1-2 hours. Remove from refrigerator.

In another bowl, combine all the ingredients for the flour coating - flour, dried thyme, garlic powder, onion powder, (smoked) paprika, cayenne pepper, salt and black pepper. Remove chicken thigh from buttermilk marinade and dredge each chicken in seasoned flour, shaking off any excess.

Deep fry chicken thighs until deep golden brown. It should take around 4-5 minutes. Remove and drain excess oil on paper towels.

Slice burger bun into two halves and toast them in an oven toaster or in a frypan. Add butter to the buns, then add a dollop of barbecue mayo to each bun. Assemble the burger by adding coral lettuce, sliced cheese, fried chicken thigh and pineapple rings. Note: If you prefer, you can also grill the pineapple rings in the oven toaster before assembly.