Laksa spring rolls might sound like a weird combination but I recently had them at a restaurant and they were surprisingly good! It's basically dry laksa in a crispy, golden spring roll wrapper. It's a very straightforward dish and makes for a good snack.
I used Dancing Chef's laksa paste so I don't have to go through the trouble of making the laksa paste from scratch. Also, I only added chicken meat and tofu puffs in my spring roll but you can include shrimps or even boiled eggs if you prefer!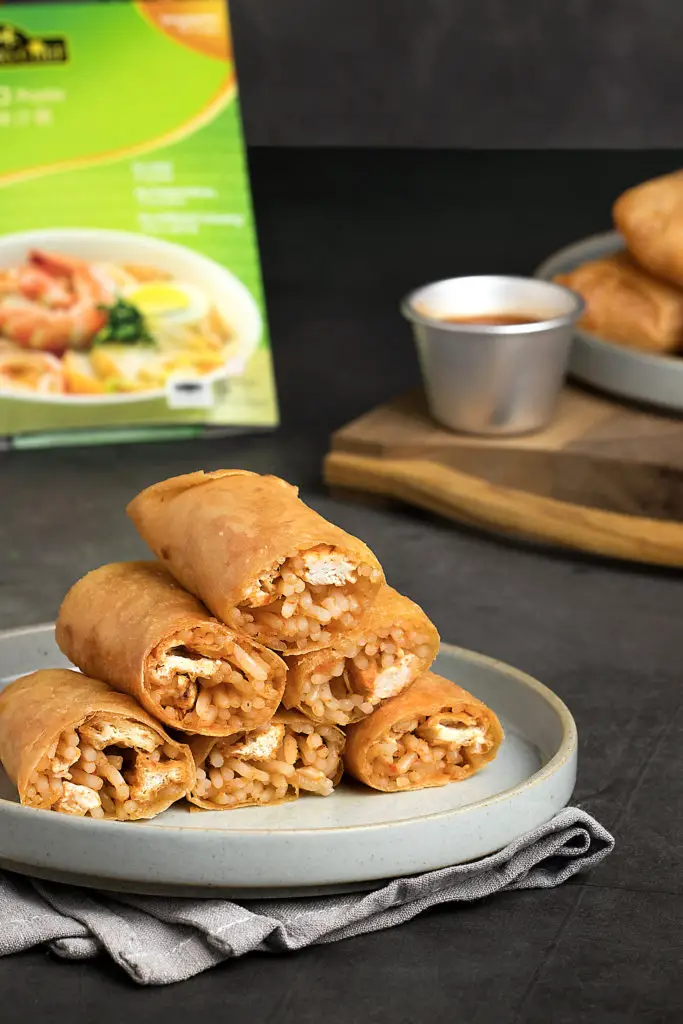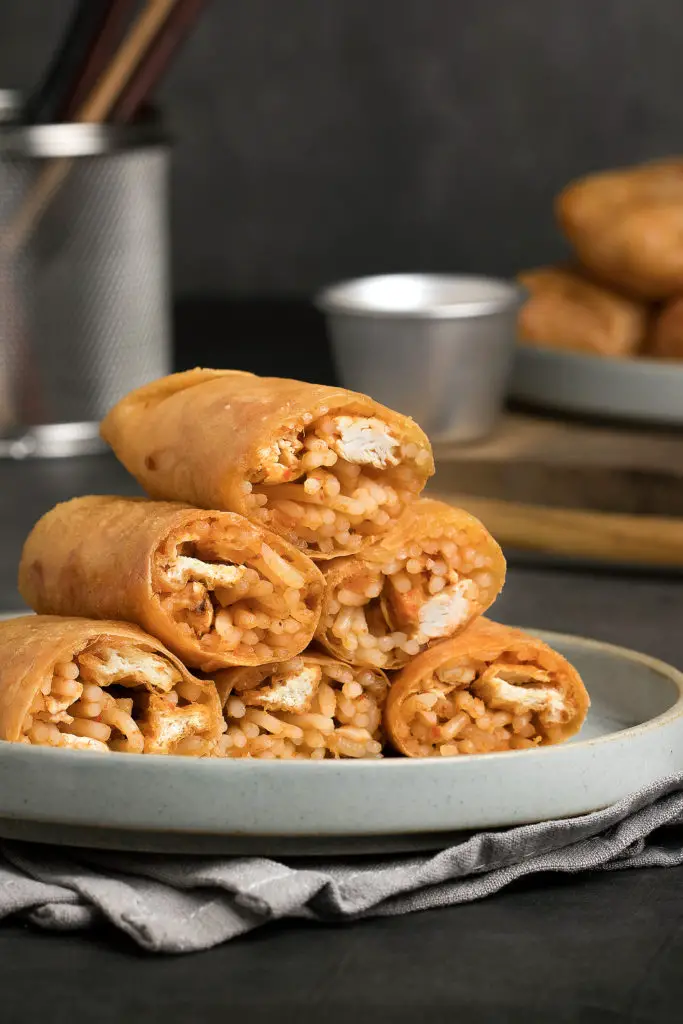 This recipe makes about 8 spring rolls.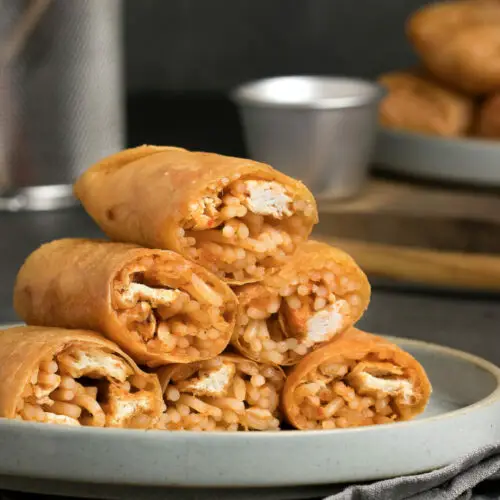 Laksa Spring Rolls
Ingredients
¾

packet Dancing Chef laksa paste

150

ml

coconut milk

1

tbsp

laksa leaf

chopped

300

g

thick beehoon

150

g

chicken fillet

4

tofu puffs

8

sheets spring roll pastry

egg wash

beaten eggs
LAKSA DIP
¼

packet Dancing Chef laksa paste

25

ml

coconut milk

1

tsp

brown sugar

adjust accordingly
Instructions
Bring a pot of water to a boil and blanch thick beehoon until just cooked. Remove and set aside. Blanch tofu puffs and remove. Cut into small, long strips. Add chicken and boil till no longer pink. Remove and shred into smaller strips.

In a frypan, add ¾ packet of laksa paste (75g) & laksa leaves and fry for a few minutes until fragrant. Add coconut milk and mix till well combined. Add thick beehoon, tofu puffs & chicken and stir fry until well coated with laksa gravy. Remove and leave to cool for a few minutes.

Place spring roll wrapper in a diamond position. Add 1-2 tbsp of laksa beehoon on the bottom of the wrapper and fold the bottom over the filling, towards the centre. Roll the bottom upwards once, ensuring the spring roll is tight without any air. Fold the sides towards the centre, then finish rolling the spring roll, sealing it using some egg wash.

Deep fry spring rolls in a pot of oil until golden brown. Remove and drain excess oil on paper towels.

If you want to make a laksa dip to go with the spring rolls, add ¼ packet of the laksa pasta (25g) into a small pan. Fry for a few minutes till fragrant, then add 25ml of coconut milk (add more if you want it to be less spicy). Mix well. Add 1 tsp (or more) of brown sugar to reduce the saltiness. Cook until sugar dissolves.