Whenever I go to Marché, I will definitely order a plate of Swiss rösti. Because I loveeee potatoes, regardless of whether they are pan-fried, deep-fried, mashed, baked or stewed! The queue for rösti is, without fail, always the longest in Marché. What amazes me is that the cost of potatoes is so low and the final product is sold at a relatively high price, yet there are still so many people willing to pay for a plate of rösti (like me).
I guess that attests to how irresistible rösti is! Frankly, rösti looks relatively easy to make but it's slightly challenging to get it done to perfection.
My idea of perfect rösti is one where you can see distinct strands of potatoes which boast an evenly crisped & browned exterior and soft interior. The type of potatoes, the temperature of the pan, the amount of oil/butter used and the cooking method are all crucial to achieving that perfect rösti. There are a few ways to go about making  rösti, namely:
1) Grate raw potatoes & pan-fry
This is the method that Marche uses, and is definitely good for those who want to make just 1-2 servings of rösti. However, one thing I don't like about this method is that the raw potatoes, once shredded, oxidize and turn brown quite quickly. The raw potato shreds also release quite a bit of water which is something you would not want when trying to achieve crispy rösti.
Some recommend squeezing out the water in the potato shreds using a cheesecloth before pan-frying them. That, to me, is a lot of a hassle and deters me from using that method. Another thing is that since the potatoes are raw, the time required to fry the potatoes is around 8-10 minutes on each side (depending on the thickness of your rösti as well).
That means you require almost 20 minutes just to fry one rösti! And if you undercook the potatoes, they may have a slightly raw taste in the middle. I guess this method is suitable for those who are making small servings of rösti.
2) Grate raw potatoes, pan-fry & finish off in the oven
This method is similar to the previous method, except that some people finish their rösti off in the oven especially if it's very thick. This will help their rösti cook more evenly without the outside getting overly burnt. One good thing about this method is it tends to give your rösti a very evenly-browned exterior. However, this is feasible if you're only going to do one big (perhaps 28cm) rösti for everyone to share. If you're going to do more than one and your oven can only accommodate one pan, this method is far too time-consuming. Plus, you will need to preheat the oven for at least 15-20 minutes, another major deterrent for me.
3) Parboil potatoes, keep chilled overnight, grate & pan-fry
This method may seem troublesome because you need to plan one day in advance. You'll need to parboil the potatoes (but not too much!) and keep them in the chiller for at least a few hours, best overnight. The advantage, though, is that since the potatoes are pre-cooked, you require less time to pan-fry them (3-4 minutes on each side) without the risk of them tasting raw in the middle. It also means you can use slightly lesser oil since they are already half-cooked (more oil is required for the raw potatoes for better heat transfer). I also find that the parboiled potatoes, upon grating, oxidize much more slowly. This is a good choice if you're going to make more than 3-4 servings at once, and also the method I prefer.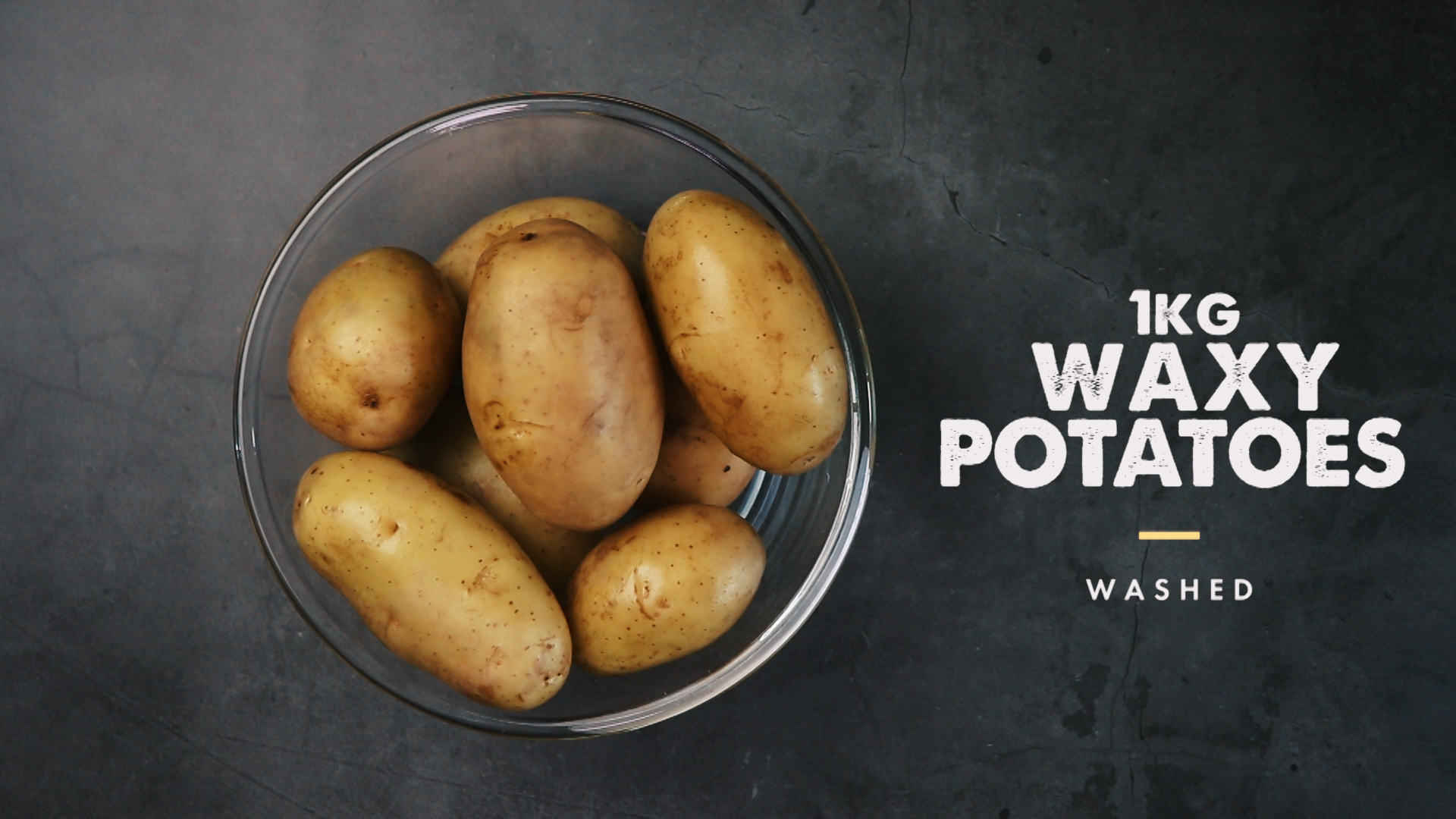 Another thing to take note of is to use waxy potatoes rather than starchy potatoes. Starchy potatoes – the renowned russet potato – will give you that soft, creamy consistency upon cooking, thus making them better suited for mashing and baking. Waxy potatoes, on the other hand, hold their shape better and will not become overly mushy upon cooking, making them a good choice for use in potato salads and of course, rösti. You can easily identify waxy potatoes by their smooth, thin skins. With that being said, you can still use starchy potatoes if you prefer, but the outcome may not be as ideal.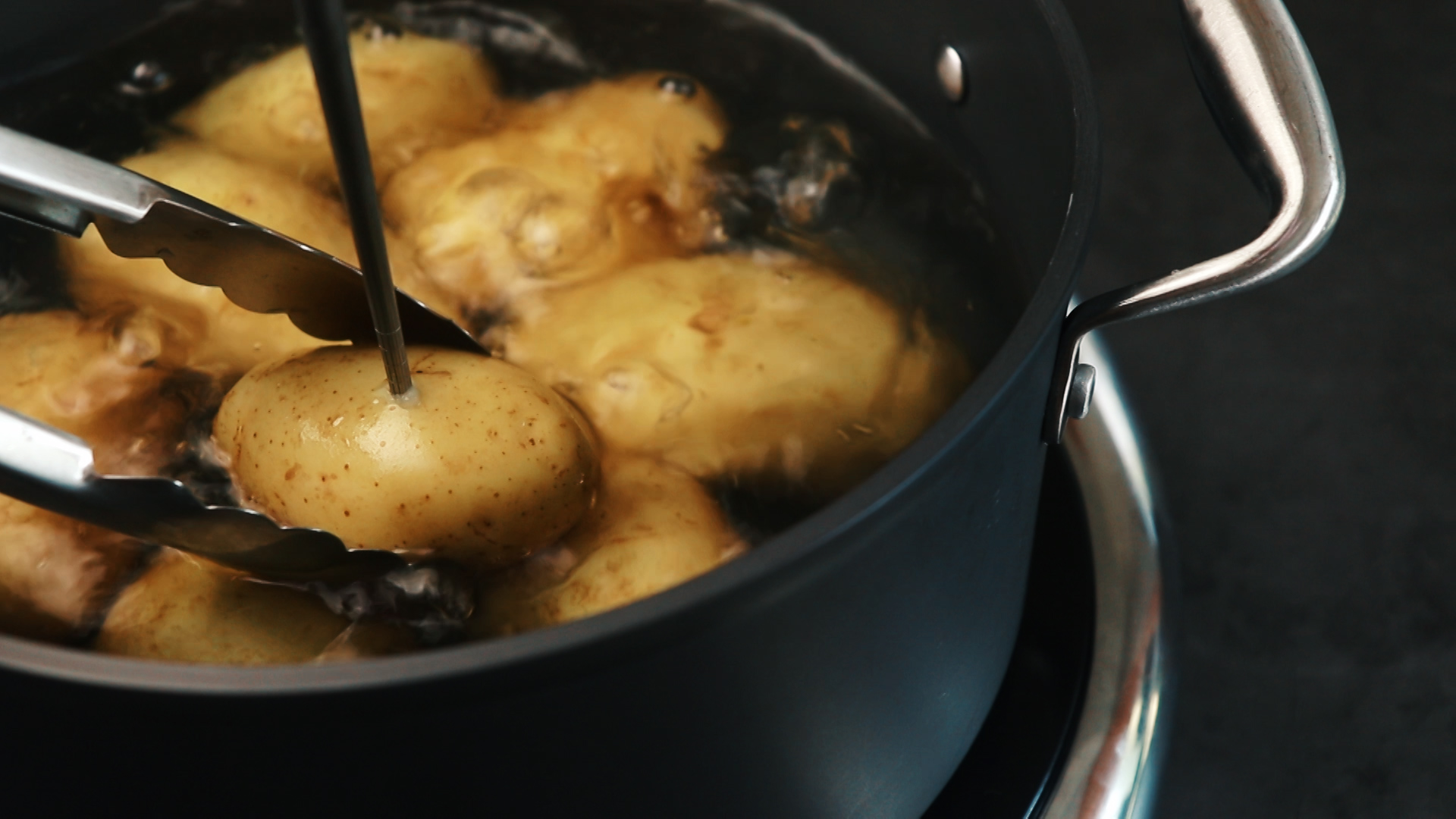 Start by boiling the potatoes in a pot of water. Boil until the potatoes half-cooked, soft on the outside, but raw and crunchy on the inside. You should be able to insert a chopstick into the potatoes, but meet with resistance as you near the middle.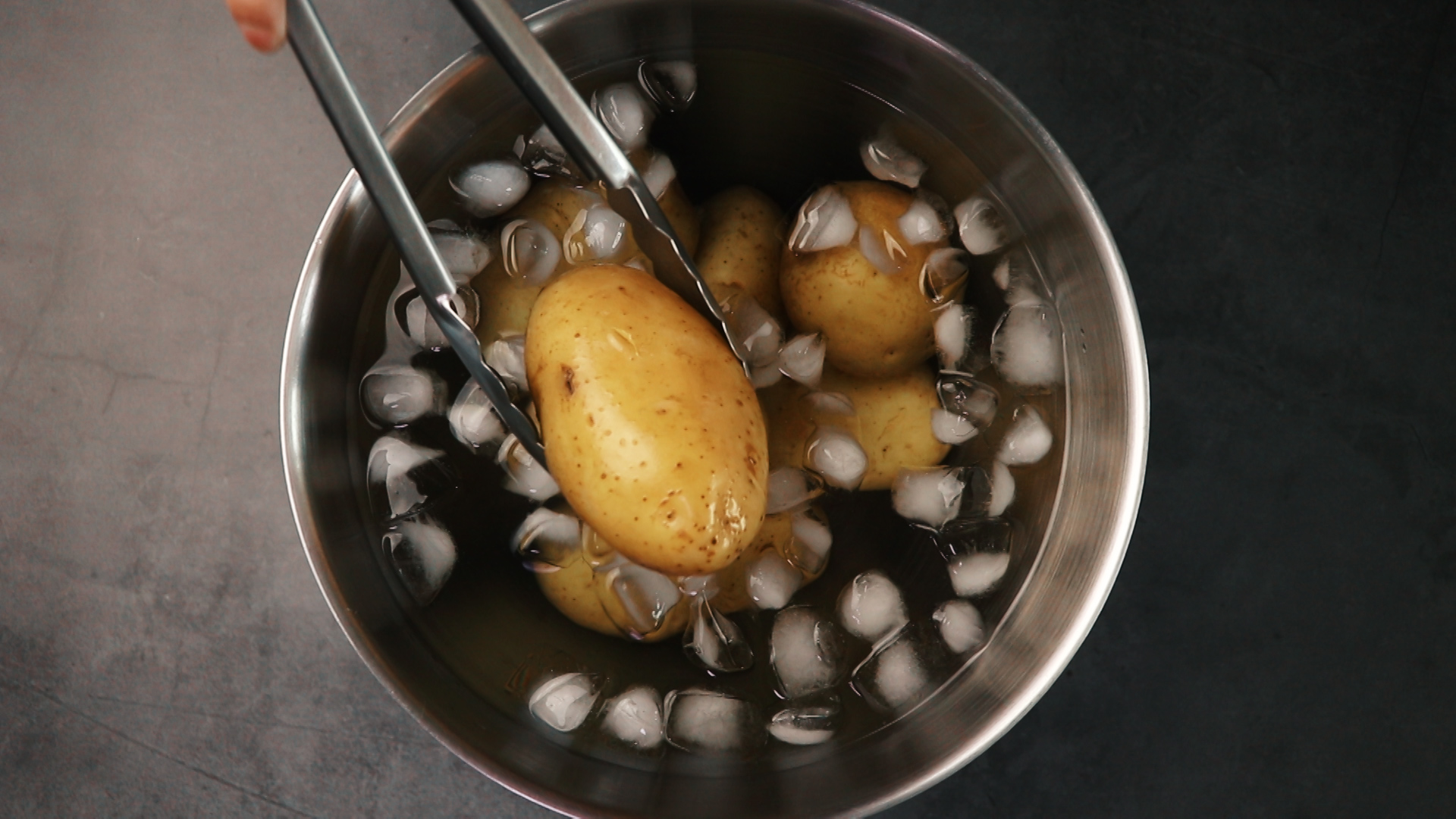 Remove the boiled potatoes and place them into an ice water bath to cool them down.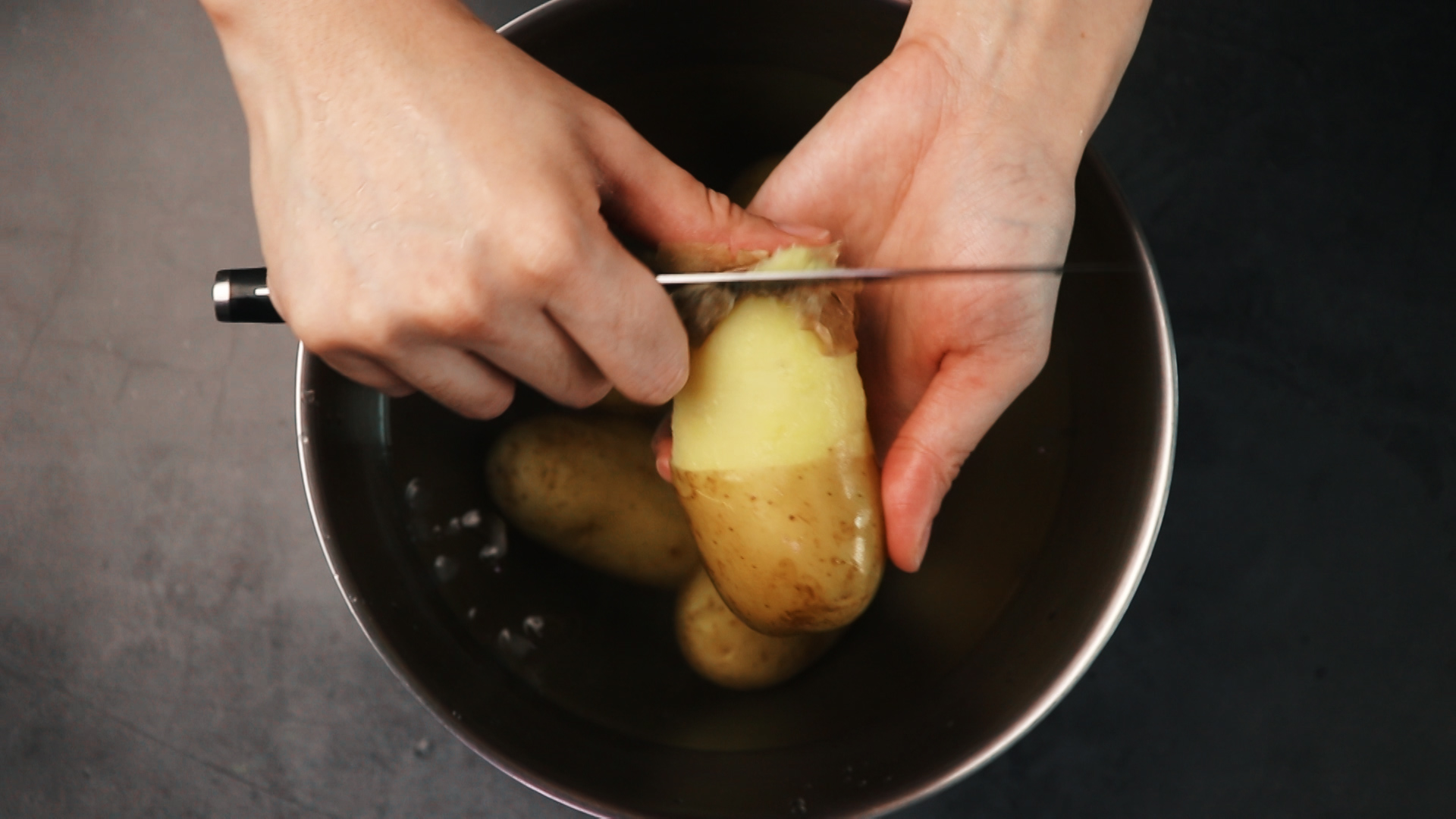 Once cool, peel the potato skins using a knife or peeler. Keep them in the chiller for at least a few hours, best overnight. This will help them to firm up before grating so they won't turn into a mushy mess.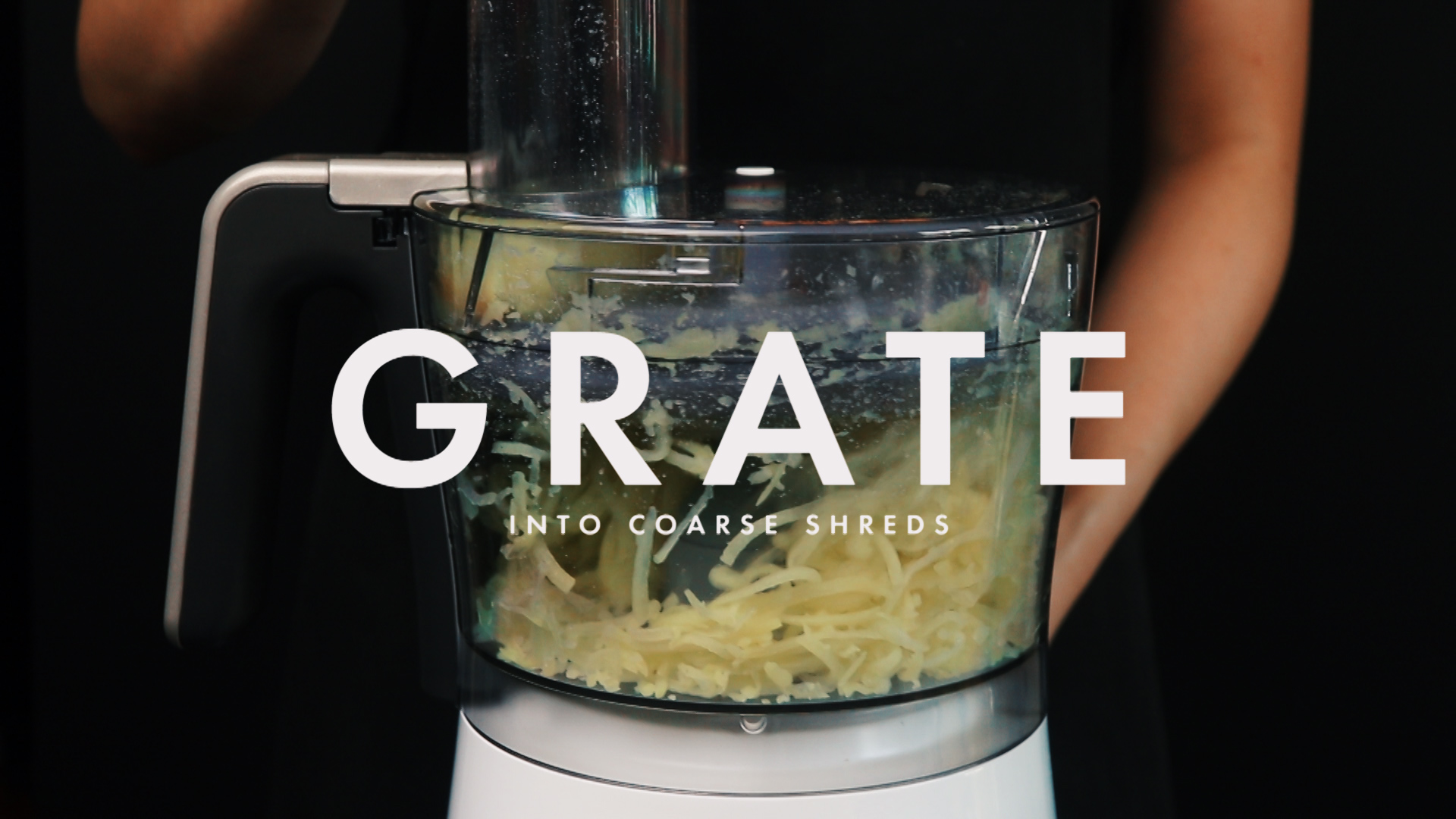 Grate the potatoes using a food processor or a shredder. You want coarser shreds instead of very thin ones.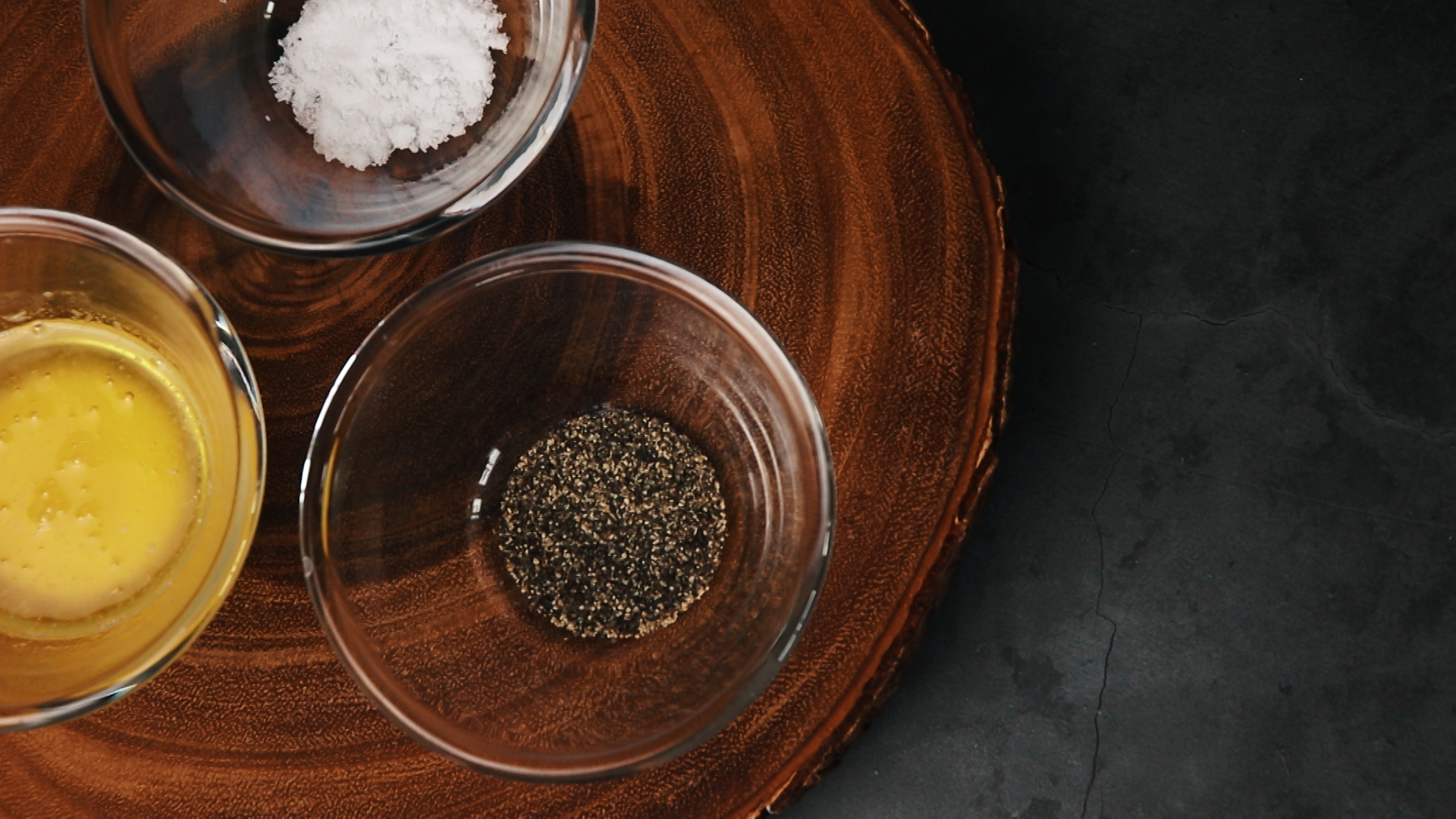 Only three ingredients required for a good rösti – melted butter, salt and black pepper. If you want healthier rösti, you can skip the butter. But I guarantee you the flavour will be greatly compromised. Don't skip the butter!!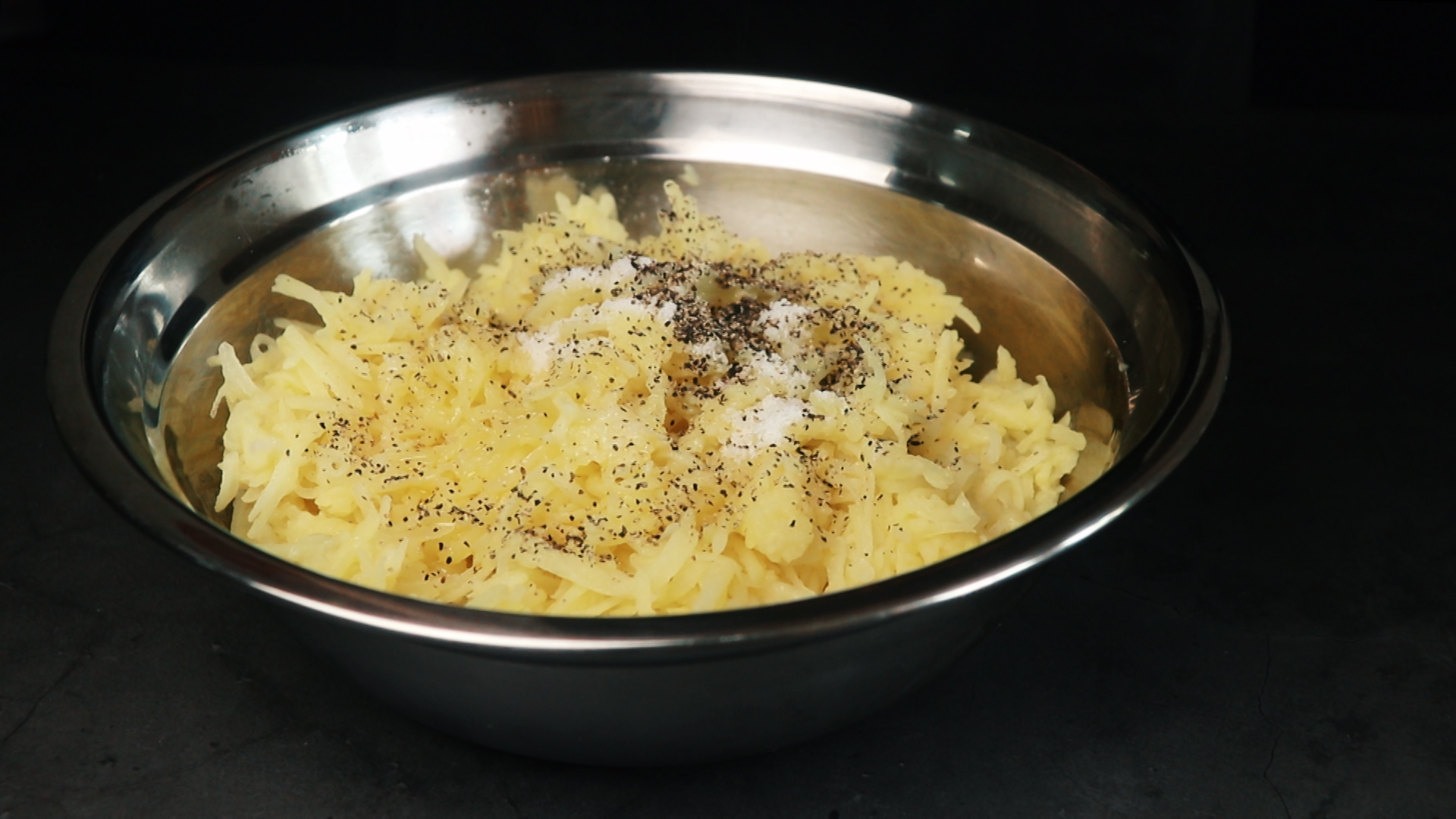 Mix the above-mentioned ingredients with the rosti.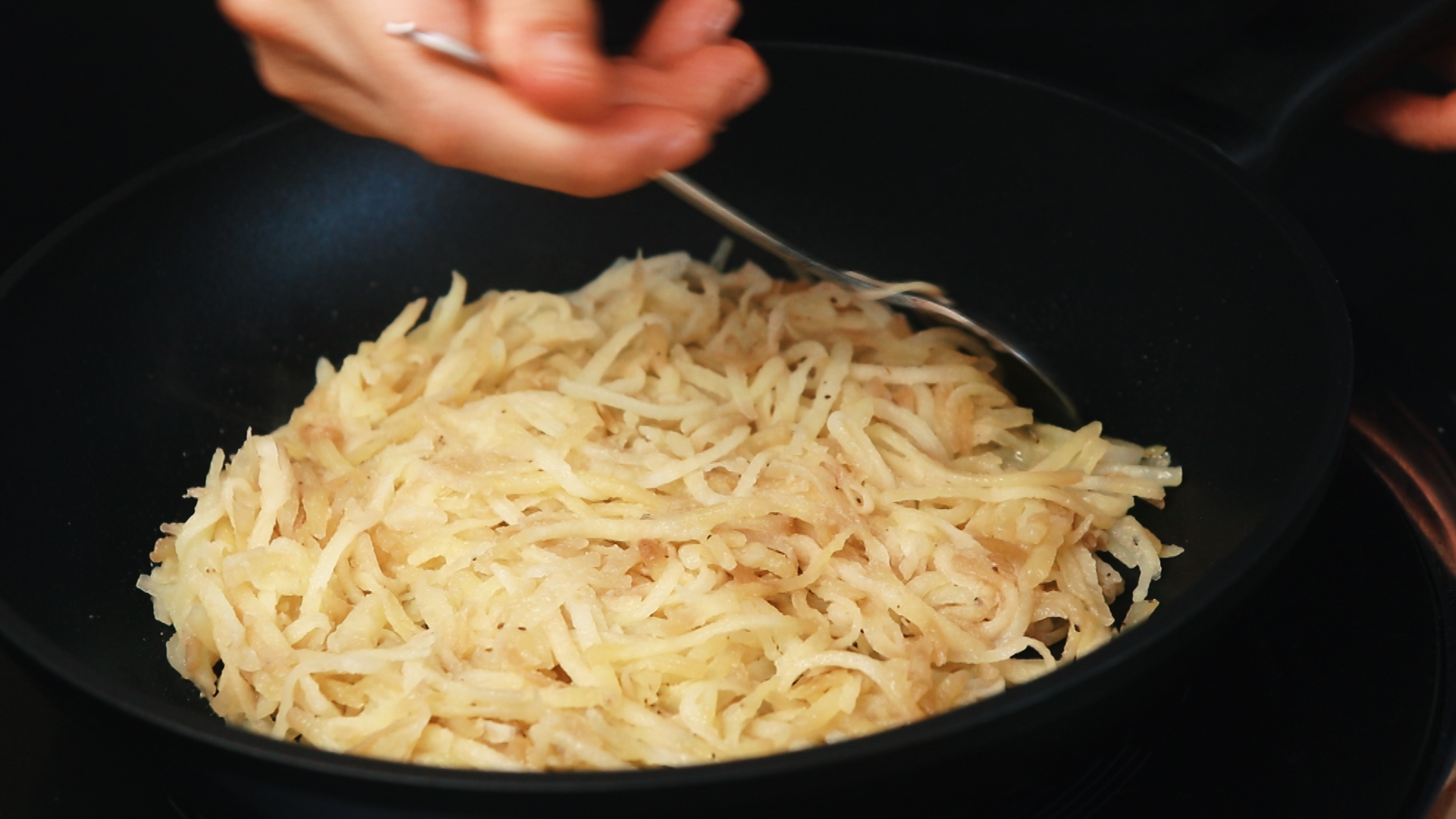 Heat a frypan over medium heat till hot and add 1 tbsp of oil. Add the grated potatoes and shape them using a spoon or spatula.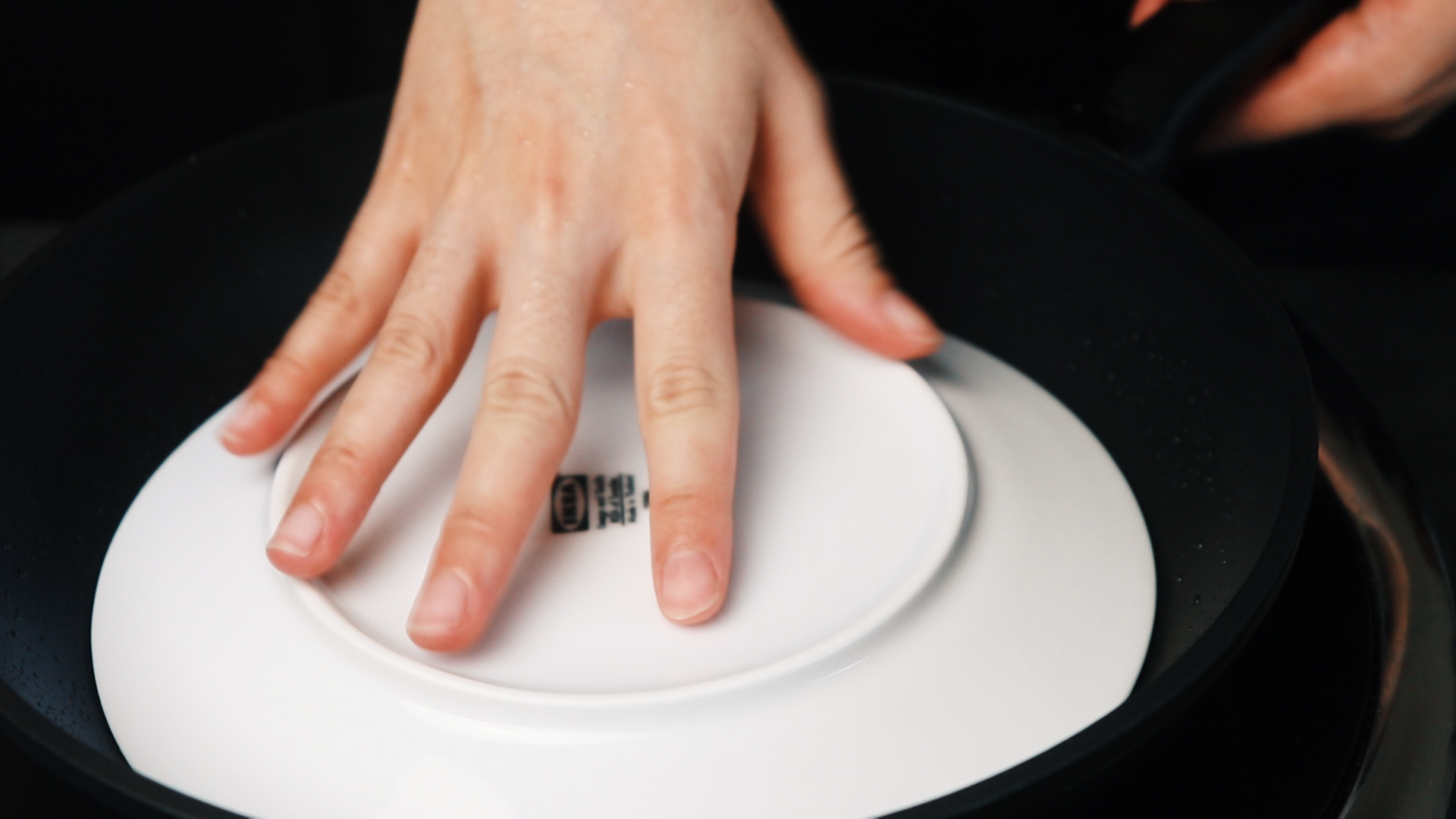 Once the underside is browned and crispy (it should take around 3-4min), flip the rösti onto a plate. If you're skillful enough, you can use a spatula or the pan to flip the rösti. But the safest way is to use a plate.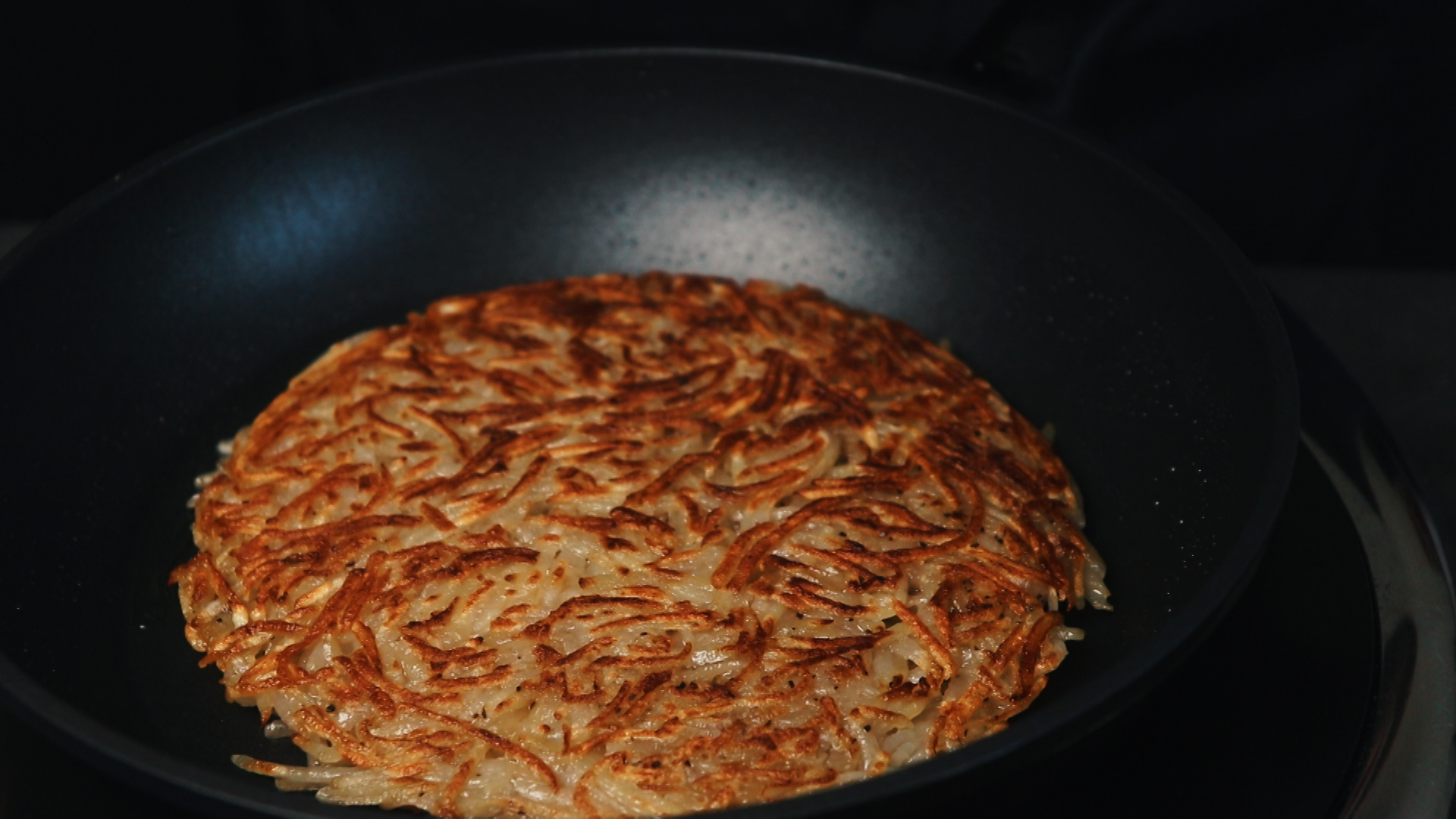 Add a little more oil into the pan before sliding the rösti back into the pan. This will help the rösti cook more evenly. Once the other side is done, remove rösti from pan.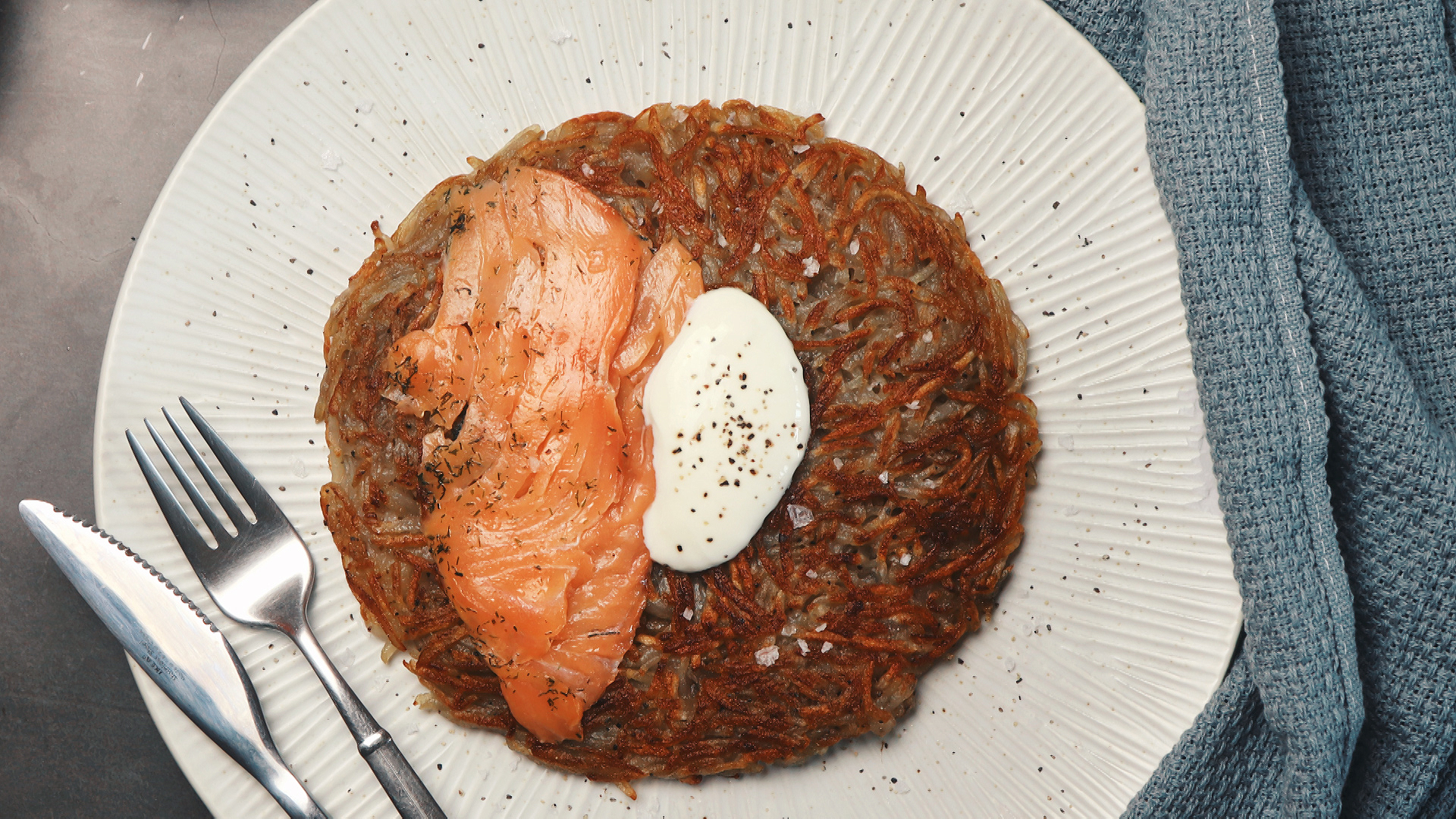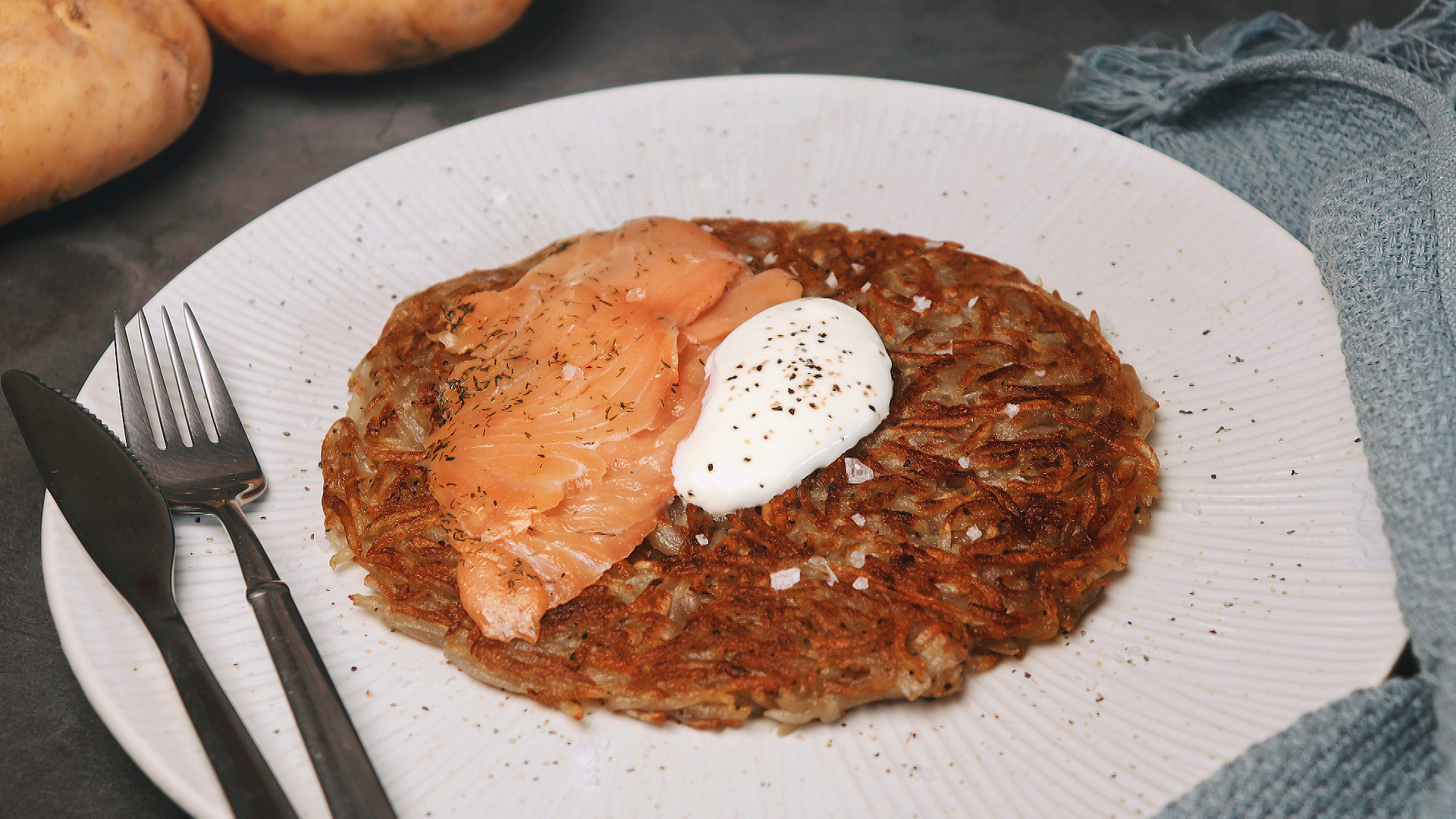 I topped my rösti off with some Greek yoghurt and salmon! I personally don't like eating Greek yoghurt on it's own because I find it slightly tart on the taste buds, but it paired surprisingly well with the rösti. It tasted almost like as sour cream, except healthier. And not surprisingly, making your own rösti only sets you back a dollar plus per serving! Sometimes I really wonder why I pay so much for potatoes at a restaurant.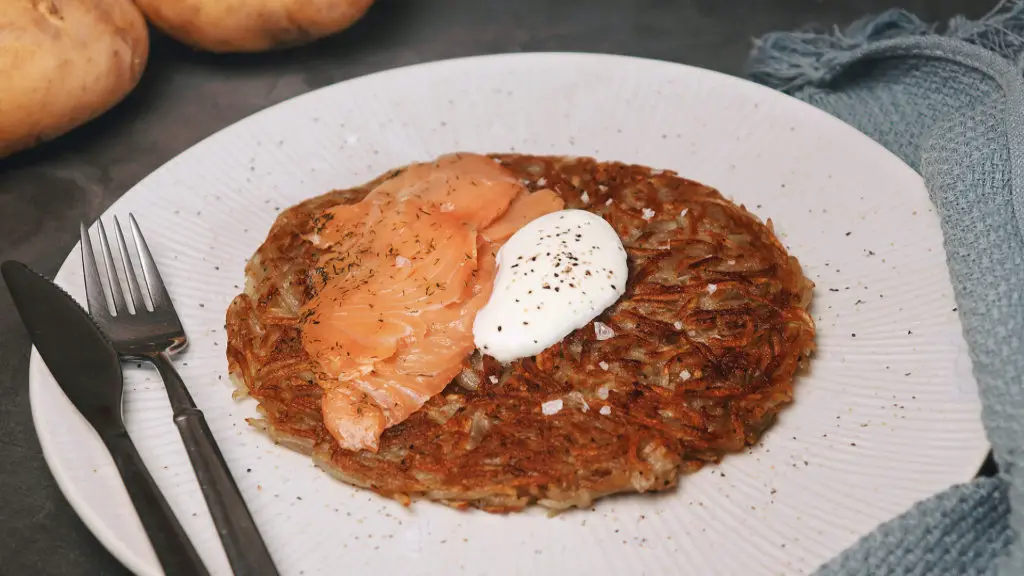 Swiss Rösti
DIY: $1.32 per serving
Dine out: $9.30 per serving (Marché)
Ingredients
1

kg

waxy potatoes ($3.20)

1 

tsp

salt ($0.028)

0.50

tsp

black pepper ($0.044)

50

ml

melted butter ($1.03)

6

tbsp

oil ($0.702)

140

g

 Greek yoghurt ($1.60)
Instructions
Parboil potatoes the night before. Bring a pot of water to a boil and add potatoes in. Boil for about 8-10 minutes until the outer part of the potato is just tender (but not soft) and the inside is still raw and crunchy. If you insert a chopstick into the potato, it should be able to penetrate the potato but meet with resistance nearing the middle.

Note: don't overcook the potatoes otherwise they will be hard to grate.

Remove the potatoes and cool in an ice water bath, then peel the potato skins using a knife or peeler. Keep potatoes in the refrigerator for a few hours, best overnight. This is to ensure that the potatoes are firm enough to grate. Grate potatoes using a food processor or shredder.

Add melted butter, salt and pepper to potato shreds and mix evenly.

Heat a 20cm or 24cm frypan over medium heat and add 1 tbsp of oil. Allow oil to heat up till hot before adding shredded potatoes in. Fry for 3-4 minutes until underside turns brown and crispy. Flip rösti onto a plate.

Add ½ tbsp of oil into pan, then slide rösti back into the frypan. Fry for another 3-4 minutes until crispy and brown. Remove rösti from pan. Serve rösti with greek yoghurt.