Three months ago when I went to Krabi with my mother and sister, we had a really unforgettable Claypot Crab Vermicelli dish at a Thai seafood restaurant. After coming back to Singapore, I told myself that I had to eat that again. I can't remember what was in their dish because I was so busy gobbling down the food that I forgot to take any photos, so I decided to try and create something similar on my own. It is slightly different from the one I ate in Krabi but I have to say this recipe is pretty legit. Actually, Chinese seafood restaurants also offer a similar dish but I have to admit I've never tried the Chinese version before, so I'm not sure how it tastes in comparison to the Thai version.
I tried making a prawn version of this once, but the flavour of crab version is unbeatable. Once again, good homemade chicken stock plays a key role in this dish. I would highly urge you to use homemade chicken stock if you have, instead of just plain water. The best part of the dish is really the vermicelli (tang hoon) because it soaks up all the lovely, sweet crab juices and savoury soup stock.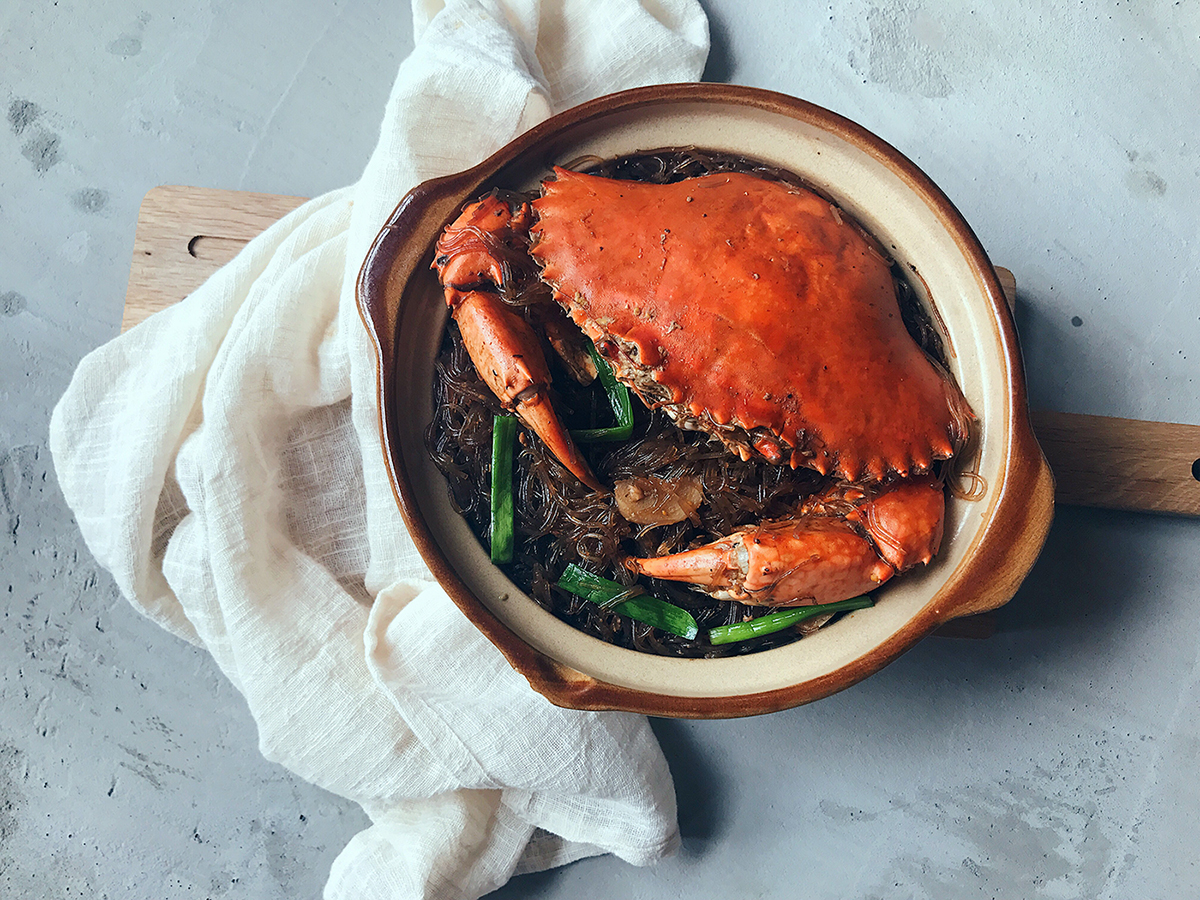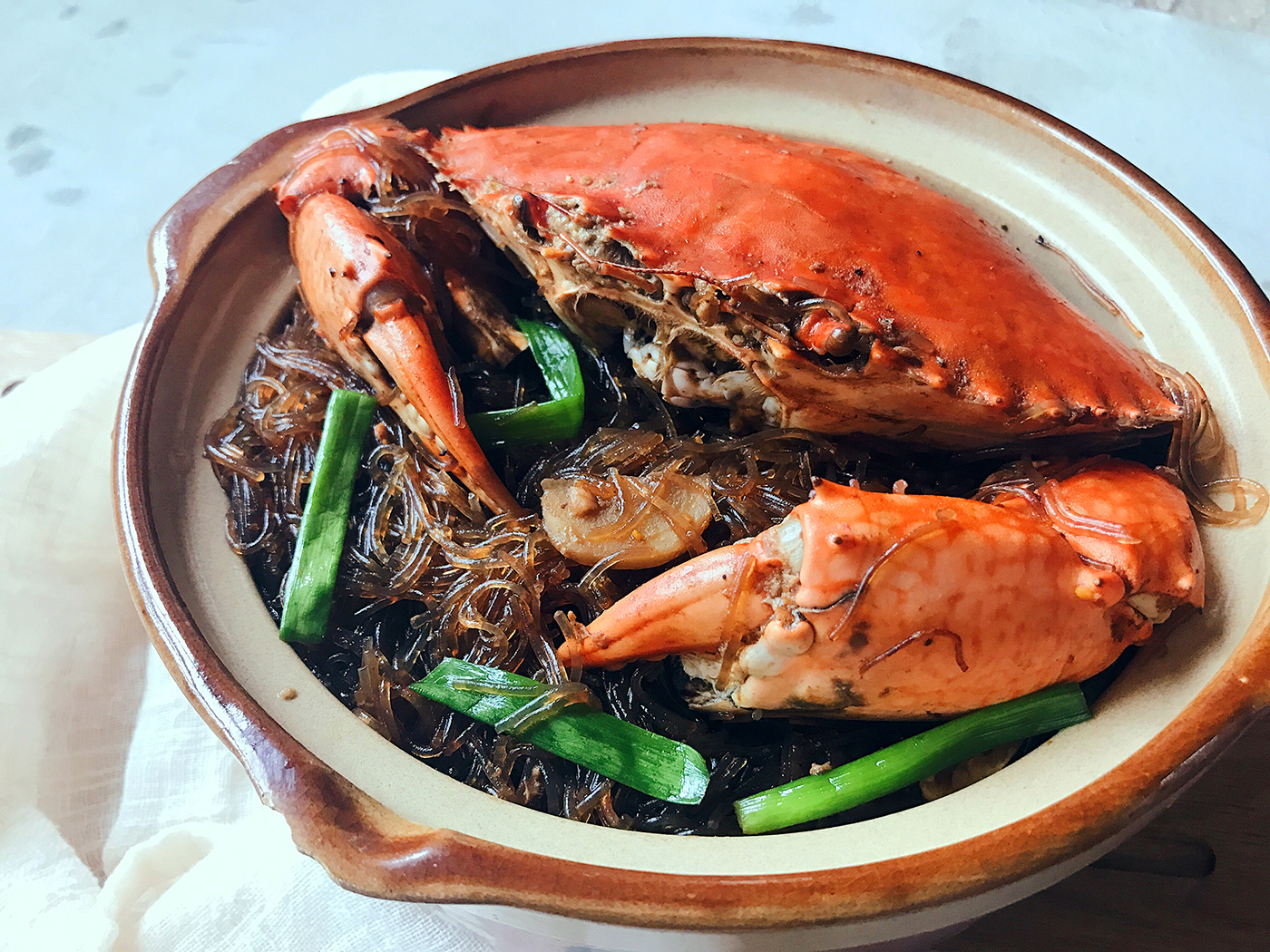 I did everything in one wok and then transferred to the claypot for phototaking purposes. You can also cook your crab vermicelli in a claypot if you want. I also can't remember how much the crab vermicelli in Krabi cost us but it's definitely around the same price range as if you make your own in Singapore. I really wouldn't mind going back to Krabi for that crab vermicelli again someday!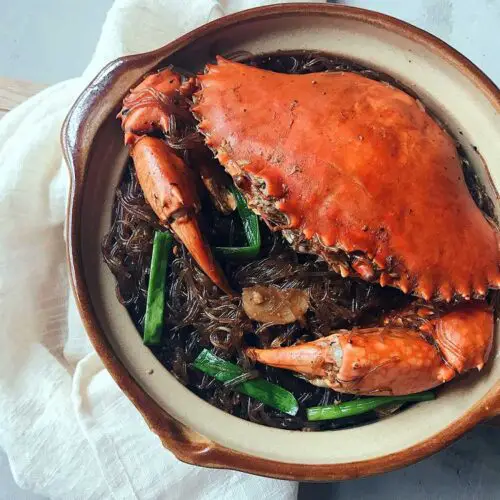 Crab Vermicelli
Ingredients
1

mud crab (600g) ($33.60)

150

g

rice vermicelli ($0.85)

100

g

butter ($2.06)

4

slices

4 ginger ($0.06)

2

cups

2 cups chicken stock (~$1.67)

2

tbsp

oyster sauce ($0.186)

1

tbsp 

ight soya sauce ($0.084)

1

tbsp 

fish sauce ($0.034)

1

tbsp 

Chinese cooking wine ($0.417)

2

tsp 

dark soya sauce ($0.056)

2

tsp 

sugar ($0.012)

2

tsp 

tsp sesame oil ($0.089)

1

tsp 

tsp peppercorns (pounded) ($0.29)

2 

spring onion (4cm lengths) ($0.10)
Instructions
Soak vermicelli in room temperature water for 5-10 minutes. Meanwhile, kill the live crab, wash thoroughly to remove dirt, and cut into quarters.

To make the soup stock, add the oyster sauce, light soya sauce, fish sauce, Chinese cooking wine, dark soya sauce, sugar & sesame oil into the homemade chicken stock and stir well. Keep aside.

Heat wok over medium heat and add butter. Once melted, add ginger & black peppercorns and fry till fragrant. Add vermicelli, crab & soup stock mixture into wok. Cover with lid and simmer cook for about 10 minutes.

Add a little hot water (50ml) at the end if all the stock has been absorbed by the vermicelli. Then add spring onion, stir well and cook for another minute.