Finally. I've been wanting to try baking egg tarts for the longest time but was hesitant since baking is not my forte. I eventually plucked up the courage to make them, and it took me 3 tries before I finally made decent-looking egg tarts. A few issues that my egg tarts had for my first two tries were: 1) My tart shells were slightly under-baked on the inside because I didn't blind bake them beforehand, 2) My tart shells were too thick and so the amount of egg custard was too little, and 3) The egg custard was not smooth at all. After 2-3 tries I've finally figured out how to overcome those issues – do look at the tips I've noted down below!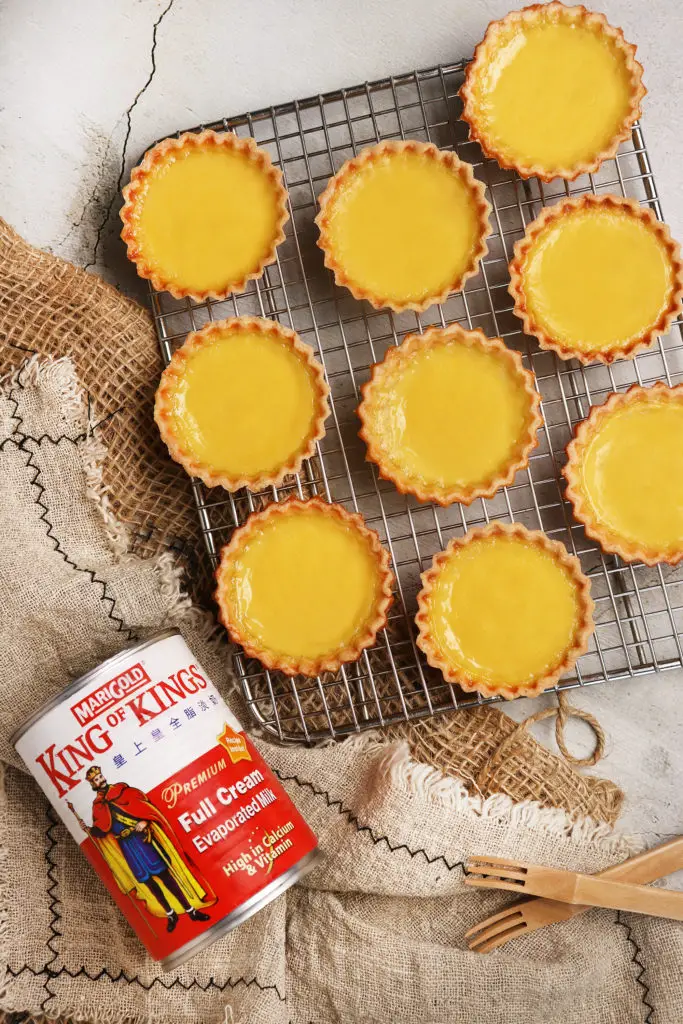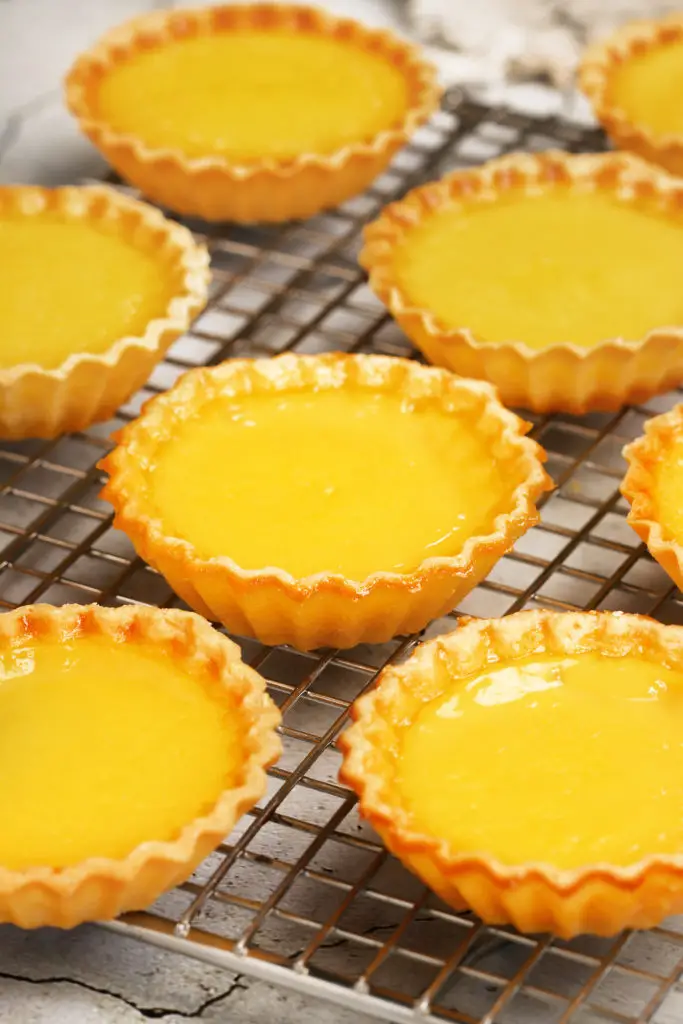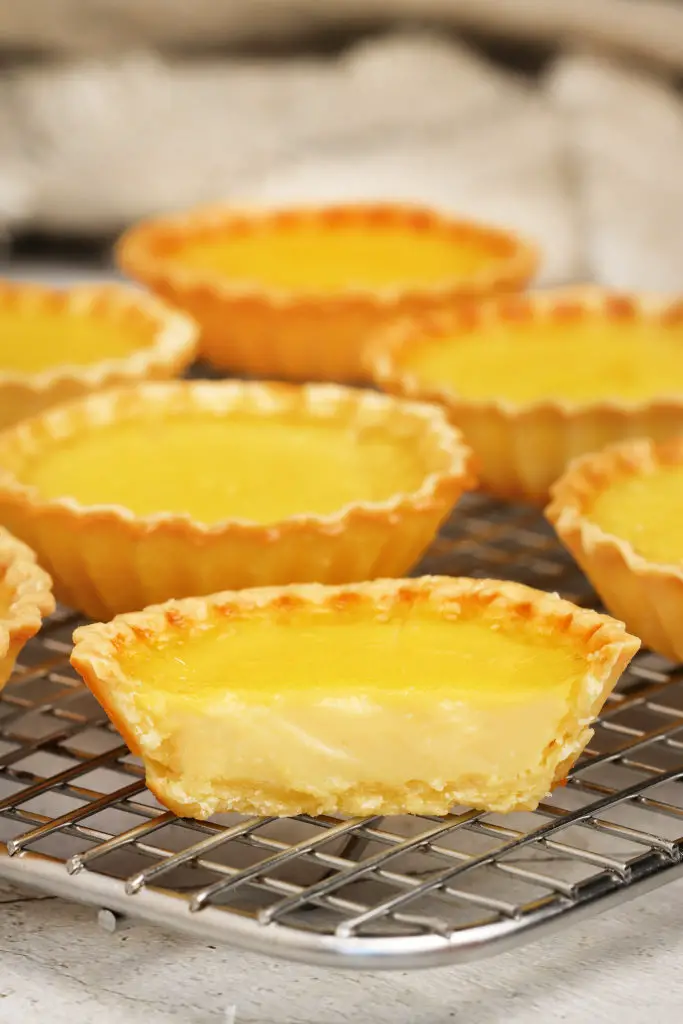 If you need to see the video recipe, please go to my instgram (@_kitchenmisadventures).
IMPORTANT TIPS:
While cutting out the dough for the tart shells, you can place those that are already pressed into the moulds in the freezer first while cutting out the rest. This is to ensure that the butter in the dough doesn't start melting at room temperature.
Ensure that the tart shells are thin enough so that shells can hold more egg custard filling.
Blind bake your tart shells first so that they won't turn soggy when you bake them with the egg custard.
Apply a layer of egg wash to your tart shells after blind baking for 15 minutes, then bake again for 5-10 minutes so as to seal the tart shell and prevent the egg custard filling from seeping into the shells.
Sieve the egg custard mixture twice to ensure the egg custard will be smooth after baking.
Using a lower temperature for baking will result in a smoother egg custard as it doesn't expand too much and spill over while baking.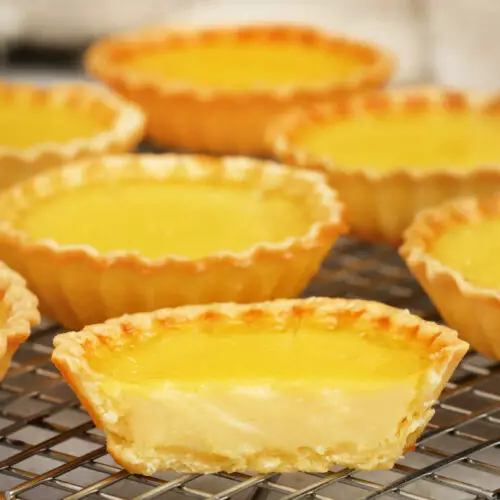 Egg Tarts (Hong Kong style)
Ingredients
TART SHELLS
250

g

plain flour

15

g

icing sugar

125

g

butter

cold, cut into cubes

1

egg

beaten

egg wash
EGG CUSTARD
2

eggs

150

g

hot water

75

g

evaporated milk

60

g

sugar

½

tsp

vanilla extract
Instructions
TART SHELL
Preheat oven to 180°C.

In a mixing bowl, add flour & icing sugar and mix well. Add in cold butter and rub into flour using your fingers. Rub mixture using your hands until it has a rough, crumbly texture (like coarse sand).

Pour mixture onto a baking tray or clean table, make a well in the centre then pour in beaten egg. Gently mix the egg in, then knead mixture using your palm until it forms a smooth dough.

Shape dough into a flattened ball, cover with cling wrap, then keep in refrigerator for 1 hour or longer if needed.

After chilling, remove dough from refrigerator. Roll out the dough into a flat, thin sheet using a rolling pin. Using a round cookie cutter (around the same size as your egg tart mould), cut out 12 circles from the dough sheet.

Place each circle into a tart mould, then using another tart mould, press down onto the dough so as to flatten it and create the zig zag pattern. Use a fork to poke holes at the bottom of the tart shell. Keep the completed ones in the freezer if not baking immediately.

Blind bake (by using pie weights, rice or dried beans) the tart shells for around 15 minutes at 180°C. Remove the pie weights and apply a thin layer of egg wash onto the tart shells, then continue baking the them for another 5-10 minutes until you see the bottom of the tart shell browning. Remove from oven and set aside. Reduce oven temperature to 160°C
EGG CUSTARD
Meanwhile, add sugar to hot water, and stir until sugar is completely dissolved.

In a mixing bowl, combine eggs, evaporated milk & vanilla extract. Add mixture into hot water (with dissolved sugar), and use a whisk to gently combine the ingredients so as not to create too much air in the mixture.

Sieve the egg custard mixture two times to ensure the egg custard is completely smooth.

Fill each tart shell with egg custard mixture, up to 90% full. Bake in the oven at 160°C for around 25-30minutes. To check if the egg tarts are ready, insert a toothpick into the centre of the egg tart. If the toothpick can stand upright, the egg tarts are ready. If the toothpick falls, bake the egg tarts a little longer.