At least 4-5 years ago I tried scallion oil noodles at Crystal Jade La Mian Xiao Long Bao and it was really good! Although simple, the noodles were springy and the scallion oil was so fragrant. The only downside was paying close to $10 for a bowl of plain noodles. It's been so long since I've eaten it so I decided to make a bowl myself, but I added some minced pork so that the dish will be slightly more balanced.


I know those "burnt" spring onions don't look all that appetizing but they do taste good! Pair it with some stir-fried vegetables and your meal is complete. Feel free to adjust the amount of sauce and scallion oil according to your preference. I personally prefer my noodles oily, but if you don't, just add less scallion oil.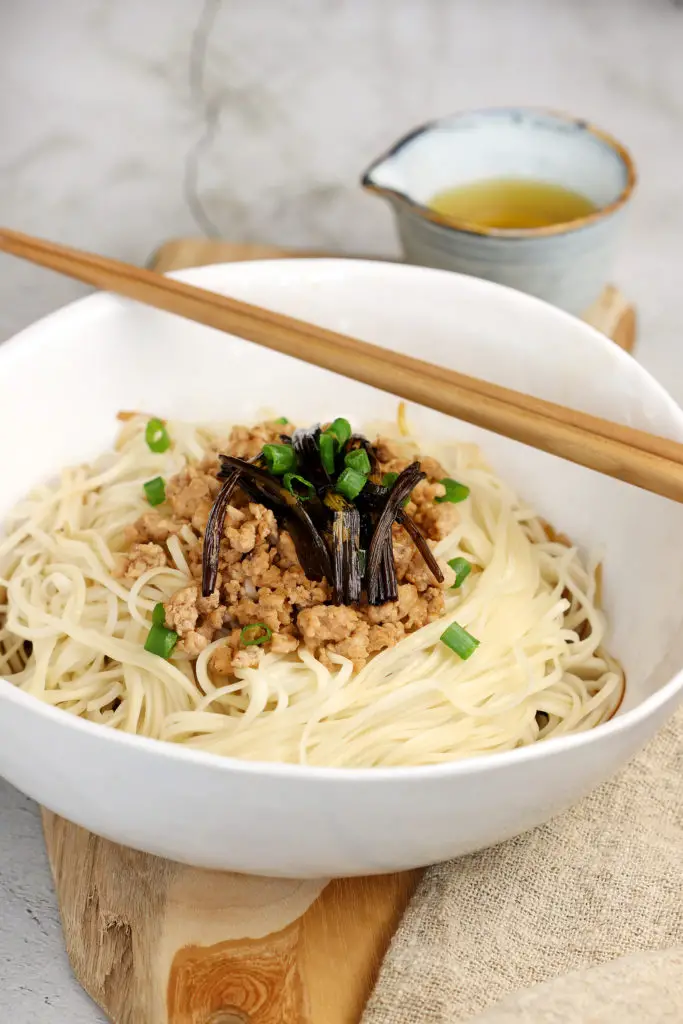 The best part of this dish is that it only costs less than $2 to make. And it's also very straightforward to make so you probably can't go wrong. If you'd like to see the video recipe, do go to my instagram (@_kitchenmisadventures) to view my insta story.
Scallion Oil Noodles
Ingredients
250

g

la mian noodles

150

g

minced pork

season with salt & pepper

10

stalks spring onion/scallion

cut into short lengths

½

yellow onion

sliced

100

ml

peanut oil

more if you prefer
SAUCE
2

tbsp

light soy sauce

1

tbsp

dark soy sauce

2

tsp

sugar
Instructions
In a small saucepot over medium-low heat, fry spring onion and yellow onion in peanut oil. Once the yellow onion becomes brown and spring onion becomes dark brown, remove them and set oil aside. If you want to keep some scallion oil for future use, add more peanut oil when frying.

In the same saucepot, add ingredients for the sauce and cook until sauce bubbles up and sugar dissolves. Set sauce aside.

In the same saucepot, add 1 tbsp of oil and stir fry minced pork until no longer pink. If you prefer, add some sauce to the minced pork to give it some colour. Remove minced pork and set aside.

Meanwhile, bring a big pot of water to a boil. Add noodles and cook according to instructions on the package (or until the softness you prefer). Drain noodles and rinse briefly with tap water.

Portion noodles into 2 separate bowls, then top off with minced pork, fried spring onion and fried onion. Spoon scallion oil and sauce over noodles according to your liking, then toss everything together and enjoy! You can start with 2 tbsp of oil and 1 tbsp of sauce, then add more if needed.