Made a simple ground beef grilled cheese sandwich for breakfast this morning. I'm not sure why I haven't made more of such sandwiches for breakfast, because they are so so good! It's pretty sinful with all that butter and cheese, but unfortunately sinful food usually equates to tasty food. If you don't eat beef, you can use sauteed mushrooms instead. I'm going to try a mushroom grilled cheese sandwich real soon!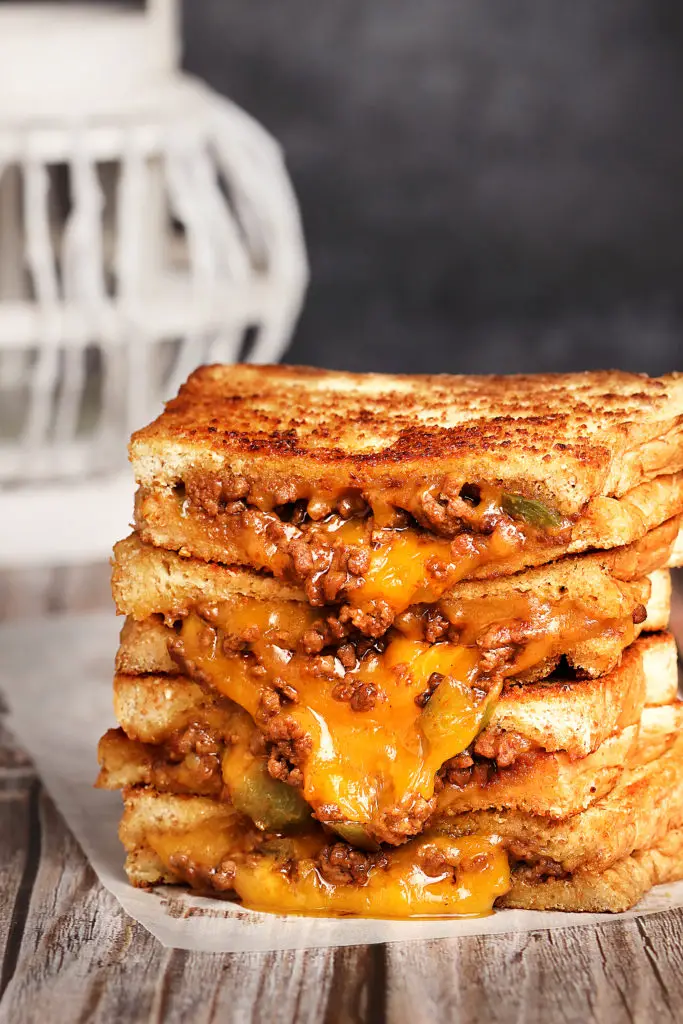 Look at that melted cheddar cheese oozing out and the glistening of the beef juices. I pan fried the sandwich until a deep brown colour so it was extremely crispy. I used barbecue sauce for my ground beef but feel free to use any other sauce (like ketchup) if you prefer.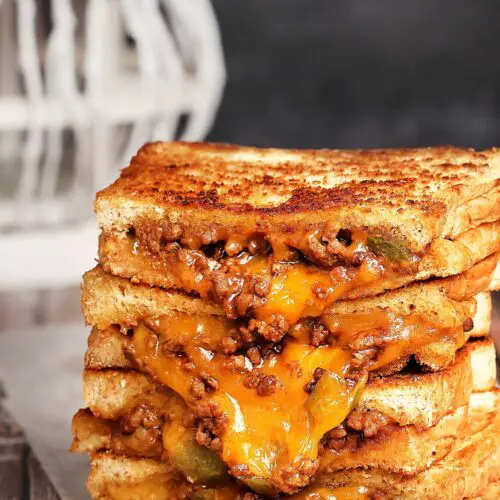 Ground Beef Grilled Cheese Sandwich
Ingredients
300

g

ground beef

season with salt & pepper

¼

yellow onion

½

green bell pepper

diced

4

tbsp

barbecue sauce

8

slices

bread

150

g

cheddar cheese

salted butter
Instructions
Season ground beef with salt & pepper to taste.

Heat a medium frypan over medium heat, then add butter. Once melted, add yellow onion & green bell pepper and fry for 2-3 minutes until onion is translucent. Add ground beef and fry until no longer pink.

Add barbecue sauce and mix well. Turn off the heat.

Spread a generous amount of butter onto both sides of all 8 slices of bread.

Heat a bigger frypan (big enough to fit 2 slices of bread at once) over medium heat. Place two slices of bread into frypan and fry till brown and crispy. This will take around 1-2 minutes. Remove both slices and add more butter into the pan.

Place one slice of bread back into the pan, with the uncooked side down. Add cheddar cheese onto the bread, then add the ground beef, and finally add some more cheddar cheese. Place the other slice of bread, cooked side down, onto the sandwich and press down firmly to ensure the sandwich is even.

Once the bottom of the sandwich is deep brown and crispy, carefully flip the sandwich to cook the other side. You may want to add more butter to the pan to get better browning. Once the sandwich is brown and crispy on both sides, remove from pan and slice into half.

Repeat for the other slices of bread.