Galbijjim 갈비찜 (Korean beef short ribs stew) is another one of my favourite Korean dishes. It is made by braising beef short ribs in a sweet and savoury broth for hours until the beef becomes really tender. It can also be a dry version where you add less water and reduce the sauce until dry, but I prefer the soup version. This galbijjim is similar to Masizzim's (located at Somerset 313) signature beef rib stew, except that they don't add cabbage and mushrooms (like I did) and instead, add rice cake (ddeok) into their stew. You can add any ingredient you like, but do take note that different ingredients should be cooked for different lengths of time. This dish actually tastes similar to Japanese sukiyaki.
You will need a secret ingredient, which is…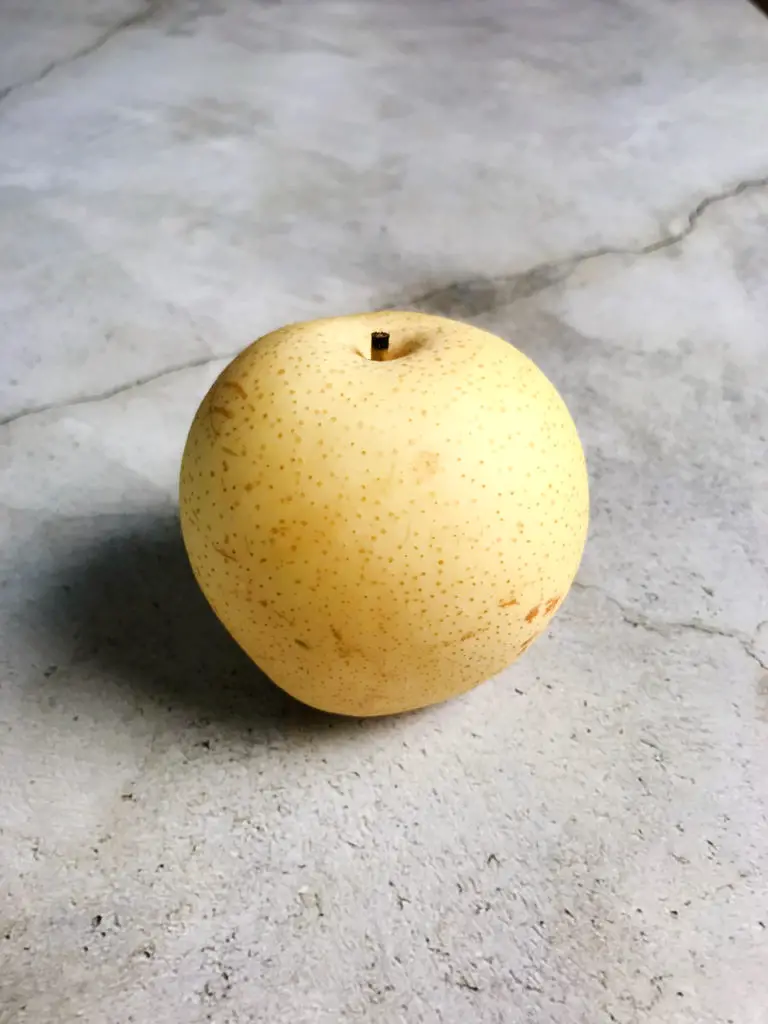 An Asian pear (or a Korean pear)! It's a round and yellowish-brown pear, and will add a great deal of natural sweetness to your sauce. It's actually quite a common ingredient in Korean dishes which are meant to taste slightly sweet. If you don't have this type of pear, you can use an apple instead, but the taste might differ slightly.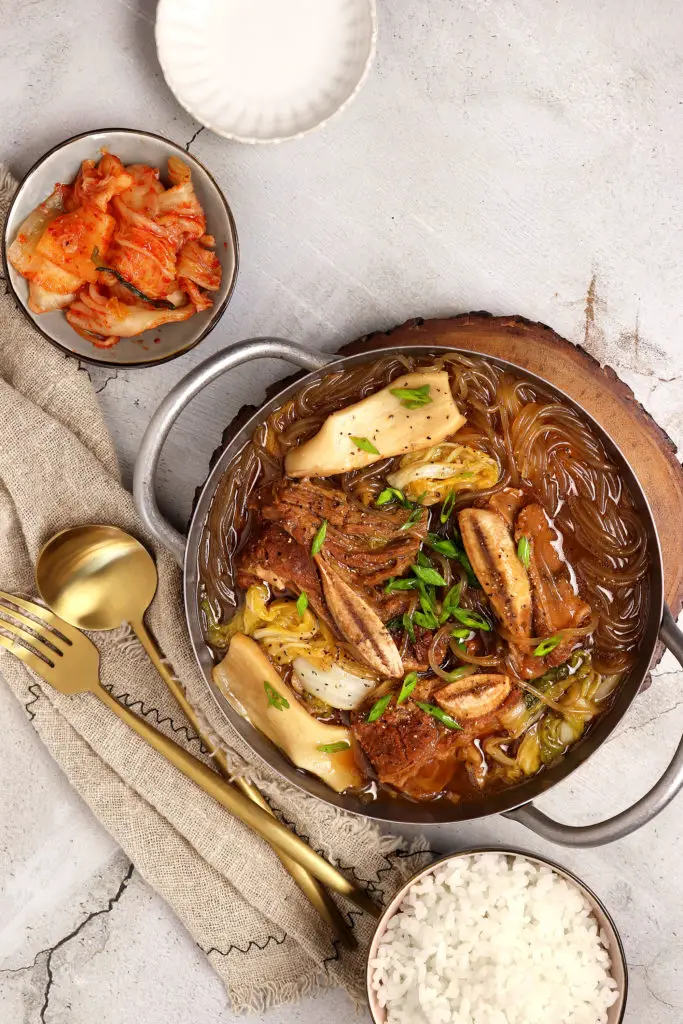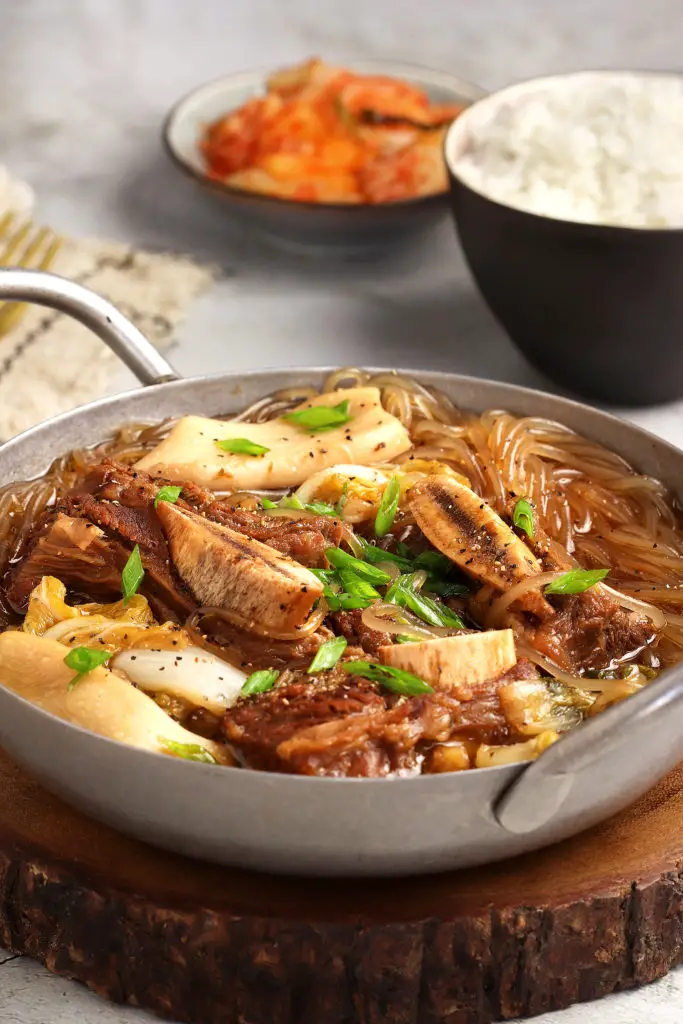 If you cant eat or dont like beef, just replace it with pork ribs instead. Also, for best results, do braise the ribs for at least 90 minutes, or longer if you can afford. The longer you braise them, the more tender they will be. As much as the beef short ribs are the star here, the sweet potato noodles are also really good – they're slightly chewy and taste sweet and savoury at the same time.
Do take note that if you want to keep this dish overnight, make sure there isn't any sweet potato noodles left in the stew as the noodles will get overly soft and break up into small pieces if you over-boil them. They won't taste very good by then. The beef, though, will taste even better the next day since they release more flavour and become softer the longer you boil them.
For video recipe, please visit my instagram (@_kitchenmisadventures) to view my insta story.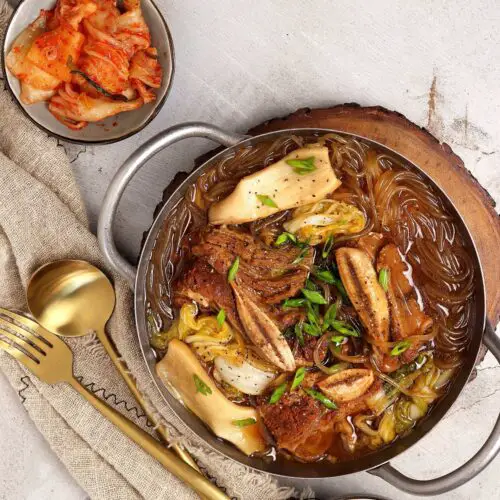 Galbijjim 갈비찜 / Beef Short Ribs Stew
Ingredients
1.50

kg

beef short ribs

500

g

napa cabbage

3-4

king oyster mushrooms

sliced lengthwise

150

g

sweet potato noodles

700

ml

water

adjust accordingly
SAUCE
1

yellow onion

juice only

1

medium Asian pear

juice only (or apple)

4

stalks spring onions

chopped

150

ml

soy sauce

4

tbsp

mirin

2

tbsp

sugar

2

tbsp

corn syrup

or replace with 2 tbsp sugar

2

tbsp

sake

2

tbsp

sesame oil

2

tbsp

grated garlic

1

tsp

grated ginger

2

tsp

black pepper
Instructions
Soak beef short ribs in tap water for about an hour, changing the water halfway through if possible. This is to remove all the blood from the beef ribs. After soaking, make some '+' sign cuts in the meat so that it will be able to absorb more flavour while braising.

In a food processor or blender, add pear and onion and blend until well combined. Use a cheesecloth or a sieve and a scoop to squeeze all the juice out of the pear and onion puree. In a bowl containing the pear and onion juice, add all the other ingredients for the sauce and mix well. Set aside.

Bring a large pot of water to a boil. Then blanch cabbage for around 3-5 minutes until softened. Remove cabbage and rinse with tap water. You can use your hands to tear cabbage into half (lengthwise) if any is too big. Keep aside.

Blanch king oyster mushrooms for about 1 minute and set aside. This is to remove any smell.

Blanch beef ribs for around 6-8 minutes until you see scum accumulating on the surface. This is to remove any impurities on the beef. Remove the beef ribs and rinse with tap water.

Discard water left in the pot and wash the pot. Return pot to the stove, then add beef ribs, sauce, and 700ml of water into the pot. Cover the pot and bring to a boil, then reduce to medium fire and simmer for 90-120 minutes. The longer you simmer, the more the tender the beef. Braise longer if beef is not tender enough. You may need to add some water if your braising liquid evaporates too much.

Soak sweet potato noodles in warm or hot water for around 5-10 minutes until soft. Drain water and set aside.

After braising beef for 90-120min, add cabbage, oyster mushrooms and sweet potato noodles into the pot and boil for around 5-10 minutes until noodles are cooked through but still slightly chewy. Transfer stew to individual bowls or a wider pot over a portable gas stove to keep it hot.