If you're an avid Kdrama fan, you've probably seen people slurping on jjajangmyeon (짜장면) more than a couple times. Jjajangmyeon is a Korean-Chinese noodles dish topped with black bean sauce, diced pork and vegetables, and is easily found all over the streets in Korea. In Korea, a huge bowl of jjajangmyeon, served alongside some yellow pickled radish and kimchi, sets you back a mere 4,000 won (S$4.80) and is enough to keep you full for hours! The best part is, if you're lazy to leave home, you can get jjajangmyeon delivered to your house at no extra charge in Korea. And the minimum order is usually quite low – I vaguely recall it being around 10,000won (S$12).
On the 14th of April (Black Day) in Korea, many people gather to eat jjajangmyeon to commiserate or even celebrate with each other over their singlehood. As we all know, 14th of February (Valentine's Day) is typically observed by females giving males chocolate or gifts as an expression of love, thanks or even social obligation. 14th of March (White Day), more commonly celebrated in Korea and Japan, is a day for the males who received such gifts on Valentine's day to return the favour to the females. And on Black Day, a South Korean tradition, singles and those who didn't receive any gifts previously commiserate over black-coloured food, especially jjajangmyeon.
Jjajangmyeon is a relatively simple dish to make, and pretty foolproof as well. Without any MSG, you can achieve the same flavour as those served in the restaurants in Korea! And if you're making jjajangmyeon, I would suggest making jjamppong (Spicy Seafood Noodles) as well because you will probably have some leftover udon noodles and zucchini. For me, the only times I eat zucchini are when it is in jjajangmyeon and jjamppong. And do buy the right type of noodles. I once thought I could get away with using Shanghai noodles from NTUC, but the result was more than awful. You will probably have to get the noodles from a specialized Korean mart as I haven't seen the local supermarkets selling those Korean noodles yet.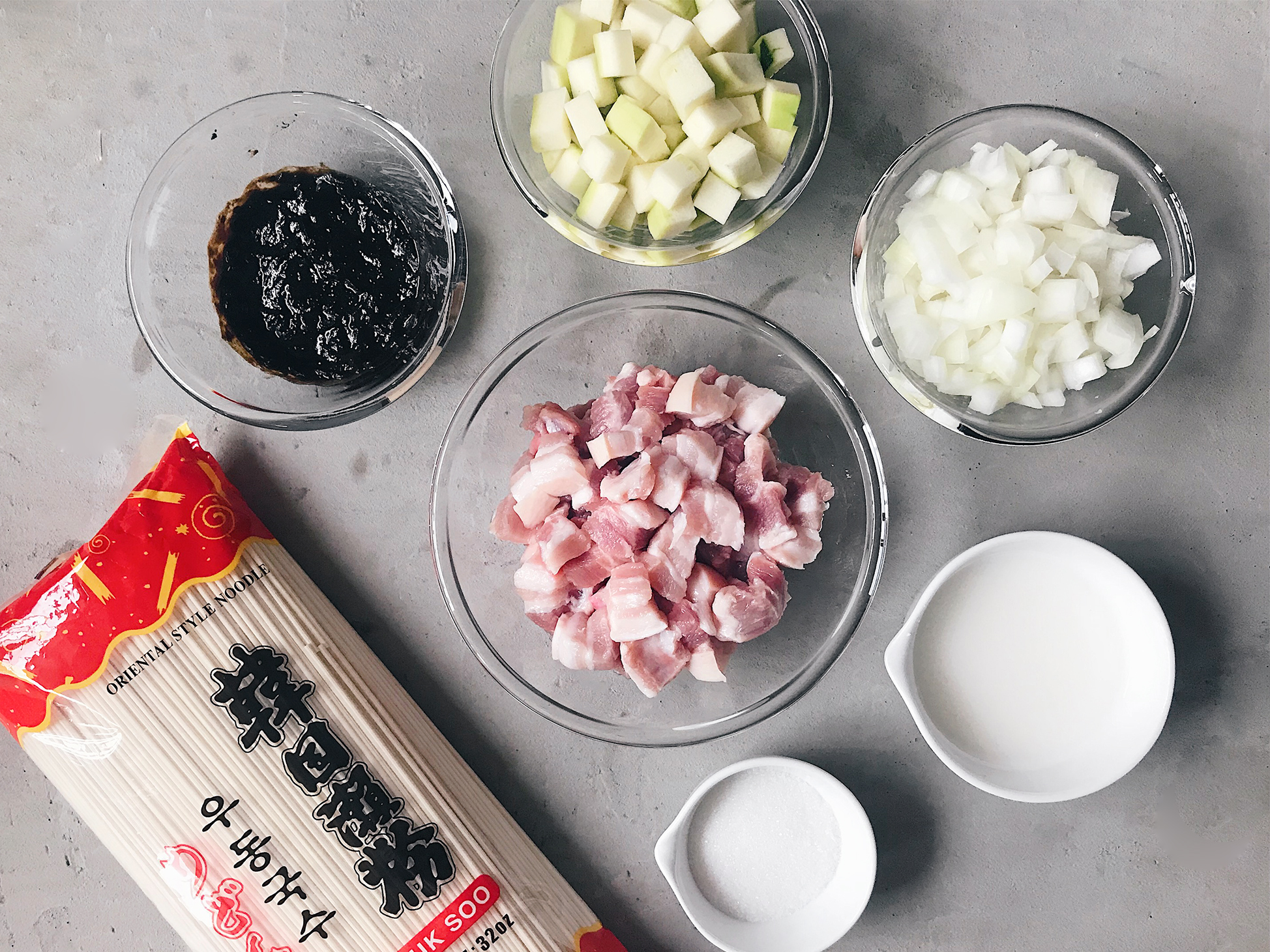 Ingredients required – udon noodles, pork (I'm using pork belly because I like the flavour of the rendered fat but you can use lean pork if you prefer), onions, zucchini, black bean sauce, cornstarch slurry (cornstarch + water) and sugar. Dice all your ingredients into cubes.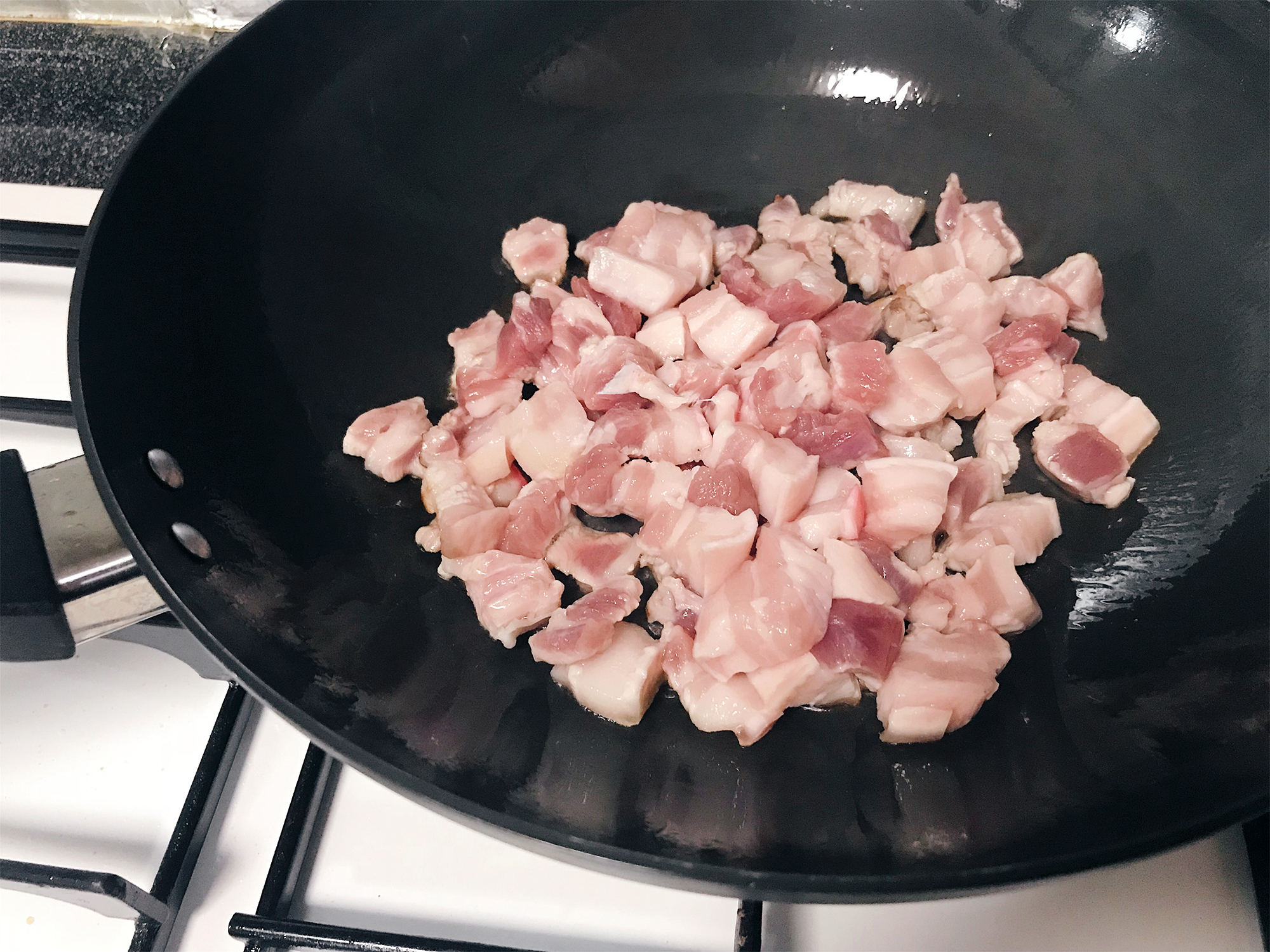 Fry the pork belly until the fats melt and the meat is no longer pink.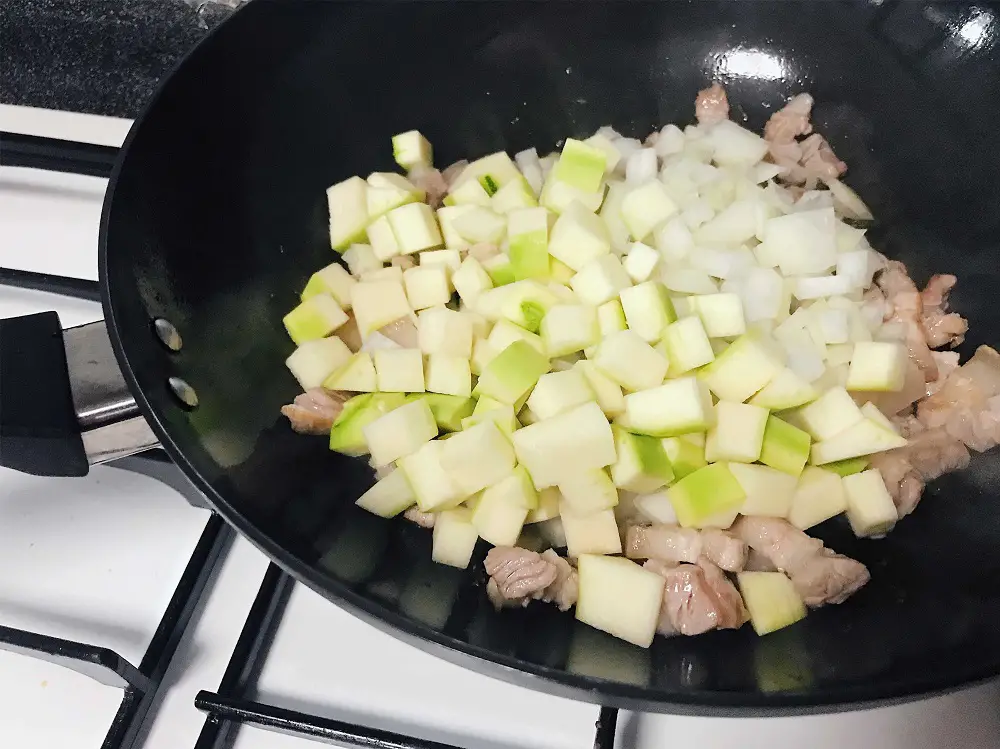 Add onions and zucchini and fry till onions are translucent.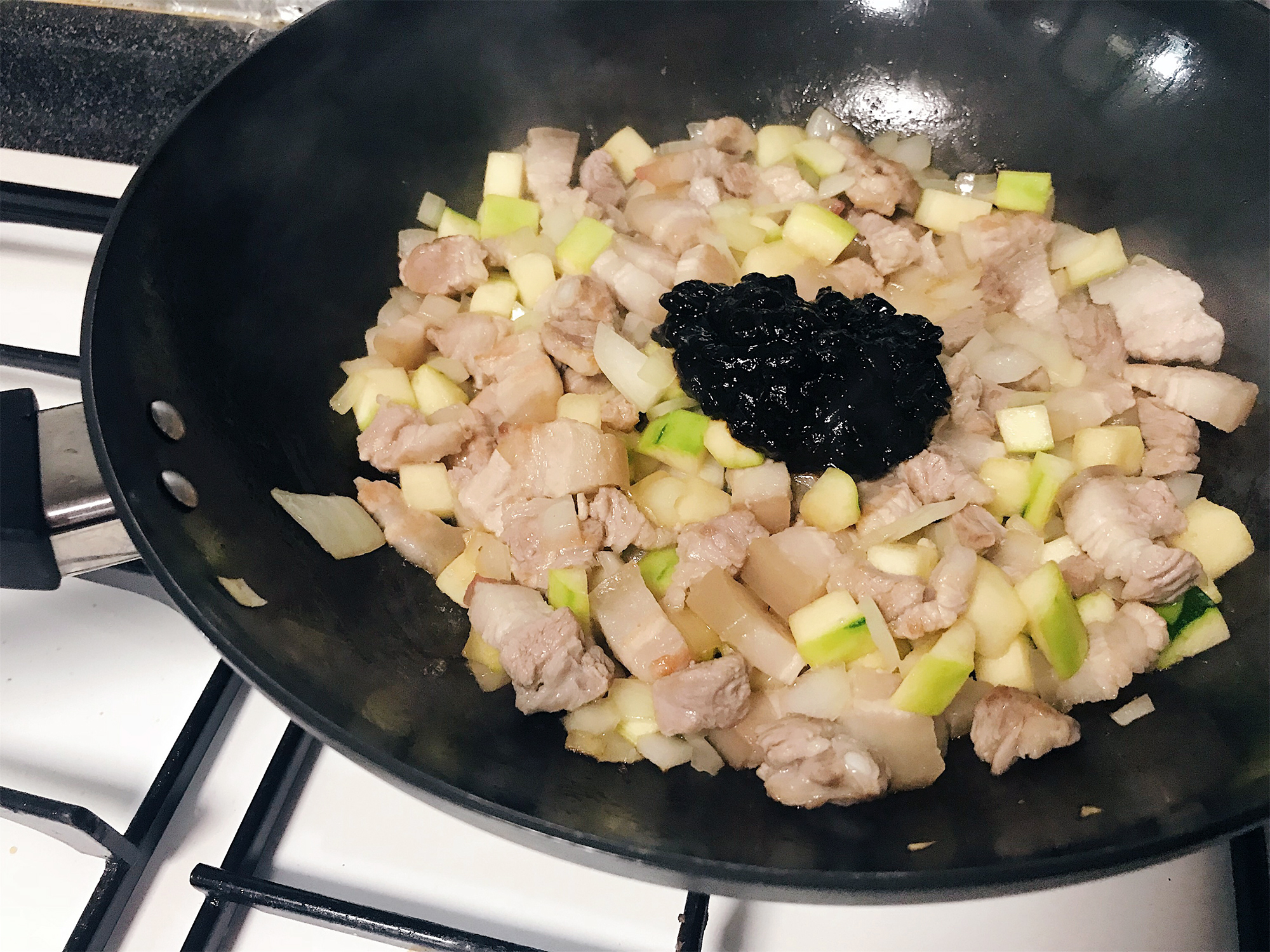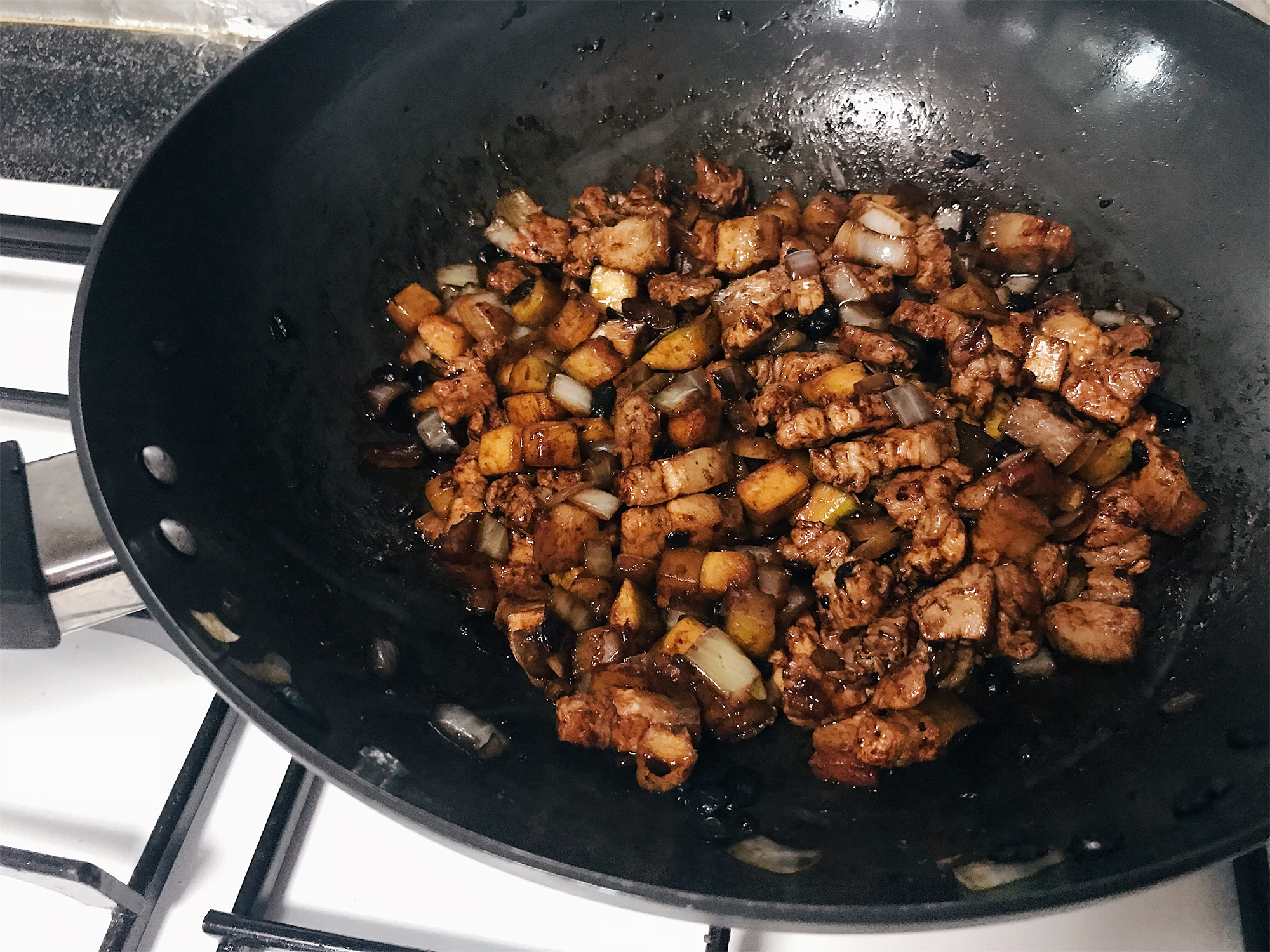 Add the black bean sauce and fry for a while.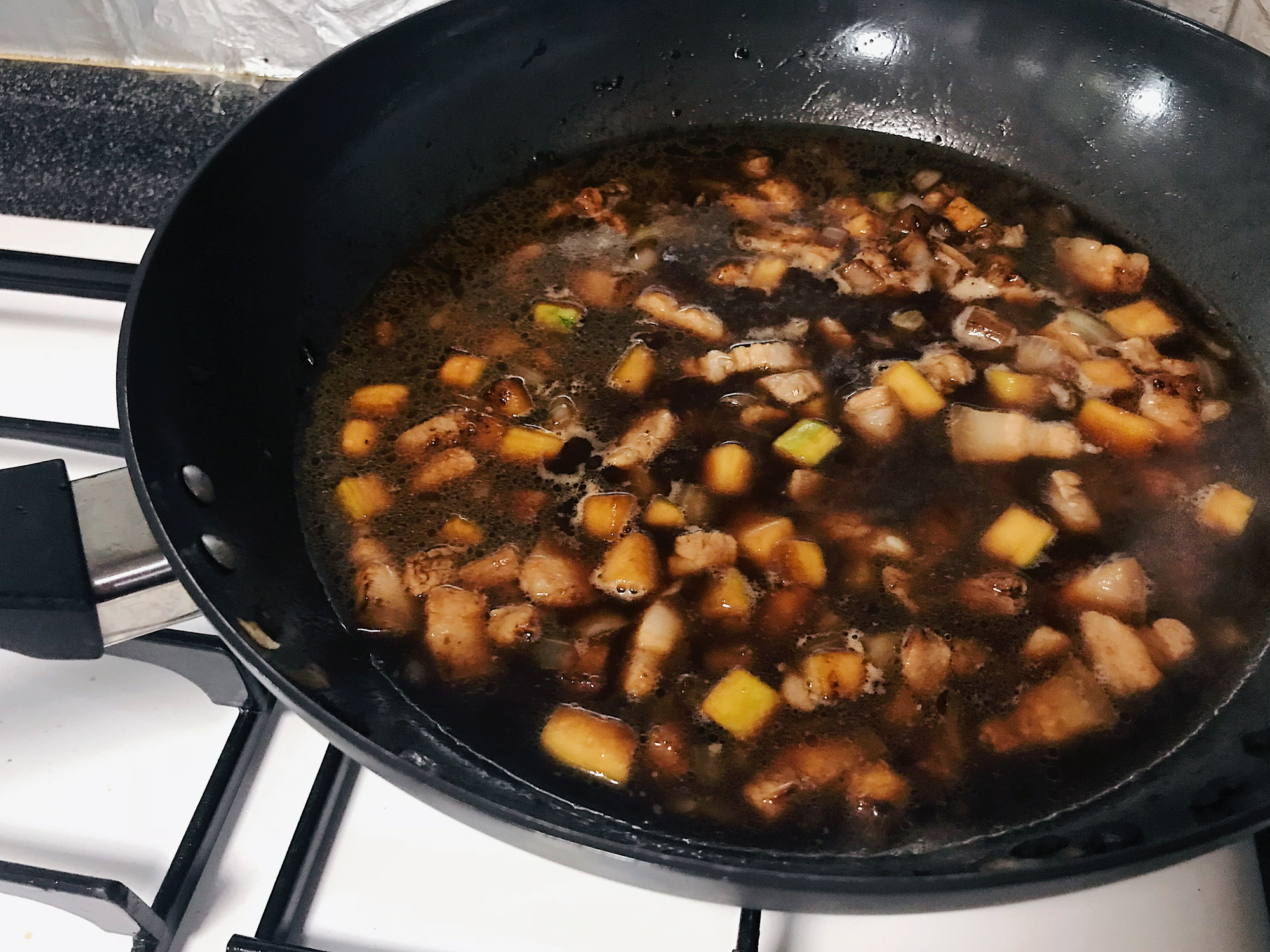 Add about 2 cups of water and simmer cook for about 5 minutes.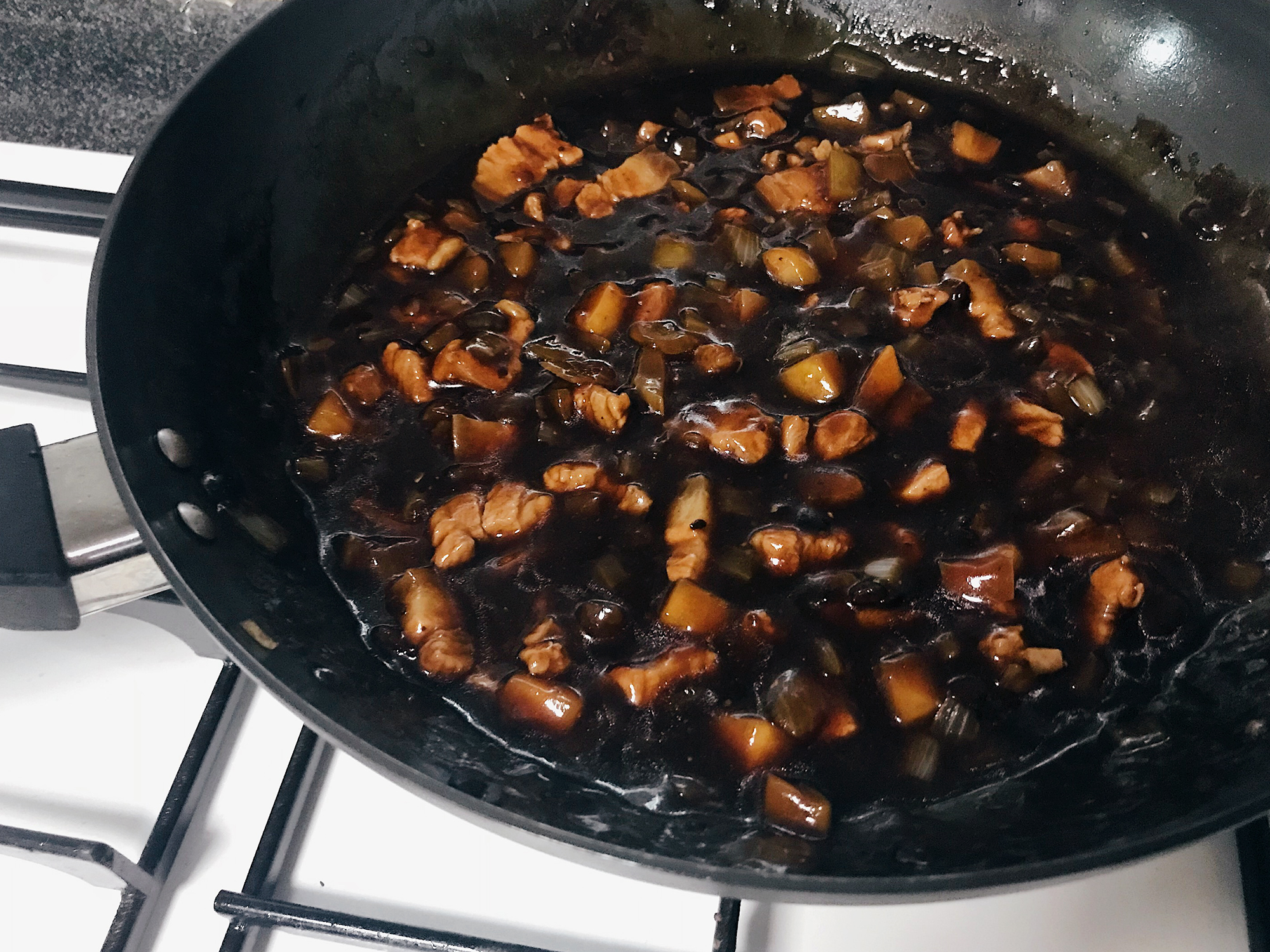 Add the cornstarch slurry and cook until the gravy thickens. Then add sugar and adjust according to your liking.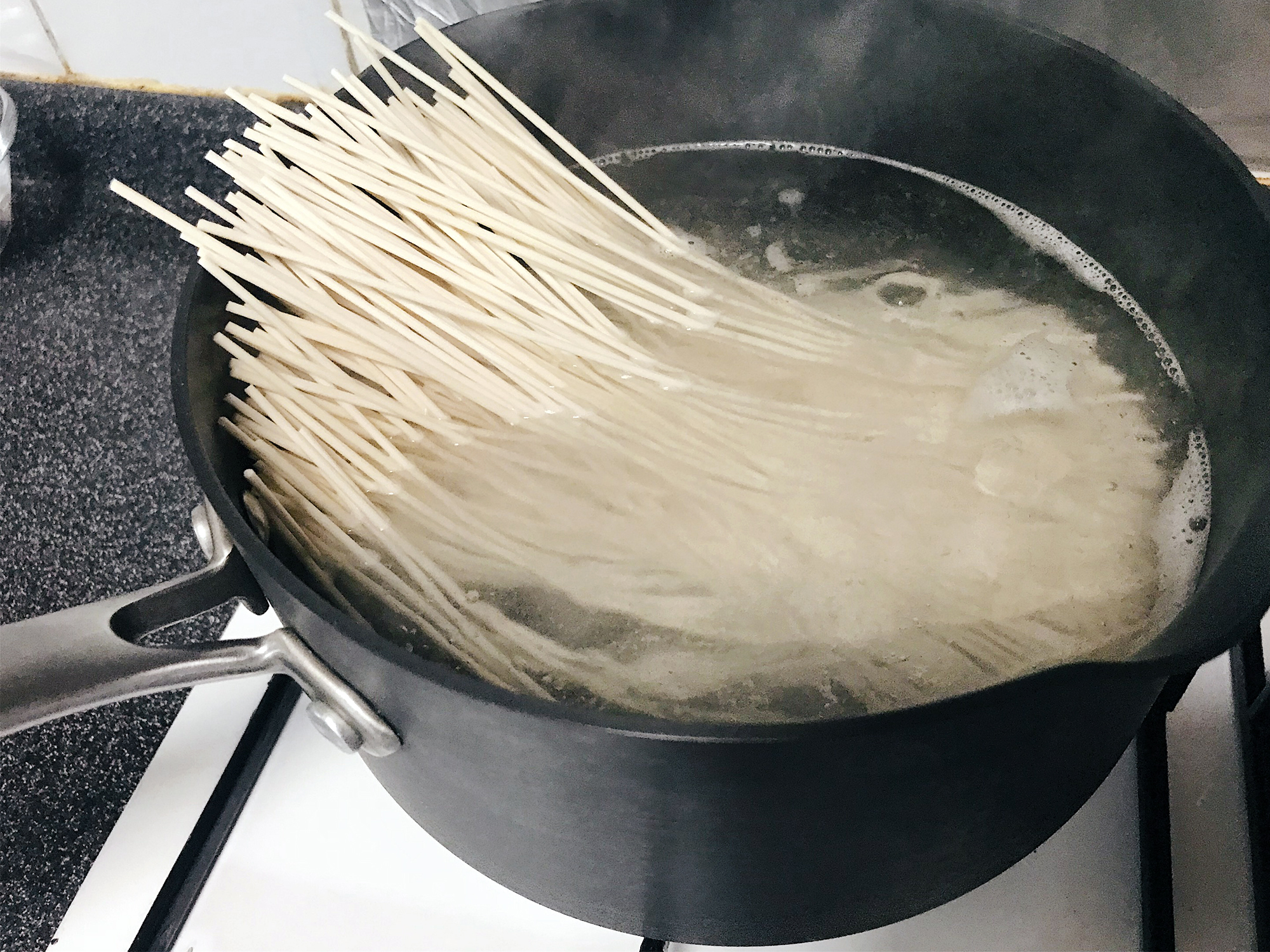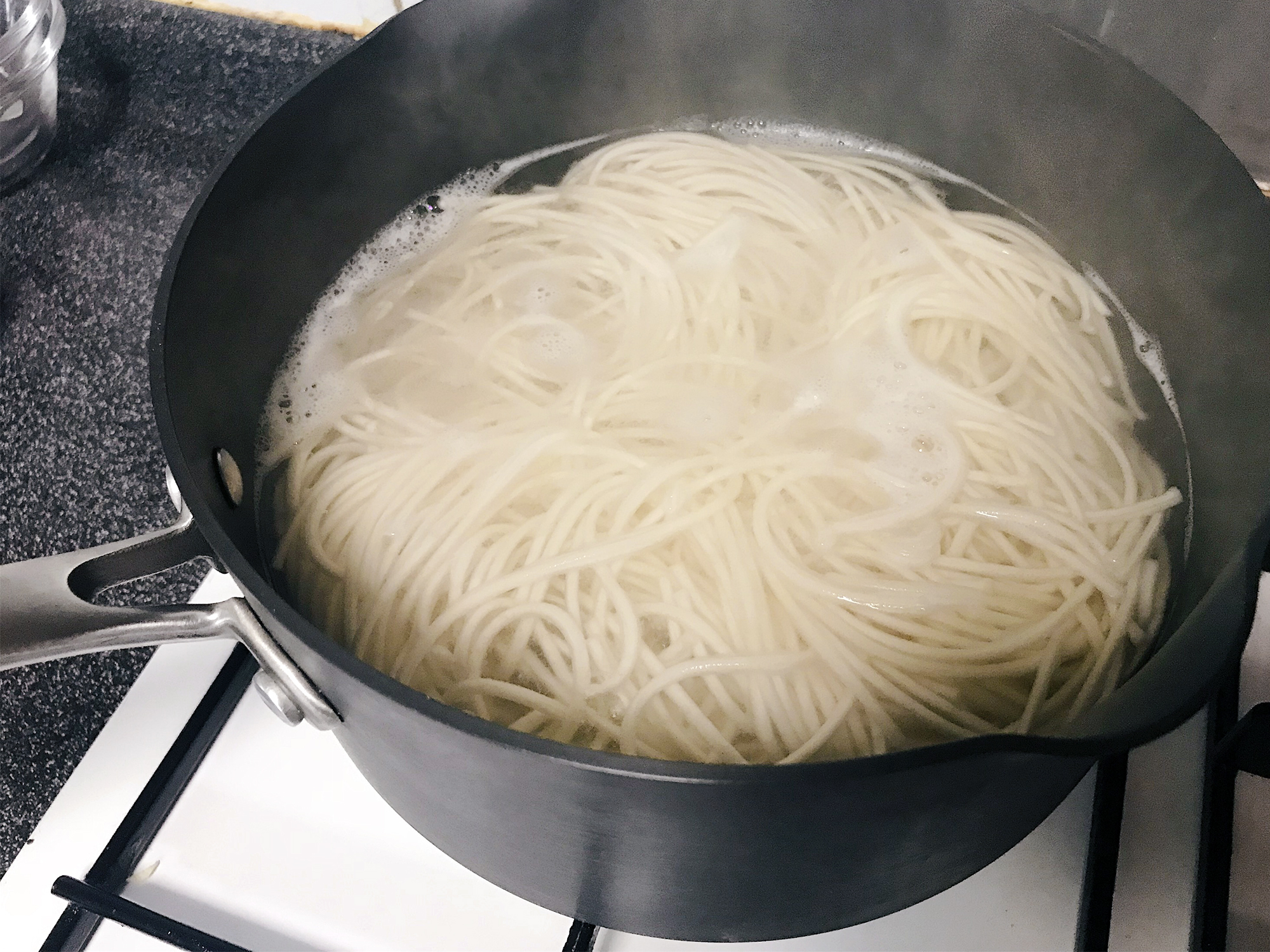 Boil the udon noodles until soft but chewy. Drain your noodles and rinse with cold water to remove any excess starch.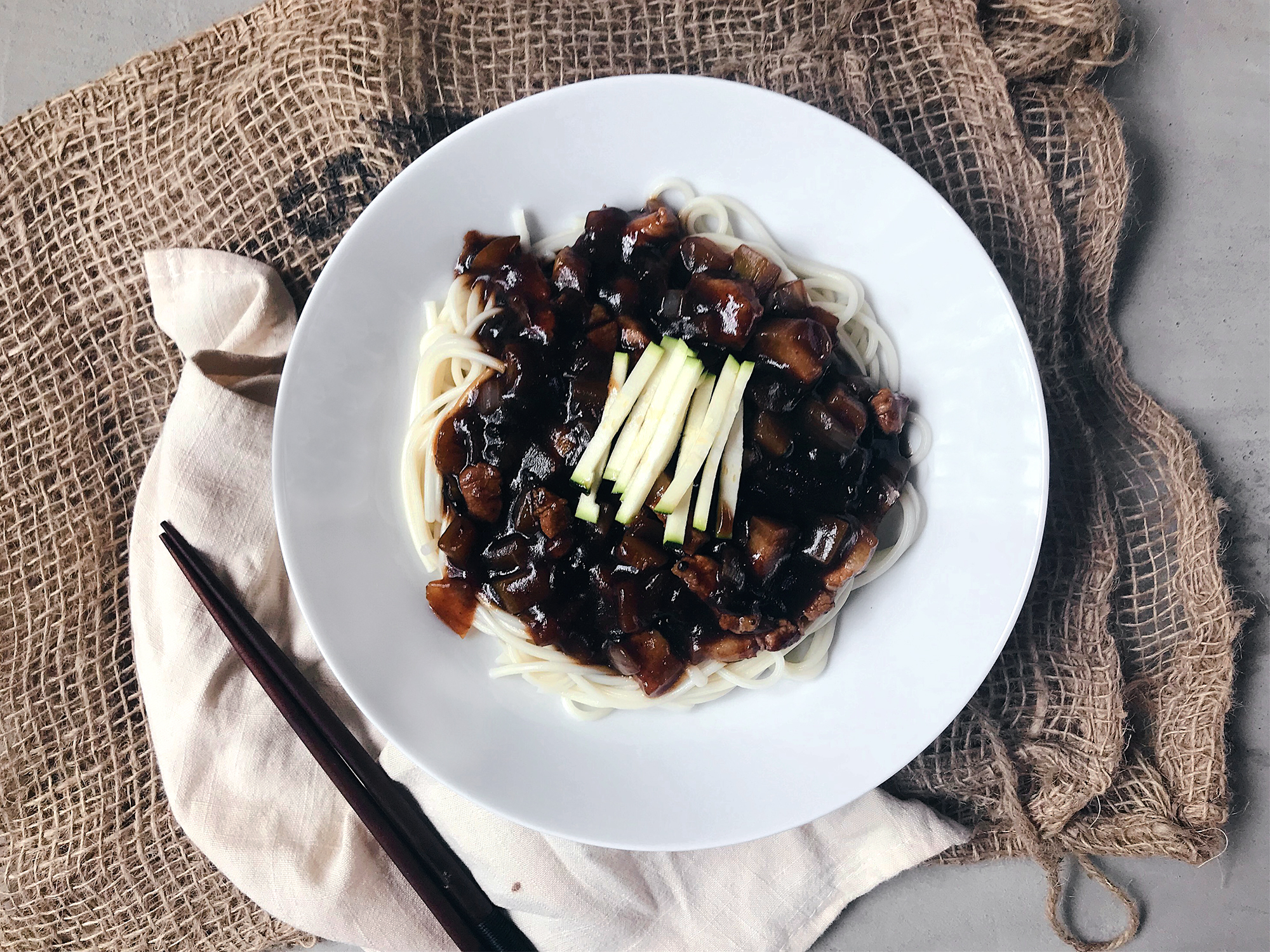 Add one serving of noodles into a bowl then scoop the black bean mixture on top of the noodles.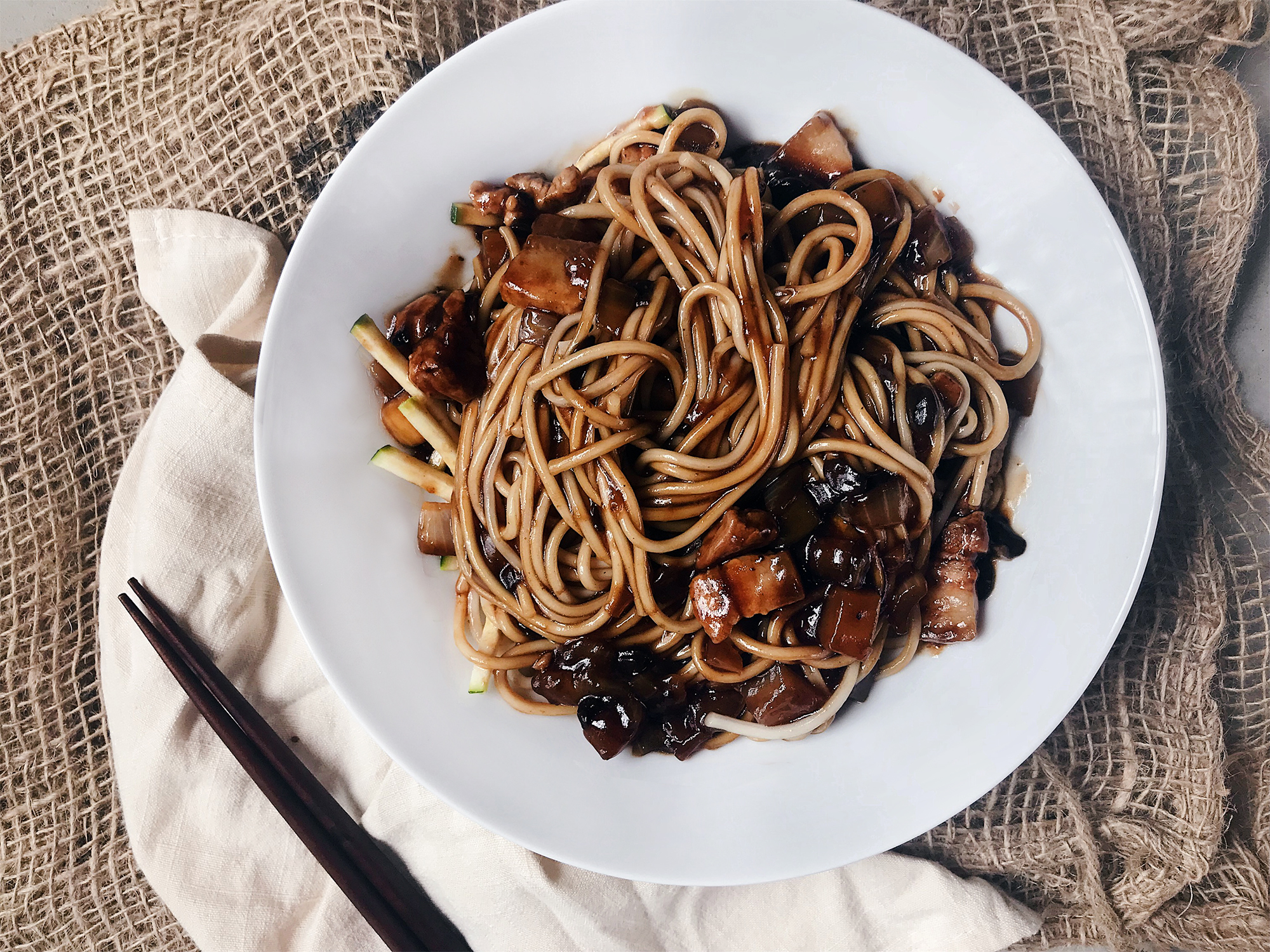 Mix well and enjoy!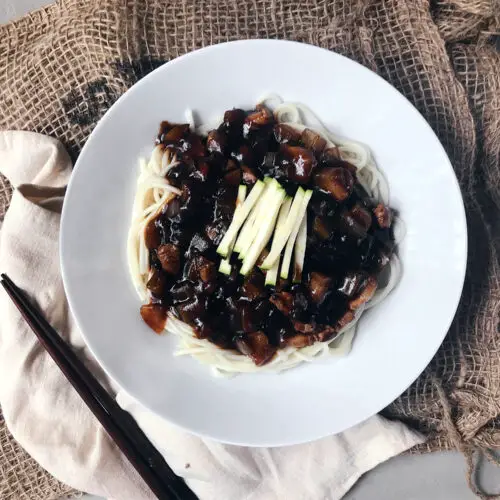 Jjajangmyeon (Black Bean Noodles)
Ingredients
300

g

udon noodles ($1.83)

200

g

pork belly (diced) ($3.06)

1

cup

yellow onion (diced) ($0.233)

1

cup

zucchini (diced) ($0.67)

4

tbsp

black bean paste ($0.28)

2

cups

water

2

tbsp

cornstarch + 2 tbsp water ($0.10)

1

tbsp

sugar ($0.019)
Instructions
Heat some oil in a frypan and fry pork belly till no longer pink. Add onions and zucchini and fry till onions are translucent.

Add black bean sauce and mix well. Add 2 cups water and simmer cook for 5 minutes.

Add cornstarch slurry to the mixture and cook until gravy thickens.

Meanwhile, boil udon noodles in a separate pot until soft but chewy. Drain noodles and rinse with cold water.

Place noodles in a bowl and scoop black bean mixture on top of the noodles. Serve.