Hotplate tofu is one of the dishes I like to order when having zichar. I don't have a hotplate at home so I simply used a frypan that has good heat retention for my dish, and it turned out equally great. When it comes to minced pork, I'm very particular about how tender the meat is. I get disappointed when the minced pork is tough and dry, which usually happens when the meat is overcooked or when it's way too lean.
Unfortunately, supermarkets usually sell lean minced pork, which always turns out dry after cooking. I was pleasantly surprised to find out that Sheng Siong sells minced pork with more fats, so I immediately bought it to try it out for my hotplate tofu recipe. And really, what a difference it made! The minced pork was so tender and moist after cooking, and I was really satisfied with the overall outcome. If there's one advice I have to give, it's that you must must use fatty minced pork for this dish!
Also, now I might not posting photos of the cooking process anymore, as it takes quite a bit of time to edit the photos. But I'll still continue to post the recipe! Scroll below for the recipe.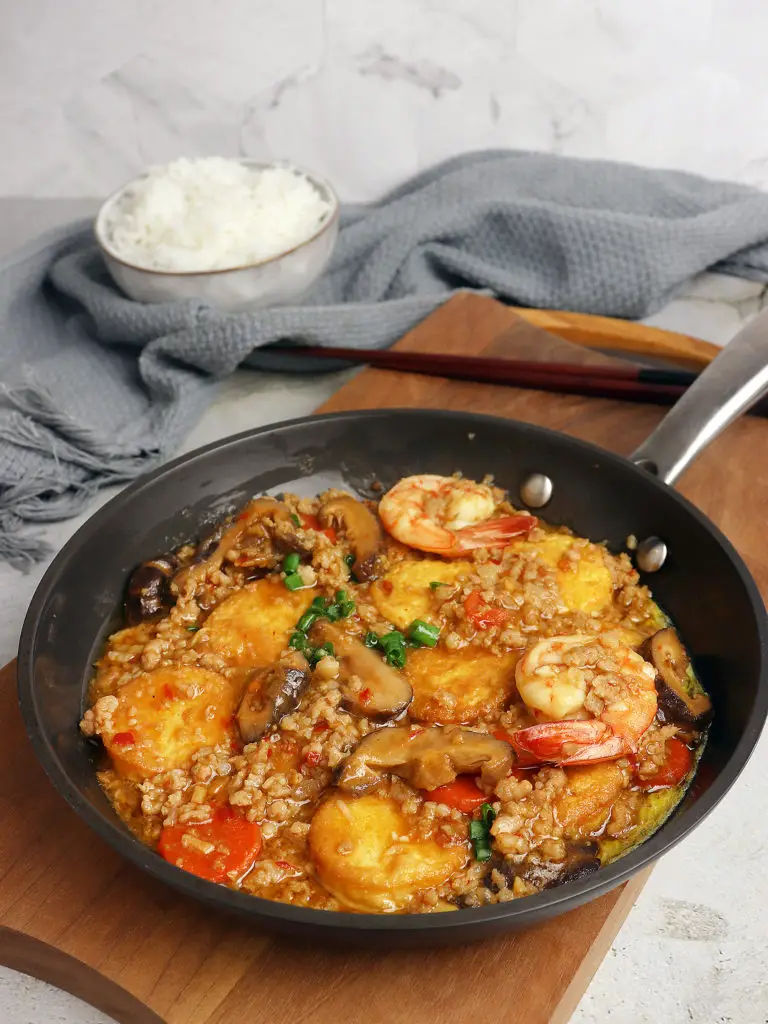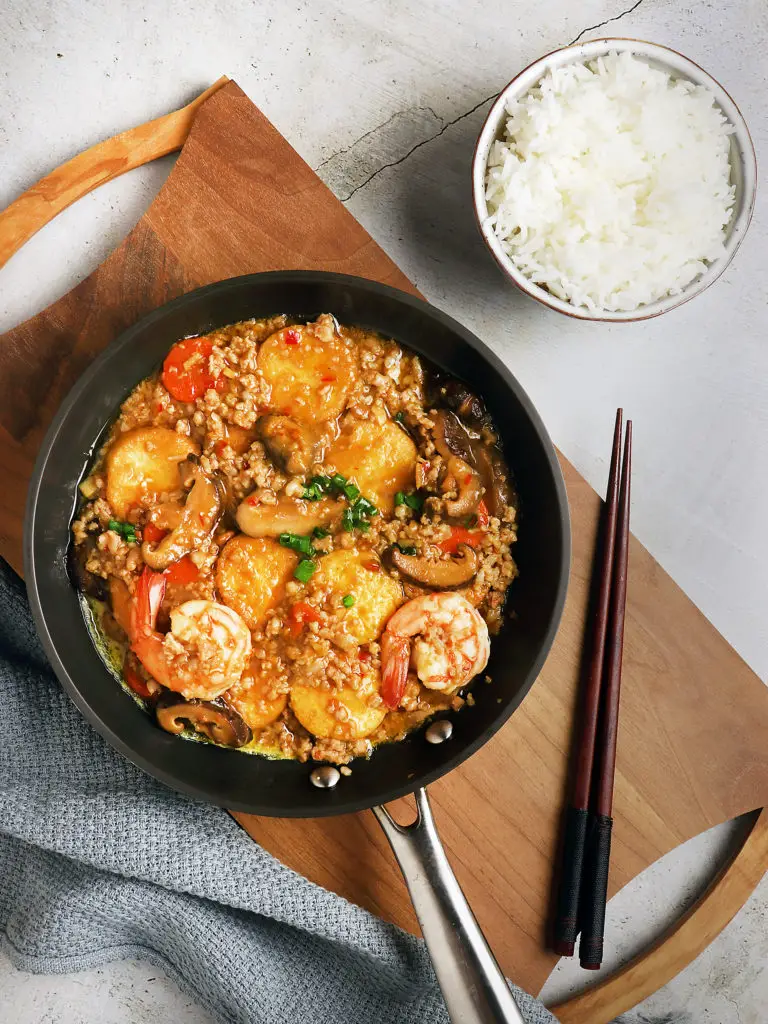 Please note that the my recipe was enough to fill 2 frypans and feed 4-6 people (as a side dish), so you may want to adjust the recipe or use a bigger frypan according to your needs.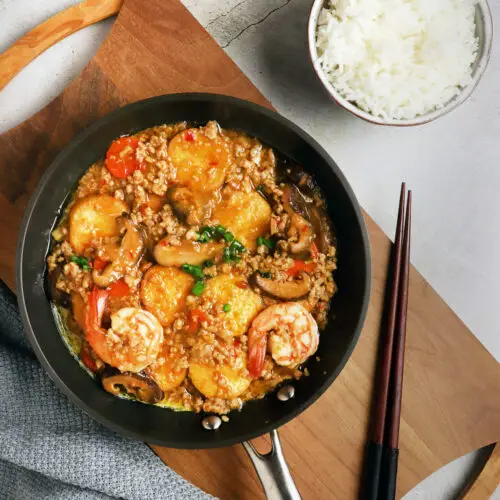 Hotplate Tofu
Ingredients
2

tubes egg tofu

sliced

8

large prawns

deveined & shelled

3

shiitake mushrooms

soaked & sliced

30

g

carrot

sliced

2

cloves

garlic

minced

1

tbsp

cornstarch slurry

cornstarch + water

3

eggs

add a pinch of salt & pepper (beaten)
MINCED PORK
200

g

fatty minced pork

1

tsp

salt

1

tsp

pepper

1

tsp

sesame oil

1

tsp

cornstarch
SAUCE
2

tbsp

chilli bean paste

¾

tbsp

soy sauce

¼

tbsp

dark soy sauce

1

tsp

sugar

1

tsp

sesame oil

150

ml

water
Instructions
Marinate minced pork with salt, pepper, sesame oil and cornstarch in the refrigerator for 15-20 minutes. Meanwhile, soak dried shiitake mushrooms in hot water till soft and cut into slices. Devein and shell prawns. Mix ingredients for sauce in a bowl and set aside.

Deep fry egg tofu in a pot of oil until golden brown. Remove egg tofu and place on paper towels to remove excess oil.

In a separate wok, add some oil and heat till hot. Fry garlic till fragrant & golden brown, then add carrots & mushrooms and fry for 1-2 minutes. Next, add in minced pork and fry till no longer pink. Add prawns and stir fry for a short while. Note: You don't have to cook the prawns until fully cooked at this stage as you will be cooking the prawns further after adding the sauce. If you overcook the prawns, they will end up tough and dry.

Add in the sauce mixture and bring to a simmer. Finally, add 1 tbsp of cornstarch slurry and mix well to thicken the sauce a little. If you think the sauce is not thick enough to your liking, you can add a little more cornstarch slurry to further thicken the sauce.

Heat up a cast iron hotplate or a 20cm/24cm frypan (which I used) till hot, then add some oil and swirl the oil around to coat the pan evenly. Add in beaten eggs and swirl evenly to create a thin and even omelette. Before the omelette sets fully, turn off the heat and add the egg tofu and minced pork mixture onto the omelette. Enjoy with some piping hot rice. Note: The amount I made could fill 2 frypans which was enough to feed 4-6 people, so you may want to halve the recipe if cooking for less people.