What's more disappointing than tasteless waffles? Soggy, doughy waffles. I've had my fair share of great crispy waffles, but also have been served many soggy, chewy waffles at restaurants. This led me to wonder if it's really that difficult to achieve crispy waffles that's light and airy inside, with just the right amount of chew. So for the past few days, I've been experimenting with different waffle recipes in a quest to create the perfectly crisp waffle. My family members have been made to eat so many waffles that they probably wouldn't want to go near one for the next few months. I myself have eaten enough waffles to last me a lifetime. After testing out so many different recipes, I can confidently say these are the important points to look out for to achieve that wonderfully crisp waffle:
---
Yeast
Yeast is required here as a leavening agent – it feeds on the sugars in the batter and produces carbon dioxide as a byproduct. The release of gas helps the batter to rise, and the resultant waffles will be a lot fluffier and airier than if yeast was not added. I have to admit that yeast is not the best-smelling ingredient out there, so use just a teaspoon if you don't want your waffles to taste too yeast-y. Take note that there are two types of yeast – instant yeast and active dry yeast. Active dry yeast needs to be activated in warm liquid for about 5-10 minutes before using, and should also be used in greater amounts (about 25% more) than instant yeast.
Cornstarch
Yes, you saw that right, cornstarch. I don't know the exact science behind cornstarch's role in yielding crispy waffles, but apparently it prevents waffles from getting soggy when exposed to steam produced in the process of cooking. I tried a batter with cornstarch and a batter without, and needless to say, the one with cornstarch produced far better waffles! If you're not already adding cornstarch to your waffle batter, you seriously have to!
Plain flour vs other types of flour
Does it really matter if you use plain flour or bread flour or cake flour in your waffle batter? Yes, the type of flour will have a noticeable effect on the texture of your waffle. As I've mentioned before, different flours have varying protein levels. Cake flour (7-9%) has the lowest protein content, followed by pastry flour (9-10%), plain flour (10-12%) and finally bread flour (12-14%). The lower the protein content, the less the gluten development, and the lighter and crispier the food will be. So I tried using cake flour in my batter, and the waffle did turn out crispy, but it was so light and airy inside that I felt I wasn't eating anything substantial. I tried plain flour instead and the results were much better, giving me a crispy waffle but with some body and chew. I believe if the waffle batter was not leavened with yeast, cake flour would have faired much better. But since yeast is present to make the waffle light and airy, using a higher-gluten flour would be a wiser choice. Bread flour can probably be used as well, but it would yield a slightly tougher and denser waffle.
Butter vs vegetable oil
Can butter and vegetable oil be used interchangeably in this waffle recipe? This will probably be a commonly asked question, as there are bound to be people who try to eliminate butter from their diet. I made two batters, one with melted butter and the other with vegetable oil. The batter with oil was slightly thinner than the one with butter, and upon cooking, the waffle turned out just slightly crispier. But the consensus was that the waffle made with butter was significantly more flavourful than the one made with oil. It was definitely crispy enough, and flavourful enough to eat on its own without any accompanying condiments. So my recommendation is to use melted butter, but you can choose to use vegetable oil instead if desired. For waffles made using oil, simply pair them with honey and butter to make up for the loss in flavour.
---
Some recipes call for buttermilk, while others call for whipping the egg whites before adding them to the batter. These ingredient(s) and method(s) may enhance the crispiness and taste of the waffles, but I wanted to keep my recipe as simple as possible without sacrificing the flavour and texture too much. Buttermilk is probably not an ingredient that every Singaporean would have in his/her refrigerator, and whipping egg whites and adding them to the batter only after refrigerating the batter overnight sounds overly tedious. Here's my own recipe for crispy, flavourful waffles: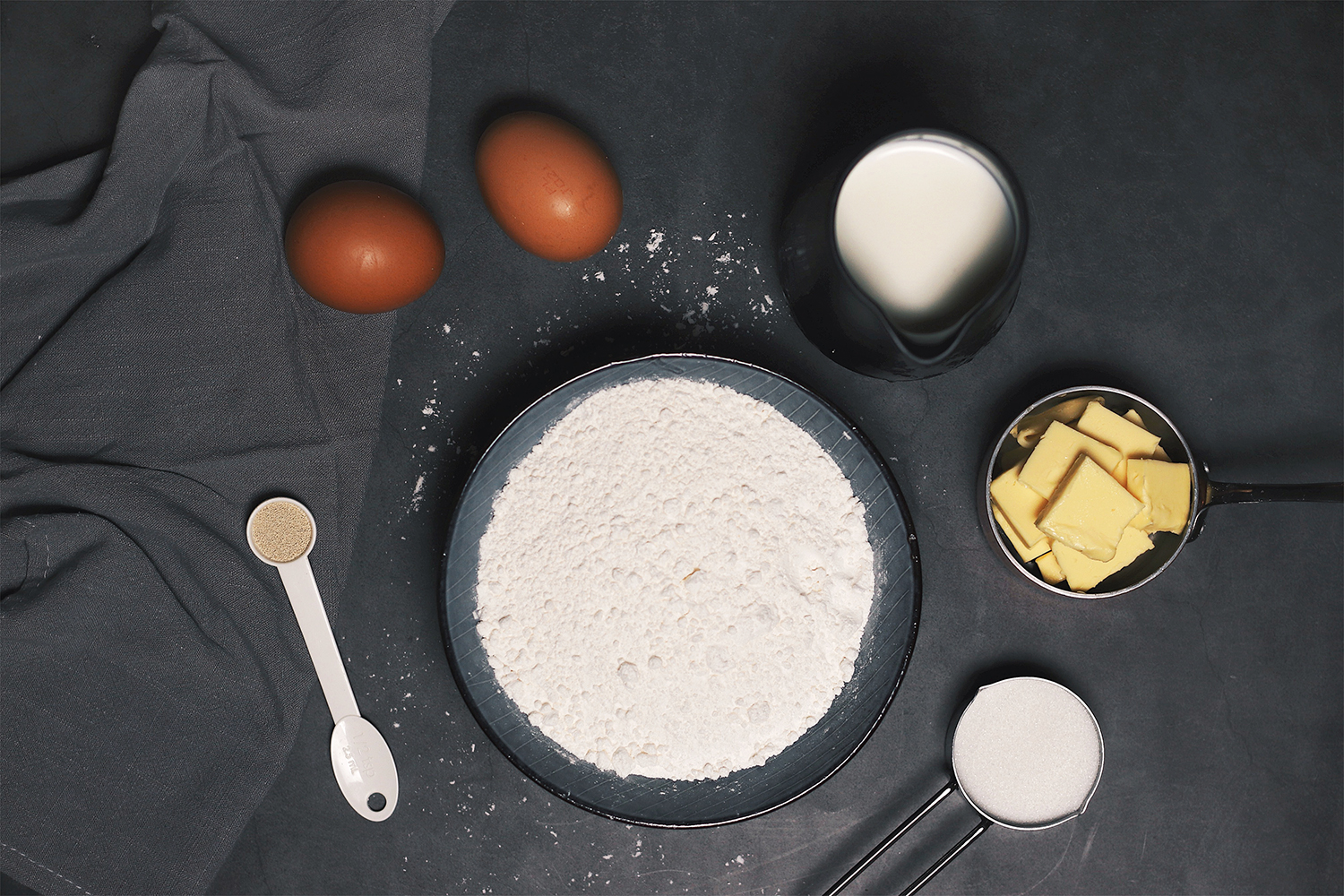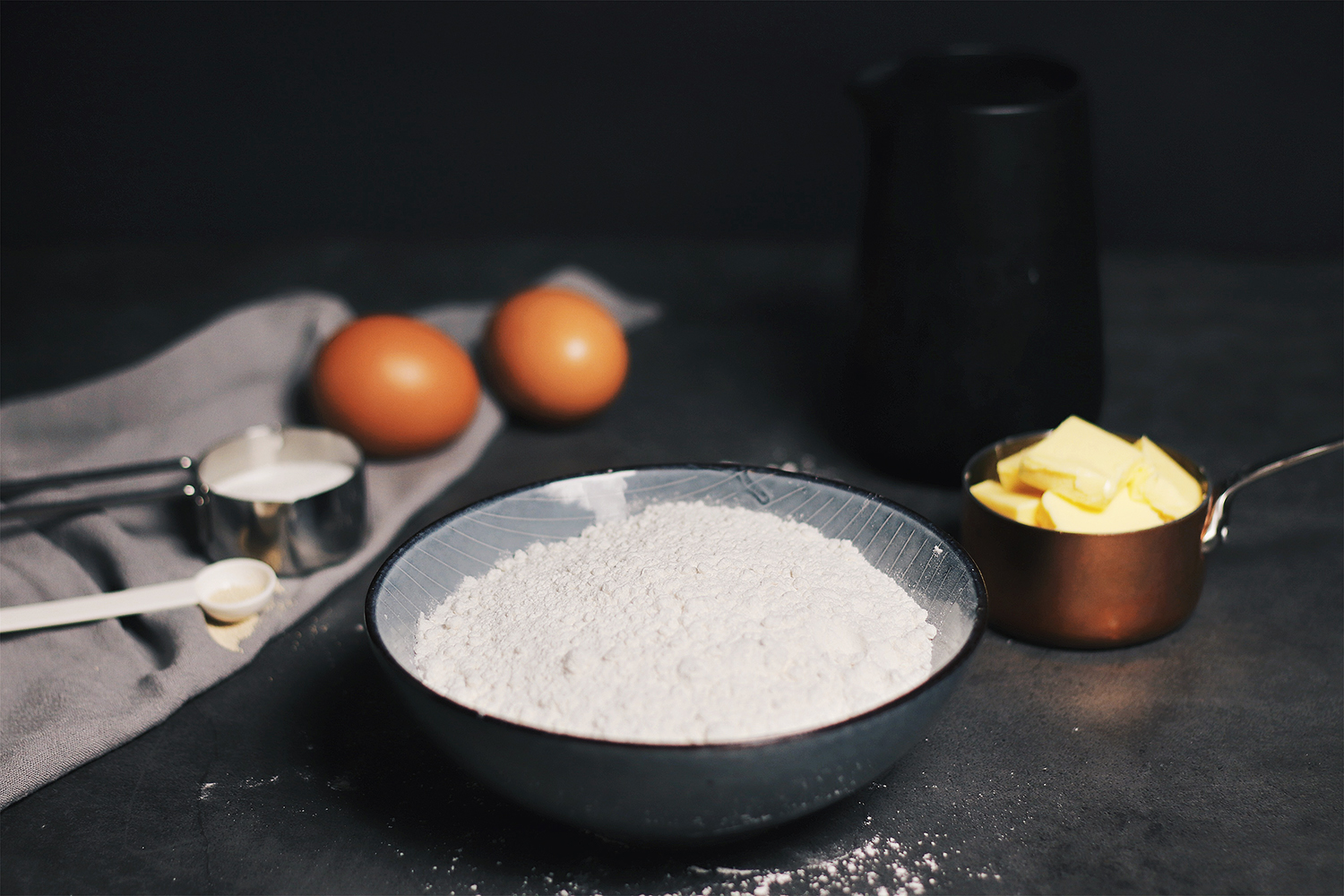 Plain flour, cornstarch, melted butter, eggs, sugar, lukewarm milk, instant yeast, vanilla extract, cinnamon powder and salt. You would definitely want to include cinnamon powder for waffles that are tasty enough to eat on its own!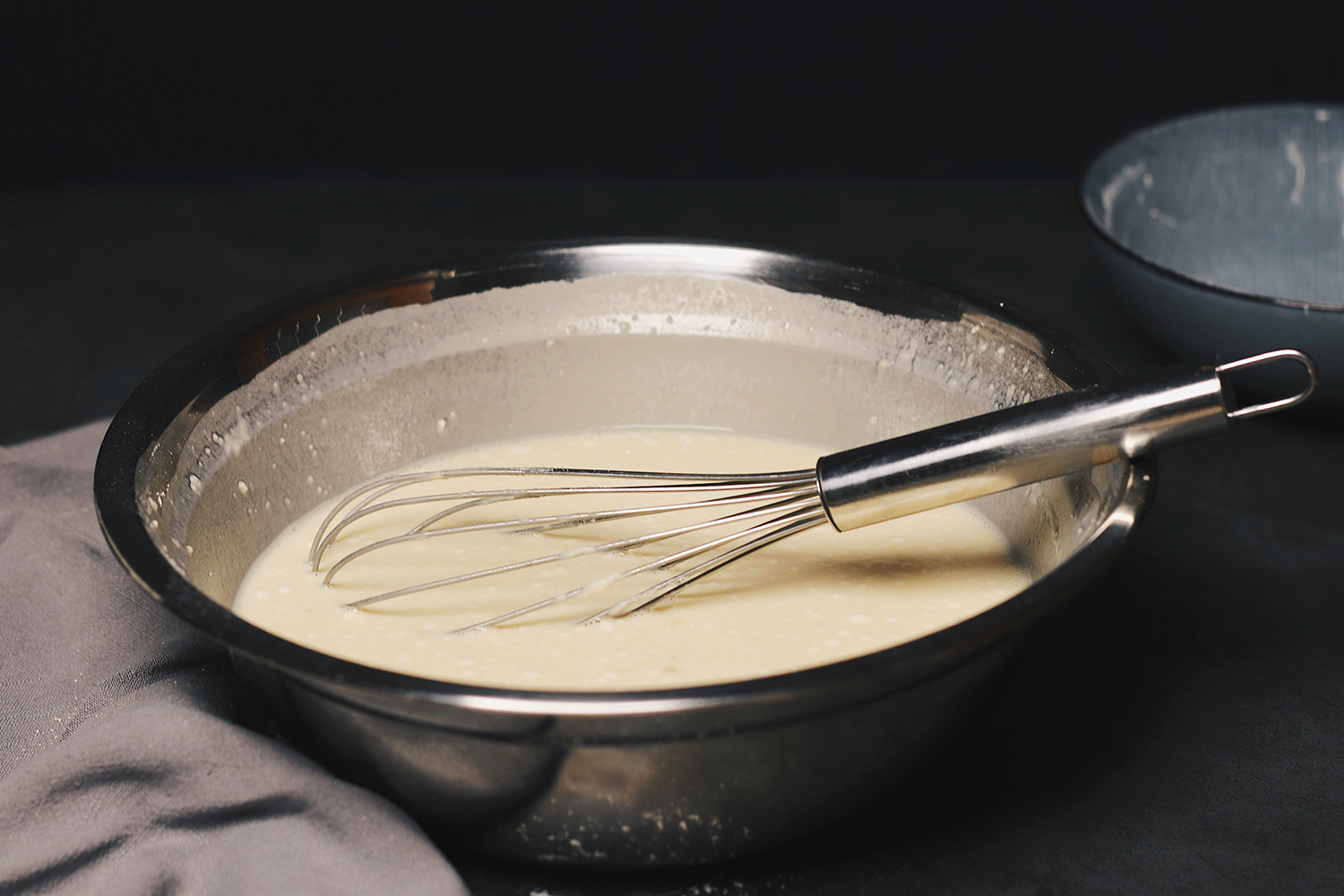 Mix all ingredients except the flour and cornstarch, then add flour and cornstarch and mix evenly. If there are some small lumps in your batter, that's fine. Cover the mixing bowl with plastic wrap and leave in the refrigerator overnight for the yeast to do its magic!
The next day, your batter should have increased in volume significantly. Leave it to cool to room temperature before cooking it in the waffle iron. After cooking your waffle for about 4-5min, remove and serve with honey and butter. If you want to serve later, keep the waffles in a 90°C to maintain the crispiness.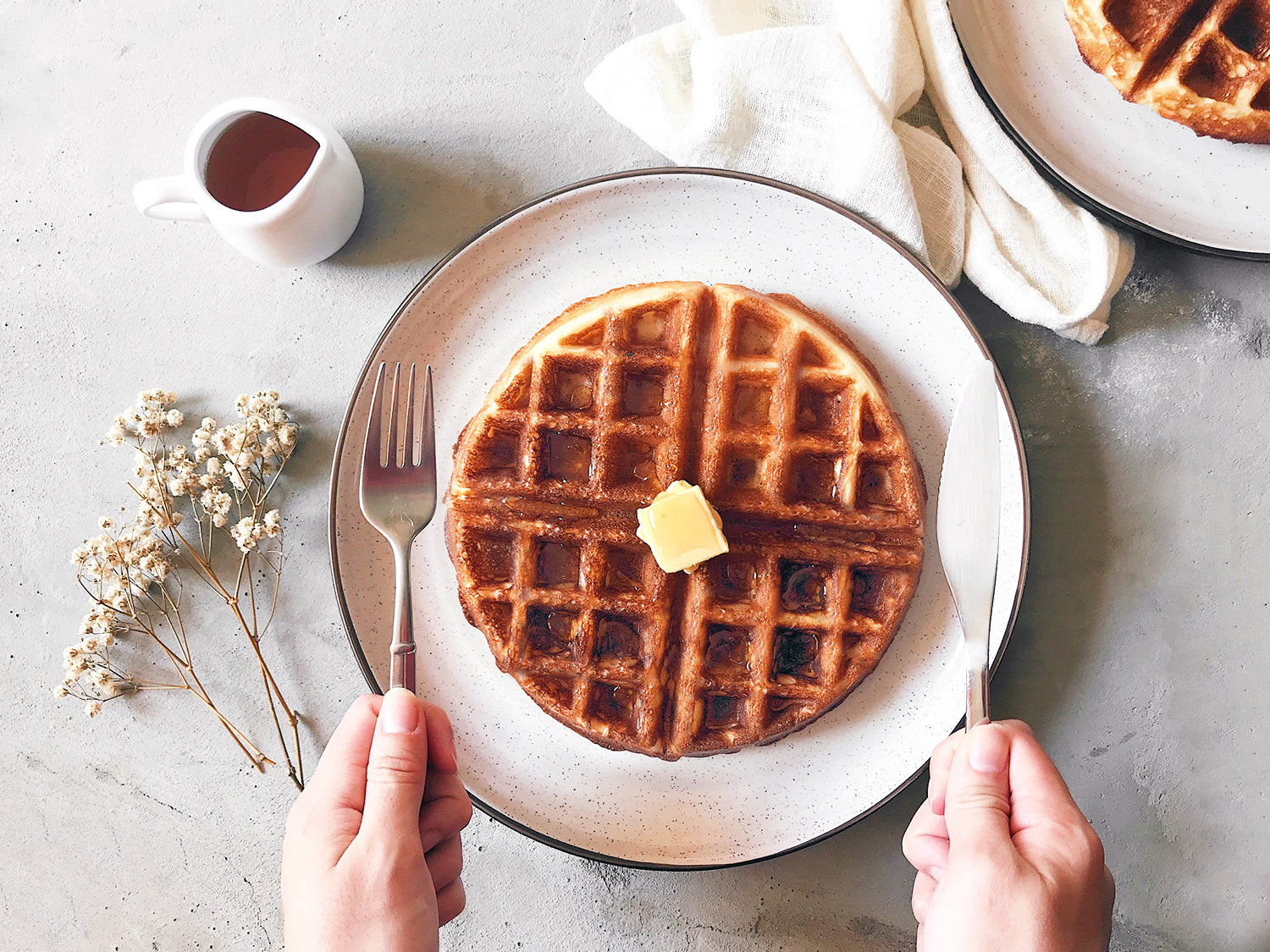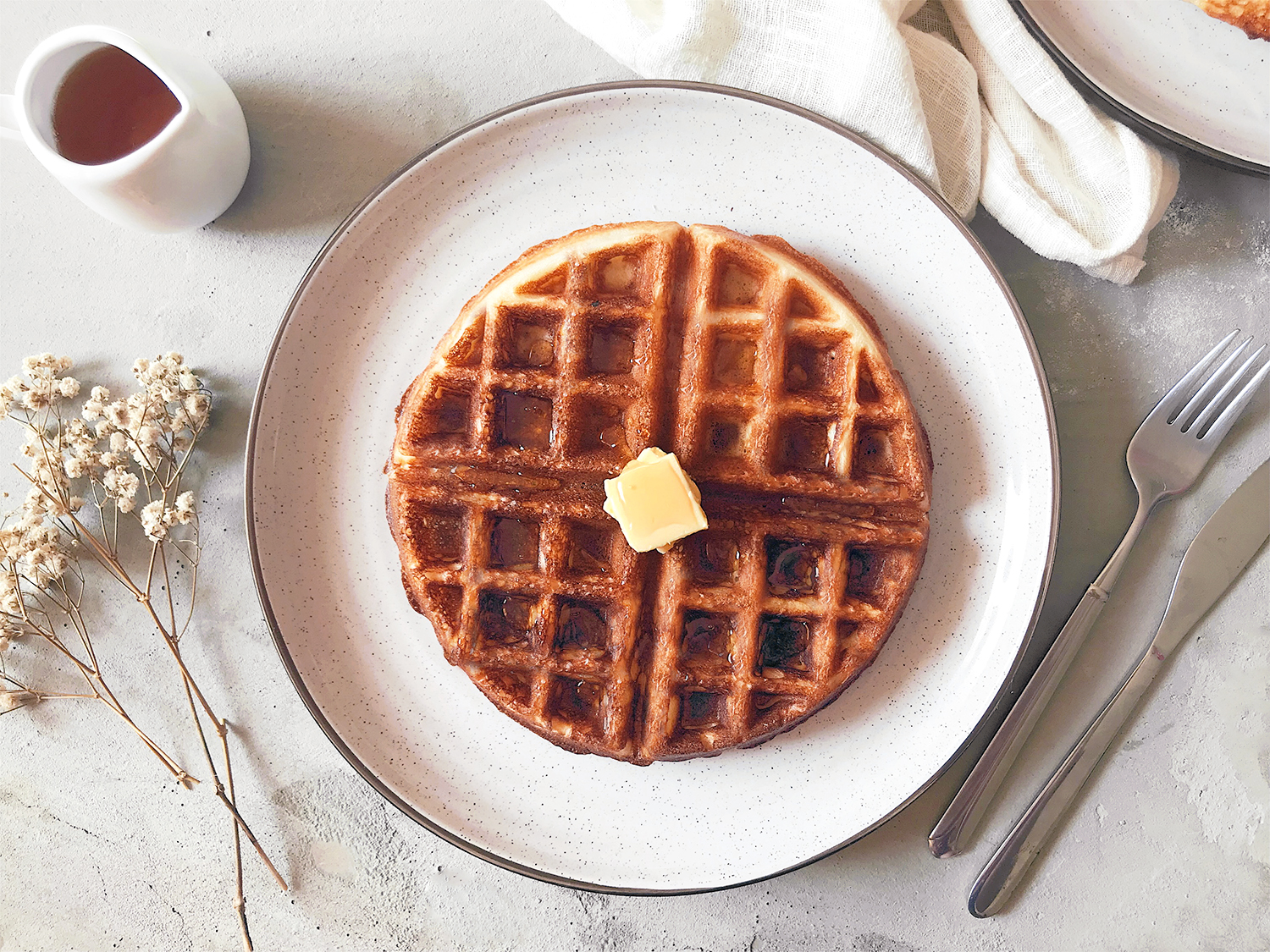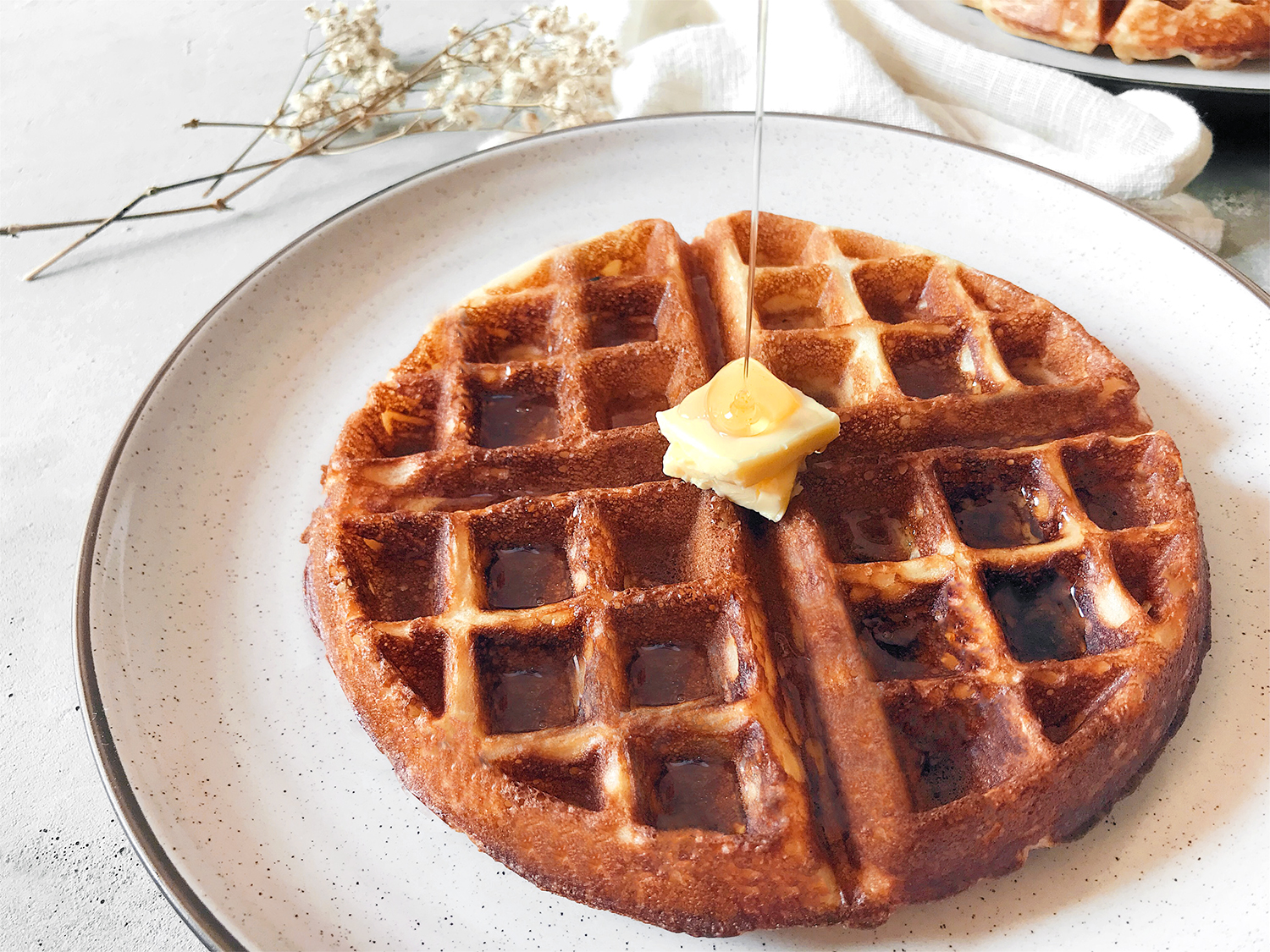 Unfortunately, my cheap waffle iron couldn't produce very evenly-browned waffles, but it did a decent enough job so I can't complain much. The waffles were perfectly crisp on the outside, but tender with a good amount of chew on the inside. They paired so well with the sweet notes of the honey and the salty notes of the butter. They also go very well with savoury food like bacon and fried chicken, so feel free to jazz your waffle up with anything you like! Looking at these waffles make me crave for some waffles once again. I'd gladly eat a waffle over a pancake any day!
The Secret to Crispy Waffles
Ingredients
210

g

plain flour

$0.462

70

g

cornstarch

$0.148

360

ml

lukewarm milk

$1.05

2

eggs

$0.40

90

g

melted butter

$1.854

60

g

sugar

$0.088

1

tsp

instant yeast

$0.14

1

tsp

vanilla extract

$0.796

½

tsp

cinnamon powder

$0.19

½

tsp

salt

$0.014
Instructions
Combine all ingredients together in a mixing bowl (except flour and cornstarch). Add flour and cornstarch and whisk until evenly mixed. It is fine to have a few small lumps.

Cover mixing bowl with plastic wrap and leave in the refrigerator overnight.

The next day, remove mixing bowl from refrigerator and allow waffle batter to cool to room temperature. Heat the waffle iron, and spray with oil spray or brush with butter once the waffle iron is hot. Ladle some batter onto waffle iron, and cook waffle for about 4-5 minutes and waffle is crispy and brown.

Remove waffle from waffle iron and serve with honey and butter. If not serving immediately, keep warm in a 90°C oven to maintain crispiness of waffle.