If I had to name a cheap and good meal, it would most likely be a Tori Q bento. The sticks of juicy, succulent meat, coupled with fragrant seaweed-topped Japanese rice, doused in savoury teriyaki sauce, are more than enough to keep me satiated for hours. And the best part about it is that it costs less than $6! (Edit: It used to cost around $5.80 but now it costs $6.60 :<) My only gripe, however, is that there are hardly any vegetable options. You wouldn't really consider the seaweed or the rare appearance of asparagus interspersed between chunks of meat as a portion of vegetables, would you?
What impresses me most about Tori Q's skewers (generally known as yakitori 焼き鳥, although yakitori actually refers to a grilled chicken skewer) are their chicken balls. I would never have expected their chicken balls to be so juicy and flavourful had I not tried them myself years ago. As chicken meatballs are made of minced meat, and the minced chicken meat we get from supermarkets largely comes from lean breast meat, I foolishly thought that they would generally be slightly dry, but Tori Q made me think otherwise.
I challenged myself to recreate those juicy chicken meatballs, and while I don't what Tori Q's secret is, I believe I found my own answer, and that is using thigh meat. As the foundation will affect the end product the most, I figured that using dark meat (thigh meat) which contains more fats than white meat (breast meat) would be an ideal solution. And true enough, the chicken meatballs made using thigh meat was downright juicy and succulent! So forget about buying the ready-minced chicken meat supermarkets have to offer; buy thigh meat and grind them in a food processor yourself! It really takes only an additional 5 minutes, but that 5 minutes can elevate a dish from average to excellent.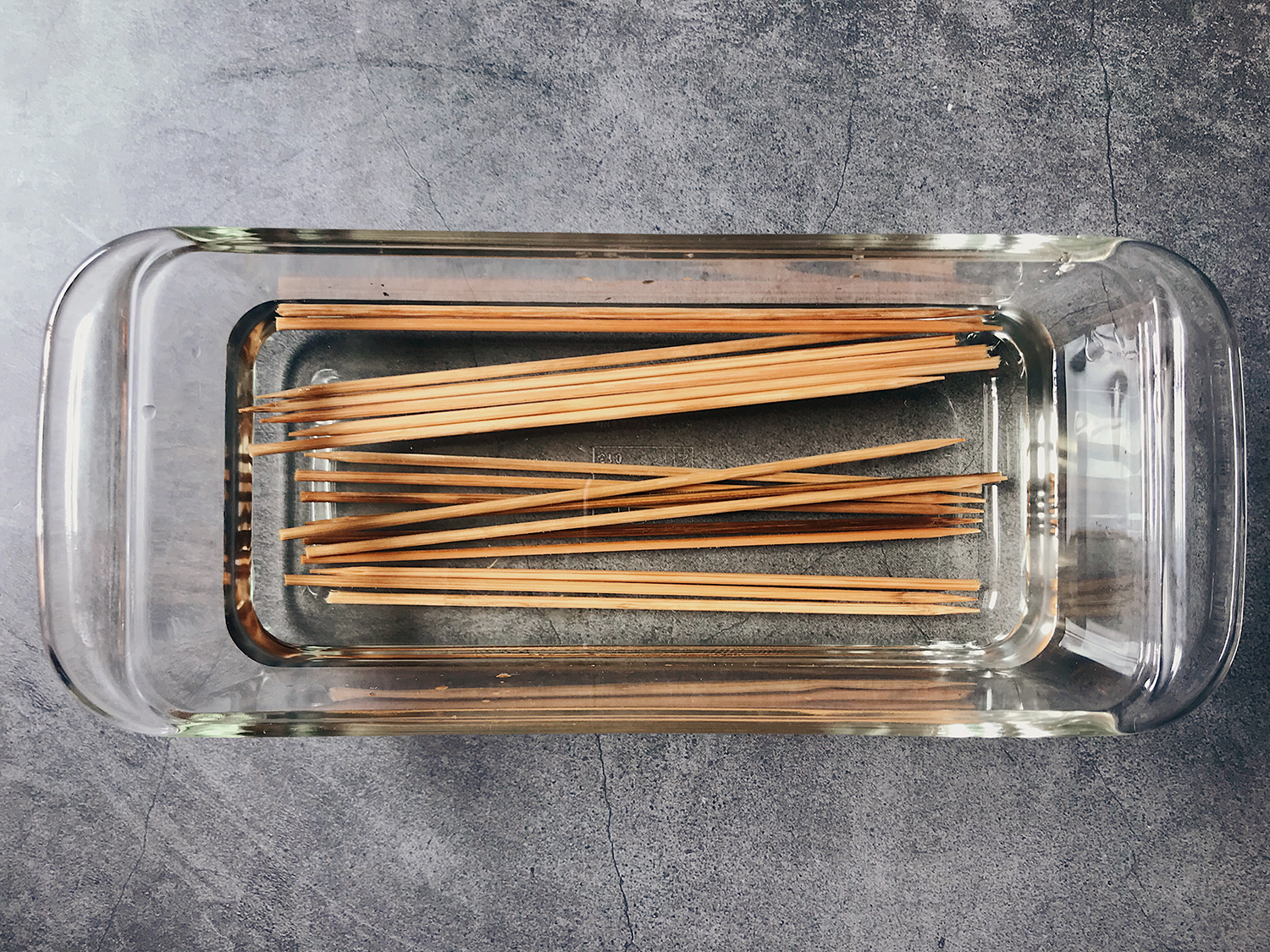 The first step is to soak the bamboo skewers in water for at least 30 minutes prior to cooking so as to prevent them from burning.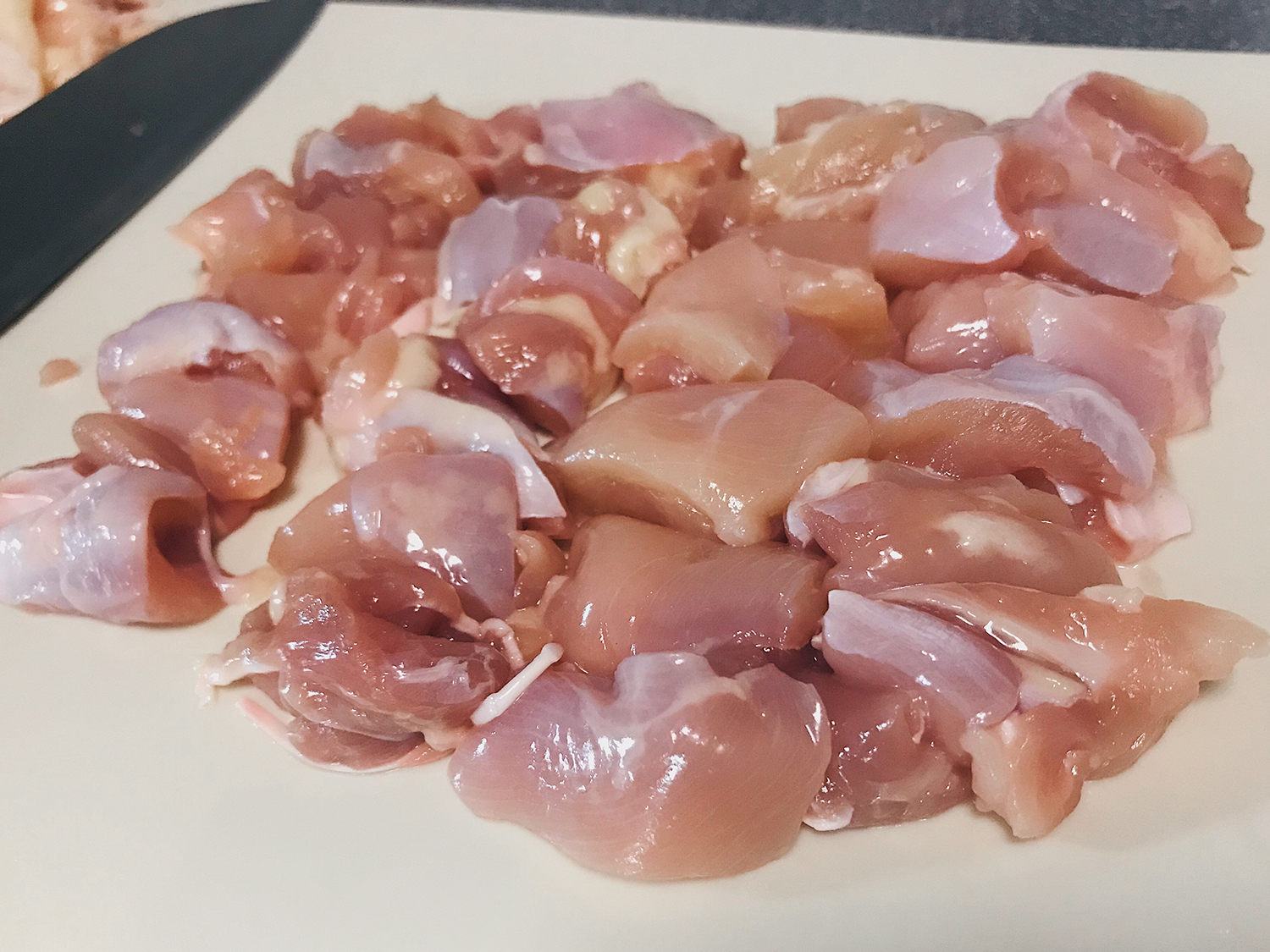 Remove the skin of the thigh meat, and remove some of the extra fats if you prefer a less fatty meatball. Cut them into small chunks to facilitate the blending process.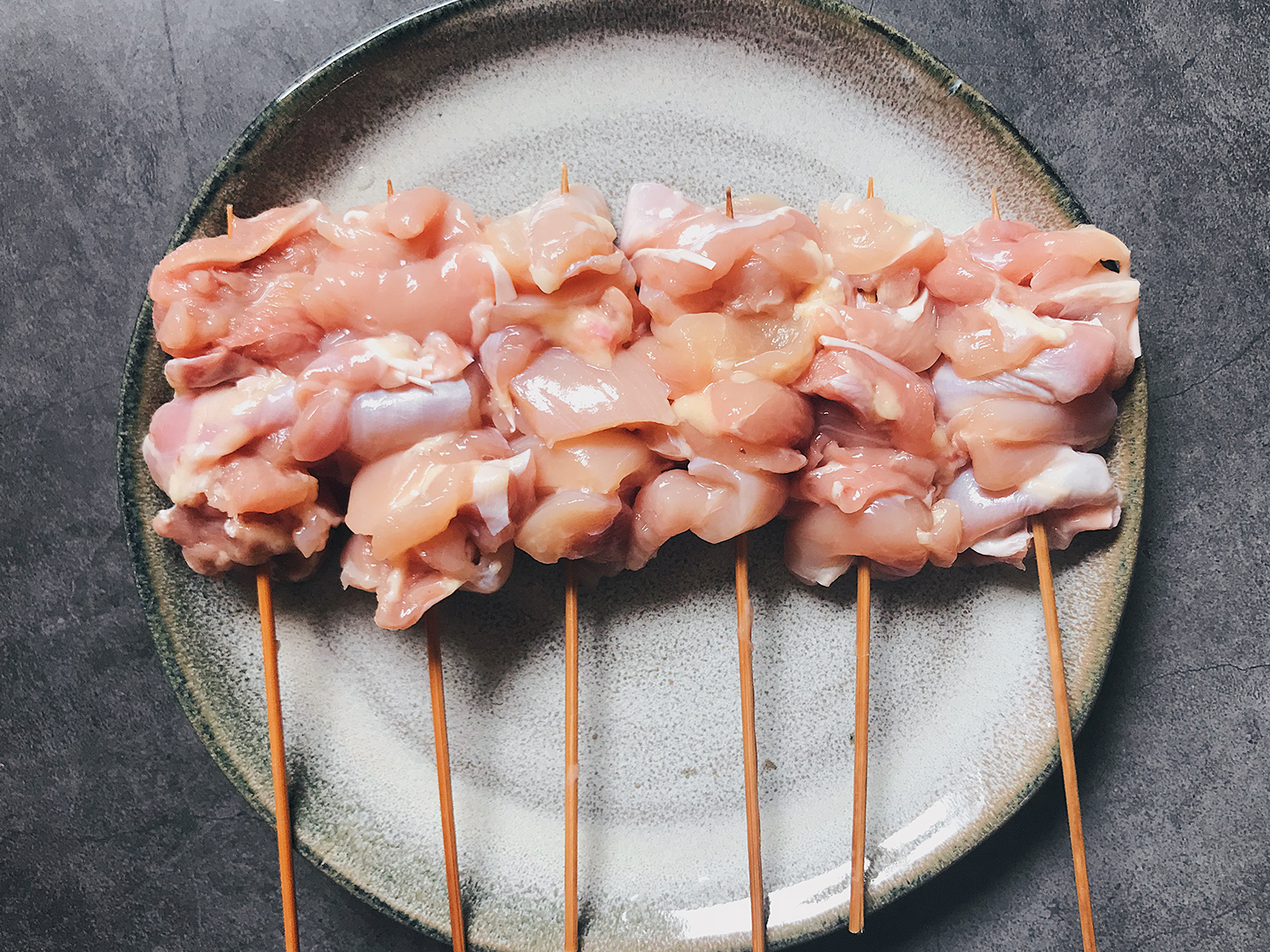 Side track: If you have extra chunks of meat, you can also turn them into normal grilled chicken skewers. (not as yummy as chicken meatball skewers though)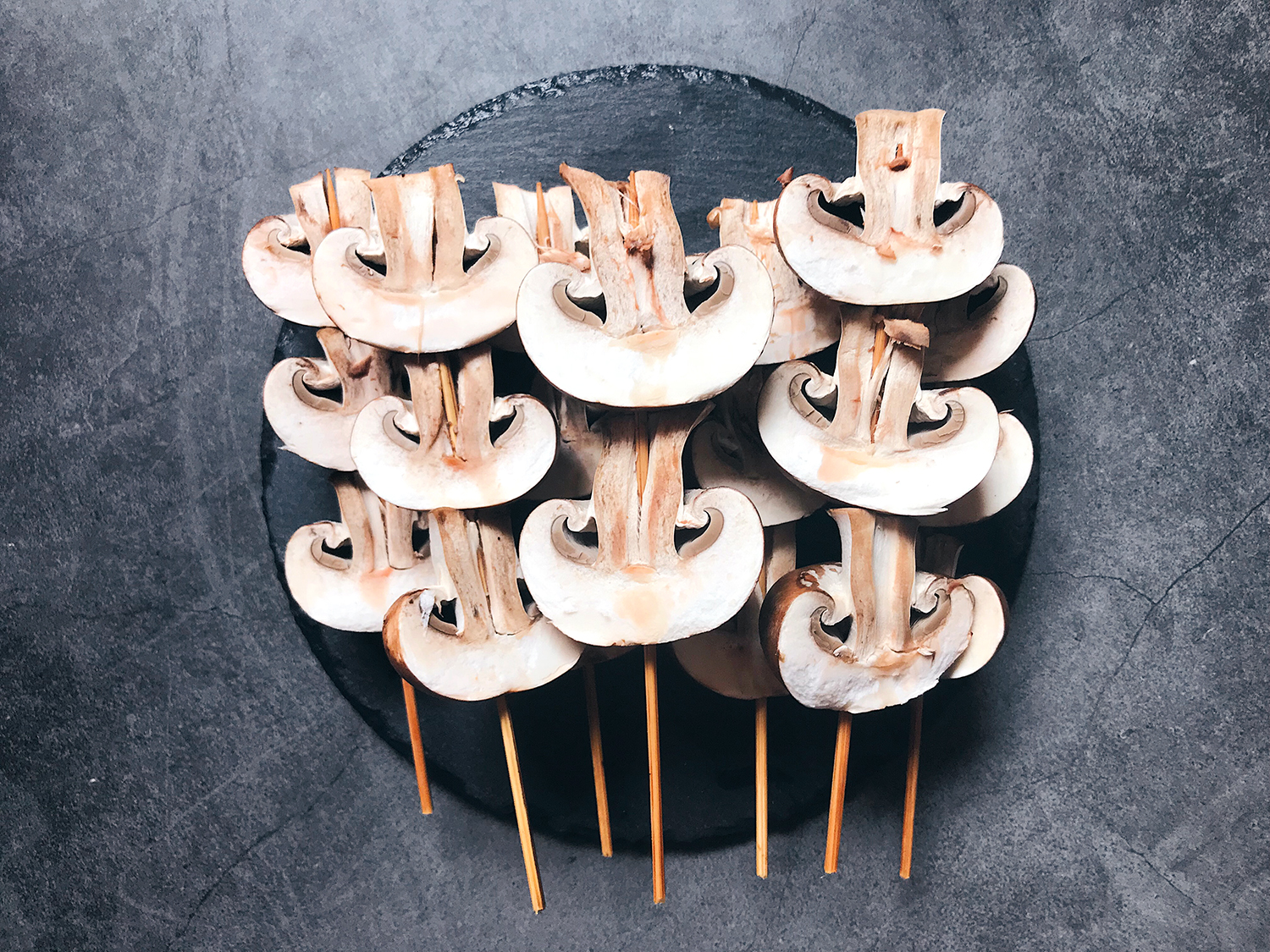 And mushrooms make really good skewers too!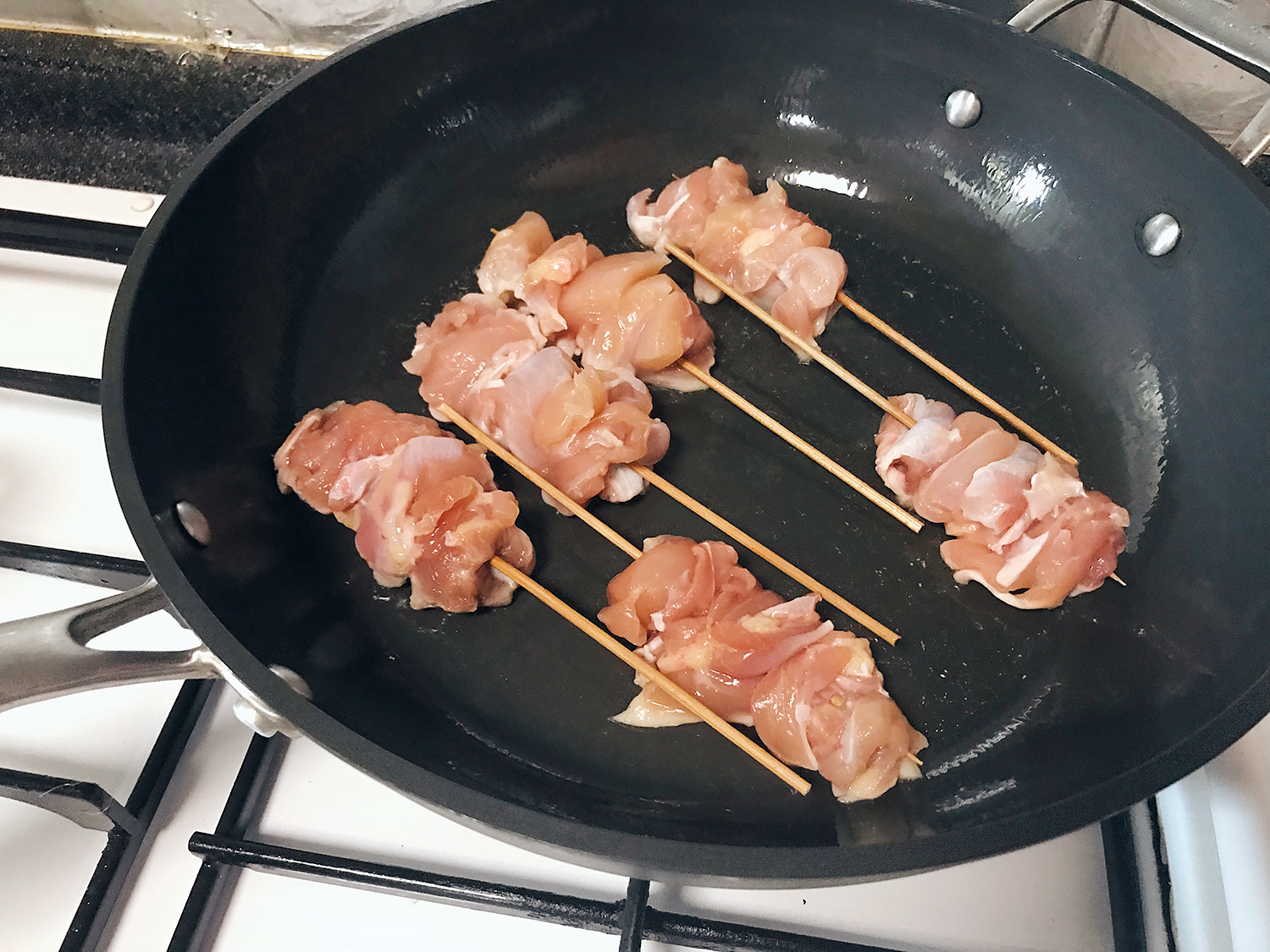 Simply fry the chicken skewers in a pan on both sides until browned and crispy. Then drizzle teriyaki sauce over them after.
For the mushrooms, season with salt and pepper and they will taste perfect.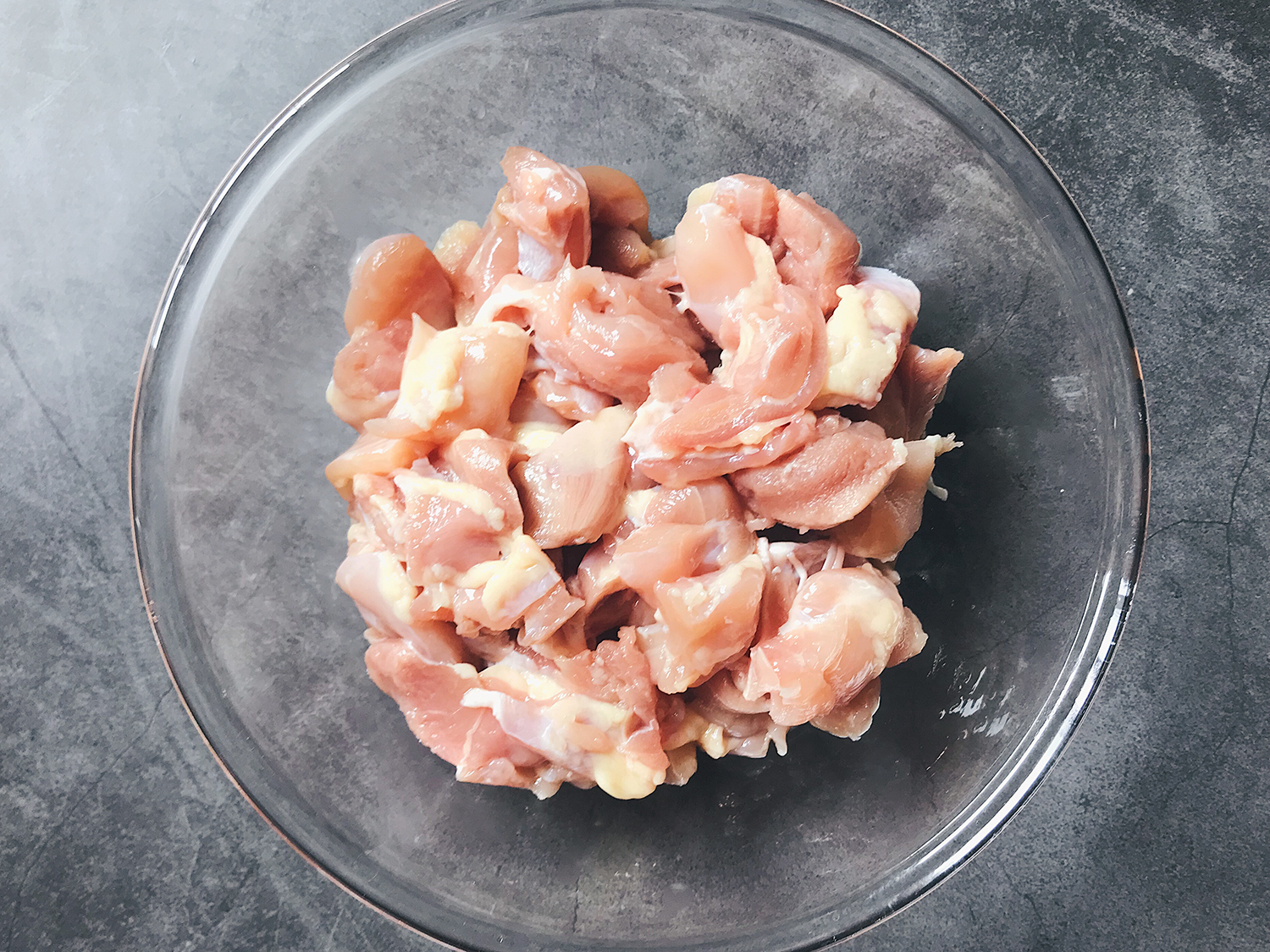 So back to the main star of today's recipe – the chicken meatball yakitori (which is actually called tsukune).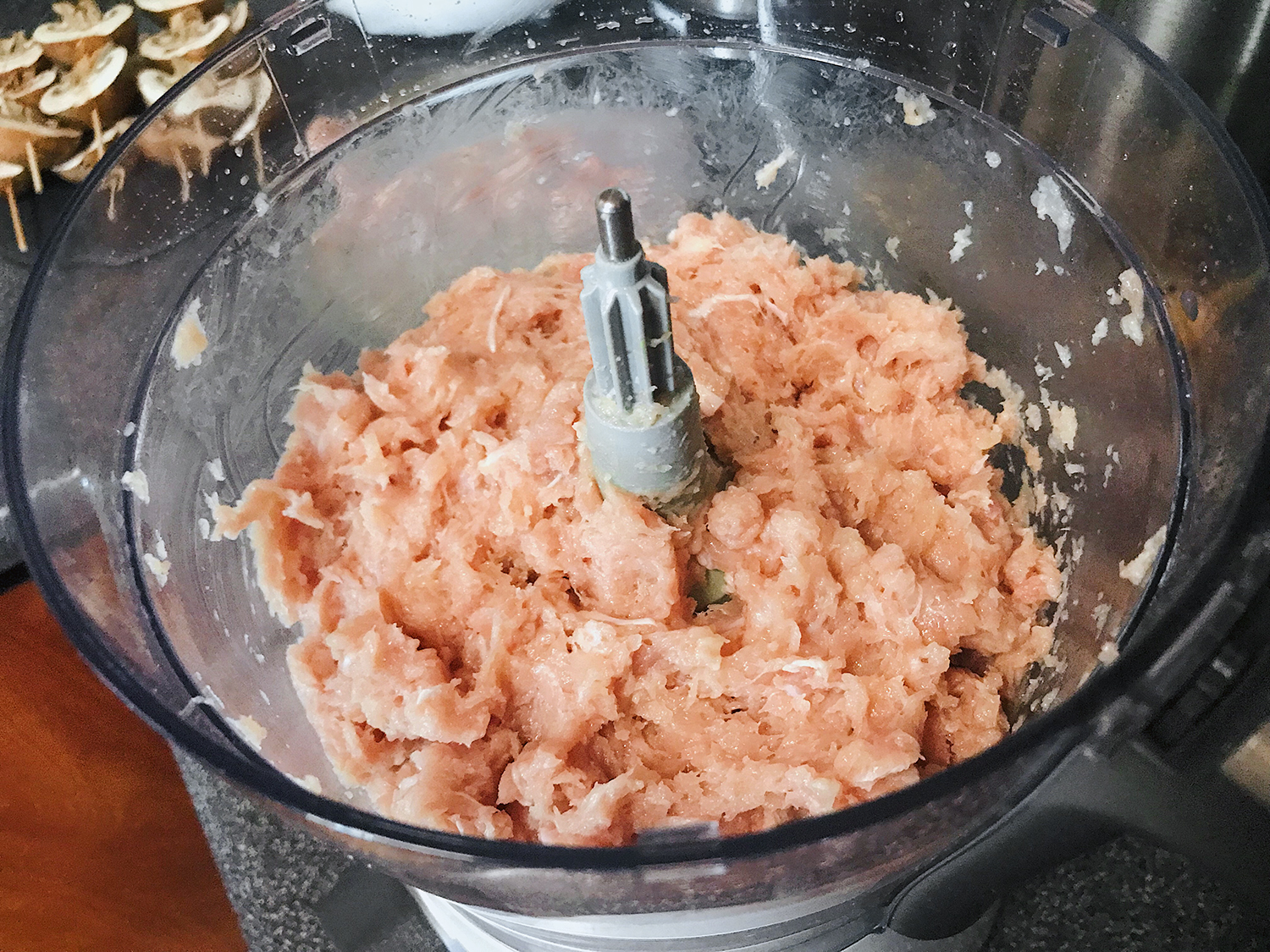 Place the chicken thigh chunks into a food processor and pulse until it's coarsely ground.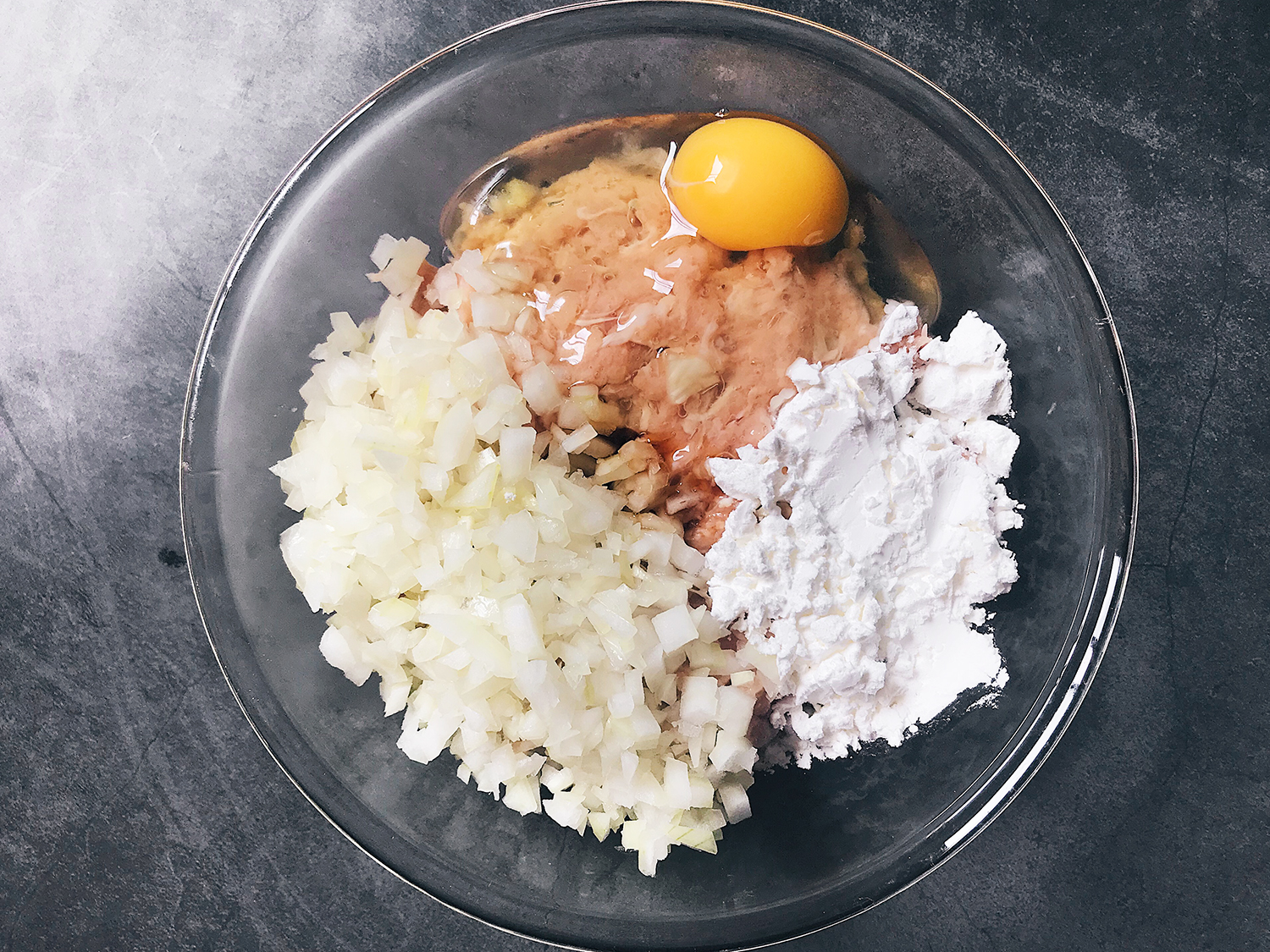 Add an egg, cornstarch, some diced onions, some teriyaki sauce, and mix it up! Adding the teriyaki sauce will ensure that the meatballs will be flavourful throughout, and not just the exterior which will be later doused in the sauce.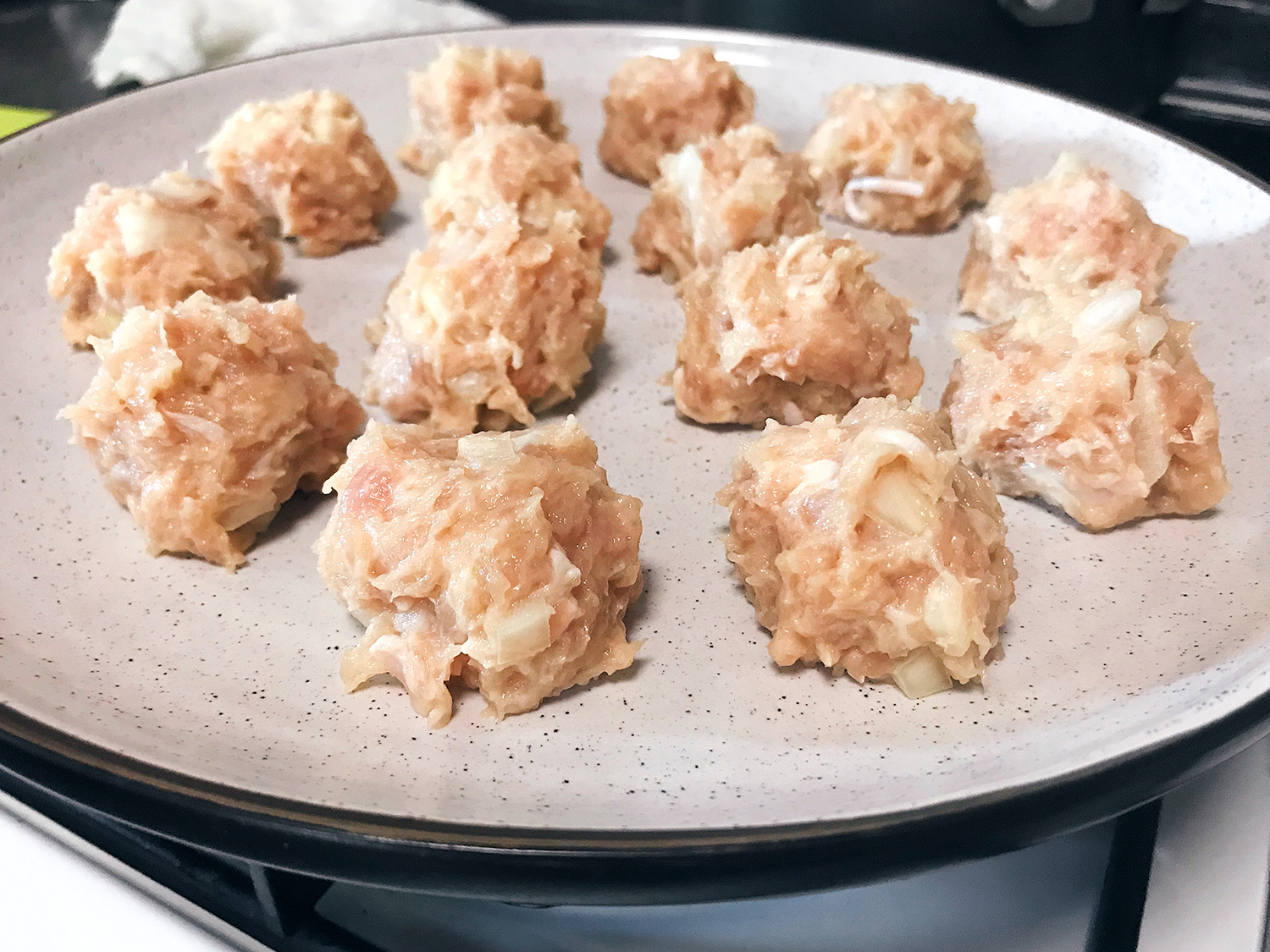 Shape the mixture into meatballs. Actually, if you're going to be cooking the meatballs in a skillet, I'd say that spherical isn't the most ideal shape for pan frying. You might want to flatten the opposite ends of the meatballs.
Because I want to achieve a nicely browned and crispy exterior in the fastest way possible, I decided to go with pan frying in a skillet. Another option will be to bake the meatballs in an oven (that way you can keep the meatballs spherical), but that would take a longer time and the meatballs will not attain a browned exterior as easily.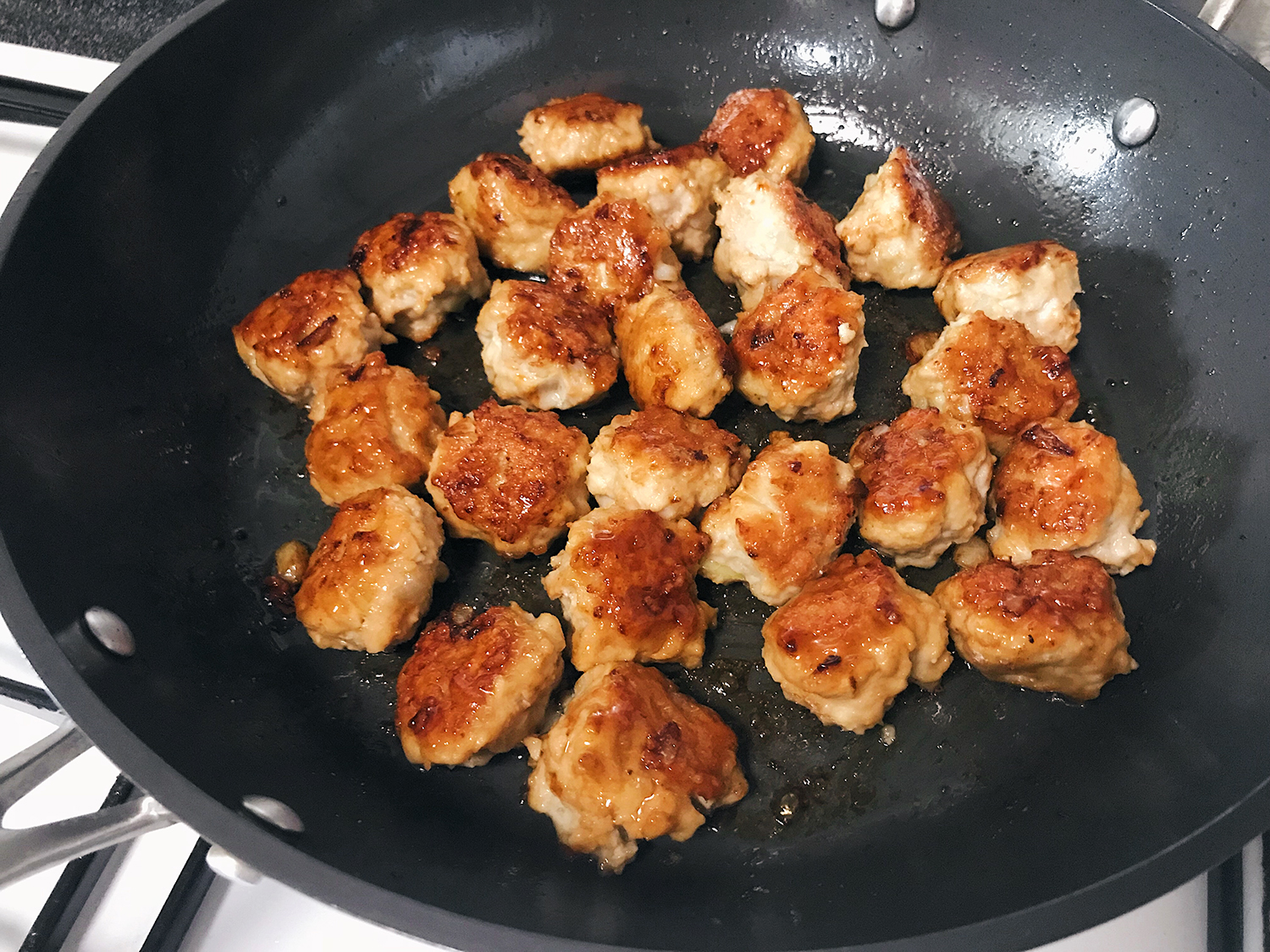 Fry until the meatballs have a browned crust and are almost cooked through (90%). Then drizzle a good amount of teriyaki sauce over the meatballs, reduce the fire to low, and allow the sauce to reduce and coat the meatballs well. This step will help to further deepen the colour of the meatballs. Once they are done, skewer the meatballs on a bamboo skewer, 3 at a time.
My poor meatballs ended up in funny shapes because I initially wanted them spherical but it was hard to get them to brown properly that well, so I flattened some of them midway through cooking.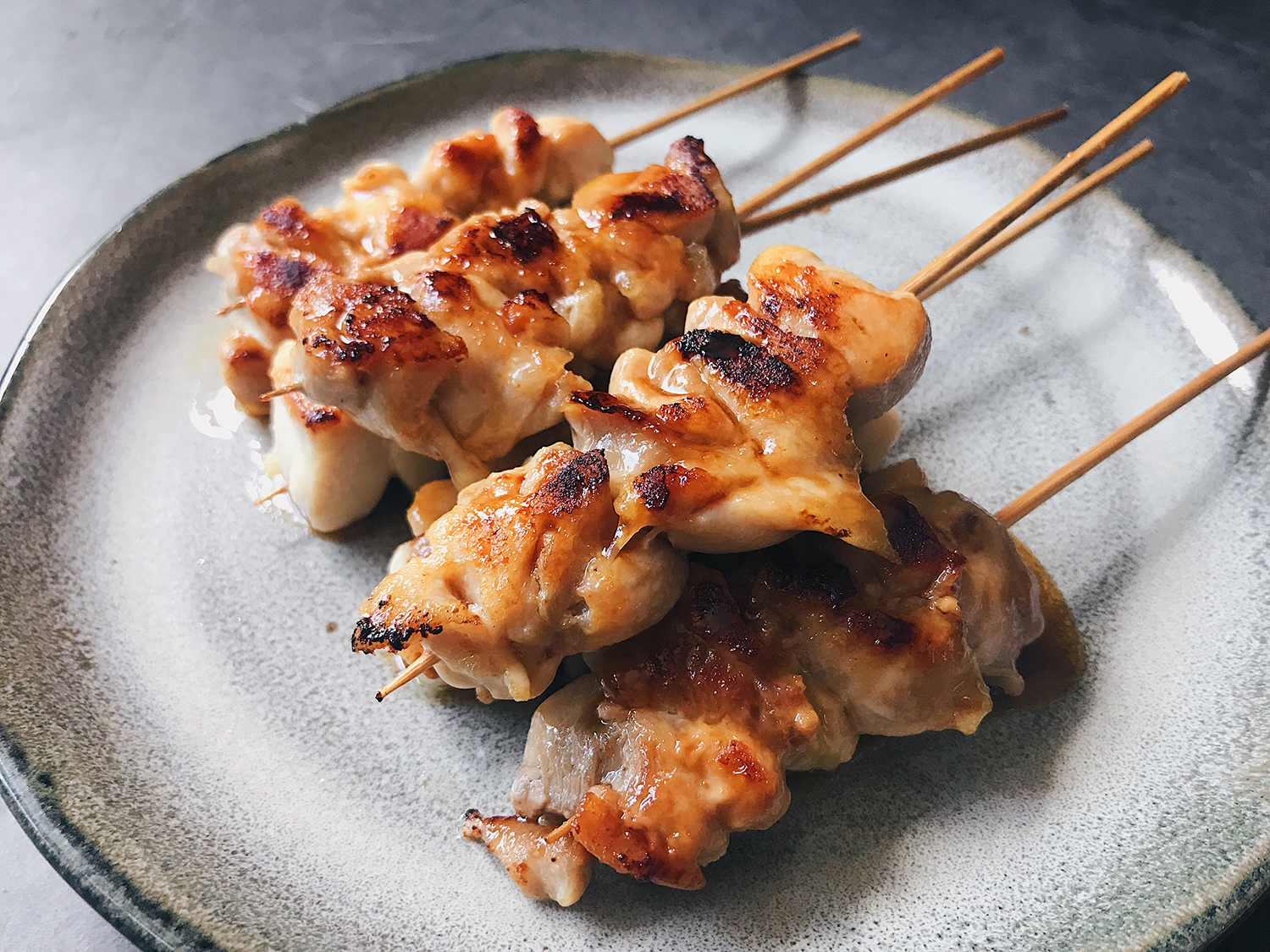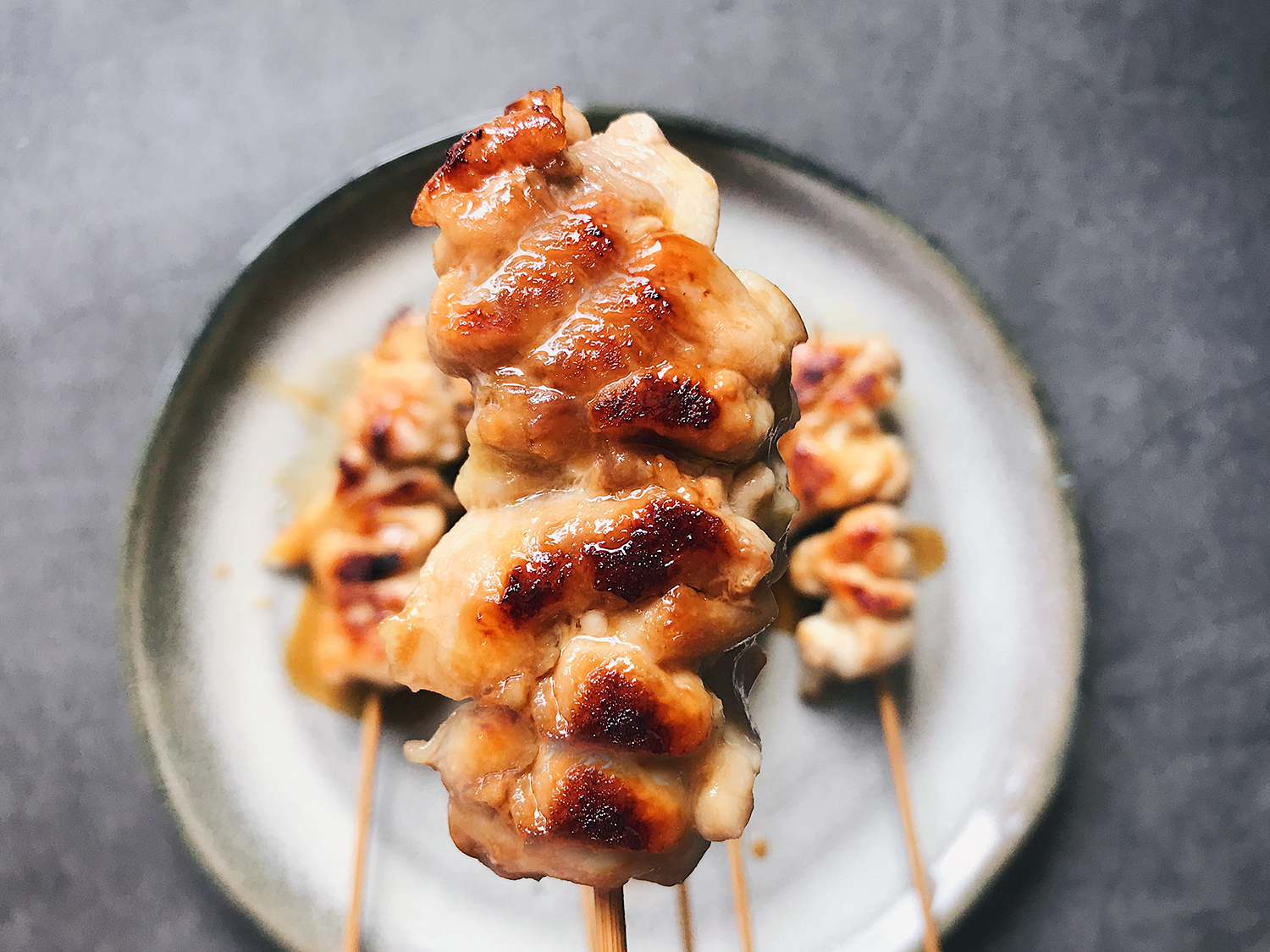 The real yakitori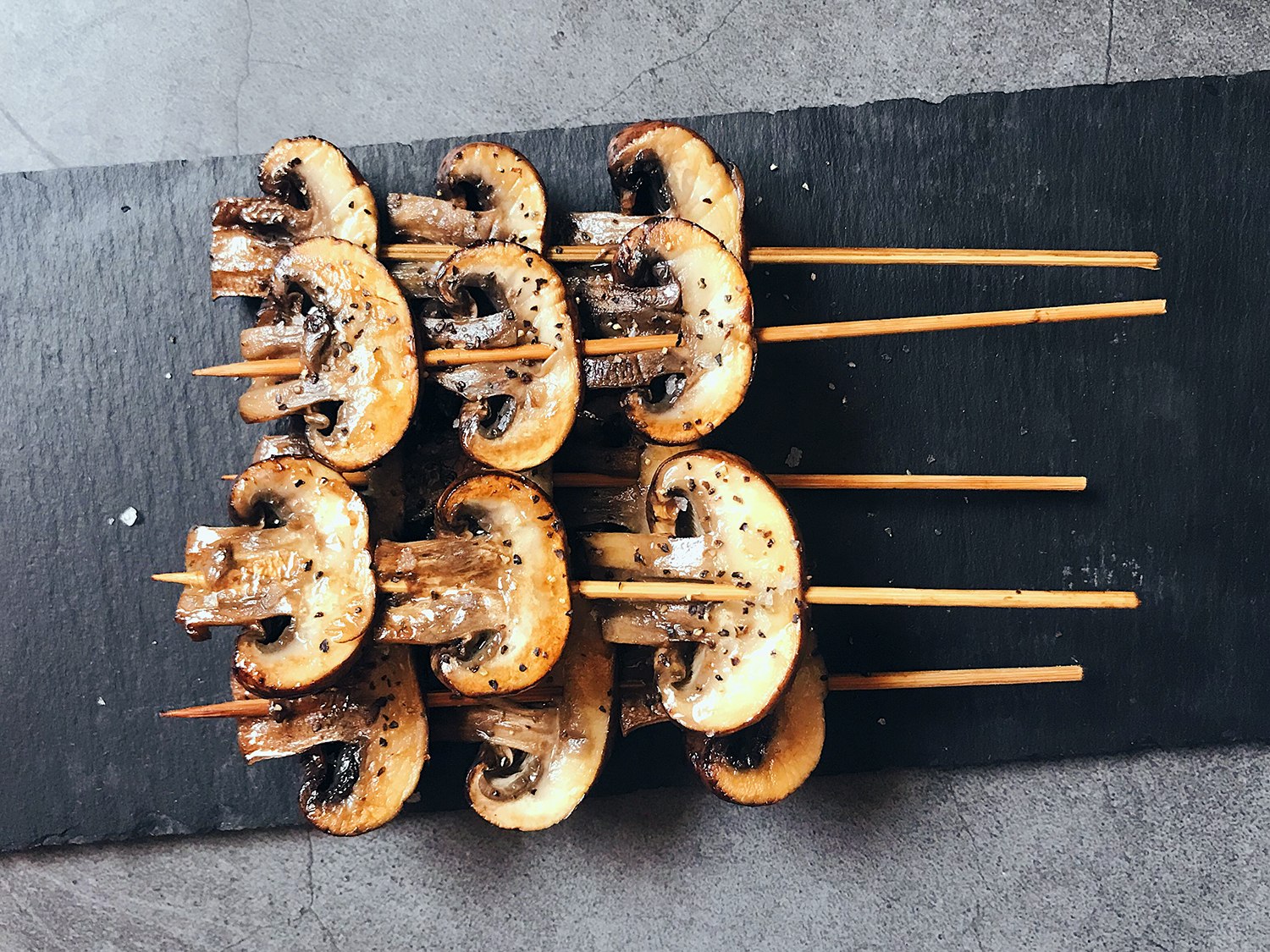 Mushroom skewers – you are bound to love this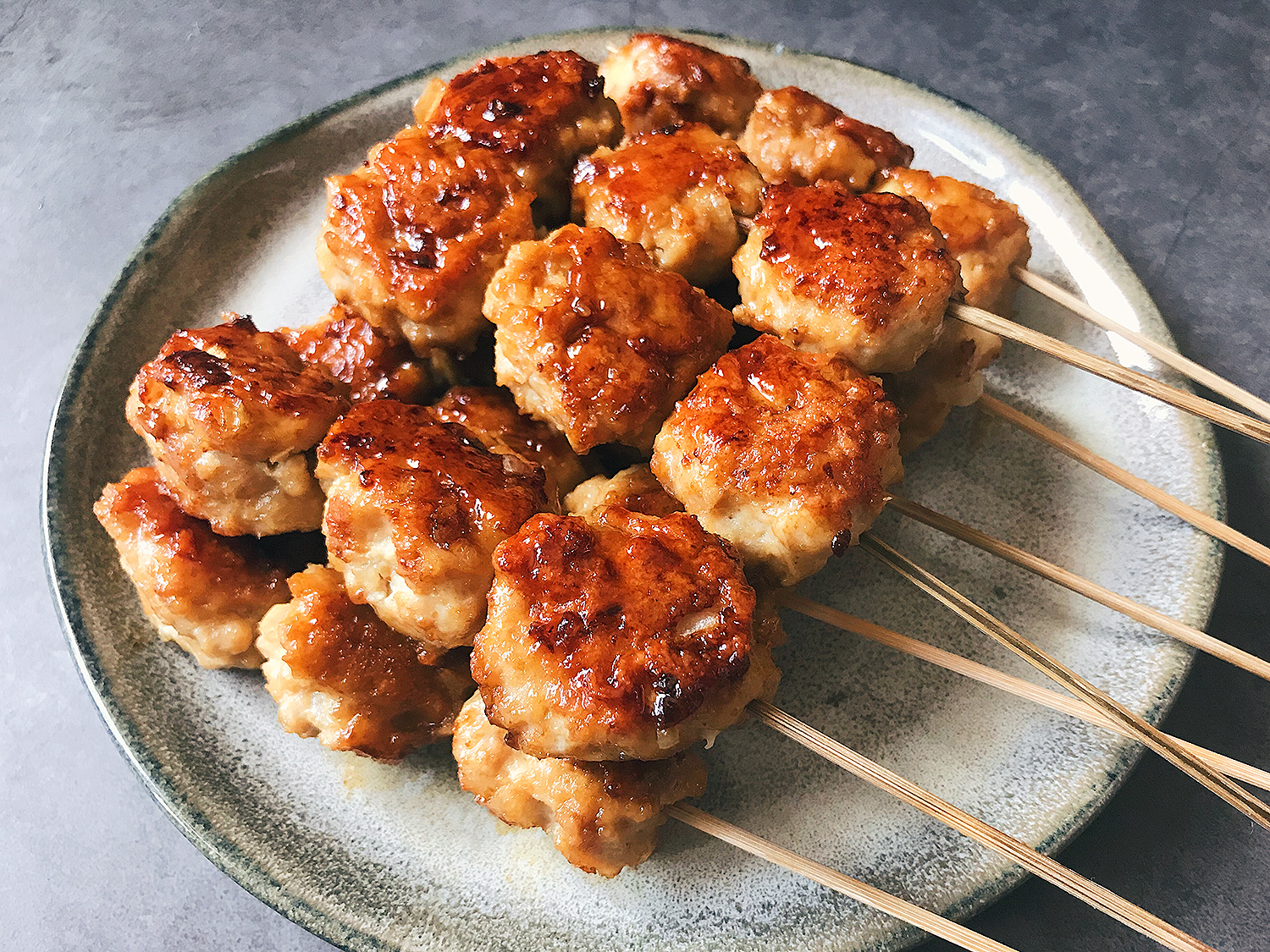 Tsukune – comparable to Tori Q's!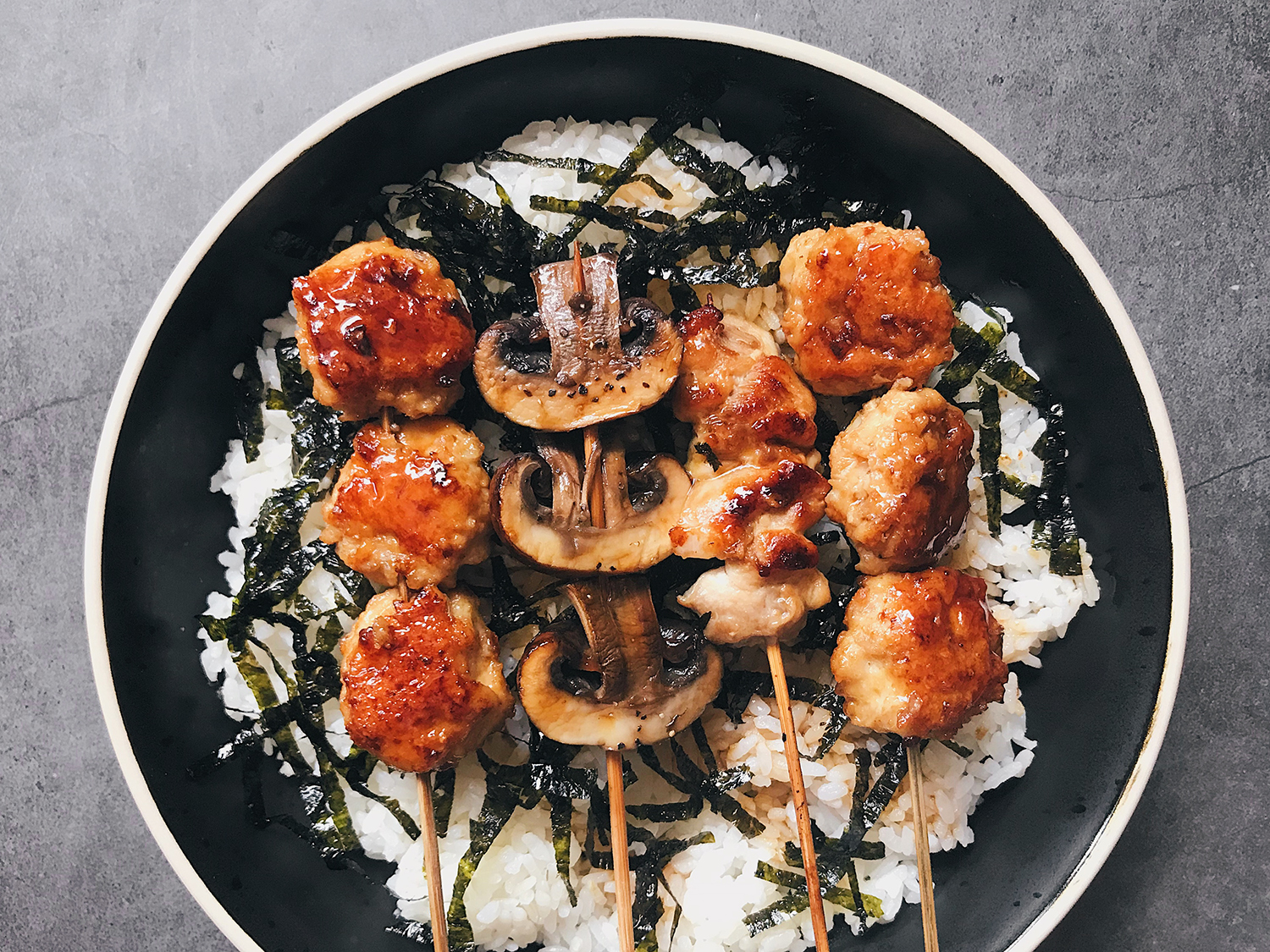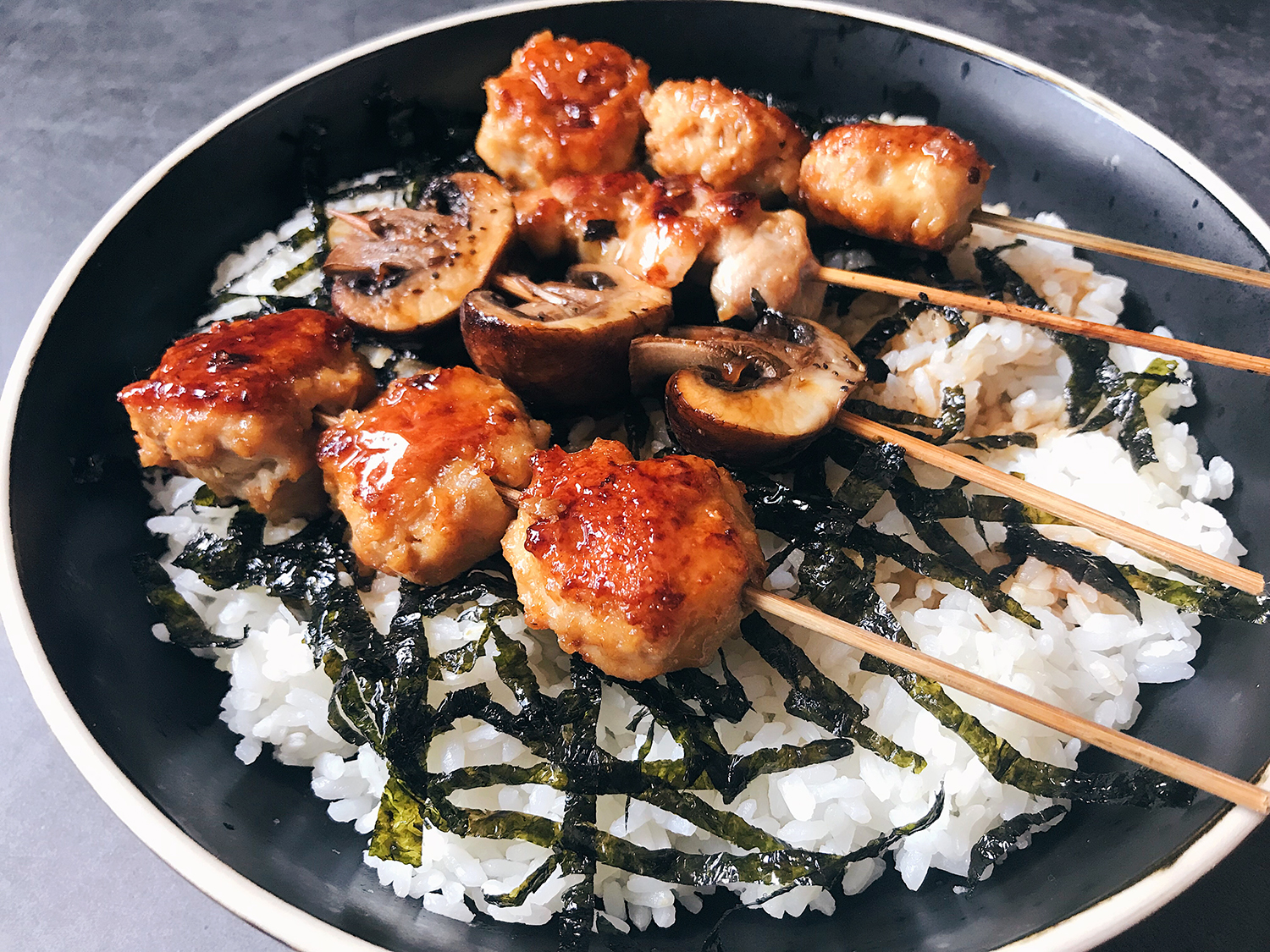 Top four sticks of these onto some Japanese rice, finish it off with seaweed strips & teriyaki sauce, and you will have a great meal! The chicken balls were so tender and moist that even I was surprised at how they turned out. And the teriyaki sauce added in the meatballs mixture ensured that the meatballs were flavourful throughout, not just on the outside. The beautiful part about this is that the recipe is quite idiot-proof and anyone will be able to make appetizing meatballs from scratch!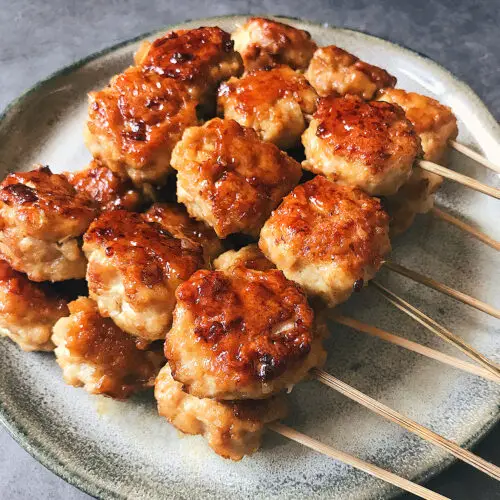 "Tori Q" Chicken Balls Yakitori
Ingredients
600

g

ground chicken thigh

$4

1

egg

$0.20

½

yellow onion

finely diced ($0.114)

6

tbsp

cornstarch

$0.126

2

tbsp

teriyaki sauce

$0.307

⅓

cup

teriyaki sauce

to be added after frying meatballs ($0.82)
Instructions
Remove skin of chicken thigh meat, and remove extra fats if desired. Cut chicken thigh into small chunks and place into food processor. Pulse until coarsely ground.

In a bowl, mix ground chicken meat with onion, egg, cornstarch, and 2 tbsp teriyaki sauce. Shape mixture into meatballs.

In a hot skillet, fry meatballs until browned and almost fully cooked through. Add ⅓ cup of teriyaki sauce into skillet, reduce fire to low, and allow teriyaki sauce to reduce and coat meatballs evenly. Remove meatballs after 2-3 minutes.